Pinot Briefs —Newsletter 11.46

Tasting Rooms on the Road Some wineries are outfitting trailers to take tasting rooms on the road. Malene Wines of San Luis Obispo recently offered Rosé on tap or by the glass in an Airstream trailer parked at the CIA at Copia in Napa.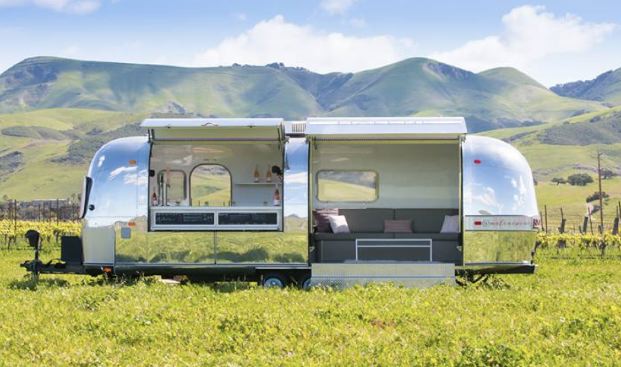 Taste of Sonoma Tickets are now on sale for the Taste of Sonoma sponsored by the Sonoma County Vintners to be held at the Green Music Center at Sonoma State University August 31. Many Pinot Noir producers featured in the PinotFile will be participating including Balletto Vineyards, Black Kite Cellars, Emeritus Vineyards, Gary Farrell Vineyards & Winery, Joseph Jewell Wines, La Crema, Moshin Vineyards, Papapietro Perry, Pellegrini Wine Co., Senses, Sojourn Cellars, and Three Sticks Wines. Visit www.tasteofsonoma.com for more details and to purchase tickets.
Farewell Clos Pepe This former horse ranch in the Sta. Rita Hills was purchased in 1994 by Steve and Cathy Pepe. With the help of grower and winemaker Wes Hagen (Cathy's son), the property was converted into one of the iconic vineyards in the Sta. Rita Hills AVA. Following the 2014 harvest, the owners of Clos Pepe Vineyard decided to retire and leased the running of the vineyard to the Kathryn Hall/WALT winery. As a result, no new wines were made under the Clos Pepe Estate label since 2014. All the remaining inventory of Clos Pepe Estate wines were sold and the Clos Pepe Estate wine label retired. Clos Pepe Estate is no longer available for visits. Walt Wines is farming the vineyard and producing wines from the fruit. Visit www.waltwines.com. Wes Hagen is now the winemaker for J. Wilkes Wines in the Santa Maria Valley.
Jimmy John's Matching Wine and Sandwich According to Thrillist at www.thrillist.com, the sandwich chain is offering a limited-release Pinot Noir to be paired with Jimmy John's new sandwich, The Frenchie. It's called Vin de Sandwich (sandwich wine). The grapes are sourced from the Chalone AVA by The Folk Machine in Santa Rosa, CA. The wine is crafted by winemaker Kenny Likitprakong and available for $29.99 per bottle. There are only around 600 bottles available through VinDeSandwich.com.
Napa Sonoma Live A new podcast brings the pages of Napa Sonoma magazine and more to life. The podcast is hosted by Executive Editor and Certified Sommelier Laura Levy Shatkin and co-hosted by Jean- Charles Boisset, proprietor of the Boisset Collection. These 20-minute podcasts will highlight the best things to see, sip and savor in Wine Country. The podcast is sponsored by Oakville Grocery. Napa Sonoma Live is available for download and subscription at www.napasonomamagazine.com/live and on iTunes, Spotify, TuneIn Radio and Stitcher. The premier episode explores the historical significance and impact of Oakville Grocery on the food culture of the past as well as today.
News from Knudsen Vineyards A public tasting room at the vineyard in the Dundee Hills is in the early design stage and is expected to open in mid-2021, just in time to celebrate the 50th anniversary of the founding of Knudsen Vineyards. Bud break occurred this year around April 18, about a week later than average due, in part, to a cold and snowy February. On the other hand, April and May were relatively warm and dry with the forecast calling for more of the same. It appears that another exceptional growing season is in the works.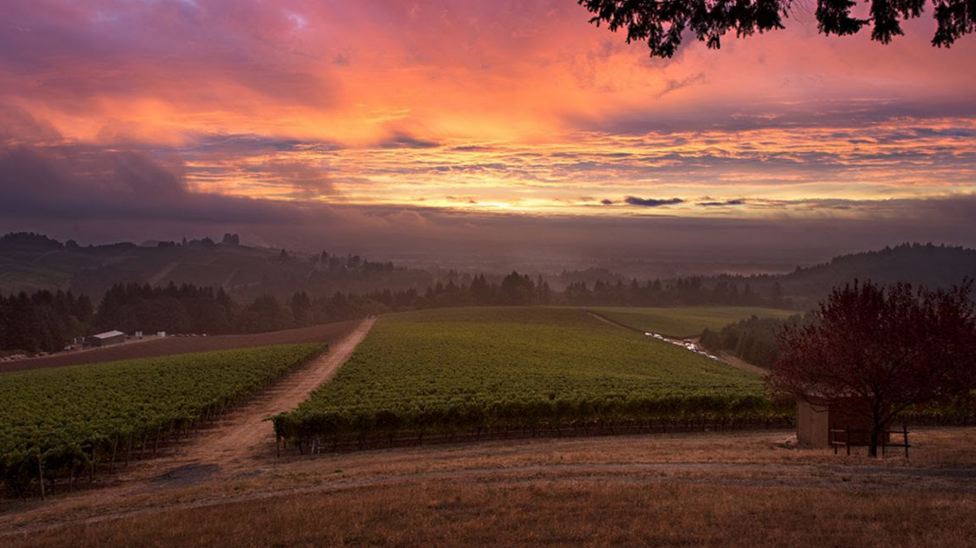 SLO Coast Wine's "Roll Out The Barrels" Celebration The San Luis Obispo (SLO) Coast Wine Collective launches it's 29th annual "Roll Out The Barrels" grand tasting celebration with a variety of events on June 20-22. On Thursday, June 20, "Barrels in the Plaza" offers wines from SLO Coast Wine's 30 wine members and food prepared by 20 area chefs ($60 per person). "Passport to SLO Coast Wine" will be Friday, June 21, and Saturday, June 22. Offerings of barrel samples, vineyard tours, farm-to-table bites, live music and special discounts in the tasting rooms of participating wineries ($75 per person). Complete event details and tickets may be found at www.slocoastwine.com/events.
Sta. Rita Hills 2019 Wine & Fire Four events are planned the weekend of August 16,17 and 18 focusing on Sta. Rita Hills wines and Central Coast BBQ foods. Friday night, August 16, is a Barn Party at Foley Winery. Thirty winemakers pour large format and library wines at a casual evening. Saturday morning, August 17, is a Speed Tasting and Lunch with a winemaker at Peake Ranch Winery. Attendees will have the opportunity to taste wines from 8 different winemakers followed by a wood-fired lunch. Saturday evening, August 17, will be the Wine and Fire Grand Tasting at La Purisima Mission. Forty plus wineries will be pouring and local chefs and farmers will be on hand for grilling. Only 325 tickets will be sold to the Grand Tasting. Purchase tickets for each event separately or go all in for all three events. Shuttle tickets are available from local Lompoc hotels. Sunday morning, August 18, will be the Santa Rita Wine Center Food Truck Sunday Brunch in Lompoc. A food truck feast with complimentary tastings from Kessler-Haak, Kita, Transcendence and Zotovich. Tickets are available at www.eventbrite.com/e/2019-wine-and-fire-tickets-61155072468.
IPNC Participating Chefs Just Announced Over 60 guest chefs from the Pacific Northwest team with Northwest farmers to produce cuisine that is the best the Pacific Northwest offers. See the list of chefs, IPNC cuisine and sample menus at www.ipnc.org/featured-chefs-2019/. Warning: this will make you hungry. IPNC participating wineries are also listed on the website.
Anderson Valley Barrel Tasting The 7th Annual Anderson Valley Barrel Tasting Weekend will be July 20-21. Unprecedented access to winery cellars, taste yet-to-be-released wines, small bites, and purchase wine futures of your favorites at a special barrel tasting weekend price of $25 (Pre-sale) or $30 at the door of the participating wineries. Tickets include a commemorative wine glass, wristband, and a copy of the Anderson Valley Barrel Tasting Map at your first stop. Tickets: www.eventbrite.com/e/anderson-valley-barreltasting- 7th-annual-tickets-62520492476.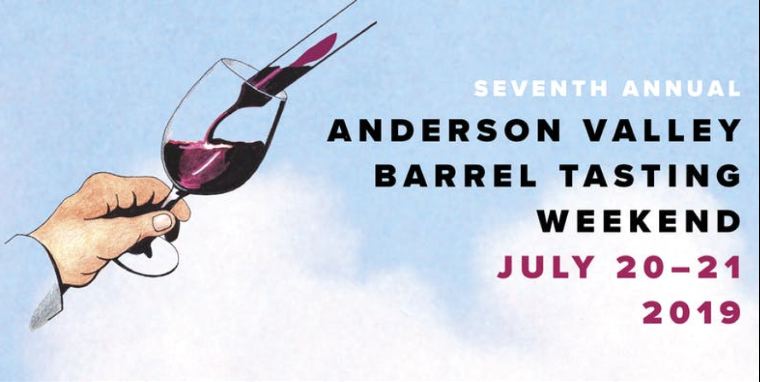 More Upcoming Wine Events The International Cool Climate Chardonnay Celebration will be held July 19-21, 2019, in Niagara, Canada. 50 winemakers, 9 countries, 135 wines and 20+ events. Tickets are now on sale at www.coolchardonnay.org. The Uncorked San Francisco Wine Festival, June 25, at Fort Mason Center for Arts & Culture, will offer over 150 wines and Champagnes, gourmet local food trucks, food vendors, live music and more. Three sessions are offered ($65-$100). Unlimited wine tastings with food sold separately. For tickets visit www.uncorkedwinefestivals.com. The Santa Barbara California Wine Festival is July 19-20. Two events are offered: the Sunset Rare & Reserve Tasting at Chase Palm Park Carousel House and the Beachside Wine Festival the following day at Chase Palm Park Oceanside. For tickets visit www.californiawinefestival.com/santa-barbara.
What is "Natural Wine"? Natural wine is one of the latest trends but also one of the most poorly understood descriptors. There are many false notions of what natural wine is so I was happy to find this article that clears the air on the subject. Consider this article required reading if you want to understand what makes a wine "natural". https://www.vox.com/the-goods/2019/6/10/18650601/natural-wine-sulfites-organic.
Geodesy Wine Philanthropic Endeavor Judy Jordan, the former owner of J Vineyards & Winery, has moved to her next chapter, Geodesy Wine. This winery was founded in gratitude to the agricultural community with the sole purpose of empowering the next generation of young women. All of Geodesy's profits support the Wild Goat Edge Program that offers agricultural works gratitude by nourishing the bright promise of their daughters to uplift our communities. Young women are connected with teachers, mentors, and internship sponsors who guide, support and empower them through the Wild Goat Edge Program. Judy began her search for exceptional vineyard sites for Geodesy in 2015. She and her team, including General Manager Kathryn Lindstrom acquired vineyards in Oregon's Eola-Amity Hills and Chehalem Mountains, Sonoma County's Petaluma Gap and Napa Valley. The wines are made by Megan Baccitich, formerly Director of Winemaking for Paul Hobbs Wines. The wines are released annually in the fall and spring. Three levels of membership are offered to acquire allocations of the wines. The 2017 vintage offering includes a Chehalem Mountain Vineyard and Eola Springs Vineyard Pinot Noir and Chardonnay, and a Sage Ridge Napa Valley Cabernet Sauvignon. To learn more, visit www.geodesywine.com and www.wildgoatedge.org.

2GV Pinot Noir Three second-generation members of the Willamette Valley's pioneering wine families have partnered to celebrate the second generation with a wine offering: the 2017 2GV Pinot Noir Cuvée (300 cases with 150 cases for charity, $100). The collaboration consists of three sibling pairs: Alex and Alison Sokol Blosser, Adam and Anna Campbell of Elk Cove and Maria and Luisa Ponzi of Ponzi Vineyards. The winemakers made a total of nine wines, using fruit from the three vineyards. The final blend is 36% Madrona Vineyard (Ponzi), 32% La Bohême Vineyard (Elk Cove), and 32% Old Vineyard Block (Sokol Blosser). The wine is available at each of the winery's tasting rooms and online through each winery's website store.
Domaine Nicolas-Jay New Vineyard Site and Winery Partners Jean-Nicolas Méo and Jay Boberg have purchased a site in the Dundee Hills where they will construct a gravity flow winery and plant Pinot Noir and Chardonnay.
2019 International Wine & Health Summit This biannual event took place this year in May on the UC Davis campus, welcoming renowned scientists and physicians from around the world. The three-day conference reviewed and discussed the latest scientific evidence regarding wine as a lifestyle factor. Summary:
(1) The J-shaped curve for moderate wine consumers was re-examined for all-cause mortality and for specific diseases and found to be equally valid today as it was ten years ago.
(2) The importance of the drinking pattern was discussed and there was a consensus that there are no health benefits to those who binge drink. The best pattern is drinking wine moderately and regularly with meals.
(3) Numerous studies show that by eating a Mediterranean-type diet, exercising moderately, not smoking or being overweight and drinking moderately, one's life expectancy can be increased by several years. Removing one of these lifestyle factors - the moderate consumption of wine included decreases longevity accordingly.
(4) There is a shortage of research funding and an increasing lack of studies looking into the health effects of moderate wine consumption. This is in part due to the negative perception of wine and alcoholic beverages caused by misinformation.
(5) It is critical to educate physicians and health professionals about the scientific evidence of moderate wine consumption for them to be able to asses the individual risk for their patients. Education is also critical for medical journalists.
(6) In parallel, wine producers should also be sensitised not only to know about the benefits of the moderate consumption of wine but also to recognize the risks of their product. That is the only way to preserve the special image of the cultural asset of wine in the future.
(7) Since 2007, the initiative Wine in Moderation aims at sensitising the wine sector. The European-founded movement is now worldwide in 17 countries. Visit www.wineinmoderation.eu.
(8) The International Wine & Health Summit invites all researchers, physicians, medical writers and consumers. Visit www.winesummit.org.
Red Wine Vinegar May Have Important Health Benefits Red wine vinegar, made by fermenting red wine and then aged to reduce flavor intensity, may have health benefits. (1) Acetic acid, the main ingredient in vinegar, may help lower blood sugar levels. (2) Acetic acid and antioxidants in red wine vinegar may have value in treating bacterial infections and other skin conditions. (3) Red wine vinegar may lead to weight loss by increasing the feelings of fullness and reducing the release of hunger hormones. (4) Red wine vinegar, like red wine, has antioxidants that may assist in preventing chronic diseases. (5) Acetic acid and polyphenols in red wine vinegar may help lower total cholesterol, blood pressure and triglycerides. (6) Red wine vinegar can be used diluted as a facial toner and added to a bath to soothe the skin. Diluted red wine vinegar may heal mild sunburn. Like red wine, red wine vinegar should be consumed in moderation. Read more: www.healthline.com/nutrition/red-wine-vinegar#section7.
Rosé Popularity Continues Rosé wine sales increased to 16.4 million cases in 2018 according to Nielsen, with a value up 13% to $1 billion. In 2017, Rosé replaced French red and white wines as the top category in sales in the U.S. One in five bottles of Rosé sold in the U.S. now comes from Chateau d'Esclans, the company behind Whispering Angel. Besides Whispering Angel, the winery has offered more costly Rock Angel and Les Clans. Now the winery is offering Garrus, priced at $100, a Rosé produced from 8-year-old Grenache and Rolle vines and aged for 5 to 10 years. The Italians are jumping on the Rosé bandwagon as well. Pink Prosecco is currently not allowed, but there are talks of opening the production of Prosecco to include a certain amount of Pinot Noir to blend with Giera to produce a Prosecco Rosé. This would have a major impact on the sales of Italian sparkling wine.
End of an Era for Edge Hill After 18 years working with Chardonnay grapes from original plantings at the historic Bacigalupi Vineyard, the last vintage of the Edge Hill Bacigalupi Chardonnay will soon be released from the 2017 vintage. Edge Hill is now offering a vertical of the Edge Hill Bacigalupi Chardonnay from the 2012 to 2016 vintage and single bottles from these vintages as well. The Bacigalupis planted 6 acres of Wente clone Chardonnay in 1964, one of the first plantings of its kind in the Russian River Valley. Some of the grapes were purchased by Mike Grgich and made it into the 1973 Chateau Montelena Chardonnay (making up 40% of the total Chardonnay grapes used in the Chateau Montelena blend) that won the 1976 Paris Tasting. Edge Hill winemaker David Ramey was able to secure a small amount of fruit from the famed old vine Chardonnay vineyard in 2000 to produce the first Edge Hill Bacigalupi Chardonnay. The Bacigalupi family has now decided to use the Chardonnay grapes themselves. Visit www.ruddwines.com.