Canned Oregon: "Beyond the Bottle"

Last year, canned wine sales increased 69 percent to more than $69 million in retail outlets that were tracked by Nielsen. This is a remarkable increase from the 2 million in sales in 2012.
The canned wine movement reached general popularity in Oregon when Union Wine Co. started offering its Underwood Pinot Noir and Pinot Gris in 375 cans (the equivalent of half a bottle) in 2014. Underwood's production took off and by 2018 totaled 244,000 cases.
As readers of the PinotFile know, I have an aversion to canned wine. Why would you want to put Pinot Noir, the Queen of Wines, in the lowly flip-top beer can? Cans of wine offer many advantages, including portability, and the lack of need for stems and an opener. Marketing promotion for Canned Oregon wine reads, "Whether exploring the mountain, hanging at the beach or relaxing in the city with friends, Canned Oregon is the perfect complement to every destination." Cans are easy to transport, lighter than bottles, unbreakable and reduce the environmental imprint. Millennials are particularly attracted to canned wine because of the lack of pretentiousness normally associated with wine.
There are a number of disadvantages as well. The consumer cannot see the color of the wine, they cannot swirl it to release aromas and once you open a can, you cannot close it. Wine is reduced to a common beverage much like Coca-Cola or Coors Light.
My biggest concern with canned wine is that a typical can contains 375 ml or about 12 ounces, the equivalent of three standard 4-ounce drinks or half a standard 750 ml bottle of wine. Drinkers are used to polishing off a couple of 12-ounce cans of beer (usually 5% ABV) while consuming a couple of cans of wine (usually 13-15% ABV) is equal to swigging an entire bottle of wine and therefore consuming three times as much alcohol. Wine is meant to be sipped and savoured and is not a utility drink like beer or Coke that is often gulped or chugged.
Canned Oregon is a lineup of canned wines produced in Oregon by the Stoller Wine Group. First released in the summer of 2018, production as initially 15,000 cases. If you choose to drink wine from a can, I would recommend the Canned Oregon lineup of varietals as the quality is a step above many canned wines in the marketplace. Pinot Gris and Rosé seem to be particularly suitable to this form of packaging. All wines in the lineup are priced at $6.99 (two cans are equivalent to $14 a bottle).
The Australians would describe these wines as "smashable," meaning an easily quaffable, goes-down-easy style.
The canned wines reviewed below were poured into proper glassware for tasting and were not sampled directly from the can.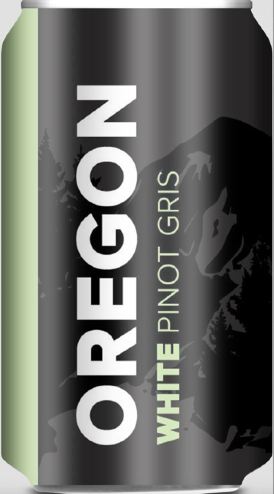 An update on canned wine. Currently, the TTB requires that canned wine be in 12.6-ounce containers, which is slightly larger than the usual 12-ounce cans typical for beer and soda. The difference is making it difficult for wineries since larger cans are harder to source. The larger can size has to be pre-ordered and it may take 6 to 8 months to obtain them. On another matter, Constellation Brands is partnering with the NFL to introduce its new Crafters Union Pinot Grigio, Red Blend and Rosé wine in a can and is also looking at a single-serve Kim Crawford in a can. Anheuser-Busch InBev has taken a controlling interest in Babe Wine, a canned-wine business. According to Nielsen, more than 20 wine brands sell almost 400 different wines in cans, generating $81 million in annual sales.