Oregon Wine: A Deep-Rooted History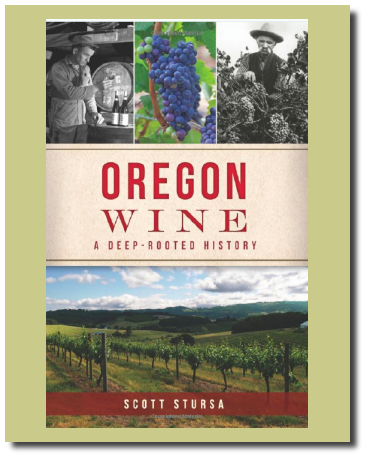 This book offers a detailed history of winegrowing in Oregon spanning the period from the early 1800s to the modern-day. It is extensively researched and includes a comprehensive bibliography and numerous footnotes. Both color and black and white photos are included in this paperback book.
The author dedicates many pages at the beginning unveiling the history of Oregon vineyards and winemaking prior to Prohibition, a period of time that has been largely ignored by wine historians with the limited number of historical accounts filled with considerable misinformation that is not supported by the historical record. Sursa identifies the most frequently cited non-facts and tags them as 'Myths of Oregon Winemaking'.
However, I must point out two "myths" that I feel are unsubstantiated. He describes three purported plantings of Pinot Noir in Oregon including the first by Peter Britt who planted "Frank pinot" in the Rogue Valley in 1887, the second by Adolph and Frederick Reuter who described plantings of "Burgundy" in 1901 in Forest Grove, and the third by August Aufranc who listed Red Burgundy among his plantings. My concern here is that none of these plantings was ever substantiated as Vitus vinifera and more specifically Pinot Noir in the historical record, but instead, reference is made to various paranyms for Pinot Noir used at the time that one could infer as being Pinot Noir grapes.
Stursa's 'Myth Number Seven' states that "Peter Britt, not Richard Sommer was the first to grow Pinot Noir in Oregon" and 'Myth Number Eight' states that "Frederick Reuter, not Charles Coury or David Lett was the first to grow Pinot Noir in the Willamette Valley." These two so-called "myths" may well be true, but Stursa offers no proof. John Winthrop Haeger's excellent book, North American Pinot Noir, sheds no light on this part of Oregon's wine history nor does Benjamin Lewin's book, In Search of Pinot Noir, so Scott Stursa's book is a valuable addition to Oregon's historical wine archives.
Oregon Wine: A Deep-Rooted History, published by American Palate, 2019, 172 pages, $21.99.