Cristom Vineyards: One of America's Greatest Wineries Delivers (Again)

Cristom was founded by Paul Gerrie, a petroleum engineer and researcher that had a passion for wine. On his many travels to France, he found the traditional growing practices of Burgundy to be appealing and realized that soil and site, the mainstays of terroir, were key in producing complex Pinot Noir. After attending the 1991 International Pinot Noir Celebration in McMinnville, Oregon, he was inspired enough the following year to leave the East Coast with his family in tow to pursue his love of Pinot Noir in Oregon's burgeoning wine country. He bought a small winery and vineyard in the Eola-Amity Hills, and named his new winery Cristom, after his two children, Chris and Tom.
Gerrie's dream could not be complete without a winemaker. Enter Steve Doerner, a biochemist by training whose passion for Pinot Noir was inspired by working at Calera Vineyards with owner Josh Jensen and studying under Jacques Seysses of Domaine Dujac in Burgundy. Doerner considers Jacques as his most important mentor.
The engineer and the biochemist worked together to develop their vision in 1992 and have since established Cristom Vineyards as an iconic Oregon winery producing outstanding Pinot Noirs with a Burgundian sensitivity. Paul Gerrie has now retired, but his son, Tom, carries on as the current proprietor and manager.
Today, Cristom Vineyards consists of nine distinct vineyards on 65 acres in the Eola-Amity Hills of Oregon's Willamette Valley. All but Marjorie Vineyard are planted to high density (about 2300 vines per acre) and yields are strictly limited.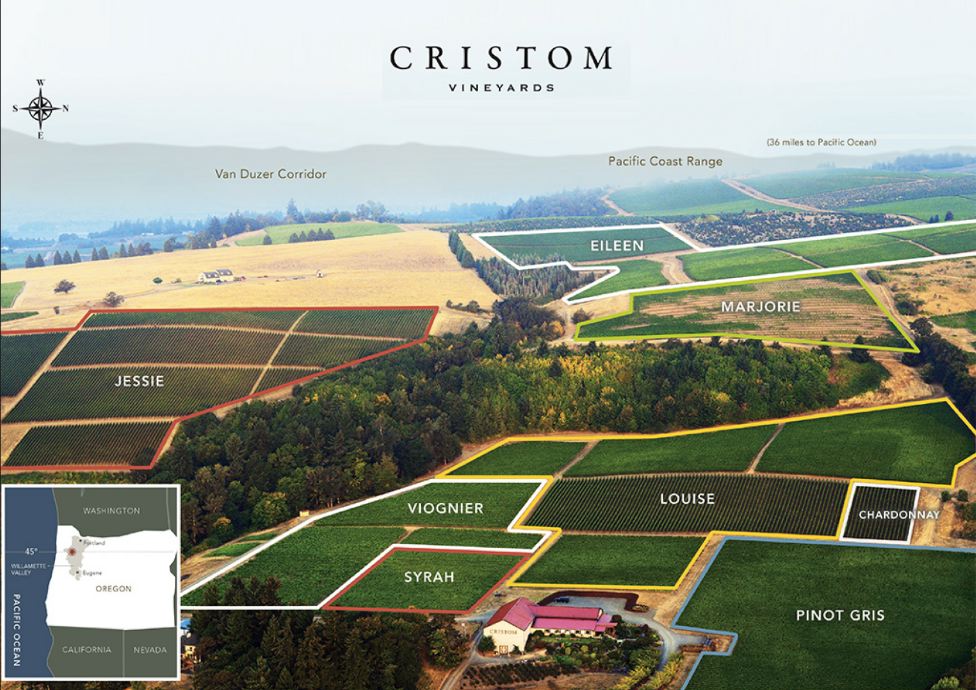 The Pinot Noir vineyards (named after Paul Gerrie's family members) include Marjorie Vineyard (the only one of the currently existing vineyards retained when the property was purchased in 1992 and the only one kept on its own roots with the original spacing of 605 vines per acre), Louise (9.31 acres and the first vineyard Cristom began planting in 1993; Dijon clones 113, 114, 115, 77 and Pommard planted in diverse soils), Jessie (11.53 acres established in 1994 and one of the steepest planted in the Willamette Valley; Pommard and Dijon clones 115, 114, 667 and 777), and Eileen (16.61 acres planted in 1997 and 2006, and the largest and highest elevation planting of Pinot Noir on the estate; Dijon clones 114, 115, 777, Pommard 4 and Wädenswil 1A). Another Pinot Noir vineyard, the Paul Gerrie Vineyard, was in its third leaf in 2017. Pinot Gris, Viognier, Chardonnay and Syrah are also planted as separate vineyards. All vineyards are biodynamically farmed and certified sustainable. Viticulturist Mark Feltz has bee at Cristom Vineyards since its beginning in 1992.
Cristom Vineyards is a rarity among Oregon wine producers in that every varietal produced offers uncommon excellence and consistency year in and year out. But it is the Pinot Noirs that have caught my fancy for many years because of their whole cluster inclusion in the ferment and the resulting age ability. Doerner only works with native yeasts, without a cold soak, employs minimal fining and racking and no filtration. His are not fairy Pinots!
Many domestic wineries claim to produce "Burgundian" Pinot Noir, but Cristom is one of the very few that can truly make that claim. Line up some great red Burgundies and 2017 Cristom vineyard-designates and taste them together blind. Convinced? The balance of these wines leads to improvement in the cellar and the scores will be even higher when these wines are tasted again in 5 to 7 years.
Taste the wines of Cristom Vineyards yourself. The winery is open to the public seven days a week from 11am-5pm. Walk-in tasting options are only $15 per flight and waived with a 2-bottle purchase. Private tasting options are offered by reservation. Visit www.cristomvineyards.com. Some of the wines are released in half-bottles allowing for earlier consumption. There are also magnums available. Availability is good, with the wines sold on the website and distributed widely to restaurants and retailers.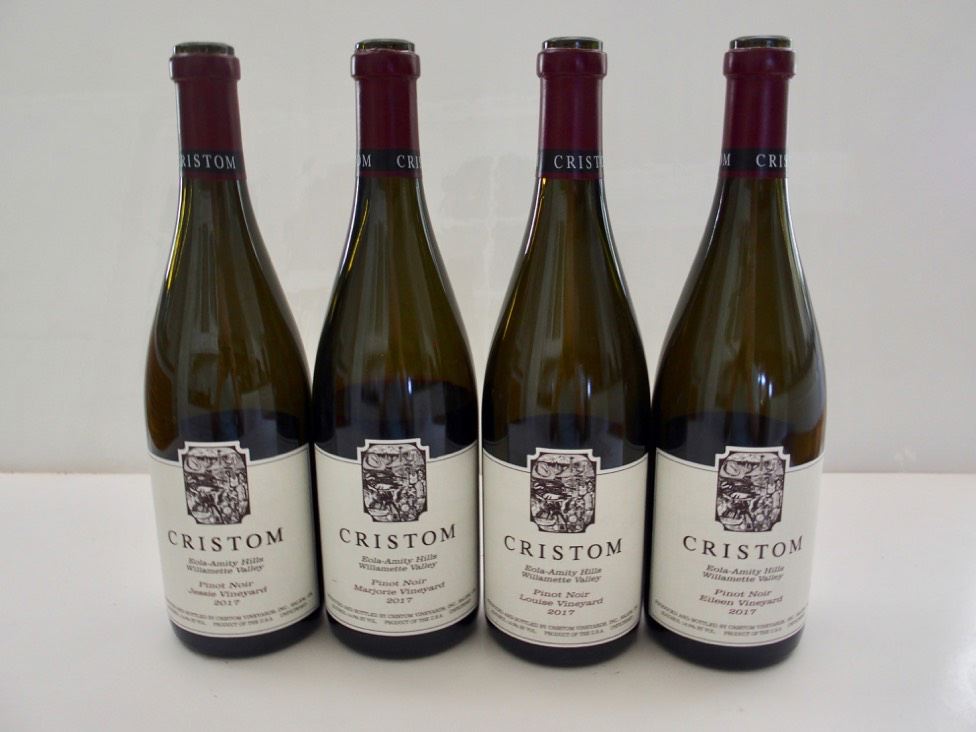 2017 Cristom Eola-Amity Hills Willamette Valley Estate Syrah
13.5% alc., pH 3.51, TA 0.63, $50. Produced from only 1.24 acres in extremely limited quantities. This wine has a cult following. 31% whole clusters, native yeast fermentation, full malolactic fermentation in barrel, aged 19 months in French oak barrels, 36% new. Fined with egg whites and unfiltered. · Dark garnet color in the glass. Aromas of black cherry, sassafras, spice, fertile earth and botanical elements. Mid weight plus in concentration, offering an array of purple and black berry fruit flavors with a bit of tobacco oak chiming in. The suede tannins make for easy approachability and there is noticeable density and length on the boysenberry-led finish. Score: 93