Elk Prairie Vineyard: Native American Pinot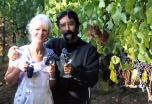 A few issues back, I featured a winery in Humboldt County named Whitethorn. In the same vicinity, is Elk Prairie Vineyard. Alan Estrada, a Luiseno and member of the San Luis Rey tribe (his ancestors tended the vines at California's San Luis Rey Mission), and his wife Sandra ignored much skepticism and planted the Elk Prairie Vineyard on Fruitland Ridge in 1992. The 10-acre vineyard and winery is situated at 1,200 feet elevation in heavily shaled soil above the ancient redwoods in southern Humboldt County. Fruitland Ridge gets its name from Dutch immigrants who successfully farmed fruit orchards here. Today the Ridge is closely-planted to grapes which are dry farmed and hand cultivated.
The site is a unique microclimate with warm days tempered by morning fog rising from the Eel River below. After harvesting the grapes at Elk Prarie, the wines are fermented in small 1/2 ton macro bins located outdoors in the shade of the winery. The cap is punched down by hand. Aging is in 30% new French oak. Handling is minimized and the wines are unfined and unfiltered.
Production is about 700 cases per year. Some grapes are sold to nearby Briceland Vineyards and Woodenhead who both bottle a vineyard-designate Elk Prairie Pinot Noir. All of the wines feature some earthiness, darker fruits, and good acidity.
Elk Prairie Vineyard is located at 11544 Dyerville Loop Road, Myers Flat, CA 95554. The phone is 707-943-3498. The wines may be ordered from the website at www.elkprairievineyard.com.