The Last Word on the History of Winery Mailing Lists

In the May 1, 2019 issue of the PinotFile, I presented historical research that indicated that Stony Hill Vineyard was the first California winery to offer a mailing list to its consumer base, dating to the early 1950s.
Shortly after publishing this article, I received an email from a reader, Chuck Hayward, who pointed out that Mayacamas Vineyards may have had an active mailing list and sent out newsletters dating back to the 1940s. So I engaged the Library Research Services at the UC Davis Wine Library (Lee Riggs, Julianne Ballou) and the St. Helena Public Library that houses the Napa Valley Wine Library Association Collection (Lynn Albrecht) to help me discover when Mayacamas began mailing newsletters to their customer base. My thanks go out to these library staff members for their prompt and dedicated assistance.
In 1941, Jack and Mary Taylor bought the J.H. Fischer Winery (built in 1885) and the surrounding 260 acres located on Mount Veeder in the Mayacamas Mountains. They bonded the winery in 1947, renamed the winery, Mayacamas Vineyards, and initially planted mainly Chardonnay with smaller amounts of Cabernet Sauvignon. The first release was in 1953 and consisted of 94 bottles of a 1951 Chardonnay. They also produced wine under the Lokoya label from purchased grapes.
In 1968, the Taylors sold the winery to Robert and Elinor Travers who produced Cabernet Sauvignon, Chardonnay, Sauvignon Blanc and a small amount of Pinot Noir. Charles and Ali Banks in partnership with retail entrepreneur Jay Schottenstein and his son, Joey, purchased Mayacamas Vineyards in 2013. By 2017, the Schottenstein family acquired 100% ownership.'
According to Charles L. Sullivan, writing in A Companion to California Wine (1998), the Taylors began publishing a newsletter in 1949 that included family recipes, vintage reports and happenings at the winery. The UC Davis Wine Library does not have copies of the Mayacamas Vineyards newsletter, but a reference to the newsletter was found in an interview with Jack Taylor, titled History of Napa Valley - Interview and Reminiscences of Long-Time Residents. In the interview, Jack was asked how they sold the wine and he said that they had a mailing list.
Some of the winery bulletins sent to shareholders (they incorporated in 1958) were located. The earliest one in the library is Bulletin #48, "Eleventh Anniversary Issue," dated October-November, 1960. This would suggest that the Taylors started the bulletins in 1949.
Further digging by Lynn Albrecht's son, Braiden Albrecht, the current winemaker at Mayacamas, unveiled the first Mayacamas Bulletin, dated November 1949 (a scanned copy is below). I have also included for interest Bulletin #2, 1950, that shows pricing and an order form.
The Library Research Services also uncovered issues of Charles Krug Winery's newsletter, Bottles & Bins, from 1949 to 1979, including the first newsletter. Apparently, there were at least two Napa wineries that began contacting their mailing list customers with a newsletter in 1949.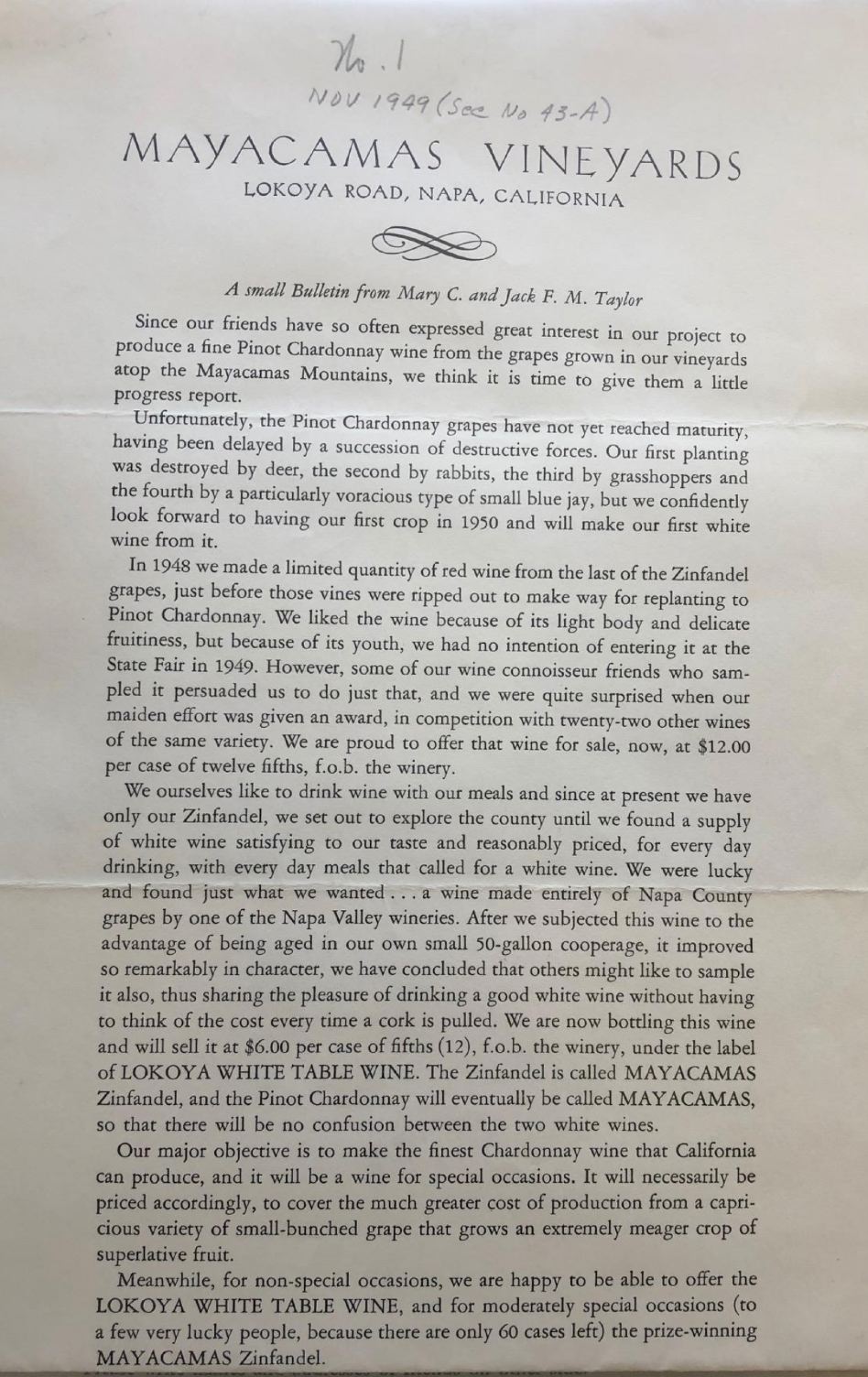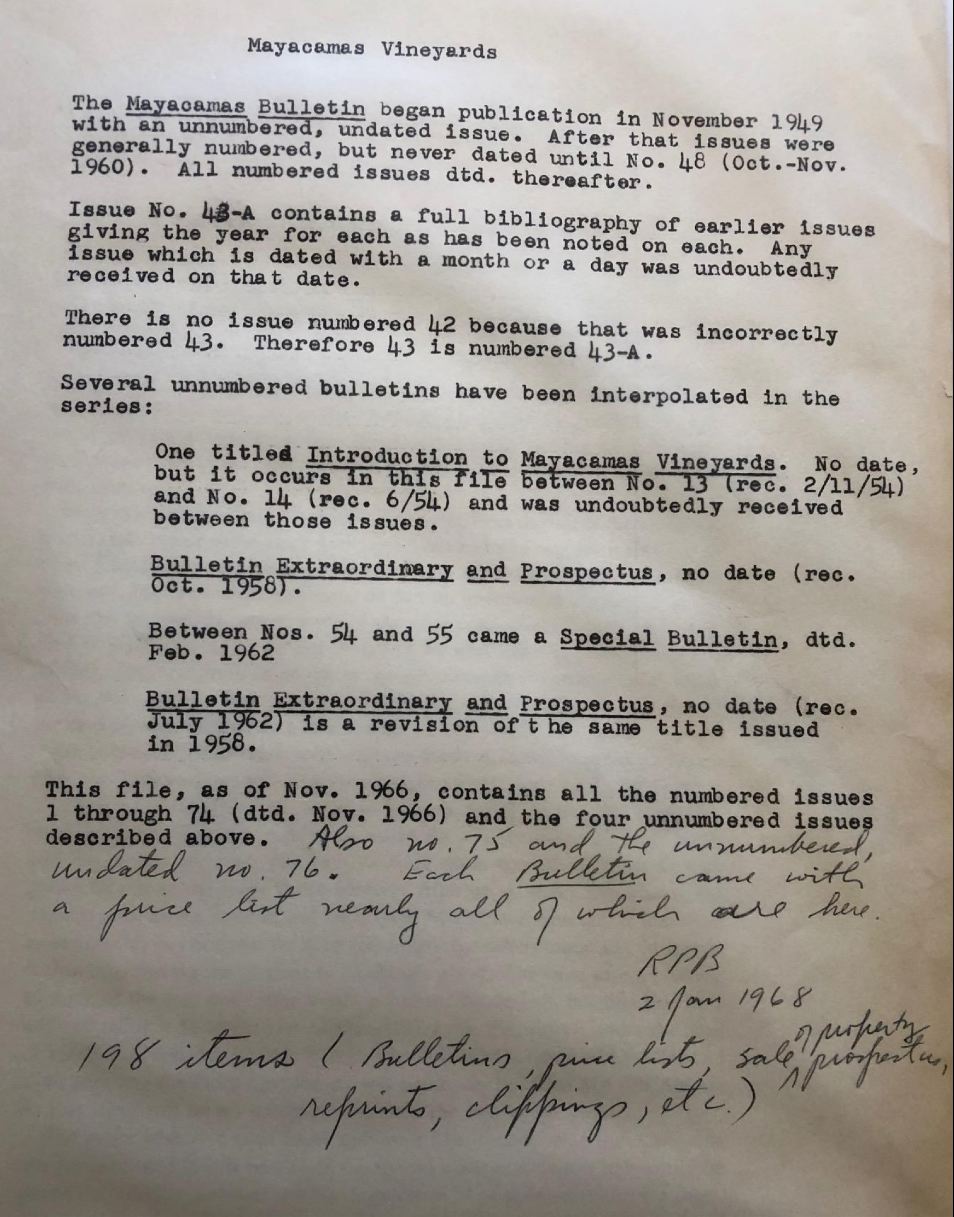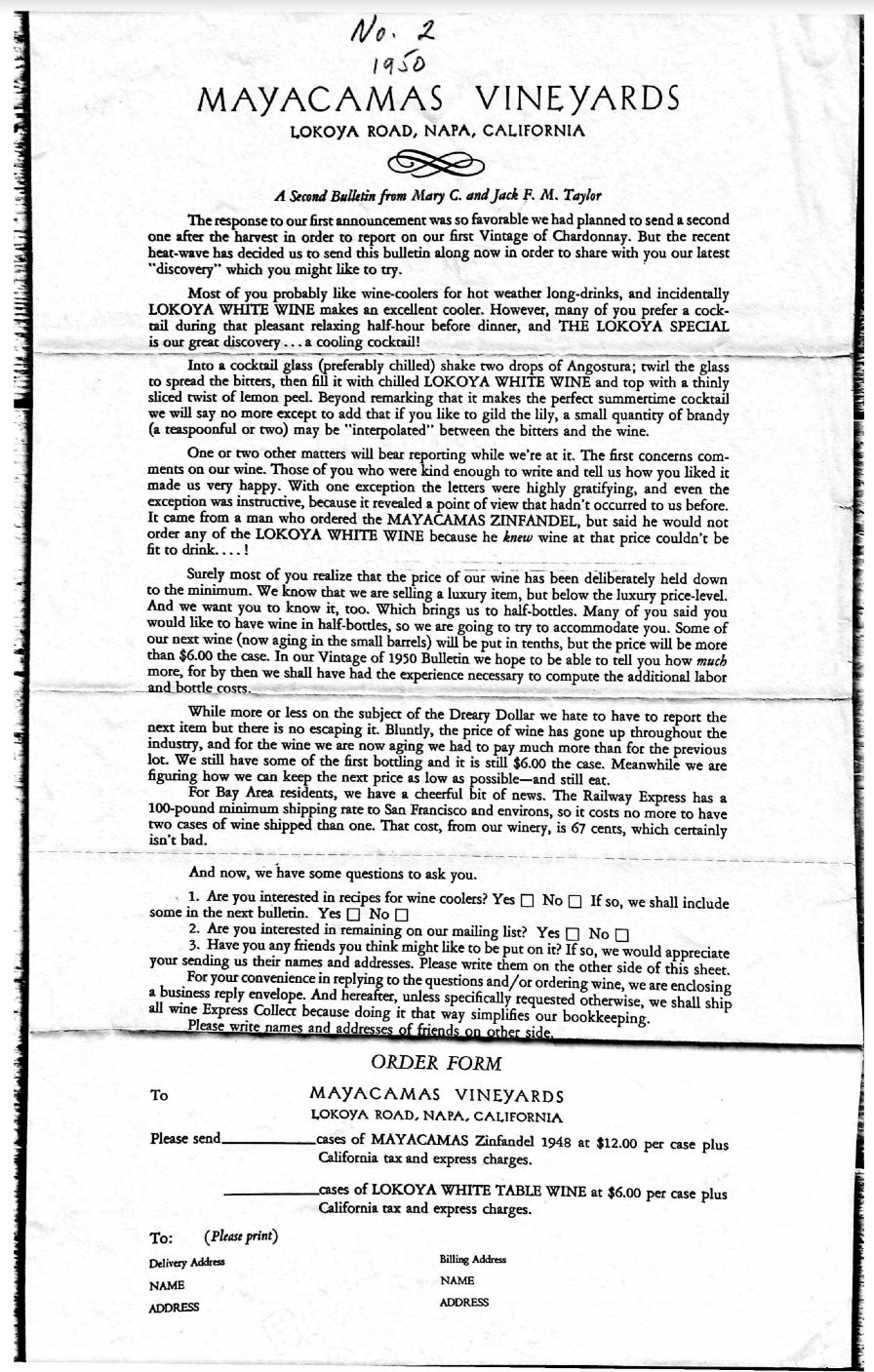 What about Oregon? The modern era of wine in Oregon did not begin until 1961 at HillCrest (or Hillcrest) Vineyard in the Umpqua Valley when Richard Sommer planted the first Vitis vinifera vines in Oregon since the end of Prohibition. The current owner of HillCrest Vineyard, Dyson DeMara, told me that he was unaware of any bulletins or newsletters sent by Sommer to a mailing list.
The earliest mailings in Oregon were probably by the Letts at The Eyrie Vineyards. According to Diana Lett (personal communication), Diana and David put out their first mailing in 1972. She said, "We put together a handsome brochure/announcement of our first Pinot Noir from the Willamette Valley. It was professionally designed, printed on heavy paper and sent to about 400 people that included friends, family but primarily to a list of customers from Burt Harris, the proprietor of the Harris Wine Shop on NW 23rd St. in Portland where Burt taught classes and held tastings. I think the first Pinot Noir was offered at $2.50 a bottle. We expected to sell out immediately upon release of our inaugural wine. We received exactly one response from the Harris customer list but our friends and family did come through! We realized very graphically then that maybe this adventure was going to be even harder than we thought."
Jason Lett sent me a 1976 direct sales mailing from the Eyrie Vineyards. I believe the reader with an interest in wine history will find this extremely informative. The text is impressively heavy on information and light on pushy sales tactics. A price list for 1976 is also reproduced here. I asked Jason whether allocations of The Eyrie Vineyard wines became a part of winery sales, and he said, "Yes allocations were and are still a thing but we try not to be snobby about it!"