Pinot Briefs —Newsletter 11.48
California AVA For Sale Cole Ranch AVA consists of 150 acres in Mendocino County with 55 acres initially planted to Pinot Noir and Riesling. Esterlina Winery, the original owners, made many fine wines from this AVA, America's smallest appellation, a decade ago. The asking price by the Sterling family (formerly of Esterlina Winery and Everett Ridge Winery) is $3.3 million. Currently only about 20 percent of the vineyard is Pinot Noir and Riesling with the rest Cabernet Sauvignon.
Five Year Trend of Average Retail Bottle Price by Region: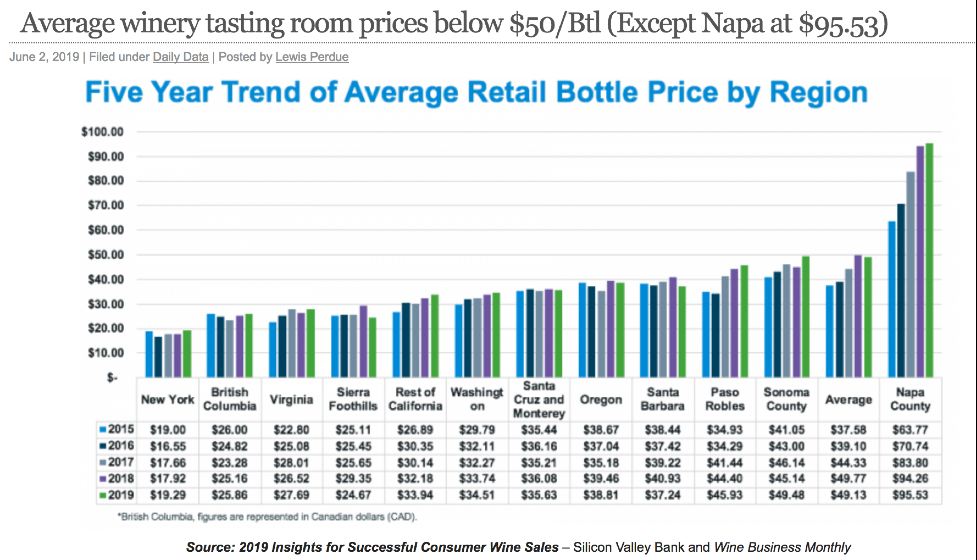 Older Moderate Alcohol Drinkers Live Longer Results from the 9 Waves of the Health and Retirement Study that included 16 years of follow-up on cohorts with the baseline mean age of 61 years found a consistent association between moderate and occasional drinking and lower mortality, though residual confounding remains a threat to the validity of this study.
Professionals Follow-up Study Research published in the Journal of Clinical Oncology April 29, 2019, found a slightly lower risk of lethal prostate cancer among cancer-free men who consumed alcohol versus abstainers. Researchers also observed a lower risk of progression to lethal disease in relation to red wine consumption among men with prostate cancer. According to findings, moderate alcohol consumption is safe for patients with prostate cancer.
Histamine in Wine I have written about histamine in wine including many of the misconceptions in the past. Huon Hooke wrote an excellent article that was published June 6, 2019 at www.therealreview.com/ 2019/06/06/histamine-and-wine/. Double-blind, placebo-controlled studies have shown no correlation between histamine in wine and adverse food reactions. However, the presence of histamine in wine may lead to an adverse reaction when the wine is consumed together with other histamine-containing foods such as tomato, spinach and cheeses.
Résonance Opens Tasting RoomThe famed French producer, Louis Jadot, acquired the Résonance Vineyard in 2013 and the Découverte Vineyard in the Dundee Hills. Résonance Vineyard is a 20- acre, dry-farmed estate that was first planted in 1981. The winery also sources grapes from Hyland Vineyard. In late May 2019, the Resonance winery and tasting room were opened just outside of Carlton at the Résonance Vineyard property. The new winery and tasting room has three buildings inspired by the barns of Oregon, featuring earthy wood and stone materials, large windows overlooking the vineyard, and a sprawling, west-facing terrace for guests to enjoy the stunning views of the estate and the coastal range. The exterior lumber of the tasting room is 100% reclaimed wood from dilapidated covered bridges and barns in the Pacific Northwest. The tasting room will be open daily. Visit www.resonancewines.com.
Oregon's First White Pinot Noir An article published online at www.oregonlive.com by Michael Alberty details the author's search for the first white Pinot Noir produced in Oregon. He found a bottle of 1971 vintage Humbug Winery White Pinot Noir in the Douglas County Museum of Natural and Cultural History in Roseburg (Umpqua Valley). The Pinot Noir vines were cultivated from cuttings given to him by Richard Sommer who founded HillCrest Vineyard. The exact year the Pinot Noir cuttings were planted is not known for sure, with Scott Henry, III of Henry Estate Winery claiming 1965 or 1966 and Andrea Mafit, the daughter of Dr. T.R. "Ted" Mafit. who founded Humbug Winery, thinking it was 1967 or 1968. Alberty relays an important historical story that has been absent from all Oregon wine history books and writings.
00 Wines Focuses on Oregon Chardonnay and a Project in France All three 00 2017 Chardonnays submitted for review to James Suckling received 97 point scores: the 2017 00 VGW, EGW and Seven Springs Vineyard Chardonnays. Among the 451 wines tasted, no other Oregon winery received 97 points for a 2017 Chardonnay and it is likely no Oregon winery has ever received three 97 point ratings for Chardonnay in a single vintage. The three 00 Pinot Noirs were also scored highly: 2016 00 Shea Vineyard 96, 2017 00 Shea 95, and 2017 VGR 00 VGR 95. I have not reviewed these wines personally. A 2017 00 Corton Charlemagne and a 00 Blanc de Blanc Champagne will be coming to the U.S. this fall. Visit www.00wines.com.
Anne Moller-Racke Leaves Donum Estate for Blue Farm Wines After 18 years, Anne Moller-Racke has stepped away from the Donum Estate, as President and Winegrower, to devote her time into building Blue Farm Wines. In 1999, Anne purchased a farmhouse property in southwest Sonoma that included a historical Victorian house, now her home, and a 10-acre parcel of which seven acres were planted to Pinot Noir beginning in 2001 (Anna Katherina Vineyard). Blue Farm Wines was launched in 2013 with the addition of a like-minded partner and his 1861 Pinot Noir vineyard. The Moller-Racke family purchased Buena Vista, California's first winery in 1979. Anne Moller-Racke followed in 1981 from Germany, developing 1,000 estate acres and leading the viticulture efforts for Buena Vista Carneros Winery. Donum Estate was founded in 2001 and Anne developed that winery's 170 acres of estate vineyards, establishing 40 world-renowned art instillations and finishing a new state-of-the-art winery and hospitality center. Blue Farm Wines produces Pinot Noir and Chardonnay from five vineyards and five AVAs within Sonoma County including Carneros, Fort Ross- Seaview, Sonoma Valley, Russian River Valley and the Sonoma Coast. The common thread is rigorous farming and caregiving to the growing of the grapes while keeping winemaking traditional. To learn more about Blue Farm wines, visit www.bluefarmwines.com.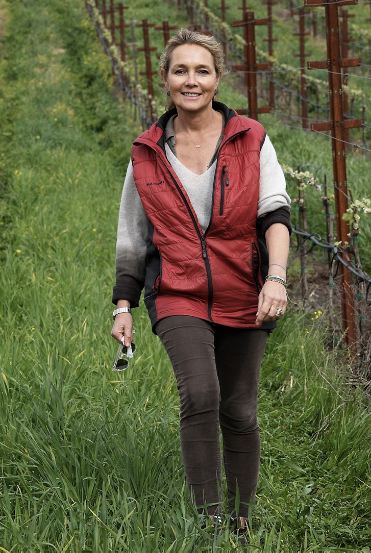 Sophie James Vineyards: A Social Media Darling This winery brand was largely built by its popular Instagram account. Sophie and James Gray acquired a 5-acre Pinot Noir vineyard property in 2010 that included 130 acres (@sophiejameswine) located at 2,300 feet elevation on top of Sonoma Mountain. Popularity has taken off largely by word of mouth and social media and the small production of wine is all sold direct to consumers. Wine club members are labeled members of the Sophie James' "Tribe" and are invited to exclusive events such as high-end chef dinners on the mountaintop (something Scribe Winery in Sonoma Valley pioneered a number of years ago). The lifestyle winery has an ever-expanding wait list. For the full story behind Sohiie James' Exclusive Wine Brand and Club visit www.sonomamag.com/the-story-behind-sophiejames- exclusive-wine-brand/.
Winery Opts For Reusable Wine Bottles Coopers Hall Winery in Portland, Oregon, was the first keg-only winery in Oregon and is now the first winery in the country to bottle its wine in reusable bottles. the brown-colored bottles used are actually beer bottles that have been used for Oregon's refillable beer bottle program that started in 2018. Each bottle can be washed and reused at least 25 times, reducing CO2 emissions significantly (typically wine bottles are crushed and recycled which takes a large amount of energy). Coopers Hall Winery is selling refillable bottles of Pinot Noir wine priced at #12 a piece (each bottle has three servings instead of the five servings in the traditional 750 ml wine bottle). Visit www.coopershall.com.
West of West Wine Festival West Sonoma Coast Vintners presents the 2019 West of West Wine Festival in Occidental, CA, on Saturday, August 17. A VIP Library Tasting ($125) and a Consumer Tasting ($100) of Pinot Noir, Chardonnay and Syrah will be offered. Your favorites West Sonoma Coast wineries will be pouring including Alma Fria, Balletto, Banshee, Ceritas, DuMol, Ernest, Failla, Flowers, Freeman, Gros Ventre, Hirsch, Joseph Phelps, Littorai, Occidental, Paul Hobbs, Peay Vineyards, RAEN, Whistler, Red Car, Senses, Small Vines and Wayfarer. For more information and tickets, visit www.westsonomacoast.com.
Santa Cruz Mountains AVA Fall EventsThe Santa Cruz Mountains Winegrowers Association (SCMWA) announces seven upcoming Fall events. Saturday, August 24, 2019: Taste of the Mountains offers wines from 16 winemakers in the Santa Cruz Mountains. Sunday, September 1, 2019: Barrels of Corralitos offers wines from six Santa Cruz Mountains wineries. Sunday, September 8, 2019: Santa Cruz Mountains Pinot Noir and Chardonnay will flow under the stars at Deer Park Ranch along with a farm-to-table dinner. Saturday, October 12, 2019: Four wineries from Montebello Road in Cupertino will offer a day of wine tasting, food and entertainment. Saturday, November 2, 2019: Premier Cruz, A Mountain Cabernet Experience Harvest Dinner at House Family Vineyards. Saturday, November 16, 2019: Santa Cruz Mountains November Passport Day welcomes attendees to over 50 wineries throughout the Santa Cruz Mountains. Saturday, December 7, 2019: Taste of the Mountains Wine Walk in downtown Menlo Park. Tickets for all events can be purchased at www.scmwa.com. For more information, email contact@scmwa.com.
Four Year Trend of Tasting Fees: