The Prince is Retiring but His Spirit Lives On In the Next Great Bottle of Pinot Noir You Drink

I found myself in step with MAD Magazine which recently announced it will no longer publish new and original content. Retirement seemed right after regularly publishing 540 issues of the PinotFile since the inaugural one debuted on April 22, 2001. I use the term retirement loosely for retiring usually refers to leaving "work." Although the PinotFile has been a reason to drag myself out of bed each day, it is time to abandon critical tasting and get on with the business of drinking and fully enjoying Pinot Noir.
My love of Pinot Noir has not wavered. I still crave that perfect Pinot Noir experience and certainly more than common sense would indicate. Be assured that health was not a factor in my decision to retire.
In this final issue. I will reminisce about "My Long and Winding Pinot Road", an extended dialogue that is the closest I have come to writing a book. Open a great bottle of Pinot Noir and enjoy my story. In addition, I will present my All-Americans for 2019 (wines tasted in 2019) in this last issue, in keeping with an annual feature of the PinotFile that began in 2004.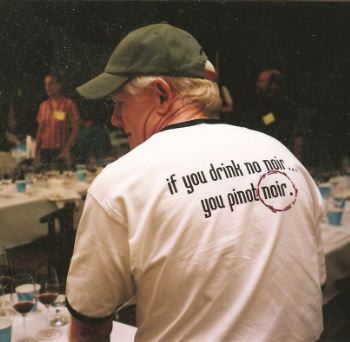 Over the years, I have received considerable positive email feedback and many of these emails are copied in the "Crew Testimonials" section of the PinotFile (part of the drop-down menu under "About" on the website homepage). One of these recent communications from a reader, Mark Fogel, seems to sum up my legacy.
"Your Majesty: I'm a long-time reader and really appreciate the work you do.
You have introduced me to many wineries that I would not have otherwise known about.
Thanks for your efforts. Like you, I'm a huge fan of Pinot Noir.
I end up buying wines from many of the lesser-known wineries you review and visit many of them as a result."
Notice to Wineries, Winemakers, Public Relations
Organizations and Marketing Companies
Please do not submit any more wines to the Prince for review!
Inquiries
I am now open to offers to acquire continuing publication rights for the PinotFile and obtain ownership of the princeofpinot.com website. Both the PinotFile and the Prince of Pinot are trademark protected. I would be available to assist in the transition and make any appropriate introductions. For all inquiries, contact me at prince@princeofpinot.com.