Gypsy Canyon Winery a Traditionalist
Over a 100 years ago, the first known woman wine grower in California, Dona Marcelina Felix Dominguez, grew Mission vines on her Santa Barbara property. The vines survived, and when Deborah Hall and her late husband, William, brought the property in 1994, they discovered these vines under a heavy cover of brush. They originally thought the vines were Zinfandel, and sold them as such to other vintners. DNA testing at University of California Davis later revealed that they were Mission vines. Mission vines were brought into California in 1767 by Spanish Padres from Mexico who established a chain of missions from San Diego to Sonoma from 1767 to 1833. Deborah's ancient Mission vineyard of three acres is part of only ten acres still growing in California. She has named the ancient Mission vineyard Dona Marcelina's Vineyard and today, it is the oldest producing vineyard in Santa Barbara County. Using a recipe written in 1891 by Emile Vache, Deborah crafts a Gypsy Canyon Ancient Vine Angelica, a rich, fortified dessert wine from the Mission grapes.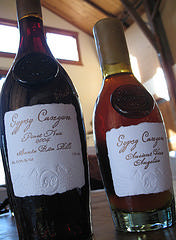 The original Gypsy Canyon property was 290 acres and included an 1800s farmhouse. After Deborah's husband passed away in 1997, she sold 160 acres (with 18 acres of vineyards) and kept 130 acres with 12 acres of vineyards to herself. Her original intent when she bought the property was to produce Pinot Noir. There are 4 acres of clone 115 and 777 Pinot Noir and some Pinot Gris planted on the Gypsy Canyon Santa Rita Creek Vineyard. The initial winemaker was Norm Yost (Flying Goat) who crafts the wines in the Lompoc "ghetto." The site has an exceptionally cool microclimate compared to other vineyard sites in the Ste Rita Hills AVA. Farming is largely by hand and is both organic and biodynamic.
The first release of Pinot Noir was in 2004. The whole Gypsy Canyon package is quite traditional and striking. Deborah uses a hand blown glass bottle of historical shape with an embossed glass seal, a handmade paper label, and a beeswax seal. Each bottle is numbered and signed by Deborah Hall. All of this historical esthetic adds to the appeal of the wine inside. I must warn you, however, the bottle is fragile. While inserting a bottle recently into my wine cabinet, I used gentle force to find a space. The bottle broke, spilling the sweet-perfumed liquid into my cabinet and onto the floor. At $75, I blurt out several expletives.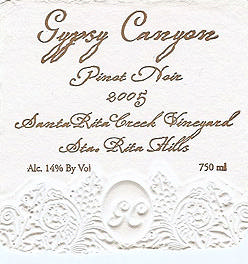 2005 Gypsy Canyon Winery Lot 2 Santa Rita Creek Vineyard Santa Rita Hills Pinot Noir
14.0% alc., < 18 cases, $75. Aged 15 months in 50% new French oak. Hand bottled in January, 2007. · This is a very elegant, smooth and polished Pinot Noir. The color is more mahogany than violet. The nose is a bit rustic with brown sugar-coated cherries and a hint of port. The cherry fruit is complemented by gregarious spice, cinnamon and a lively finish which displays gossamer tannins. Very appealing. Delicious the next day from an uncorked bottle.
Gypsy Canyon Winery wines are primarily sold through a mailing list at www.gypsycanyon.com. Tasting of Gypsy Canyon wines with cheese is available by appointment ($25). Stunning hand-blown magnums of Pinot Noir are available ($190). There is a second Fall Release (October) of Santa Rita Creek Vineyard Pinot Noir. The Angelica (552 bottles) is $120 (375 ml).