A San Francisco Native Finds His Wine Muse in the Russian River Valley
"I wouldn't take a backseat to Napa Cabernet. I love Pinot Noir and think it is the best wine."
Burt Williams

Burt Williams was born in 1940 in San Francisco and grew up there, but every summer his family would join relatives for an extended vacation in a summer house in the Russian River Valley. At age 13 years his father died, and his mother decided to move the family out of the city to live in the Russian River Valley. Burt spent his high school years attending Analy High School in Sebastopol.
After graduation, Burt did not have enough money to attend college, so he began an apprenticeship as a printer for the San Francisco News Agency. He had an uncle in the printing industry and because Burt was always competent in English, he had no problem passing tests to become a printer. Besides, he found that the job paid pretty well.
Burt met Jan on the River as a teen and she would become his wife in 1959. Their marriage lasted 48 years until Jan's passing in 2011. Together, they raised two daughters, Margi and Katie. and a son Fred. All would become integral to the winery in Burt's future. Jan and Margi are shown in the photo below at the 2007 Anderson Valley Pinot Noir Festival.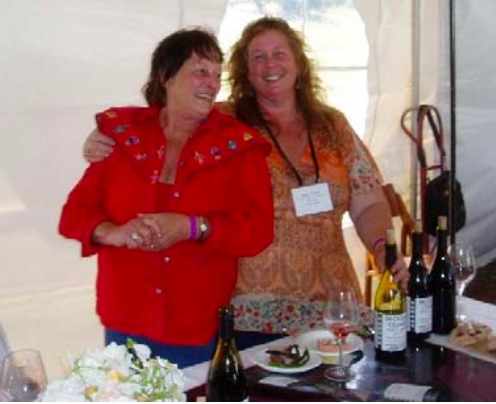 In 1962, Burt bought a house in Forestville that he owns to this day and the next year moved to that house in the Russian River Valley. His uncle had interested him in wine as Burt got older and Burt made his first purchase of a case of wine at age 20 at Pedroncelli Winery in Geyserville (they didn't ask for an ID back then). He drank a lot of Zinfandel from the Russian River Valley and in 1964 made his first homemade wine, a Zinfandel, using grapes donated by a neighbor who could not find a buyer for his fruit.
Burt wouldn't start making wine again until the 1970s but his love for wine never wavered. He remembers being particularly intrigued by Hospice de Beaune Burgundies that a friend shared with him. He has said, "I started drinking Pinot Noir when I could get my hands on good Pinot Noir and dabbled in Burgundies until they got way too expensive to purchase." His foremost reason for starting his own winery was, "I wanted to make some good Pinot Noir to drink so I wouldn't have to buy expensive Burgundies."
During his summer vacations in the Russian River Valley as a youngster and later in his formative years, Burt developed a group of local friends. Two of his best friends were Brad and Ronnie Nichols. Their younger sister, Gayle, was to marry Ed Selyem, a fortuitous event that led to Burt and Ed's friendship and winery partnership. Burt and Ed lived just across the Russian River from each other. Ed was a wine buyer and accountant at Speer's Market in the Russian River Valley and had crafted beer and fruit wines at his home in Forestville, but his interest was in developing a successful business plan from local agriculture.
By the time Burt and Ed began their collaboration in 1979, Burt had learned how to make wine. While on lengthy bus trips back and forth to work in San Francisco from Forestville, he read every book he could get his hands on, especially writings about old-fashioned methods of making wine in the Burgundian tradition. He mined the practical advice of both older and younger Russian River Valley winemakers who offered encouragement. Burt attended Burgundy tastings in San Francisco and recalls going to an annual DRC tasting put on by Liquor Barn where he paid $17 for a one-ounce pour of each wine. He also found winemaking courses from UC Davis helpful. Blessed with a good palate and eventually possessing a keen understanding of the way Pinot Noir should be crafted, Burt figured out how he could make "a pretty decent wine."
During the1970s, Burt found it challenging to find a consistently good domestic Pinot Noir "I surmised that they were doing it right by accident one time. I only found an occasional super wine, with few repeaters. They didn't seem to have good grape sources. To do it year in and year out consistently, I could produce something really unique that nobody else had done to date." He sensed that there was a for world-class Pinot Noir in California.
With no scheme, and a startup fund of $5,000 each, Burt, at age 41, and Ed who was five years younger, launched Hacienda Del Rio winery in 1979, named after the location of Burt's house in the "Haciendas Del Rio" (or simply Hacienda) area of Forestville, a patchwork of homes and summer cabins. The pair's first wines were made adjacent to Burt's house and the barrels put into the basement. Burt would recall, "I had no big plan. I wanted to buy grapes and turn them into good wine. We weren't trying to conquer the world or make millions of dollars. We were trying to make the best wine we could and enjoy it ourselves. If enough was left over, we could sell it. We never imagined that we would become a cult winery capable of selling everything we made."
The partners realized that there were not a lot of Burgundy drinkers among wine lovers but there were some and they thought they might be able to appeal to them. In other words, create a niche for world-class California Pinot Noir among Pinot Noir consumers.
In 1979, Burt and Ed crafted their first wine together at Burt's home in Forestville. The wine was a Zinfandel since Burt had easy access to Zinfandel from Martinelli, Pedroncelli and others and drank quite a bit of Zinfandel leading up to 1979. Zinfandel was not in big demand, selling for only $400- $500 per ton at the time. The first Hacienda Del Rio Zinfandel was labeled "Sonoma County Hillside Vines" (photo below of this wine and two other historic bottles of the first two Pinot Noirs from the 1980 and 1981 vintages).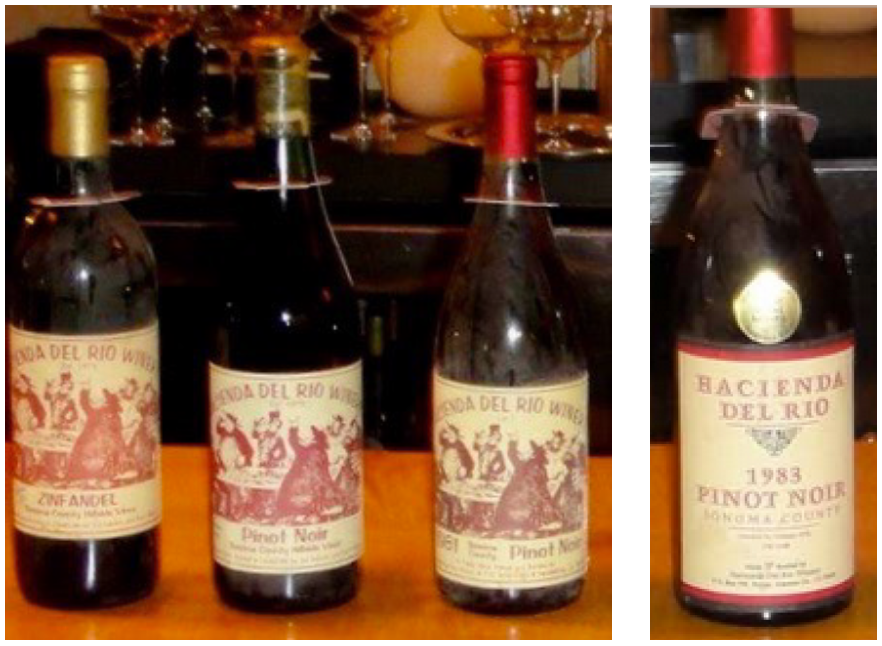 The 1979 and 1980 wines produced in Forestville were not commercially legal but a few bottles were sold and got out to other wineries. When a government agent spied some early Hacienda Del Rio bottles on a winery visit, he advised the partners to become bonded and they did in 1981 under the Hacienda Del Rio winery bond. The 1981 through 1983 vintages of Hacienda Del Rio wines were made at Russian River Vineyards, a winery in Forestville.
The Hacienda Del Rio label features a sketch by the second illustrator, Hablot Knight Brown, commissioned for Charles Dickens' first novel, The Pickwick Papers. The title of the illustration is "Mr. Weller and his friends drinking to Mr Pell." A later version of the Hacienda Del Rio label looked similar to the current Williams Selyem label, using the same letterpress letters, color and paper (photo above).
1980 marked the year Burt first sourced Pinot Noir grapes from Joe Rochioli and were included in the first Pinot Noir bottled that year under the Hacienda Del Rio label as Sonoma County Hillside Vines Pinot Noir. Burt has said the Rochioli grapes were priced at either $550 or $600 per ton at the time as growers struggled to sell their Pinot Noir grapes profitably, yet as Burt noted, "These were really good grapes."
From 1980 to 1984 Rochioli Vineyard Pinot Noir grapes from Joe Rochioli's 1969 West Block plantings were blended with other Russian River Valley vineyard sources in a Sonoma County bottling. Rochioli Vineyard appeared first as a vineyard-designated bottling in 1985 under the Williams Selyem label as "Rochioli Vineyard Russian River Valley Pinot Noir." Burt and Ed were not the first to produce a Rochioli-branded Pinot Noir as that honor goes to Davis Bynum in 1973. Still, 1980 will be remembered as the beginning of a seventeen-year handshake arrangement with Joe Rochioli whose grapes from the coveted West Block plantings at Rochioli Vineyard would become Burt's most superlative Pinot Noir.
Rochioli Vineyards & Winery kept a good part of the fruit for Rochioli's own West Block bottling, and it would have made financial sense for the Rochiolis to keep all the West Block fruit for themselves. But Joe's handshake commitment and friendship with Burt took precedent and this led to a string of benchmark Pinot Noirs that insured the success of Williams Selyem.
That first commercial vintage under the Hacienda Del Rio label came in 1981 and besides a Sonoma County Pinot Noir, included 343 cases total of Dutton Ranch Pinot Noir, Iron Horse Vineyards Pinot Noir and Martinelli Vineyard Zinfandel. Burt sourced Pinot Noir from Iron Horse for the 1981 and 1982 vintages. I am not sure of the Dutton vineyard source in 1981 but Arrendell Vineyard farmed by the Duttons was a source of Pinot Noir from 1982 to 1986.
A flyer announcing the release of three 1981 wines stated, "Our goal, as a winery, is to bring to the consumer wines that are representative of the cool region vineyards located in the Russian River watershed of Sonoma County. To accomplish this, we utilize traditional winemaking techniques, crushing and stemming into small open tanks, allowing fermentation to start when possible on the grapes' own microflora, punch down the cap by hand, and gravity siphoning or pushing with inert gas when racking. Our wines are aged in 60-gallon or smaller oak barrels and bottled without fining or filtration unless absolutely necessary. We back these traditional practices with modern scientific analysis to insure you of a sound wine." A copy of that flyer is reproduced below and interestingly, included TA and pH along with ABV for each wine reflecting Burt's focus on wine chemistry.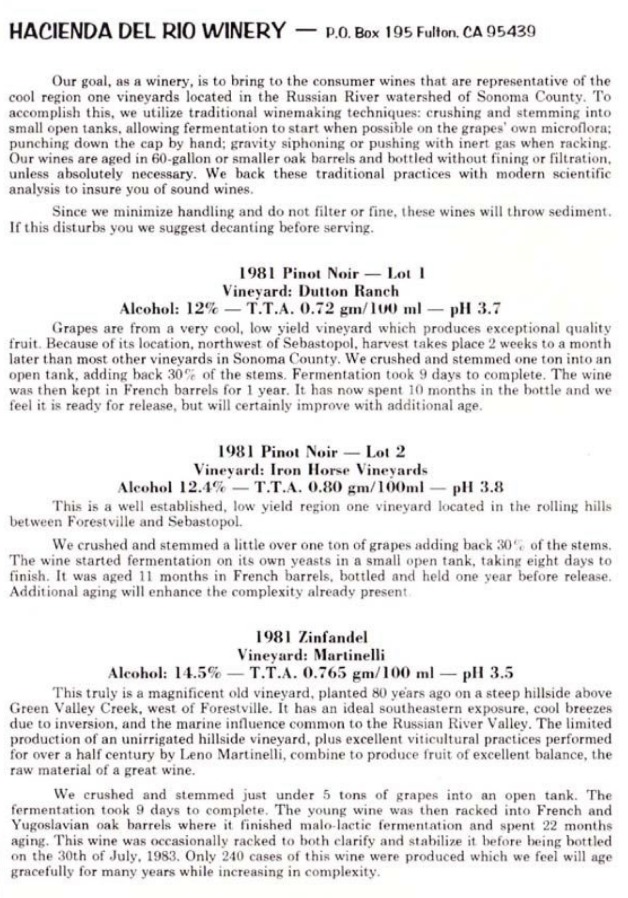 Burt crafted 240 to 300 cases of Zinfandel annually from Leno Martinelli's "Jackass Hill" Vineyard from 1981 to 1992. Martinelli's vineyard was located in Forestville and planted in 1899. A tiny amount of Muscat Canelli from grapes grown on the lower portion of Martinelli's vineyard was also produced but little was sold to the mailing list members. A Chardonnay from Allen Vineyard was added to the lineup in 1992. However, the winery's main focus through the years was Pinot Noir and Williams Selyem was one of the first wineries in the Russian River Valley to concentrate on Pinot Noir.
Beginning with the 1984 vintage, the partners shifted to their surnames and the winery became Williams and Selyem Winery, later shortened to Williams Selyem. This was necessitated by a complaint from Hacienda Wine Cellars and a conflict with a Mexican restaurant in Guerneville named Hacienda Del Rio. A copy of the Wine Spectator 1986 report on the change in name of the winery is reproduced below.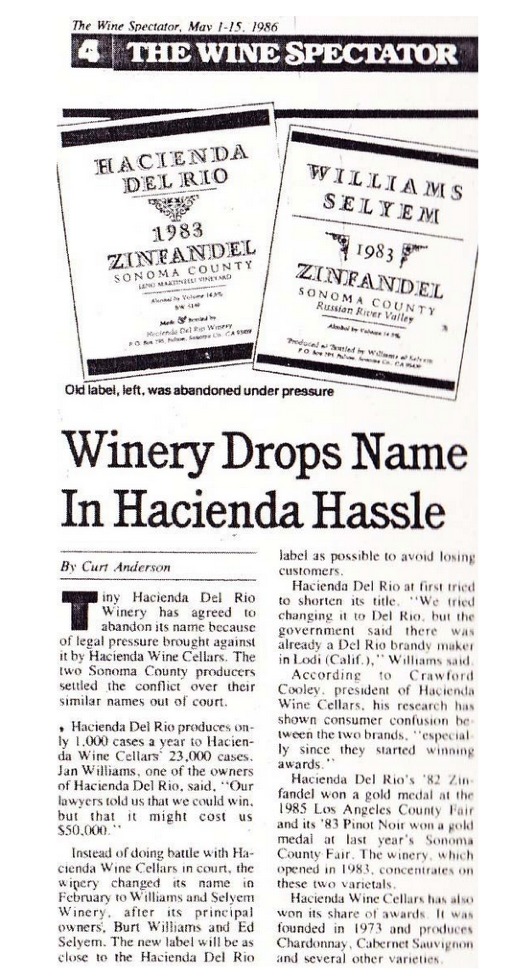 Burt, along with Burt's friend, Graham McIntosh of San Francisco's White Rabbit Press, designed the new Williams Selyem label. The simple black-and-red label had a background of cream-colored paper adorned with a stock ornament known to typesetters as a dingbat. This logo was never changed and the label remains unchanged to this day.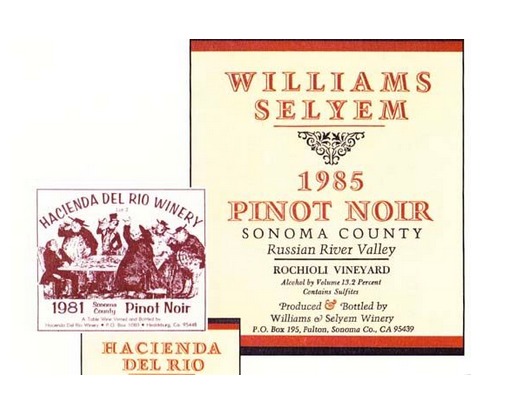 1984 was also the year that production was moved to a leased 900-square-foot, two-car garage adapted for winemaking on River Road in the tiny Russian River Valley town of Fulton. Williams Selyem had officially become the first California "garagiste" Pinot Noir producer. Many others were to follow but what distinguished Williams Selyem is that their winery really was in a garage while others most often worked out of larger warehouse-type facilities. The photo below shows the original garage as it looked in 2009. The following photo shows Ed on the pad outside the garage where fermentations were carried out in repurposed dairy tanks.