Necessity was the Mother of Invention
"Williams Selyem wines starting in the 1980s redefined what could be accomplished. They surprised everyone but proved it could be done."
James Laube, Wine Spectator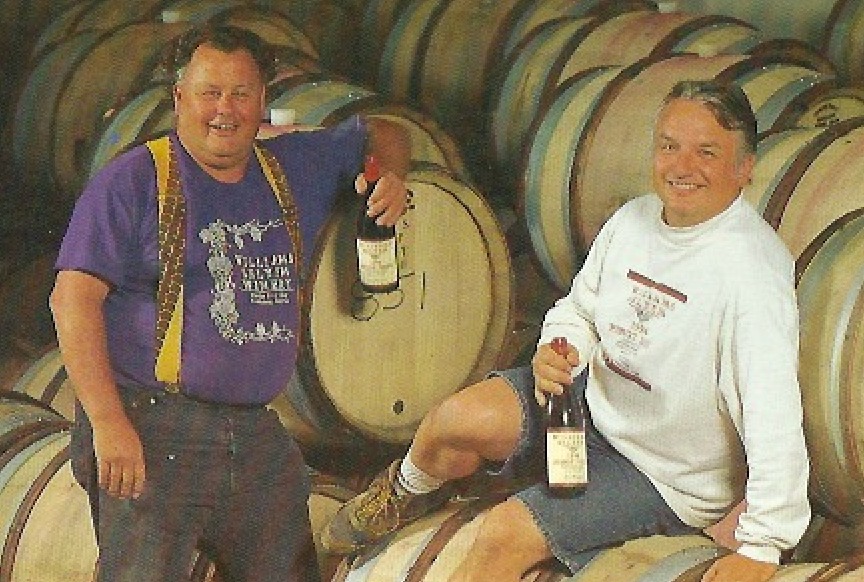 Burt and Ed formed an ideal partnership. Burt directed the winemaking and Ed managed the money as well as marketing, sales and distribution of the wine. The pair continued their day jobs and raised their families, taking vacations at crush time to make the wines. They never took any money out initially, grew at a 25% rate per year, and kept putting all profits back into the winery for the following year's grapes and winemaking's bare necessities. They hired no outside help early on and relied upon volunteers and spouses for assistance.
The old Italian winemakers in the Russian River Valley had advised Burt not to buy anything new. They told him to borrow what he could and if necessary buy only used equipment. The fledging winery had little money so Burt relied on that advice. He used traditional hands-on ways of winemaking with primitive equipment out of necessity but soon realized this was the best way to craft Pinot Noir. This approach meant more labor, but the work was rewarding. It was basic winemaking at its simplest using no mechanization, pumps or filters.
The winery's first sorting tray was built from a sheet of plywood covered with plastic. De-stemming was carried out in the early years using a basic de-stemmer borrowed from Lytton Springs Winery. the de-stemmer was eventually bought it 1984 ( a new one did not arrive until 1991 which further improved the quality of the wines). A family friend loaned the winery a hand-crank press that dated to the early 1900s that was put into use after some refurbishing. The press had not been used in 40 years when Williams Selyem acquired it. A new press would not be in the winery budget until 1989.
The use of repurposed dairy tanks was both inexpensive and practical. Burt had seen a few other wineries use dairy tanks for fermentation such as Hop Kiln in Healdsburg and Edmeades in the Anderson Valley. The dairy industry in the early 1980s no longer stored milk. Tankers were filled as they came to the dairy making storage tanks obsolete. Dairy storage tanks were available for as little as 25¢ to 1.25¢ a gallon. Some could be found languishing in barns or fields. The double-walled tanks were made of better stainless steel than tanks in use by wineries at that time. Burt's son-in-law was a welder and he removed the lids, agitators and extraneous metal and re-plumbed them for cooling.
The advantage of the dairy tanks for fermentation was the width, length and shallow depth of the tanks that conferred a better cap to juice ratio leading to better extraction of color and fruit compared to the traditional six-foot-high fermenters in use at the time. The photo today shows one of the original recycled dairy tanks at Williams Selyem Winery in 2012.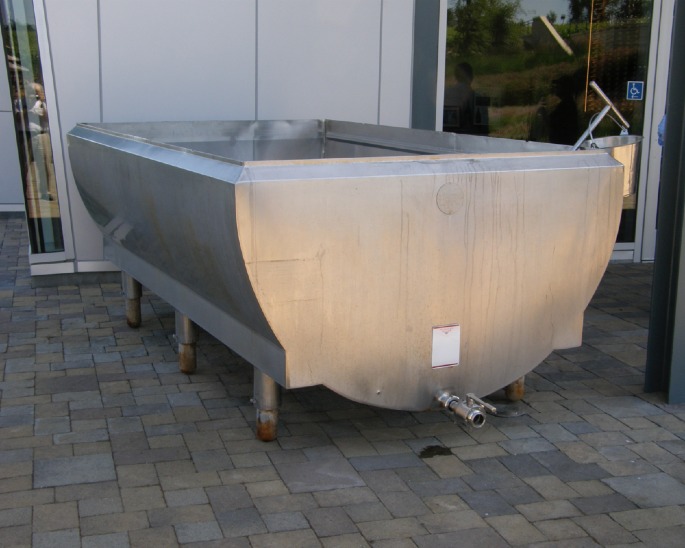 There was one particular "angel" who proved critical early on. Burt recalls that in 1982, Marvin Schaeffer, a winery customer, came to the winery and tasted some of the Williams Selyem Pinot Noirs. He said, "These wines are fantastic. What would make the wines even better?" Burt told him he could make the wines even better if he had some new French oak barrels that were costing $350- $400 at the time. Schaeffer wrote out a check on the spot for 10 to 12 new barrels, handed it to Burt, and said, "Use it, I don't need it." It wasn't until 1994 that Schaeffer would accept repayment. Burt remembers the encounter with a sigh, "Magic things happen once in a while."
40-pound lug boxes were initially used to hold picked grapes at harvest. They were weighed and loaded onto a 350,000-mile Chevrolet pickup parked at the end of the rows and taken to the winery (photo below). Quarter-ton wooden bins were subsequently used when Williams' son-in-law designed and built a unit to transfer the grapes to the sorting table.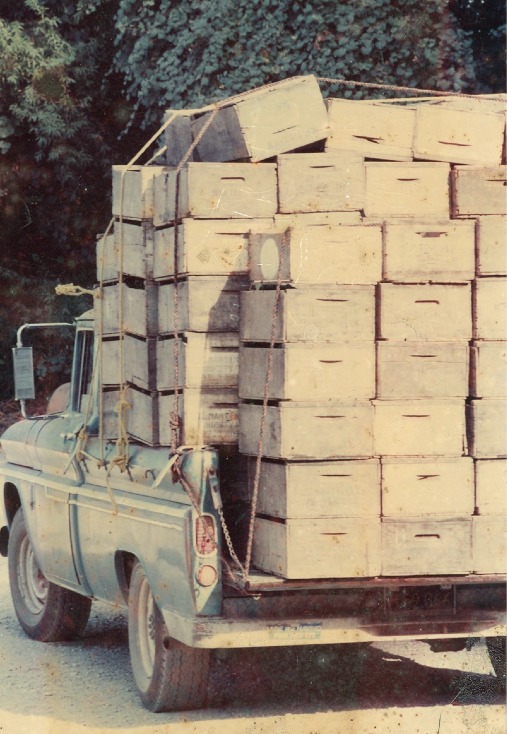 Another primitive but practical part of the winemaking regimen at the Fulton garage winery was carrying out additional barrel storage in cargo shipping containers that once contained New Zealand lamb carcasses. ߐ