Methodical and Intuitive Winemaking
"Some people are trying to do what Burt was doing - or what they imagined he was doing."
Thomas Rivers Brown, winemaker

Burt and Ed visited their vineyards during the summer and two to three times a week near harvest when they took 5-gallon buckets of grapes back to the winery for testing. Burt felt it was critical that they spent time in the vineyards "paying attention," something winemakers of the 1980s were not prone to do.
Picking decisions were driven by both Brix and pH. Burt wanted substantial enough acidity to allow his wines to age without any or minimal acid additions. A hydrometer was used to test titratable acidity (TA) and pH. Generally, grapes ideally were picked at 23.5º to 24.0º Brix. That said, Burt always emphasized that Brix was not as important as the fruit showing ripeness all the way to center of the grape surrounding the seeds. Burt's close relationship with growers allowed picking of grapes quickly when Burt and Ed found harvest to be at an optimum stage
Burt realized that his customers did not relish tannic wines so he chose to primarily de-stem grape clusters prior to fermentation. He did use some percentage of whole clusters in the bottom of the fermentation tanks if the stems were ripe but avoided green stems. In 1993, for example, the vintage was very cool followed by a heat spike in August. The grapes achieved ripeness but the stems were green so he de-stemmed everything in that vintage. The percentage of whole clusters varied. He found some clones such as Mt. Eden were more tannic. If he used stems the wine became even more tannic so he avoided whole clusters completely with that clone. Burt used up to 33% whole cluster often and even 50% for the Pommard clone from Rochioli Vineyard.
In the early years, Burt employed wild fermentation. But in 1984 the United States government began offering rebates on advances to further the wine industry. Burt always wanted to have his own yeast isolate so he pursued the development of his own yeast isolate that would produce reliable fermentations. He knew the yeast from the Leno Martinelli Vineyard was strong because Zinfandels from that vineyard finished fermentation completely with Brix up to 18.5º. Burt considered it important to have a yeast that would take a wine all the way to dryness and thereby avoid filtration. Once the yeast was isolated, Burt used it on all Pinot Noir fermentations. He would wait for 3 to 4 days before adding the Martinelli isolate and let the yeast gradually take over the fermentation. This always worked and Burt never had a secondary ferment in the bottle.
Burt chose a 3 to 4-day pre-fermentation maceration (cold soak). Ice and sulfur dioxide were added to prevent fermentation during the cold soak. He then preferred a slow fermentation if could it was controllable. When the must reached about 12º Brix, he would allow fermentation to take off, shooting for an 88ºF to 90ºF peak temperature. He added malolactic bacteria when the ferment was hot so when he siphoned off the wine to barrel in 1 to 2 days, it was in the juice and allowed malolactic fermentation to take place. In summary, Burt would start off cool, warm up the must in the middle with the peak temperature near the end, finally dropping the temperature back down and barrel when the juice was still warm in the 70ºF to 80ºF range. It was routine for Burt to meticulously check temperatures three times a day and document his findings in writing which proved invaluable to him as a reference over the years. When Burt had installed temperature control of his fermenting tanks, his fermentations proceeded in a manner that he preferred most of the time.
Although Burt had a preferred fermentation regimen, he considered other options as necessary driven by his intuition. He would modify his approach depending on many factors including the vineyard source, vintage and state of the grapes when they arrived at the winery. As an example, one vintage he received grapes from Summa Vineyard that had considerable rot fuzz on them. He chose to ferment fast and hot to get fermentation over with. The resulting wine turned out very decent.
There was little juice the first few days of fermentation so Burt and Ed would don waders, get into the tank and tread on the grapes to free up some juice. Hand punch-downs were initiated later on. There was no grape crushing per se. After the free-run juice was sent to barrel, the residual must and juice were bucketed into the press, gently pressed and in some cases, topped off the free-run juice. Pumping was avoided entirely and racking of the wines used gravity or assisted gravity with gas.
Malolactic fermentations in barrel were usually finished in January or February following the vintage year. The wines were racked off the gross lees in March of the following year and separated into blends or vineyard designates. The appellation wines were aged typically 11 months and the vineyard-designated wines usually 17 months. The wines were usually unfined and never filtered. Sulfur was kept to a minimum as Burt was allergic to sulfur. The bottled wines were then aged further before release. Blocks from the same vineyard were often kept separate and some went into a vineyard designate bottling and some into a Russian River Valley, Sonoma Coast, Sonoma County or Mendocino County blend.
When it came to barrel selection, Burt had read a number of French texts that he had translated. He found a major French study from the 1970s that looked at the barrels being used in Burgundy over a three-year period. The best barrels for Pinot Noir turned out to be from the forest of Tronçais in the Allier department of central France. Based on this study, he chose to use barrels from this region and specifically ones favored by Domaine de la Romanée-Conti produced by Francois Frères. He simply sent Francois Fréres some of his wines and asked for the "toast of the house."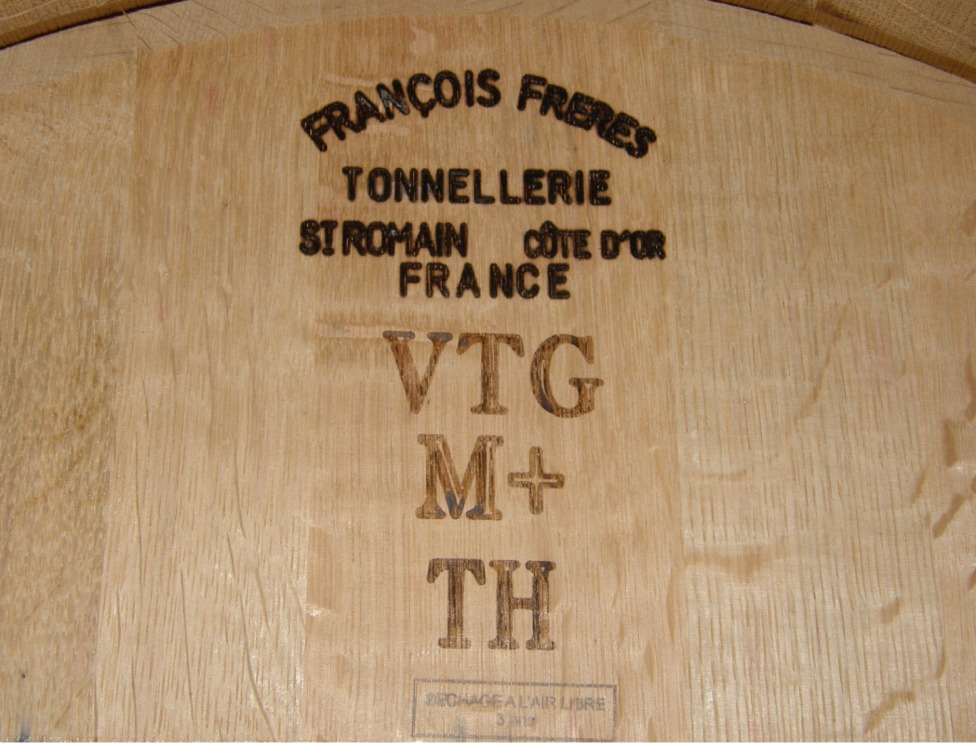 The percentage of new oak varied between 50% and 100%. For Rochioli Vineyard, Burt had used 50% new oak until 1984 but found the wines "too fruity." In 1984, he used 100% new oak and the wine lost its overt fruitiness. Burt never wanted fruit bombs but instead wanted each wine to show its fruit character and the place it came from. He would say, "I wanted the wines to taste like wine." Barrels for the vineyard designates were never used more than twice.
Before release, the wines were hand-bottled, labeled and foiled. Burt and Ed held back a good amount of their production for their own consumption, including magnums. Magnums were produced in significant numbers, a highly unusual practice for California wineries at the time. In general, Burt would recommend that his Pinot Noirs be ideally consumed six years after the vintage.
Burt summarized his winemaking in a 2003 interview in the Wine Spectator. "It boils down to constant selection, from the vineyard to the barrels, and close observation of the fermentation process, gently guiding it along and hopefully eliminating potential problems before they occur. The rest lies in what I didn't do: pump, fine, filter or over-sulfur." Chris Whitcraft, a Santa Barbara County-based winemaker and close friend of Burt's, best summarized his winemaking as follows: "I think the most impressive thing about Williams is he uses common sense with his wines."
The end product or "house style" of Williams Selyem Pinot Noir was described by Burt as follows. "Vanilla, sweet-like fruit with a voluptuous nose overshadowed by each vineyard's different fruit that was most apparent when tasting the wines next to each other." Burt also remarked, "Stylistically, one priority for my wines was transparency which is easy to say but a lot harder than one might think to do. It was just a matter of trying to let the fruit say whatever it had to say. I always had the philosophy that less was more which is a much easier approach when you are confident in the quality of your fruit." In other words, he strived to retain the character of each vineyard so that the vineyard-designate bottlings stood on their own. Burt has said that the Russian River Valley Pinot Noirs prominently featured cola and spice, the Sonoma Coast Pinot Noirs Oriental spice and dried citrus peel, and the Anderson Valley Pinot Noirs more floridity.
One of the most appealing features of Williams Selyem Pinot Noir was that the wines were exceptionally appealing upon release. Burt strove for balance in his wines so that they drank easily upon release yet would age beautifully. I know for a fact that the wines were gorgeous initially because I quickly drank up all of my allotments.
When the subject of best vintages came up, Burt had a clear explanation. "Favorite vintage characterization many times comes from an initial release experience. Further aging of any of our wines I think mitigates the difference between 'your favorite vintage' and other vintages that you just enjoy on release. In the end, these vintages are all enjoyable but different 'children'." In the spring 1997 W&S News mailer, Burt did note that the opulent vintages on release came in 1981, 1983, 1984, 1985, 1987, 1989, 1991, 1993, and 1995. On another occasion, Burt cited the 1983 Jackass Hill Leno Martinelli Vineyard Zinfandel, 1986 Rochioli Vineyard Pinot Noir and the 1991 or 1995 Summa Vineyard Pinot Noir as among his favorites. He was often asked to name his most-liked wines but was usually quite reticent to name them.
Vintage considerations were not especially significant for Burt's Pinot Noirs as noted by Wine Spectator's Jim Laube: "In difficult vintages, Williams Selyem Pinot Noirs usually rise to the occasion and surprise with their subtleties. In great years, they excite and inspire."