Worthy Tastings of William Selyem Pinot Noir
"Drinking the marvelous (Williams Selyem) Pinot Noirs over a number of years makes you forget the word fickle was ever associated with Pinot Noir producers in California."
The Underground Wine Journal

Williams Selyem and DRC Side-by-Side Tasting
For several years, Burt and Ed would meet annually with Win Wilson and Jack Daniels, importers of Domaine de la Romanèe (DRC) wines to sample each other's wines. In 1992, Burt remembers a bacchanal over lunch when Win, Jack, Burt, Ed and winemaker Chris Whitcraft, consumed 23 bottles of wine that included Pinot Noirs from Williams Selyem and DRC and a Champagne at the start and finish. Burt would say, "We learned a lot but reached no conclusion about which wines were better. Nothing sweeter than a Pinot Noir hangover!"
Bipin Desai Tasting
In 1997, Burt attended a tasting of all 59 Williams Selyem Pinot Noirs from 1981 through some of the 1995 fall releases. The tasting was put on by Bipin Desai at Yujean Kang's restaurant (lunch) and at Fenix restaurant (dinner) in Los Angeles over two days. Many of the wines were supplied by Los Angeles wine collector Joe Jullian of the publication The Insider's Wine Line. Wine enthusiasts flew in to Los Angeles from Hawaii, New York, Colorado, Washington and San Francisco. The 37 tasters included several notable winemakers.
The results appeared in several wine publications. The Insider's Wine Line, published a report on 8/2/97 that included notes on 23 of the 57 wines tasted. Numerical scores were not used as virtually every wine was reportedly outstanding.
James Laube penned an article about the Bipin Desai Tasting in the Wine Spectator titled, "Seriously Fancy-Free. At an LA tasting, William Selyem's exceptional Pinot Noirs prove the merits of winemaking without the frills." Numerical scores were given for all of the wines. Laube's favorite wine was the 1992 Rochioli Vineyard Pinot Noir, receiving a score of 97/100. A followup article appeared in the Wine Spectator archives online: www.winespectator.com/articles/seriously-fancy-free-7413.
A feature on the Tasting also appeared in The Underground Wine Journal published by John Tilson. An excellent background was written by Christine Graham and tasting notes using a 20 point scoring system were provided by Edward Lazarus.
Williams Selyem "Beaune in the USA" Dinner
I joined Master Sommelier Rene Chazottes in hosting this wine dinner at the Pacific Club of Newport Beach on August 21, 1997. The wines: 1987 and 1988 Williams Selyem Allen Vineyard Russian River Valley Pinot Noir (aged 16 months in 50% new and 50% 1-year-old French oak), 1994 Williams Selyem Allen Vineyard Russian River Valley Chardonnay, 1992 and 1994 Williams Selyem Olivet Lane Vineyard Russian River Valley Pinot Noir (aged 16 months in 66% new and 33% 1-year-old French oak barrels), 1992 and 1994 Williams Selyem Rochioli Vineyard Russian River Valley Pinot Noir (aged 16 months in 100% new French oak barrels), 1987 Williams Selyem Jackass Hill Leno Martinelli Vineyard Russian River Valley Zinfandel (Magnum), and 1991 Williams Selyem Leno Martinelli Vineyard Russian River Valley Muscat Canelli (a rare wine made in tiny quantities mainly for Burt and Ed and their families). Every wine was grand.
Retrospective Tasting of Williams Selyem Wines at 10th Anniversary of WOPN
On March 5, 2010, former Williams Selyem winemaker, Bob Cabral, who followed Burt as winemaker after the winery was sold, and moderator, Michael Jordan MS, hosted a retrospective tasting of 10 vintages of Williams Selyem Pinot Noir released from 1993 to 2005. All wines were from the library cellars of Williams Selyem guaranteeing their provenance. The tasting was divided between the "Burt" years (wines from 1991-1997) and the "Bob" years (wines from 1999 -2005). The only thing missing was Burt and Ed.
Examples of Burt's meticulous technical tasting notations were offered for each wine as well as some of Ed's tasting notes.
Listen to podcast coverage of this event at Grape Radio: Part 1 The "Burt" Years - www.graperadio.com/archives/2010/11/09/20-years-of-williams-selyem-part-1/, and Part 2 - The "Bob" Years - www.graperadio.com/archives/2010/11/09/20-years-of-williams-selyem-part-2/.
Burt Williams Tribute Dinner
A memorable dinner was held in 2011 at Dry Creek Kitchen in Healdsburg to honor Burt Williams as one of the first to master the art of crafting extraordinary and long-lived California Pinot Noir. Organized by Bob Mosby who worked harvests at Williams Selyem through the years and me, the dinner was attended by those who were inspired by Burt Williams, growers who worked with him, and many close friends and family members. A group photo is below.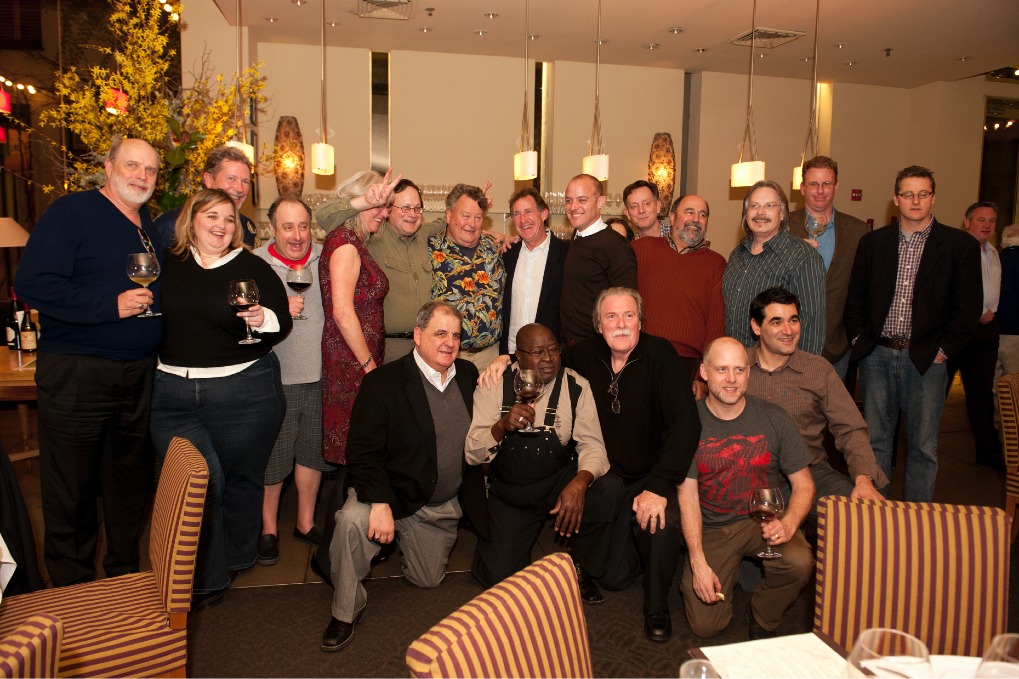 Four of the dinner's six courses were accompanied by magnums of historic vintages of William Selyem wines from the personal library of Burt. The wines and my brief notes: 1992 Allen Vineyard Chardonnay (inaugural release; mineral, citrus and nutty aromas and flavors that are vibrant and backed by well-honed acidity), 1992 Olivet Lane Pinot Noir (well-preserved aromas of spice, grilled mushrooms and forest floor followed by moderately intense plum and dark berry flavors, ending with a silky, lengthy finish), 1995 Rochioli Vineyard Pinot Noir (wow! Impressive load of intensely-flavored black cherry fruit with hints of leather, mushroom, vanilla and cola along with a creamy, opulent texture and a finish that hangs on with a vengeance) and 1995 Hirsch Vineyard Pinot Noir (highly aromatic with good mixed dark berry fruit intensity backed by a firm tannic spine with plenty of fruit and spice on the finish).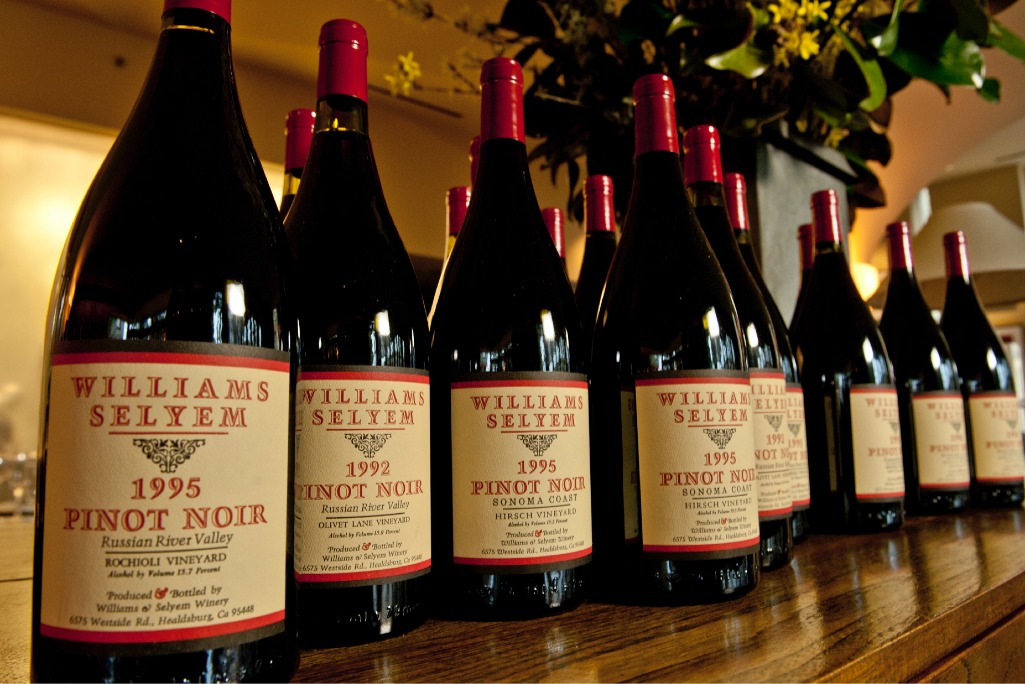 With each wine presented at the dinner, Burt came to the podium and read his production notes on the wine the year it was released. All those in attendance were astonished at the freshness of the wines after 15 to 18 years. The magnum format and the provenance of the wines (they had been stored in Burt's cellar since release) contributed to their impressive showing. All the details of the dinner are presented at www.princeofpinot.com/article/1071/.
Central Coast Wine Classic Charity Auction
Blake Brown, a resident of Santa Barbara, is a true devotee of Williams Selyem Pinot Noir and a close friend of Burt's. He arranged with Burt to offer many of Burt's Williams Selyem wines from 1984 to 1997 and a dinner for 10 people at the San Ysidro Ranch at the 2014 Central Coast Wine Classic Charity Auction. The lot raised $15,000. Some of the top wines at the dinner, held December 3, 2014, included 1995 Allen Vineyard Chardonnay in magnum, 1985 and 1991 Rochioli Vineyard Pinot Noir, 1996 Precious Mountain Vineyard Pinot Noir and 1991 Russian River Valley Zinfandel. Blake said afterwards, "This was one of the finest wine experiences I have ever had. The combination of the friends who attended, the ambience, the food, the service, and especially the wines were as good as it gets. To know charities benefited from the pleasures we all shared made the evening all the more special. Burt reviewed each wine including vineyard source, vintage details and so forth. He also shared inside stories of the people involved in each wine. The photo below shows Burt in his signature Hawaiian shirt and his pal Blake at the event.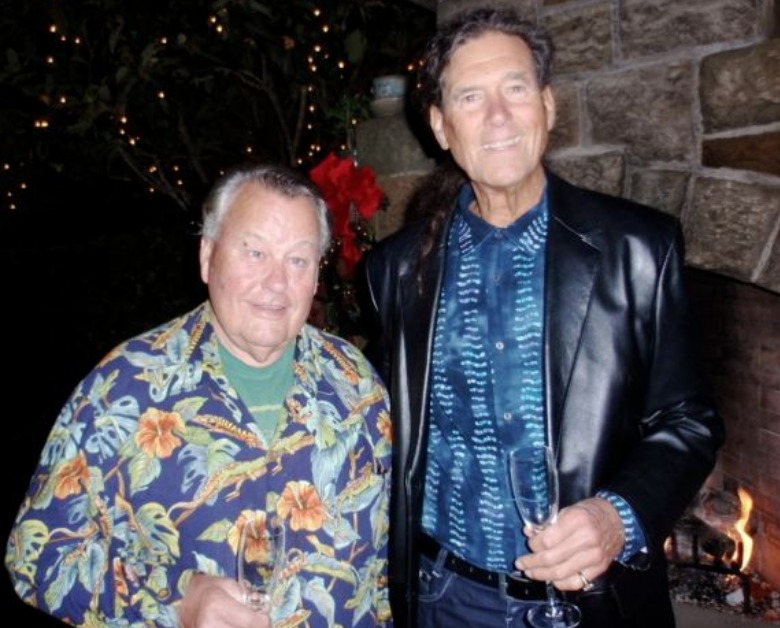 Magnum Tasting in Burgundy
For years, Burt was enticed to visit Burgundy but he had a strong dislike of flying and turned down many invitations. Upon the urgings of Raj Paar and Mel Knox (Francois Frères), Burt did go to Burgundy on one occasion in 2016. A tasting was held at the home in Beaune of Becky and Russell Hone and the results were reported by Allen Meadows in the 6/17 issue of the Burghound . His scores were all in the 91-96 range. Allen was an avid collector of Williams Selyem wines beginning in the mid-1980s. In all, 12 magnums of Williams Selyem Pinot Noir were tasted: 1985 Rochioli Vineyard, 1986 Rochioli Vineyard, 1988 Allen Vineyard, 1991 Summa Vineyard, 1991 Allen Vineyard, 1992 Rochioli Vineyard, 1994 Rochioli Vineyard, 1995 Summa Vineyard, and 1996 Precious Mountain Vineyard. Burt supplied the wines and was to comment afterwards that all the wines showed well.
My 2016 Experience with Two Older Vintages
I had the opportunity to taste two older vintages of Williams Selyem Pinot Noir that were in pristine condition: 1993 Williams Selyem Cohn Vineyard Russian River Valley Pinot Noir and 1995 Williams Selyem Allen Vineyard Russian River Valley Pinot Noir.
Cohn Vineyard, now an estate vineyard of Benovia Winery, entered Burt's radar through a winemaker friend at Hop Kiln Winery who was sourcing Pinot Noir from Cohn Vineyard beginning in 1981. When the Hop Kiln Winery contract expired in 1987, Burt snatched the grape source. Usually the grapes were blended into the Russian River Valley and Sonoma County bottlings. A vineyard designated Cohn Vineyard Pinot Noir was produced in only 1988 and 1993. Burt dropped the vineyard in 1995 when owner Arne Cohn put in drip irrigation and over-watered the vines.
My tasting notes on the 1993 Cohn Vineyard Pinot Noir: The wine had an astonishing freshness and color, with a nose infused with aromas of incense, spice, Bing cherry and rose petal that persisted over an hour while the bottle was consumed with two winemakers. Tasted blind, it would have been impossible to identify this wine as 23-years-old. The balance was impeccable, the oak thoroughly immersed, and the tannins gossamer in nature. It was without a doubt one of the greatest, if not THE greatest old California Pinot Noir I have ever tasted in over 40 years of tasting California Pinot Noir."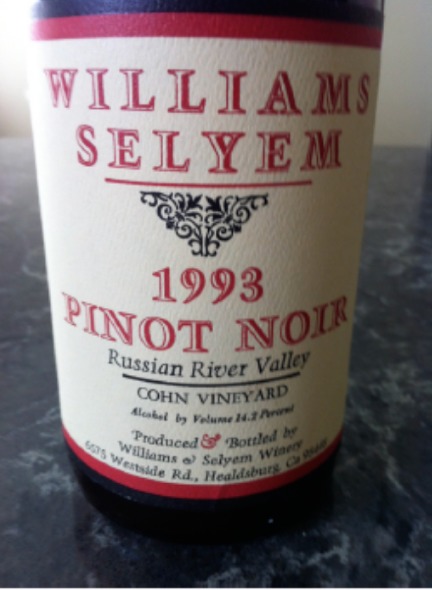 One of the cornerstones sources of Pinot Noir for Williams Selyem was Allen Vineyard. This vineyard stood on its own as a vineyard designate and was consistently one of the favored vineyards in the Williams Selyem vineyard designate program. The 1995 Allen Vineyard Pinot Noir tasting note: Upon opening, aromas of spice, leather, woodland and cherry zoomed from the glass but faded over time. The wine was still fascinating to drink, offering ever-changing nuances of flavor including cherry, strawberry, orange-infused cranberry, orange pekoe tea and brown spices. At 13.7% alcohol, the wine was easy to drink, with resolved tannins and a sappy richness still persisting on a surprisingly long finish. Not epiphanic like the 1993 Cohn bottling, but extremely engaging in its own way."
More examples of aged Williams Selyem Pinot Noirs were reviewed by me in 2014 at www.princeofpinot.com/article/1487/.
Benovia Winery Cohn Estate Vineyard 45th Anniversary Celebration
On Sunday, March 11, 2018, fans of Benovia wines ("Benovians") gathered at Valette Restaurant in Healdsburg for a special luncheon and tasting of multiple vintages of Cohn Estate Vineyard wines. Burt Williams and his second wife, Rebecca, were special guests at this event that I attended. They are pictured below with Benovia Winery owners Joe Anderson and Mary Dewane.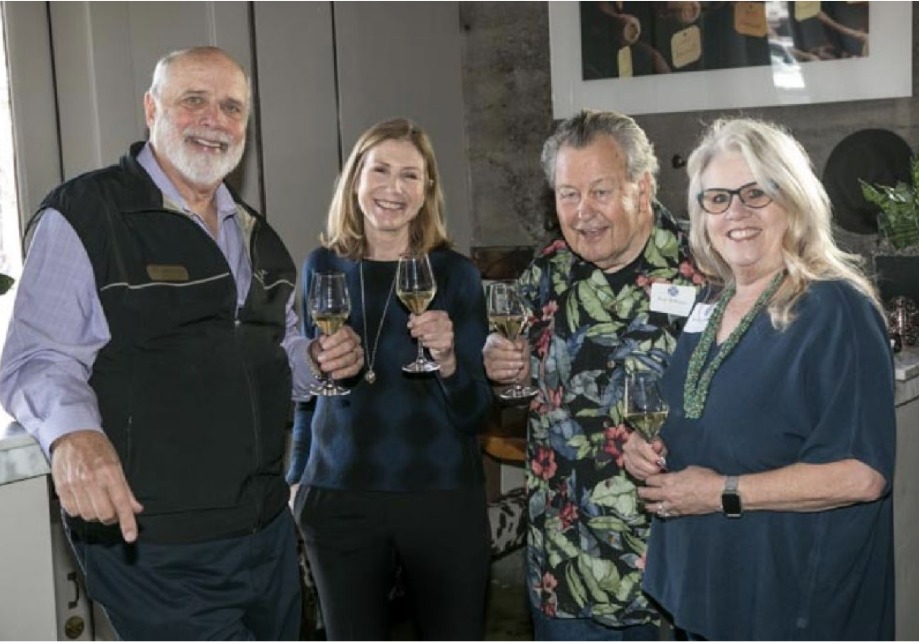 Burt vinified a Williams Selyem Cohn Vineyard Pinot Noir in 1987, 1989 and 1993. He brought a bottle of the 1987 vintage for the luncheon party to taste. The wine still had amazing life spirit after 20 years, showing vibrant notes of tart cherry, strawberry, dried flowers and sandalwood. Burt also brought a magnum of the 1993 Cohn Vineyard Pinot Noir (photo below). This wine was magnificent as well. It was the 1993 Williams Selyem Cohn Vineyard Pinot Noir that was Joe Anderson's epiphany wine, making him switch from a preference for Cabernet Sauvignon to Pinot Noir and eventually leading him to found Benovia Winery.