The Winery Takes its Toil, Selling in 1998
"We got away from a fun thing we started with."
Burt Williams

The sale of Williams Selyem in 1998 was agonizing for many devoted customers. Both Burt and Ed would explain the reasons for the sale. Total winery production had exceeded 7,000 cases at a time when Burt was most comfortable crafting up to 5,000 cases. The 2006 and 2007 vintages produced high yields leading to too much work in the winery. In addition, Ed was under constant pressure from customers who wanted wine. He had to send back $50,000 to $60,000 worth of checks and he hated doing that. Finally, Ed was facing back problems that prevented him from participating in many winemaking activities. His orthopedic surgeon told him he would be paralyzed in three more years if he continued this winery work.
In 1997, Ed decided he wanted to get out of the winery and wanted to sell ࡪ of his share to Burt and financially consult. In order to pay Ed off, Burt realized he would have to keep production at least at the annual 7,000 case level for a few years and this was more wine than he wanted to produce. Burt was working 16 hours a day during the 2-month critical harvest period and the work had become intense and hectic. He knew he could hire help, but he felt he hand to be present and firsthand at all times during the winemaking process. Denise Selyem, Ed's daughter, had joined the winery in 1995 supporting production by working crush, bottling, labeling and packaging, but the hands-on winemaking work remained up to Burt. An additional consideration was that the Williams Selyem wines were constantly being judged and scored and the partners had to devote time to maintain relationships with many wine writers. Burt finally decided it was better to sell the winery. He reasoned that he could always make wine for himself.
The winery was put on the market in 1997 and there were many suitors. Finally, Williams Selyem was sold on March 1, 1998, to New-York based vintner John Dyson for a reported $9.5 million. Dyson, who had been a long-time member of the Williams Selyem mailing list, essentially bought the Williams Selyem name and inventory of the winery, since Burt and Ed never owned a vineyard or a physical winery.
The last vintage Burt vinified at Williams Selyem was 1997. The 1997 wines were in barrel at the time of the sale and were finished by the new winemaker, Bob Cabral. The sale included a 5-year winemaking advisory role and a 5-year non-compete thereafter. Although Burt had taken meticulous technical notes regarding vineyard grape samples, weather, picking dates, fermentation temperatures, vinification decisions, aging, and as well as extensive tasting impressions throughout his career, and this proved invaluable to Bob in the ensuing vintages, the relationship between the two never thrived and Burt left Williams Selyem permanently after 1998. This was not surprising as Burt had enjoyed complete control of the winemaking at Williams Selyem, was devoted to the hands-on raising of his wines and found it difficult to transition out. Bob always admired Burt for his accomplishments and said, "Williams Selyem was always about quality, never profit."
The last vintage of Williams Selyem Rochioli Vineyard Pinot Noir was 1997 and sold for $125 a bottle at Williams' request.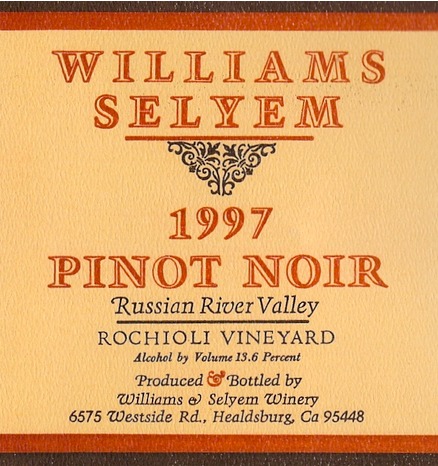 Two of Burt's three progeny were inspired to become winemakers but they were not in a position to take over the winery. Daughter Margi Williams-Wierenga, who was a teenager when her father began making wine in the 1970s at home, worked as a volunteer at the winery in Fulton before taking a paid position as an assistant to Burt and Ed in 1990 at the Allen Ranch facility. In 1998, when Williams Selyem was sold, she decided to follow in her father's footsteps and started her own bootstrap winery, Brogan Cellars. Her friendships in the wine community led her to acquire a number of excellent fruit sources for her Chardonnay, Sauvignon Blanc, Pinot Noir and Zinfandel wines. Burt and Margi are shown below at Burt's Tribute Dinner. Margi closed Brogan Cellars in 2018.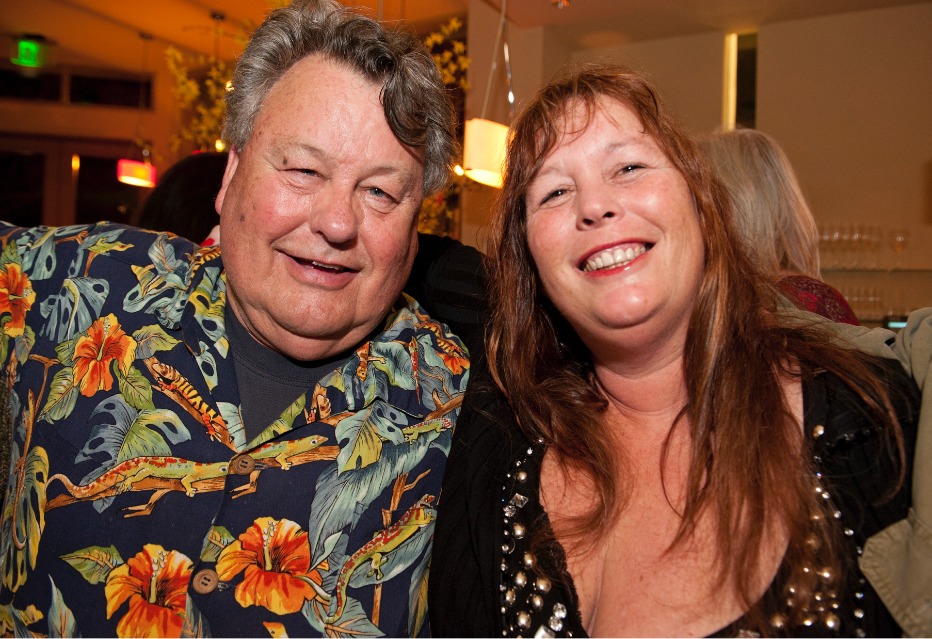 Burt's son, Fred B. Williams, Jr., also pursued winemaking, worked at Williams Selyem and had his own small label, Seven Lions, specializing in Pinot Noir, Zinfandel and Chardonnay. He crushed grapes for his label in 2002 and 2003 before tragically passing away at the age of 38 from burns suffered in a truck explosion in 2003.
Burt's other daughter, Katie, was involved behind the scenes at Williams Selyem in the business and marketing arm.