Morning Dew Ranch: A New Beginning in the Anderson Valley
"I couldn't afford a property in the Russian River Valley because we made it too popular (laugh)."
Burt Williams

After Williams Selyem was sold in 1998, Burt began to look for property in Freestone and other Sonoma County areas but found the prices too high, so he settled for a 40-acre plot in Anderson Valley. This property became known as Morning Dew Ranch.
Morning Dew Ranch was located on a 20% sloping, south-facing hillside at 660-850 feet elevation in the "deep end" of the Anderson Valley reached by an old logging road off Highway 128 near Philo. About one-third of the property was cleared of trees for the vineyard but the rest of the property's established forest was left untouched. A vineyard was planted between 1999 and 2001 by Burt under the direction of vineyardist Steve Williams (no relation) and contained Pommard, Mariafeld (clone 23, a favorite of Burt's deceased son), Dijon 115, 777 and "828," a DRC-La Tache selection from Anderson Valley and a Rochioli selection thought to be Pommard 5 clone taken as budwood from the Rochioli Vineyard by Steve Williams. Steve was also the vineyard manager for Ferrington Vineyard in the Anderson Valley and Weir Vineyard in nearby Yorkville Highlands.
The soils at Morning Dew Ranch were silty Franciscan clay underlain with sandstone. Vine spacing was 8' x 6' with VSP trellising, spur pruned. The vines were irrigated initially until they were established, and only limited irrigation was used thereafter in certain vintages to fully ripen the grapes. Burt built a pond at the bottom of the property during the first year because wells frequently dry up in the Anderson Valley.
Winemaker Jason Drew, who sourced grapes from Morning Dew Ranch, remarked, "The vineyard has all the features I look for: great soil structure, hillside drainage, higher elevation, coastal influence, excellent field selections and great care given to the vineyard.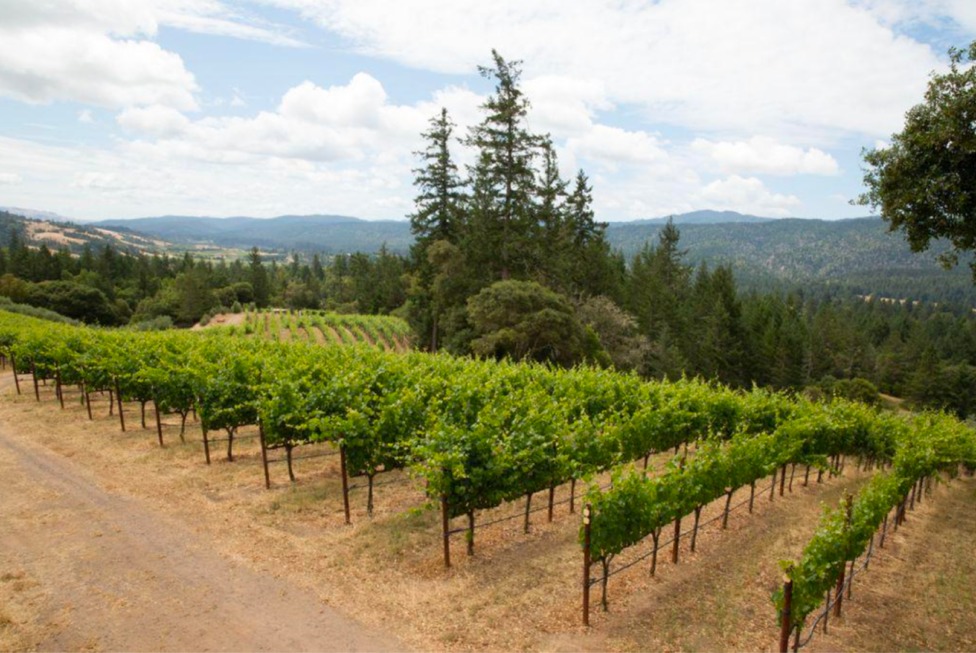 The grapes from Morning Dew Ranch were sold beginning in 2004 and were released as a vineyard-designate Pinot Noir by Brogan Cellars, Woodenhead, Whitcraft, Williams Selyem, Miura and Drew Family Cellars. All grape contracts with these producers were on a handshake basis.
The two-story, two-bedroom house on the property was outfitted for winemaking by Burt with a lab and crush pad. Burt's passion for winemaking was eventually revived and he used equipment he made himself to craft wine here. He made small amounts of Pinot Noir from his vineyard from the 2008 and 2009 vintages, allowable because his 10-year non-compete clause expired in 2008. He released the wines commercially in the late summer of 2011 (197 cases of the 2008 vintage, $60) and the spring of 2012 (228 cases of the 2009 vintage, $75) under the Morning Dew Ranch label. The wines were sold primarily to close friends and long-time customers of Williams Selyem. The 2008 vintage Morning Dew Ranch Pinot Noir had some smoke taint due to Mendocino County fires before harvest in that vintage. The 2009 Morning Dew Ranch Pinot Noir was the last commercial vintage of Pinot Noir that Burt ever crafted.
After the winery sale, Burt and his first wife Jan, who passed away in 2011, bought a home in Santa Barbara, a city that he had come to enjoy through many visits in previous years to see winemaker Chris Whitcraft. The home was located in the hills in the Riviera section of the city of Santa Barbara, overlooking the city, the ocean and the Channel Islands. It was a peaceful, vacation-like respite, and Burt would spend 3 to 4 weeks there periodically, dividing his time with his home in Forestville and the one in the Anderson Valley.
Starting in the late 1990s, it became an annual tradition to celebrate July 4 at Burt's Santa Barbara home. A group did not just gather at 9:00 pm to view the fireworks, some started much earlier in the day. Blake Brown attended these Independence Day bacchanals and related one in particular to me that was held on July 4, 2015. "Usually Chris Whitcraft and I would arrive around noon and immediately open up some fabulous Pinots after a quality Champagne that I would provide. Chris would bring some of his gems and Burt would pull out magnums of his and I would bring bottles of Williams Selyem Pinot Noir. We had a whole lot of wine and a whole day to pull some corks." Burt's wife, Jan (and later Rebecca), Burt's two daughters, Margi and Katie, and a few close personal friends would make up the party list. Everyone would bring food and Burt would grill meats and vegetables on his outside Weber. Blake noted, "We ate well but drank just a tad better, Burt was in his element, and we righteously celebrated the 4th."
The wines opened on July 4, 2015: NV Laurent-Perrier Brut Rosé, 1997 Williams Selyem Coastlands Sonoma Coast Pinot Noir, 1997 magnum Williams Selyem Rochioli Vineyard Russian River Valley Pinot Noir (Blake said, "I've not found a better Pinot Noir from California or Oregon and think this is the finest Pinot Noir ever produced by Burt although he would argue a few others were as good. I am in Pinot Noir heaven.") and 2003 magnum Brogan Cellars Russian River Valley Zinfandel.
By 2015, Burt was burned out due to the challenges of managing a vineyard, dealing with low yields in some vintages and a significant fire in Anderson Valley in 2008. He simply wanted to take it easy and enjoy retirement. Burt put the Morning Dew Ranch up for sale at an asking price of $1,920,000. The Ranch was sold in 2016 to Castello di Amorosa in Napa Valley. That winery's first harvest in 2016 was released as a vineyard designate in 2018.