Burt's Legacy was Far-reaching
"Winemaking was just fun. It gave me a great life."
Burt Williams

Burt was such an iconic Pinot Noir winemaker, it would seem fitting to have a special name for him. After all, Josh Jensen of Calera Wine Co. is "Mr Pinot," Merry Edwards of Merry Edwards Wines is the "Queen of Pinot," and Larry McKenna of Escarpment Winery in New Zealand is the "Prince of Pinot" (we share the title). For Burt, I thought of the "Pontiff of Pinot," but he is such a humble, regular guy, the nickname seems like too much of aggrandizement. I think just plain "Burt" is good enough because when you mention Pinot Noir and Burt in the same breath, everyone knows who you are talking about.
Burt's career will show that winemaking, like any craft, is a God-given talent, enhanced by education and experience. Still, it is a craft for which some people are more blessed than others. Beyond Burt's winemaking achievements that reflect his incredible intuition for crafting Pinot Noir, he influenced a long list of other winemakers as well as growers. Here I name just a few including Steve Doerner (Cristom Vineyards; Burt's first choice to replace him when Williams Selyem was sold), Manfred Krankl (Sine Qua Non), Tim Olson (Olson Ogden), Tom Dehlinger (Dehlinger Winery), Tom Rochioli (J. Rochioli Vineyards & Winery), Ted Lemon (Littorai), Thomas Rivers Brown (Rivers-Marie) George Levkoff (George Wines), Bob Cabral (former Williams Selyem winemaker, now at Three Sticks), Denise Selyem and Kirk Hubbard (WesMar Winery), Michael Sullivan (Benovia Winery), Bob Pelligrini (Pellegrini Wines and Olivet Lane Vineyard), Edward McDonald (Vision Cellars), Ross Cobb (COBB Wines), Nikolai Stez (Woodenhead Cellars) and Christ Whitcraft (Whitcraft Winery). There are undoubtedly hundreds of other winemakers who have learned from Burt and have revered him, although they may have never met him. Others who I have quotes from include:
Ben Papaprietro, Papaprietro Perry: "He was my mentor and showed me the way for California Pinot Noir before California new what Pinot Noir could do or knew what was possible."

Jeff Fink, Tantara Winery, Aether Wine Company: "He told me to have a good time making wine, otherwise I was in the wrong profession. He showed the rest of us what was possible."

David Hirsch, Hirsch Vineyard & Winery: "His vineyard work was under-appreciated. He set the stage for workers and growers to work together. He showed the value of specific sites. He picked up American Pinot Noir by the bootstraps and raised it up. When I visited his winery in the winery of 1994, he greeted me, 'You've been to hi-tech, welcome to no-tech!'"

Michael Browne, Kosta-Browne and Cirq: "The 1991 Williams Selyem Allen Vineyard Pinot Noir was a badass wine. It blew my head off and was a life-altering experience. I wanted to make wine that good."

Greg Brewer, Brewer-Clifton: "The Williams Selyem partnership model inspired me when we started Brewer-Clifton with $12,000. We followed the model in every detail."

Ted Lemon, Littorai: "Williams Selyem's Summa and Rochioli Pinot Noir, those wines stood up. they were a personal inspiration for me."
At the Burt Williams Tribute Dinner in 2011, Charlie Palmer, chef and owner of Dry Creek Kitchen, said, "When we opened Aureole Restaurant in New York City 23 years ago, we were probably the first restaurant in the City to offer Williams Selyem Pinot Noir on a wine list. We were really impressed with the wines after tasting them. The problem was, none of our customers could pronounce the name. We figured that if we couldn't sell it, we would just drink it all ourselves."
Noted wine writer, Jay McInerney, penned an article for The Wall Street Journal that was published November 30, 2012, and titled, "How Burt Williams Became Pinot's Patron Saint." It was noted in the article that sommelier Daniel Johnnes said that Burt was "the alter ego of Henri Jayer." McInerney said, "Mr Johnnes is the dean of American Burgundy lovers, and for him to compare Mr Williams, a former printer from California, to the most revered winemaker in the Burgundian pantheon was high praise indeed." He went on to kiddingly remark, "As far as I know, no one ever saw Henri Jayer wearing suspenders over colorful Hawaiian shirts, as Burt has been known to do."
It was Burt's many engaging personal qualities that appealed to those in the wine profession as well. Burt's good friend, Blake Brown, shared a lot of wine together, mostly Burt's. Blake said, "He had an encyclopedic memory for all of the details of each and every harvest and was so willing to talk about every aspect of that at any moment's notice. He gladly shared information that many winemakers would consider privileged. Some of our wine-speak sessions would last a good part of the day." Blake related that as knowledgeable as Burt was about all things wine, he had an equal amount of in-depth knowledge about other topics such as mushrooms (he was an avid hunter with private sources for the kind he preferred), barbecuing, cooking and seasoning. He was adept at skillfully crafting items of usefulness that filled a particular need in lieu of buying a commercial version. Blake also likes to point out that Burt was not all that much interested in boasting or being honored for his achievements. It was rare for him to attend wine events and auctions.
I, like Blake, admired Burt's winemaking passion and acumen, but it was his personality that was uniquely appealing to both of us. Any conversation with Burt was peppered with his hearty laugh that seemed to rise from his belly and finish with a broad smile and a twinkle in his eye. He was kind, humble and friendly as well as a loving family man. I believe the real test of Burt's integrity is I never read or heard anything bad said about him.
Here are the important legacies of Burt Williams, his partner Ed Selyem and Williams Selyem Winery.
1. One of California's ultimate cult wineries and a first for Pinot Noir.
2. California's first $100 Pinot Noir.
3. First California Pinot Noir to be exported to Burgundy and offered on restaurant lists in Burgundy.
4. One of the first California wineries to bring consumer's attention to a sense of place reflected by specific vineyards such as Rochioli, Allen, Olivet Lane, Hirsch, Precious Mountain, Summa and Ferrington.
5. First vineyard-designated Pinot Noirs from Allen Vineyard, Summa Vineyard, Precious Mountain Vineyard, Cohn Vineyard and Olivet Lane Vineyard.
6. Opinioned that a vineyard-designated Pinot Noir should only be offered when the vineyard warranted it.
7. Turned the consumer's attention to growers and their vital importance in fine wine production.
8. Set the stage for vintners and growers to work together.
9. Fostered the winemaking approach now widely followed by all domestic Pinot Noir producers including cold maceration, hand-sorting of grapes, punch downs, and no pumping in the winery.
10. Brought to the consumer's attention the importance of choosing carefully the type of French oak to be used for aging Pinot Noir.
11. Developed a proprietary yeast that is now in wide use in Pinot Noir winemaking.
12. Brought worldwide recognition to the Russian River Valley and its wines, particularly Pinot Noir.
13. Bottled wines in magnum format for releases beginning in 1985, an uncommon practice among early Pinot Noir producers, and kept back a library of wines.
14. Employed a mailing list model for selling and allocating wine directly to consumers. The first California Pinot Noir producer to have a waiting list of consumers striving to join the mailing list.
15. Demonstrated that intuition through experience is invaluable in crafting Pinot Noir.
16. Provided willing mentorship for others interested in winemaking.
17. Most importantly, Williams Selyem showed that great wine, and in particular Pinot Noir, can be produced without artifice. Intrusive winemaking methods such as saignée, alcohol adjustment, and the addition of color extracts or enzymes are simply not required nor desired. Technology and expensive equipment can be useful winemaking adjuncts but are not requirements for fine wine production.
Burt died on December 11, 2019, at age 79 years from complications of Parkinson's Disease. He is survived by his second wife Rebecca, two daughters, four grandchildren and three great-grandchildren.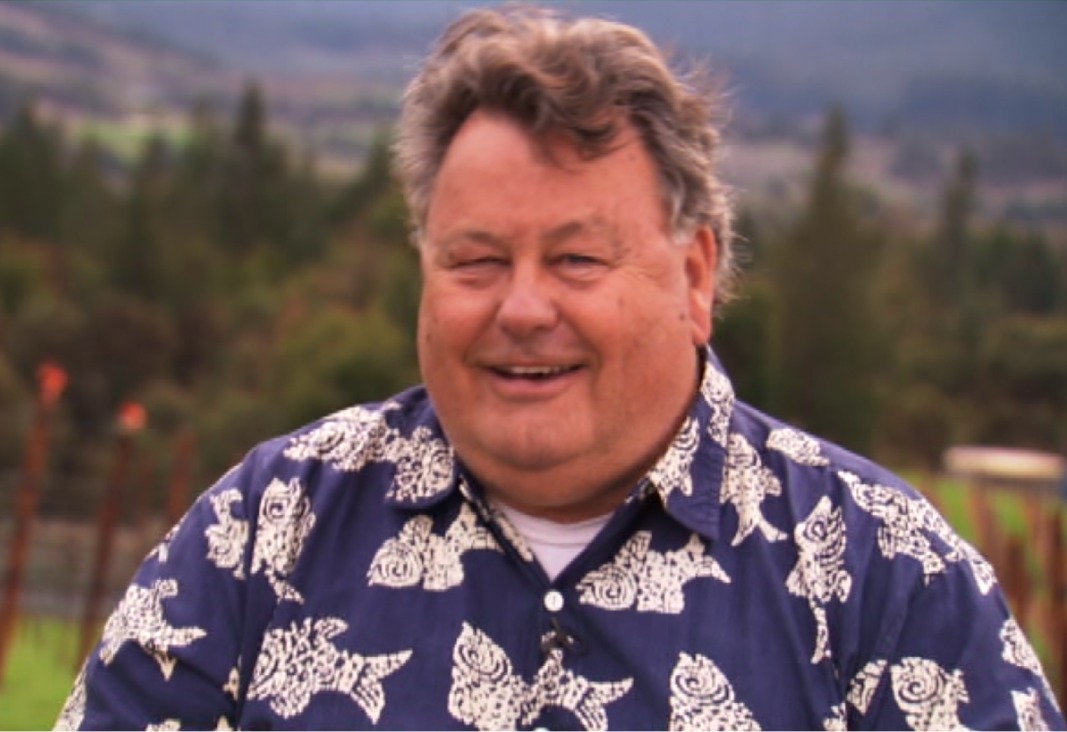 Burt at Morning Dew Ranch