Evesham Wood Winery: The Way Oregon Pinot Noir Was Meant To Be

I can't think of another Willamette Valley producer of Pinot Noir with a long record that is so under-appreciated yet out-performs a majority of other comparable wineries. I looked at many of the mainstream wine books published over the past years and I could not even find mention of Evesham Wood in Oregon Wine A Deep- Rooted History (2019), The Wines and Wineries of Oregon's Willamette Valley (2017), Wine Pioneers (2015), Winemakers of the Willamette Valley (2013), and Essential Wines and Wineries of the Pacific Northwest (2010).
One of the first books published on Oregon Pinot Noir, Lis Shara Hall's Wines of the Pacific Northwest (2001), has only a brief mention of Evesham Wood in the section of the book on the Eola-Amity Hills, calling the Pinot Noir wines "seductive." In Benjamin Lewin's book, In Search of Pinot Noir (2011), Evesham Wood does receive a brief mention, calling the winery, "One of Oregon's old-line vineyards," but stops short of any superlatives. John Winthrop Haeger, writing in Pacific Pinot Noir (2008) provides the most extensive coverage of the winery, characterizing the wines as, "Relatively early-picked, elegantly built, with fine, sometimes gossamer structures and aromatic complexity." I have a word for this: "pinotosity."
Evesham Wood Winery is nearly 25 years of age and based on that longevity alone, the winery is an Oregon original and must be considered one of that state's legacy wineries. I have been attracted to the wines for many years and for good reason. All the wines produced at Evesham Wood come strictly from sustainably-grown grapes and non-irrigated vineyards. Grapes are only sourced from the estate Le Puits Sec Vineyard and prestigious growers in the neighborhood. Pinot Noir winemaking has always emulated as close as possible the Burgundian model. No filtration or must concentrating devices are employed. A very modest amount of new oak barrels are used for aging ensuring that one never thinks of oak when drinking Evesham Wood Pinot Noir.
Evesham Wood Winery founder Russ Raney was studying abroad in Germany as a young man when he took a liking to wine. He obtained a degree in viticulture and enology Bad Kreuznach and returned to the United States to work as a wine buyer for a wholesale company in St. Louis, Missouri. He was attracted to Pinot Noir but discovered few examples in the 1980s that were comparable to the red Burgundies he found compelling. He decided to craft his own Pinot Noir, moved to Portland in 1983, and searched the Willamette Valley for an appropriate location. For a few years, he worked wine-related jobs including some for Ponzi and Adelsheim wineries. He settled on Oregon's Eola-Amity Hills west of Salem and launched the Evesham Wood Winery in 1986.
Raney named his winery, Evesham Wood, after the Vale of Evesham in the Cotswold Hills of England because the site bore a resemblance to that part of the English countryside. Evesham Wood is pronounced "Eve" like in Adam and Eve. Raney built an English Tudor-styled house on the property that overlooked the estate vineyard and later constructed a winery underneath the house. The wines have been made in this winery since 1991.
The 12.5-acre estate vineyard, Le Puits Sec (French for "The Dry Well," named for the first well drilled on the property that yielded no water), has 3 acres of own-rooted Pommard clone Pinot Noir plantings dating to 1986. Subsequent plantings and grafting over of Pinot Gris and Chardonnay added Dijon clones 113, 114, 115 and 777 bringing the total Pinot Noir plantings to 9 acres.
Le Puits Sec is situated on the eastern side of the Eola-Amity Hills ridge in an area known as Spring Valley and is one of the best microclimates in the region for producing Pinot Noir. Farming has been organic from the beginning and the vineyard was certified organic by Oregon Tilth in 2000 (the winery is also certified organic). The vines are closely-spaced and planted in volcanic basalt soils that lead to low yields. The older photo below shows Raney in the Le Puits Sec Vineyard with the house in the background.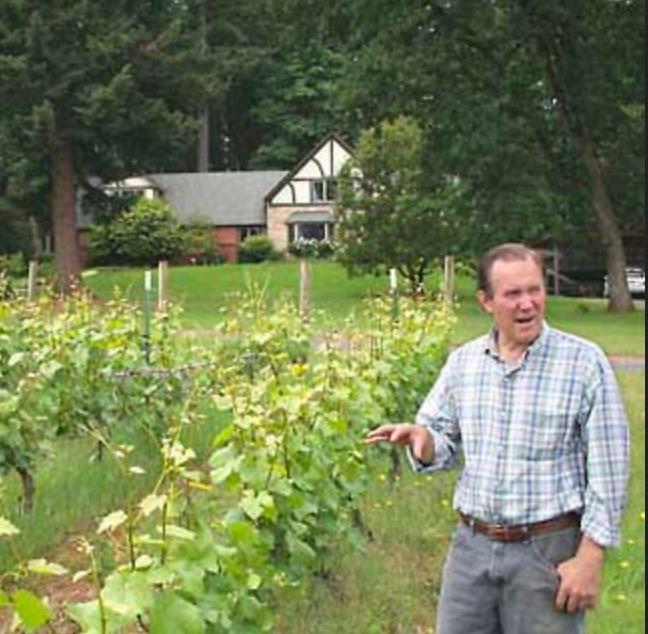 Raney considered dry-farming after vines are established as essential if the climate is conducive. He has said, "Once the vines are into production our feeling is, in addition to wastefulness, the wines that are created from irrigated sites, although they may be quite nice wines, are often less distinctive and tend to be similar from year to year." Raney was an early advocate of the Deep Roots Coalition (DRC), a group promoting wines produced exclusively from non-irrigated vines.
Raney was heavily influenced by Burgundian winemaking techniques and two of his former distant mentors were the famous Henri Jayer and the less well-known, but equally accomplished, Michelle Niellon. Raney's admiration for the French is shown in the French names assigned to the vineyard and wine names.
In August 2010, Russ and Mary Raney sold Evesham Wood and Le Puits Sec Vineyard to Erin and Jordan Nuccio of Haden Fig Wines. Erin had worked as assistant winemaker at Evesham Wood since 2007 and assumed head winemaking duties in 2010. After 24 years, the Raneys wanted to retire and spend more time in their home in France.
Erin, who had gained winemaking and viticulture experience and schooling in Napa and Sonoma, was a natural successor because he believed in retaining all the winemaking and vineyard management philosophies of Russ Raney. The Evesham Wood legacy was assured. The photo below shows Erin pouring his wines at the 2015 International Pinot Noir Celebration.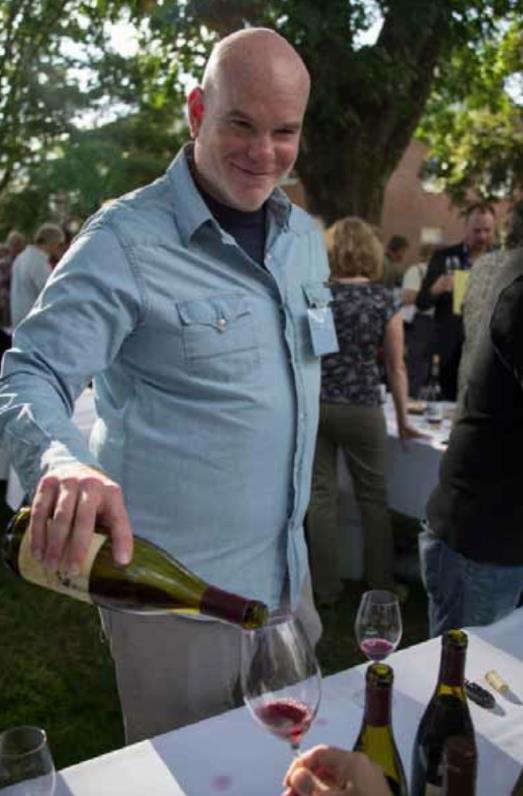 Master Sommelier Ian Cauble has this to say about Erin: "One thing that rings loud and clear is that winemaking sensation Erin Nuccio of Evesham Wood constantly delivers one of the greatest values in the world of Pinot Noir." I agree the wines of Evesham Wood represent exceptional value considering the quality offered.
One can purchase seasonal releases directly from the winery's website at www.eveshamwood.com/shop/ and avoid the hassle of allocation. What a joy: superb Pinot Noir at prices you can actually afford and easily obtain. That said, by joining the winery's e-mail list one can be notified of the latest releases and other winery news. Some of the most desirable wines do sell out early. There is some nationwide distribution.
Erin has had his own label, Haden Fig, since 2007, and these Pinot Noir wines are excellent as well and also represent very good value. Evesham Wood ferments are inoculated with the same yeast that Raney isolated from a 1986 Domaine Henri Jayer Echezeaux in 1989, while Haden Fig Pinot Noir is fermented using native yeasts. Both labels undergo about a 21-day ferment with hand punch downs and no temperature control other than opening the doors of the winery. The Haden Fig wines are also sold on the Evesham Wood website.
Visitors are welcome for drop-in, unpretentious tastings of Evesham Wood and Haden Fig wines Fridays, Saturdays and Sundays from 12:00 pm to 4:00 pm in the winery's Tasting Cabin (photo below). A private tour and tasting are available by appointment. Picnics can be arranged by appointment at the edge of Le Puits Sec Vineyard.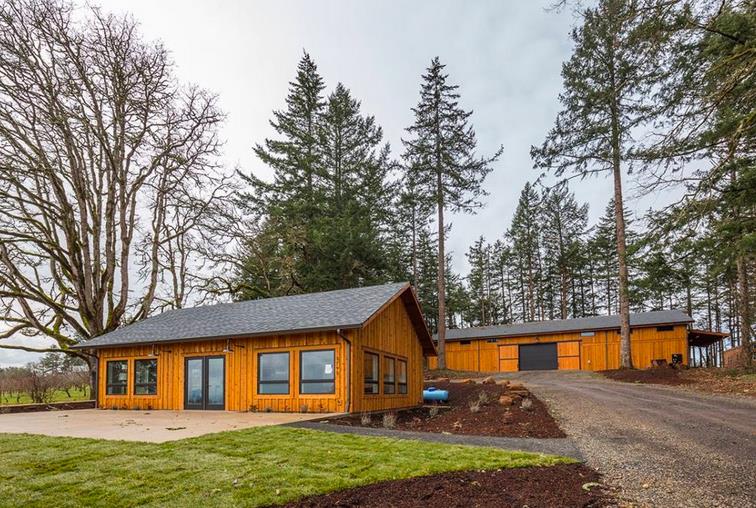 I recently had the opportunity to taste through several 2017 vintage Pinot Noir releases from Evesham Wood. This was a chance I could not turn down as the Pinot Noir wines from this winery are among my Oregon favorites. I previously reviewed the 2017 Evesham Wood Willamette Valley Pinot Noir (89, $22). There is also an Evesham Wood Eola-Amity Hills Cuvée released in 2017 that is a blend of six vineyards (1024 cases, $26).
The 2017 vintage continued a string of cooler vintages beginning in 2015. Heat summation was less than 2600 (cool but still about 15% above the 30-year historical average. Erin has characterized 2017 as a "balanced, zesty and cool-toned vintage."

A reader, Bob Shortell, wrote to me after this article was published. "Thank you, Rusty, for the article extolling the virtues of Evesham Woods wines. I totally agree that this stalwart winery is worthy of greater recognition. I became acquainted with Russ around 1984 when he worked at Great Wine buys, a NE Portland wine shop, and was always captivated by his passion for Pinot and unassuming demeanor. I recall Russ tell me of his plan to start his own winery and I was somewhat skeptical at the time. Then, low and behold, a couple of years later his dream became a reality, and as they say, the rest is history. Over the rapidly vanishing years, I have enjoyed several beautifully-crafted ethereal wines produced by Russ, and now Erin. I still have a 1986 Evesham Wood Pinot Noir in my cellar that I hold as a memory of those days gone by. Thanks again for giving Evesham Wood the recognition and praise it deserves."