Saint Patrick's Day is a Time for Celebration of Wine as well as Green Beer and Irish Whiskey

As I sit here in my office on Saint Patrick's Day, hunkering down because of the coronavirus, I wanted to offer readers something of interest to help them pass the time in hopes it would help to relieve some of the boredom.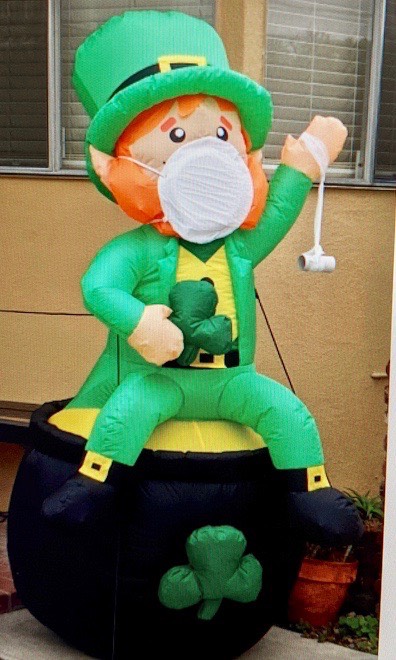 Before approaching the subject of the Irish and wine, let me dispel five myths about Saint Patrick. First, Patrick was British, not Irish (he was born in Britain to a deacon and tax collector, kidnapped at age 16 by marauders and forced into slavery in Ireland, escaping six years later). Second, Patrick had little mention of the shamrock in his writing and his connection with the shamrock was an embellishment that developed over time. Third, Patrick did not expel the snakes from Ireland (snakes never existed in Ireland). Fourth, Patrick revealed his personal story in only two letters he wrote later in life. Fifth, Patrick is not officially a Saint. He is a saint only in name and was never canonized by the Catholic church. He is a saint only by popular acclaim.
The Irish have a long tradition of wine drinking as revealed by the writings of Saint Patrick in 433 A.D. where wine is given considerable mention. Although there is very little winegrowing in Ireland (it is simply to cold for Vitis vinifera grapes to prosper), the Irish have played a significant role in the founding of some of the most iconic wineries in France, Australia and the United States.
The Irish helped launch the wine industry in California. Irishman James McCaffrey owned the oldest surviving commercial winery in California prior to Prohibition - the San Jose Winery - originally built by the Santa Barbara Mission in the early 19th century. The tradition continued in the late 19th century with the founding of the iconic Concannon Vineyard by Irishman James Concannon and in the 20th century, with Irish blood establishing such well-known California wineries such as Murphy-Goode, Chateau Montelena, Mayacamas, Cakebread and Flora Springs.
I have a special place in my heart for Concannon Vineyard since it was the first winery I ever visited and the winery where I made my first purchase of a case of wine. Since I am primarily of Irish heritage ( my grandfather was born in Ireland and was among the criminals sent to Australia), I was drawn to this winery at a young age and it led to my early dalliances with Petite Sirah.
My formative years with wine involved many bottles of Mateus, Lancers, Blue Nun and Spanada. After my medical training and stint in the USAF, I had enough spendable income to dabble in real wine. I was drawn to Petite Sirah because of its bold, sweet, blackberry jam flavors and black pepper spice. It seemed to be the perfect wine to pair with grilled steak, and in those days my cooking repertoire was largely limited to barbecuing steaks. I liked the taste of the masculine wine and as a young bachelor and identified with its machismo style.
Petite Sirah was discovered by botanist, Dr. Francois Durif, in France in the 1880s. He found it growing in a field of Peloursin that had cross-pollinated with another grape varietal more recently identified as Syrah. In 1884, Charles McIver imported Durif to the United States for use in the vineyards of Mission San Jose in California calling it Petite Sirah upon arrival.
Petite Sirah became the blending backbone of many homemade Prohibition-era wines. The grape has shown plenty of pluck. It survived phylloxera in the 1890s, both World Wars, the Depression and Prohibition (Concannon Vineyard was one of the few wineries that legally stayed in business because Petite Sirah was a main ingredient in sacramental wines). There were approximately 4,440 acres of Petite Sirah planted in the United States when James Concannon bottled America's first varietally-labelled Petite Sirah in 1961. 50 years later, acreage had near doubled to 7,592 acres and 723 producers featured a Petite Sirah in their lineup of wines.
James Concannon, born on Saint Patrick's Day in Ireland, left his homeland in 1864 at the age of 17. He was an adventurous type who landed in Boston and eventually found a job as a bellhop at a hotel in Augusta, Maine. It was there he met and married an Irish lass, Ellen Rowe. In 1874, together with their new baby, the couple traveled in a covered wagon across the country to Oregon.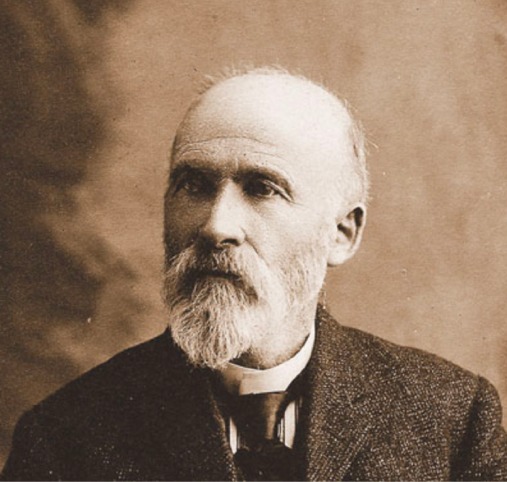 After initially managing a sheep ranch, James moved to San Francisco and made considerable money selling rubber stamps throughout the West. By age 32, he was a respected businessman, and his success allowed him to pursue his interest in viticulture. He enrolled in college to learn about grape growing and traveled to France to find rootstock. In 1883, he planted his first 40 acres in the Livermore Valley, east of San Francisco and founded the Concannon Vineyard winery. The cuttings were from ChËteau d'Yquem. A few years later, James became the first Irish immigrant to make wine in America.
To this day, although many varietals are produced, Petite Sirah has remained the flagship wine for Concannon Vineyard and the winery offers several versions of Petite Sirah. Examples of old and new labels: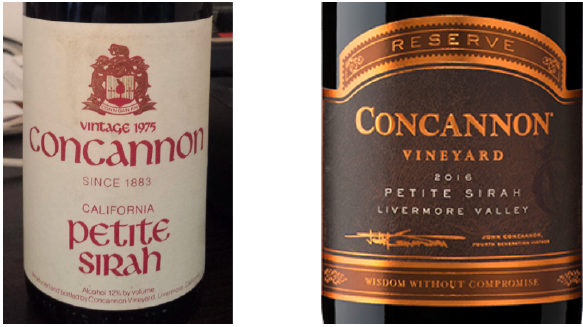 As an aside, I should note that 80% of all California Cabernet Sauvignon comes from Concannon clones 7, 8 and 11 that originated from a single mother vine imported from Bordeaux in 1893 by James Concannon.
Today, there are a number of winery owners and winemakers of Irish heritage producing Pinot Noir. The list includes Kerry Murphy of DuMOL, Margie Williams of Brogan Cellars, Bill Murphy of Clos La Chance, Francis Mahoney of Carneros Creek Winery, Jim McMahon of Athair, David O'Reilly of O'Reilly's and Owen Roe, and Peter Rosback of Sineann.
David O'Reilly is one of the few Irish-born winemakers in the United States. His family fled Belfast at the height of that city's friction between Catholic and Protestant factions in the late 1990s. The family settled in British Columbia before David headed south to California where he majored in college in philosophy, the perfect antecedent to a career in winemaking (ha!).
While in California, David visited Oregon's Willamette Valley and was smitten. He landed a job at Elk Cove Vineyards, where he befriended one of the seasonal assistant winemakers, Peter Rosback, who was also Irish. Together, they left Elk Cove Vineyards, with Rosback subsequently found Sineann (named after Ireland's Shannon River) and O'Reilly launching Owen Roe (named after the famous Irish patriot who held off Cromwell's army before being poisoned with some evil breakfast cereal). Along with partner Gerald Owen who manages the vineyards, O'Reilly crafts wildly popular Pinot Noir and other varietals sourced from fruit in Oregon and Washington.
I have reviewed a number of Pinot Noirs from Tom Higgins, owner and winemaker at Heart & Hands Wine Company in the Finger Lakes region of New York. The Claddagh ring on the label is the traditional Irish wedding ring symbolizing friendship and togetherness (the hands), love (the heart) and loyalty and fidelity (the crown). It is worn by people of Irish descent the world over as a source of pride in their heritage. At Heart and Hands, the Claddagh symbolizes Tom and Susan Higgins' passion for wine and their loyalty to their customers.
To read more about the history of Ireland's ties to wine I recommend the book written by Irish author Ted Murphy, A Kingdom of Wine.