Matt Taylor Wines: Great Things Take Time
"I want to share with you what admittedly is the most genuine reflection of what I've strived to capture in wine: an honesty, transparency and purity that reflects the site, vintage, farming and winemaking that were of our own volition and no one else's."
Matt Taylor
I first met winemaker Matt Taylor when he was crafting Pinot Noir and Chardonnay for Reuling Vineyard. The Reulings had previously sold fruit to Aubert Wines and Peter Michael Winery, but in 2011 decided to keep their fruit and start their own brand. They enlisted Matt, who had an impressive resume, as the winemaker.
Matt has had winemaking experience at Joseph Swan Vineyards in the Russian River Valley, Domaine Dujac in Burgundy, wineries in Argentina and New Zealand and Araujo Estate Wines in the Napa Valley. When we met, we talked at length about his reverence for the Joseph Swan property, his dedication to organic and biodynamic farming, his preference for whole cluster fermentation and his general winemaking philosophy. In his career, he has traversed some extraordinary vineyards charged by dedicated farmers who steward some of the greatest terroirs in the world. All this travel and experience through 23 vintages has led him to embark on a project that has been nearly a decade in the making. Matt and his wife Mikaela are pictured below.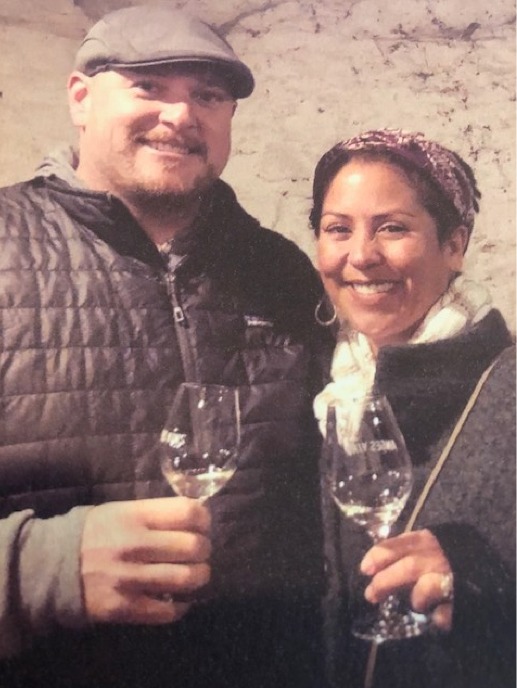 Five years ago, he broke ground on two pristine parcels of land, located 4.5 miles inland from the Pacific Ocean on a ridge due west of the town of Occidental. The site is just down the road from where Matt was born and raised. He considers this area on the fringe of where grape growing is feasible in California. Matt also believes this is a special place where he can make wines that are transparent and unadulterated.
The first parcel was planted in 2011 to the monarch of the Sonoma Coast: Pinot Noir and Chardonnay. Massale selections were sourced locally but their true identity will forever remain a mystery, This parcel is known as the Komorebi Vineyard because the 6.25-acre vineyard is in close proximity to sequoia trees. In Japanese, the word "Komorebi" means "sunlight filtered through the leaves of trees.". Soils are Goldridge fine sandy loam.
The second and larger parcel of the two will be planted to Loire varietals (Chenin Blanc, Cabernet Franc, Gamay, Pineau d'Aunis, Groileau, Romorantin and Menu Pineau) whose source was smugg…, er, less local.
The vines are dry-farmed organically and biodynamically. The site's extremely long growing season and cool climate combined with high-density plantings (3,600 vines per acre versus the more typical 1,800 vines per acre in California) allows the grapes to achieve "skin maturity" and a natural acidity that is less common than you'd expect in California.
Matt released the inaugural 2016 vintage of Matt Taylor Wines Komorebi Vineyard West Sonoma Coast Pinot Noir and 2017 vintage of Matt Taylor Wines Komorebi Vineyard West Sonoma Coast Chardonnay on March 3, 2020. These wines are neither fined or filtered with nothing added to the Chardonnay and a minuscule amount of sulfur put into the Pinot Noir. The entire small production sold out in less than a week to a mailing list. The wines were released as a 3-pack (2 Pinot Noir and 1 Chardonnay) priced at $213. For those that missed the debut release, sign up for the allocation list at www.matttaylorwines.com. This fall, a small release of a second cuvée of Pinot Noir from the Komorebi Vineyard will be offered.
The striking labels are an attempt to paint specific colors to reflect something of a tasting note for the wine. In the case of Chardonnay, there is a stroke of yellow to signify the citrus and fruit notes, a secondary moss green brush stroke to show the green aspect of the wine (not green like herbaceous or lime or green apple but more like ocean/saline and pine and moss), and then, a third component that signified the floral element. The colors for Pinot Noir were orange, light blue and blue-green. Each bottle is hand-painted so is unique and slightly different from each other.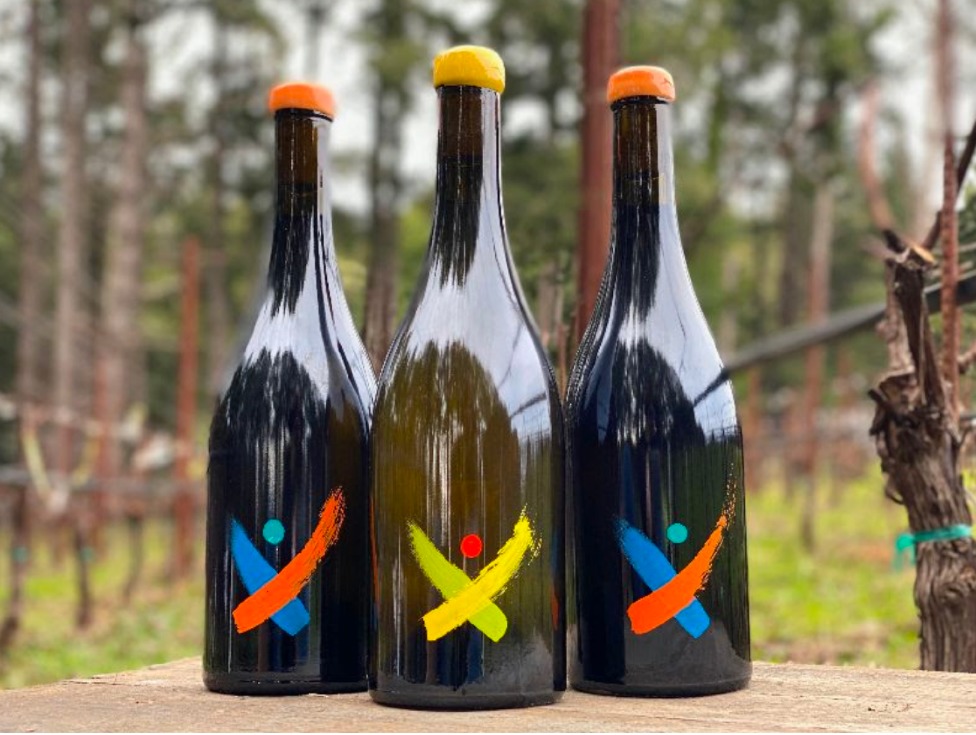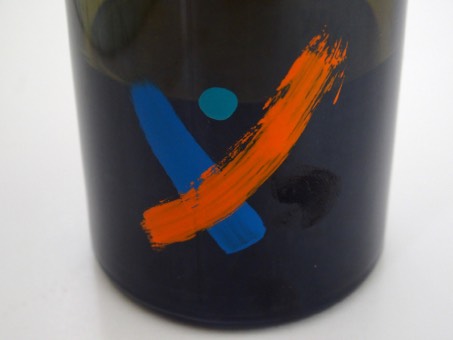 2016 Matt Taylor Wines Komorebi Vineyard West Sonoma Coast Pinot Noir
13.11% alc., pH 3.33, TA 0.84, 230 cases. This vintage provided incredible skin maturity at lower sugar levels, and the stems, despite being neon green in color, were very sweet and ripe and not green in flavor. Hand-harvested and hand-sorted (harvested before the Sonoma County fire in early October). 100% whole cluster in two tanks: one oak and the other concrete. Both tanks were a co-ferment with native yeasts of the three selections in the vineyard. The grapes were in tank 27 days which included a period of extended maceration. The free-run and press wine were kept separate and sent to 228L and 600L barrels (2.5x the size of a normal barrel and having wood staves that are over 1.5x as thick) on the lees for 18 months of aging. 3 months prior to bottling, the wine was moved to tank and received 20 ppm of sulfur. · Light garnet color in the glass. The whole cluster driven nose offers aromas of burnt tobacco, pine sap, sweet pipe smoke and dried leaf elements. Elegantly styled in a light to mid-weight fashion, the wine offers flavors of red cherry and cranberry with a botanical underpinning. Fine-grain, slightly gritty tannins are well proportioned. An arrow of acidity contributes freshness and a piquant finish. More likeable over time in the glass, gaining succulence. Even more enjoyable when tasted the following day from a previously opened and re-corked bottle when the wine displayed more expressive fruit, better acid integration and overall more harmony. Score: 93

2016 Matt Taylor Wines Komorebi Vineyard West Sonoma Coast Chardonnay
12.25% alc., pH 3.22, TA 0.85, 160 cases. Harvested before the Sonoma County fire in early October. Clusters are tight and tiny. The wine was pressed whole cluster in a bladder press, fermented and aged in an 18HL concrete egg. Bottling proceeded without sulfur addition after 11 months in concrete sur lie. · Moderately light yellow in color with the slightest haze. Engaging aromas of lemon curd, tarte tatin and salted caramel that are persistent. The flavors replicate the aromas with the addition of orchard fruits and baked green apple. Very appealing with good freshness, a sleek mouthfeel and the slightest salinity. A very tantalizing wine that has well-integrated, crisp acidity and a pleasing lemony finish. Still terrific when tasted the following day from a previously opened and re-corked bottle. The West Sonoma Coast may be the Holy Grail for California Chardonnay. Score: 94