Briefs —Newsletter 12.4

Burt Williams Tribute Dinners Blake Brown gave me a summary of a special tribute dinner in the San Francisco Bay Area he took part in on February 25, 2020. Burt's daughter, Katie, attended, along with members of a local wine group in Belmont that are also followers of the WineBeserkers board. The wines poured: 1997 Williams Selyem Allen Vineyard Russian River Valley Chardonnay, magnum of 1995 Williams Selyem Summa Vineyard Sonoma Coast Pinot Noir (Brown said this was arguably the best wine Burt ever made: 13.9% alc., pH 3.29, TA 0.964, no stem inclusion, aged 16 months in 100% new Francois Frères oak barrels, priced at $125, 52 cases produced), 1994, 1995 and 1996 Williams Selyem Allen Vineyard Russian River Valley Pinot Noir, 1993, 1994, 1995 and 1997 Williams Selyem Rochioli Vineyard Russian River Valley Pinot Noir, 1986 and 1997 Williams Selyem Sonoma County Pinot Noir, 1995 Williams Selyem Hirsch Vineyard Sonoma Coast Pinot Noir (the wine of the night along with the Summa Vineyard bottling) and a1992 Williams Selyem Russian River Valley Zinfandel. Additional wines were contributed by Margi Williams (Brogan Cellars). Blake reports that Burt Williams tribute dinners were also held in Chicago and New York City. I would have loved to do a tribute dinner but I liked Burt's wines so much they mine were opened and thoroughly enjoyed some time ago!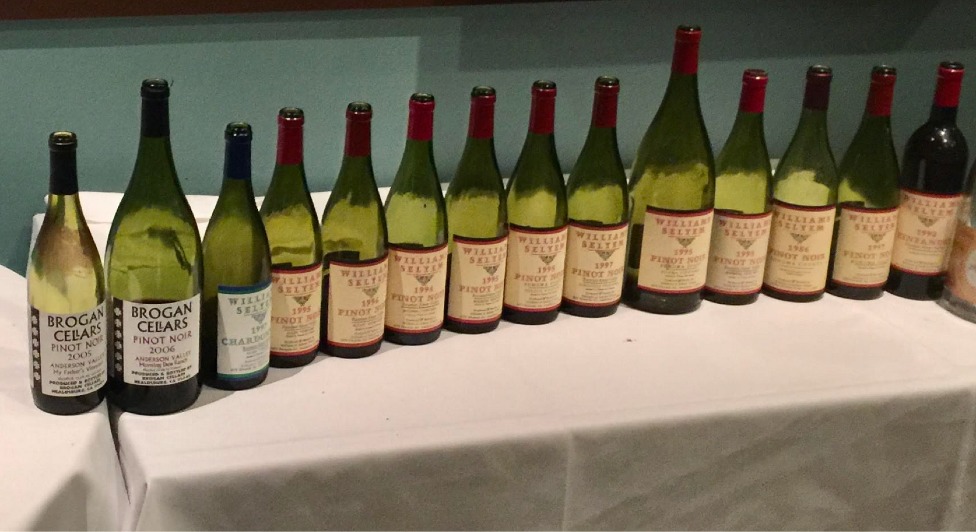 Big Table Farm Needs a Bigger Table I first met Clare and Brian, founders of Big Table Farm, in 2010 at a Pinot Days event in Santa Monica when they were hardly a blip on the pinotphile's radar (photo below). Since then, they have enjoyed incredible success based on the excellence of their wines and their farm-based experience available to those who have visited them in Gaston, Oregon. They are still amazed, humbled and grateful for the success of their Oregon adventure. Up until recently, they have held tastings in their old farmhouse but now have leased a building in Carlton to serve as the public tasting venue for Big Table Wine and Clare's art (see photo below). Last year, they hosted over 2,500 people at their farmhouse and the opening of a public facility will restore some sanity to their lives. Brian remarked that he has had a ladder outside of his office window at home so he could move in and out of the house freely. Tasting at the Carlton Atelier will be by appointment. Currently, the land is being prepared on the home property to plant Pinot Noir and Chardonnay in the spring of 2021. Solar panels have been added to the winery along with backup batteries to complement the Chevy Bolt electric forklift and the Polaris electric ATV. I have reviewed the Big Table Farms wines for years with much fanfare. The winery has just released the fall lineup of Chardonnay and Pinot Noir. Reach out by sending an email to admin@bigtablefarm.com or call 503-852-3097.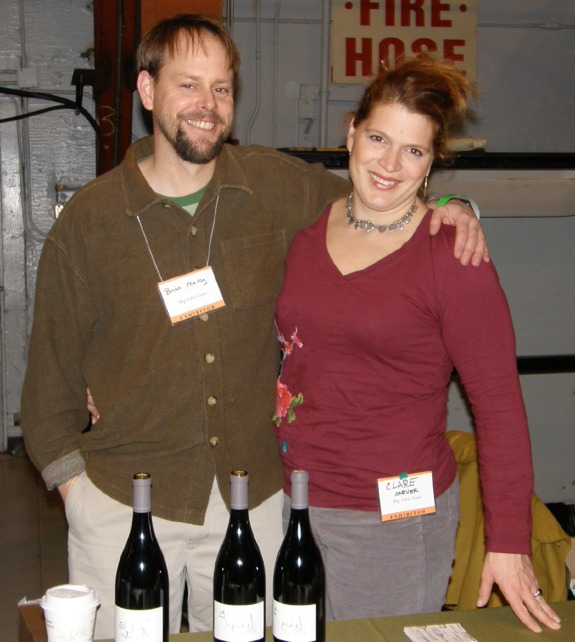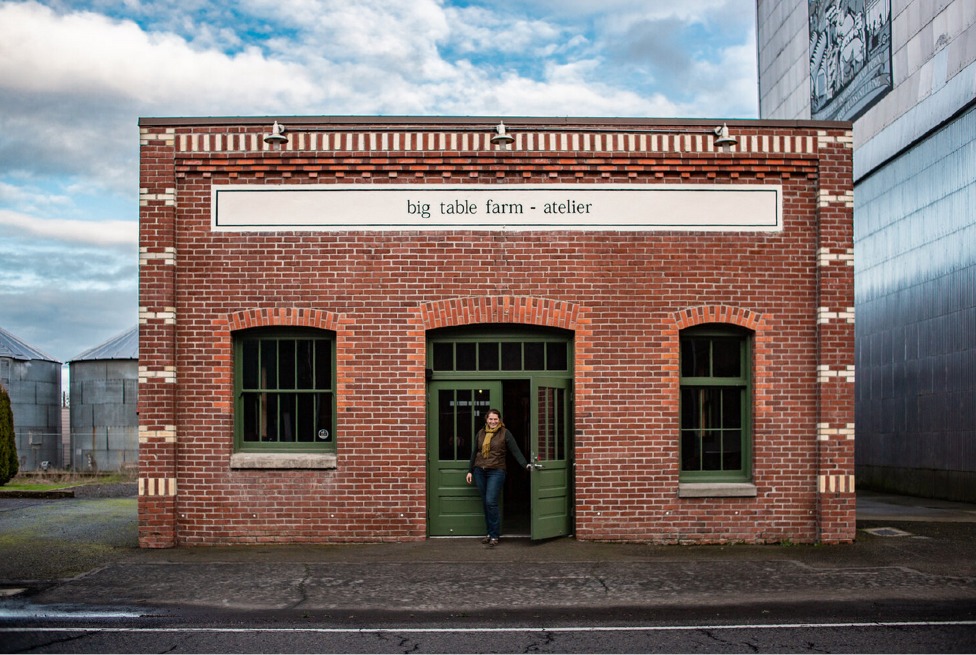 New Direction for ConeTech The Craft Beverage Modernization portion of the Tax Cuts and Jobs Act of 2017 was extended to December 31, 2020. The Act authorizes a wine tax rate of $1.07 per wine gallon to still wines containing not more than 16% alcohol. There was previously a tax increase for still wines having more than 14% alcohol. The Act was a devastating blow to the alcohol reduction business of ConeTech but the company has moved on. ConeTech is now offering zero alcohol wines as a bulk finished product allowing clients to produce ZeroZero Wines. Billed as the new "sophisticated soft drink," ZeroZero wine is an alternative to sweet traditional soda. ConeTech says, "You have all the wine flavor, balance, structure and mouthfeel with none of the alcohol." The ZeroZero beverages also possess much lower calories than most leading soft drinks. A second new offering is smoke taint removal. ConeTech has for the first time in the United States identified the compounds that cause smoke taint. This has lead to the development of a unique and proprietary method that drastically reduces, or eliminates completely, the volatile components that lead to smoke tainted wines. Reportedly, the wine's most delicate aromatic compounds are preserved. The key facts about smoke taint (courtesy of Wine Australia): (1) smoke affects the grapes, not the vines, (2) there is no carry over between seasons, (3) the risk is greatest closest to harvest, (3) proximity and age of smoke affect the level of risk, and (4) characteristics of smoke in wine change over time and are experienced differently by each individual.
Knudsen Vineyards to Take Back Erath's Tasting Room For 33 years, the historic Erath Winery has been a tenant at Knudsen Vineyards, operating their business in the middle of the Knudsen Vineyard. As the lease expires at the end of March, the space will be transformed into a Knudsen Vineyards tasting room, slated to open in late May or early June. Knudsen Vineyards below.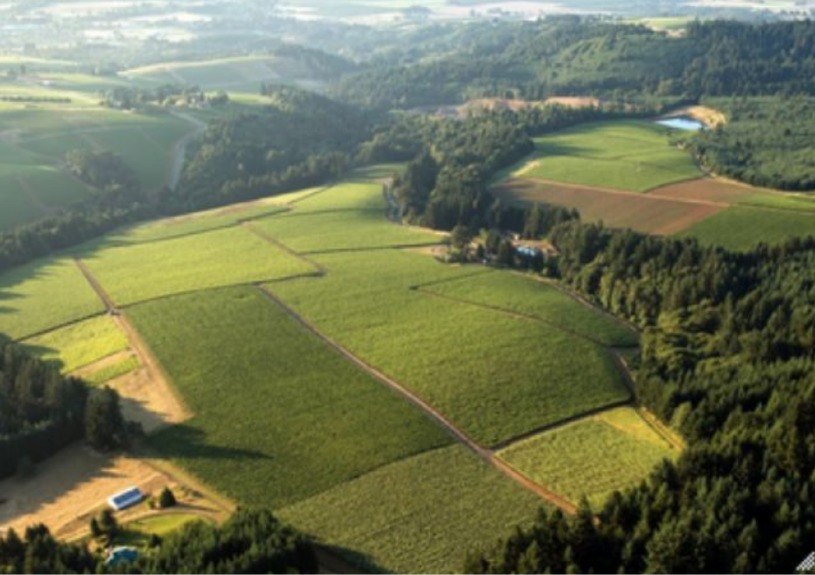 "Minerality" Confined to Pinot Noir? I continue to be perplexed about the use of the word "minerality" and its variants in the reviews of Pinot Noir in the popular wine publications. I wrote about this recently in Volume 12 Issue 2: www.princeofpinot.com/article/2227/. In the April 30, 2020 issue of the Wine Spectator, there were several California Pinot Noir wines reviewed. The following descriptors appeared: "minerally finish," (twice), "minerality," "vibrant minerality," and " minerally details." Similar terminology did not appear in reviews of California Grenache, Syrah & Blends and Other Reds. Is Pinot Noir so confounding to describe that reviews must lean on the vague and poorly understood terms implying "minerality"?
Wine.com as an Internet Source of Premium California Pinot Noir I had never looked to wine.com as an internet source for fine California Pinot Noir but while recently searching for a specific Pinot Noir, I came upon this seller. I was impressed by the extensive listing of quality California Pinot Noir wines from both current and recent vintages. I looked at a number of wines that I had reviewed highly and compared the SRP for my rated wines with wine.com prices. In most cases, the prices were at or modestly above SRP but there were some good values to be found with prices below SRP in some wines (marked with an asterisk). Here is a listing that may assist you in shopping for wines that I have reviewed highly in the past. My score is first, SRP second and the wine.com price is listed last.
2017 Domaine Della Earl Stephens Vineyard Russian River Valley Pinot Noir 93, SRP $75, $84.99
2017 Dutton-Goldfield Dutton Ranch Russian River Valley Pinot Noir 90, SRP $45, $43.99*
2017 RAEN Royal St. George Sonoma Coast Pinot Noir 94, SRP $60, $58.99*
2017 Chappellet Grower Collection Dutton Ranch Russian River Valley Pinot Noir 90, SRP $45, $54.99
2017 La Crema Sonoma Coast Pinot Noir 89, SRP $25, $19.99*
2017 Occidental Freestone-Occidental Sonoma Coast Pinot Noir 94, SRP $65, $69.99
2017 Sojourn Rodger's Creek Vineyard Sonoma Coast Pinot Noir 92, SRP $48, $49.99
2017 Sanglier River Tusque Sonoma Coast Pinot Noir 90, SRP $36, $35.99
2017 FEL Anderson Valley Pinot Noir 90, SRP $38, $39.99
2016 Morgan Double L Vineyard Santa Lucia Highlands Pinot Noir 92, SRP $42, $64.99
2016 Benovia Martaella Vineyard Russian River Valley Pinot Noir 94, SRP $60, $74.99
2016 Wayfarer Wayfarer Vineyard Sonoma Coast Pinot Noir 97, SRP $90, $89.99
2016 Goldeneye Gowan Creek Vineyard Anderson Valley Pinot Noir 90, SRP $86, $79.99*
2016 Calera Jensen Mt. Harlan Pinot Noir 95, SRP $95, $88.99*
2016 Gary Farrell Hallberg Vineyard Russian River Valley Pinot Noir 94, SRP $60, $54.99*
2016 Dutton-Goldfield Emerald Ridge Vineyard Green Valley Pinot Noir 94, SRP $62, $69.99
2016 J. Wilkes Santa Maria Valley Pinot Noir 91, SRP $30, $31.99
2016 Waits-Mast Cellars Nash Mill Vineyard Anderson Valley Pinot Noir 92, SRP $45, $52.99
2016 Lichen Moonglow Anderson Valley Pinot Noir 90, SRP $35, $41.99
2016 Big Basin Coastview Vineyard Monterey Pinot Noir 96, SRP $55, $56.99
2016 Big Basin Lester Family Vineyard Santa Cruz Mountains Pinot Noir 93, SRP $55, $54.99
2016 Ten Acre Sonoma Coast Pinot Noir 90, SRP $55, $34.99*
2016 Black Kite Kite's Rest Anderson Valley Pinot Noir 90, SRP $50, $52.99
2015 Eric Kent Sascha Marie Russian River Valley Pinot Noir 95, SRP $52, $57.99
2015 2015 Ryan Cochrane Fiddlestix Vineyard Sta. Rita Hills Pinot Noir 93, SRP $46, $49.99
2014 LaRue Rice-Spivak Vineyard Sonoma Coast Pinot Noir 94, SRP $70, $79.99
Review of 'Sideways': The Experience' in The New York Times 'Sideways: The Experience' is the stage adaptation of the novel is playing at the Theater at St. Clement's in New York until May 24, 2020. The play is preceded by a cocktail party at the Theater (an extra $100) with appetizers and wines reflecting those tasted in the novel. The reviewer, Alexis Soloski, said the play was "corked." "Observation is shoved into dialogue like a stepsister trying to stuff her feet into too-small shoes." She felt the movie worked much better than the play, and in summary, claimed, "Some stories, unlike fine wines, don't age well." Ouch!