Wines of J. Rochioli Vineyards & Winery

The Estate Rochioli-labeled wines are in limited retail distribution by Terlato Wines (since 1986). The Estate and J. Rochioli Block and Vineyard designated wines are allocated through a mailing list. Currently, there is a waiting list to join the offering list and the wait is four years. The Rochioli wines are sometimes available in the secondary retail or auction market, often with a markup of at least 30% over release price. For example, the Block designated Pinot Noirs from the 2017 vintage were released at $86-$90 (the West Block was $112) and the retail marketplace currently offers the wines for $130 (the West Block $175). Even at those inflated retail prices, the wines are deserving because of their quality and pedigree. Consumers like to drink their Rochioli wines, so they are not often offered at auction or retail.
The winery and tasting room is located at 6192 Westside Road in Healdsburg. Tasting is available by appointment only even for mailing list members (see the winery's website at www.rochioliwinery.com/Visit or email appointments@rochioliwinery.com). The fee for non-members of the mailing list is $25. Of course, tasting is not currently available due to the coronavirus pandemic. The Single Vineyard Blend Estate Pinot Noir, Estate Chardonnay and Estate Sauvignon Blanc as well as the Estate Blanc de Noir sparkling wine are frequently available for purchase at the time of the tasting.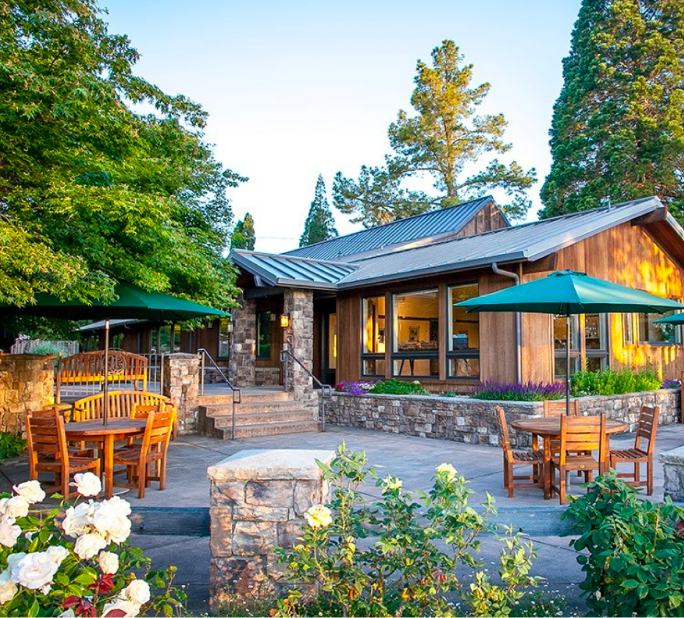 The vinification of Rochioli Pinot Noir involves primarily whole berry fermentation with proprietary yeast in stainless steel open-top tanks. Up to 20% whole cluster may be included depending on the vintage, vineyard and ripeness of the stems. Tom says the inclusion of stems adds a "spice cabinet" to the finished wines. Hand punch downs of the cap are employed. The wines are pressed at dryness and sent to barrel without extended maceration, and aging takes place in 90% Francois Fréres 3 to 4-year air-dried French oak barrels. The percentage of new oak will vary with the wine but is often 30% for the Estate wines and 40-50% for the single block wines. The West Block Pinot Noir is always aged in 100% new oak. Aging extends from September of the vintage year to the following November (14-15 months), a little less for the Estate Pinot Noir. The wines are held in bottle to the early part of the subsequent year in the case of the Estate wines and the latter part of the subsequent year for the block-designated Pinot Noir wines. Tinkering with the vinification is an ongoing process including experimenting with different oak sources.
The Chardonnays are gently whole-cluster pressed, fermented with proprietary yeast, undergo full malolactic fermentation and are aged sur lies. The finished wines are racked just prior to bottling and are unfiltered.
The Rochioli Pinot Noirs have a consistent style of ripe, rich fruit that is aromatic, succulent and spicy and tastes damned good. Many have raved about the Pinot Noir wines in the wine press, calling them "A liquid portrait of the Russian River Valley." Others have pointed out, "The Pinot Noir wines have a consistent style of ripe, rich and succulent fruit but are never too big or oaky, remaining pure and fresh." Age ability is dependable, but Joe has never seen two vintages the same in all the years he was worked the Rochioli estate. He feels that the age-ability of his wines reflects the vintage with some years aging gracefully for well over ten years and some years peaking earlier.
Tom tells his consumers that the vineyard-designated Pinot Noirs perform best usually between six and ten years after the vintage. After that, it is every man for himself. I recently opened a 2003 J. Rochioli Vineyards & Winery Little Hill Russian River Valley Pinot Noir. It was terrific upon opening but faded markedly a few hours later. If you do open a similarly aged Rochioli Pinot Noir, drink up in the first hours after opening.
J. Rochioli Vineyards & Winery keeps a low profile from a marketing standpoint since they don't have to publicize scores or the adoring comments from wine writers. They sell all the wine produce and probably could sell twice that amount. This relieves the winery of the expenses of promotion and allows them to concentrate on farming and wine production. The winery and vineyards are in a very enviable position in the current competitive Pinot Noir marketplace as a result of many years of devoted farming and superb winemaking.
Tom's daughter, Rachael, is now the winery's Sales and Marketing Associate. Tom's son, Brian, is a UC Davis graduate specializing in beer brewing and is also employed outside the winery in wine sales. Tom is encouraging him to join the winery at a future date.
The 2018 and 2019 vintage Estate wines were released in January 2020. The back label now contains the words "Single Vineyard Blend" to indicate that the Estate wines are sourced from single vineyards at Rochioli.
2019 Sauvignon Blanc 14.5% alc., 2950 cases, $34. 64% from original Sauvignon Blanc plantings dating to 1959, 21% is from the newest 2011 planting of the rare clone 376 and 14% is from the hillside planting dating to 1985. Tank fermented at a cool temperature.

2018 Estate Chardonnay 14.5% alc., 1724 cases, $58. A blend of the top Estate vineyards. Average vine age is 23 years. 52% Mid-40, 36% River Block, and 12% Little Hill. Whole cluster pressed to barrel with no skin contact. 100% MLF.

2018 Estate Pinot Noir 14.5% alc., 2926 cases, $64. A blend of several single-vineyard sites. Average vine age is 18 years. 40% Sweetwater, 39% Little Hill, 12% Big Hill, 6% West Block and 3% East Block. Fermented in open-top stainless steel tanks, hand punch downs. Aged in French oak barrels for 15 months.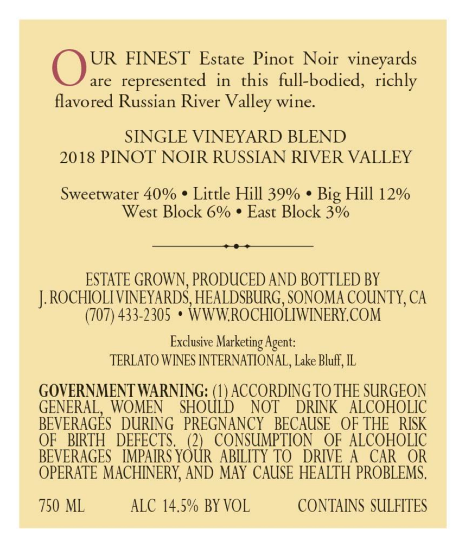 The 2018 Single Vineyard Chardonnays and 2019 Old Vine Sauvignon Blanc were released in March 2020.
2018 River Block Chardonnay 200 cases, $68. Old Wente field selection planted in 1989. Average yield was 2.6 tons per acre. Bottled unfiltered.

2018 Sweetwater Chardonnay 150 cases, $72. Wente selection planted in 2000. Bottled unfiltered.

2018 Little Hill Chardonnay 150 cases, $72. Oldest Chardonnay planted to clones 4 and 108 in 1972. Bottled unfiltered.

2018 Rachael's Vineyard Chardonnay 125 cases, $78. Mt. Eden field selection planted in 1994 and 1999. Bottled unfiltered.

2019 Old Vine Sauvignon Blanc 120 cases, $48. Planted in 1959, it is one of the oldest known Sauvignon Blanc vineyards in California. Yield is only 2.4 tons per acre.
The 2018 Single Vineyard Pinot Noirs will be released in August 2020. Here is the lineup of the 2017 vintage Pinot Noirs released in August 2019.
2017 Sweetwater Pinot Noir $86.

2017 Little Hill Pinot Noir $86

2017 River Block Pinot Noir $90.

2017 Big Hill Pinot Noir $90

2017 Three Corner Pinot Noir $90

2017 West Block Pinot Noir $112.
The Estate Rosé of Pinot Noir is released each April. Estate Syrah and Estate Valdiguié are released each September. A 100% Pinot Noir Blanc de Noir was produced in 2011, 2014 and 2016 and is sometimes available.
Magnums are bottled every vintage but these are reserved for family, special tastings and charity donations.
Accolades are reported on the website for Antonio Galloni (Vinous), Jeb Dunnick and Robert Parker's Wine Advocate. For the 2016 and 2017 vintages, scores ranged from 93 to 97+ for the single-vineyard Pinot Noirs. Visit the website at www.rochioliwinery.com to view the accolades for Rochioli Pinot Noir, Chardonnay and Sauvignon Blanc over the past 7 vintages.