Briefs —Newsletter 12.6
Ponzi Vineyards Celebrates Its 50th Anniversary with a Memoir "Pinot Girl," released May 6, 2020 is an intimate memoir of Anna Maria Ponzi, the daughter of one of Oregon's earliest wine families. Dick and Nancy Ponzi were among the first to grow and produce Pinot Noir in the Willamette Valley. Anna Maria, one of the three children in the family, tells the story of a young girl who grew up among the vines and how a family that were neither farmers, winemakers or businesspeople, developed into a world-renowned wine business. $17.95 from the usual sources.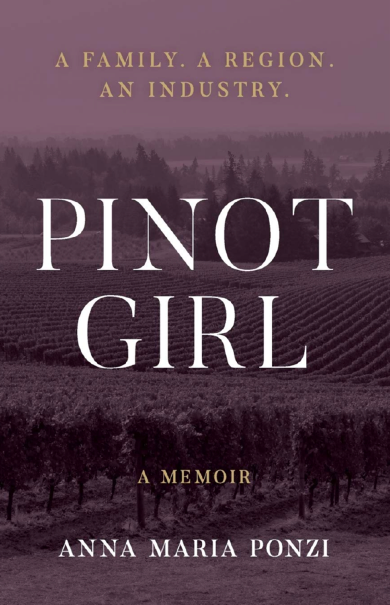 Alcohol-related Facial Flushing Linked to Alzheimer's The Oriental Flushing Syndrome occurs in hundreds of millions of Chinese that have a mutation in the gene for aldehyde-dehydrogenase-2 isoenzyme, ALDH2, needed to metabolize ingested alcohol. The mutation is rare outside of East Asian populations, except in the Polynesian people. Having the gene that impairs alcohol metabolism could increase a person's risk of developing Alzheimer's disease. Stanford scientists recently found that cells from Alzheimer's patients contained more free radicals and toxic by-products than cells from control groups did, leading to a viscous cycle of cell damage with neurodegenerative consequences. Adding alcohol increased the level of free radicals in all cells, but more so in those with the alcohol-related mutation. Chinese with the ALDH2 mutation are also at a significantly higher risk for esophageal and oropharyngolaryngeal cancers. So, although the potential market for wine sales among China's newly affluent consumers is large, up to half of the population who suffer from the Oriental Flushing Syndrome are unable or unwilling to drink wine. The avoidance of wine for health reasons makes this imperative.
International Pinot Noir Celebration Postponed The International Pinot Noir Celebration (IPNC) has had to be postponed until July 23-25, 2021 due to the uncertainty posed by the novel corona virus. Those holding tickets for the 2020 IPNC have been automatically updated for the new date in 2021. Visit www.ipnc.org or follow on twitter @IPNC or Instagram @ipnc-pinot for updates.
Pegasus Winery Lightens Up the Restroom One of my readers, who is a fan of Pegasus Winery Pinot Noir, copied me a photo of a sign above the urinal at the winery located in Christchurch, New Zealand.
Benovia Winery Honors Veterans with Release of 2018 Liberation Pinot Noir The winery has just released the 2018 vintage of its popular Liberation Pinot Noir. The wine is available for $50 per bottle and $10 from each purchase will be donated to the Gary Sinise Foundation which honors and supports defenders, veterans, first responders, their families and those in need. In addition, Chairman Joe Anderson will contribute an extra $5 through his Anderson Family Foundation to the Gary Sinise Foundation. The Liberation Pinot Noir was originally created to mark the 75th anniversary of D-Day and the 2018 is now the third vintage. Anderson owns a WWII-era airplane called The Spirit of Benovia, that he and his pilot flew to Normandy last year to mark the 75th anniversary of D-Day. On Memorial Day this year, The Spirit of Benovia will join 17 other historic planes in formation, as they honor veterans and healthcare workers in Southern California. A dramatic label was created for Liberation Pinot Noir, designed by pilot and artist Craig Kodera. The label depicts an airborne D-Day squad. Benovia's 2018 Liberation Pinot Noir is a blend created by winemaker Mike Sullivan. The grapes come from an estate property near the town of Freestone in the Sonoma Coast AVA. can be purchased on the winery's website at www.benoviawinery.com.