Drinking California Pinot Noir History from "Old Vine" Vineyards: A Bucket List
"Vine age is the key to balance. There's no substitute for vine age."
Ted Lemon, Littorai

There is no consensus or legal definition of "old vine" Pinot Noir. Wikipedia states, "In a place where wine production is longstanding, it often means a wine whose vines are thirty to forty years old." I have used forty years (1980) as the cut-off for my California old vine Pinot Noir bucket list. Some would consider these "mature" vines only, insisting that the term "old" be reserved for vines older than this such as 125-year-old Zinfandel vines in California that are still bearing small amounts of fruit.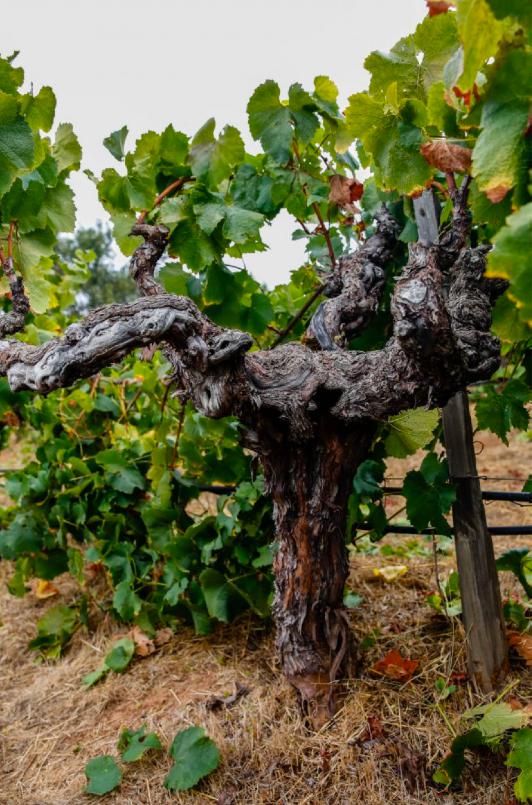 Hanzell 1953 Ambassador's Vineyard Pinot Noir Vine

The term "old-vine" has created debate for years in the wine industry. Most winemakers believe the terminology should be defined and regulated. Some choose to define "old-vine" as a minimum of 20 years and others prefer 50 years as a minimum. There are also disagreements about the percentage of grapes that should be required in a wine labelled "old-vine." Some winemakers would agree that "old-vine" grapes should make up at least 85% of the grapes contained in a wine sold as "old-vine," and others demand that 95% of the grapes be from "old-vine" sources. There are variances to consider among different varietals as well. For example, Pinot Noir vineyards over 20 years are considered old, yet Zinfandel from a 20-year-old vineyard would not be labelled "old-vine." The issue of "old-vines" results from the perception by many consumers who consider "old-vine" wines better.
Although wine grapevines can potentially survive 50 to over 100 years of age, there are precious few old vine Pinot Noir vineyards in California that are still productive. Age is a valuable commodity in vineyards since the aged vine has more potential for reflecting the essence of a vineyard, or at least mirroring a unique character of the site. Beyond this dictum, there are a number of other generally accepted observations in the wine literature and opinions voiced by winemakers regarding whether vine age makes a difference in the quality of wines and how vine age affects viticultural and winemaking decisions:

* Vine age can be difficult to taste in Pinot Noir as site often trumps vine age.
* Old vine Pinot Noir seems to age better.
* Old vine wines can be more layered, nuanced, complex, reserved, long on the palate and more interesting. They are potentially less overtly fruity and more complete. Newer vine Pinot Noir tends to be more vibrant, expressive and exuberant with more grip and tannins.
* Winemakers, in general, do not vinify old vine fruit and young vine fruit in a significantly different manner other than some choose to limit or avoid new oak in younger vine wines. It is not true that old vine grapes "can take more oak."
* When pressed to say whether old vines make better Pinot Noir than young vines, many winemakers believe they do while others say "they can at least some of the time.
* New vine fruit is more consistent.
* Young vine wines can be like old vine wines if yields are tightly controlled.
* Old vines become infected with viruses leading to lower yields and causing the resulting wines to show less color.
* Old vines generally produce grapes with physiological ripeness at lower Brix. In contrast, new vine grapes ripen quicker, accumulate sugar faster and generally have less acidity.
* Old vines are constant, yielding smaller berries with a higher ratio of solids to liquid.
* Old vines have deeper roots and can tap into moisture during droughts.
* Young vines have the benefit of better rootstocks and clones and more sophisticated viticultural technology.
* Old vines have more haphazard growth with sometimes a hybrid mix of cordon and canes, requiring more work to farm, more individual attention, a more experienced vineyard crew and as a result can be more costly.
* The quality of old vine wines can reflect the fact that whoever planted the vines originally did the proper thing and the vines have survived. The vineyard is special as a result.
* Old vines wines are often more expensive.

Wine and Spirits columnist Beppi Crosariol summed up the superiority of old vine wines many years ago: "It's a difference you can taste. Old vine wines deliver textural richness and layered flavors that build rather than trail off after the up-front fruit fades away. It's analogous to the warm, rich tone of an old violin versus the brighter timbre of new wood."
Pinot Noir vineyards planted before 1980 were most often established with Martini clones and less frequently with the Pommard clone and Mount Eden and Swan selections, all of which originally came from Burgundy, France. There were not many options at the time and the perception of distinct clones of Pinot Noir was just coming into focus by the wine industry. Historic planting records for many vineyards planted prior to 1980 are not available so the exact source of the originally planted scion material is unknown.
None of the old vine Pinot Noir vineyards included in this article was planted to Dijon clones since they were not introduced into California until the early 1990s. For more in-depth information on the heritage clones that were planted in Pinot Noir vineyards prior to 1980, refer to the section "Heritage Clones of Pinot Noir" in this issue. You may consider reading this section first for proper background intuition.
The 1970s proved to be a fruitful time for vineyard plantings throughout California. It had become evident that Pinot Noir performed best in the cooler regions of California. The public was beginning to appreciate fine wine, Pinot Noir was grabbing the consumer's interest and a wine revolution of sorts was developing. Between 1964 and 1978, viticultural pioneers such as Uriel Nielson and Bill DeMattei planted wine grape varieties including Pinot Noir in Santa Barbara County's Santa Maria Valley and by the late 1970s, growers had discovered that Santa Barbara County produced wonderful Pinot Noir. Richard Sanford and partner Michael Benedict planted the Sanford & Benedict Vineyard to Pinot Noir and Chardonnay located at the western end of the Santa Ynez Valley in 1970-1971. This was the first planting of Pinot Noir in what is now the Sta. Rita Hills AVA.
Russian River Valley Pinot Noir was in its infancy in the late 1960s and 1970s. Joseph Swan planted Pinot Noir in the Vine Hill region using cuttings from Mount Eden and budwood from Burgundy in 1969. Joe Rochioli, Jr., was harvesting his early viable Pinot Noir crops from East Block and West Block plantings on Westside Road first established from 1968 to 1970. Tom Dehlinger was another Russian River Valley visionary who planted his first vines on his property on Vine Hills Road in the spring of 1975. The original 4 acres of Pinot Noir consisted of Pommard and Martini clones with a smaller selection of cuttings from Joe Swan's vineyard. The Pellegrini family planted the Olivet Lane Vineyard in 1972 and Forrest Tanzer at Iron Horse and Marimar Torres were starting their own Pinot Noir programs in the Russian River Valley in the mid-1970s.
There was a more modest surge of new Pinot Noir plantings in the 1960s and 1970s in the Santa Cruz Mountains, the Sonoma Coast, and in San Benito County at Calera and Monterey County at Chalone. California Pinot Noir became popular by the late 1970s when clonal research was well-publicized. By 1980, there were 116 wineries in California producing Pinot Noir.
It is very challenging to find accurate historical information about California Pinot Noir vineyards planted in 1980 or prior. My goal was to research what historical resources are available, delve into the wine literature on Pinot Noir, and access the knowledge of current winery owners and winemakers. John Winthrop Haeger's two books, North American Pinot Noir (2004) and Pacific Pinot Noir (2008), are invaluable, seriously-researched and documented references that are quoted many times in this article but those books do lack current information relating to the status of older vineyards. I understand that John is currently researching "mature" Pinot Noir vineyards and this information will be invaluable when it becomes available.
My intent was to research old vine Pinot Noir vineyards planted in California in 1980 or prior that are still producing wines that are currently available for sale. This became a "bucket list" that pinotphiles can use to seek out old vine Pinot Noir. The bucket list of Pinot Noir wines made from vines that are at least 40 years old would offer a terrific basis for a tasting among fellow wine connoisseurs. Comparing these wines with younger vine examples from the same wineries would be of even greater interest. Take it even further and visit some of these old vine vineyards. I believe you can only truly appreciate a wine if you have visited the contributing vineyard. You have to walk the rows, kick some dirt, spit some seeds, take in the ambience and smells, and rub shoulders with the vineyard manager and/or winemaker. When you have the opportunity to visit a mature vineyard with its many gnarled, thick vines, sometimes untrellised, the impression can be even more beholding. A recent photo of an old Pinot Noir vine planted on is own roots in 1972 (nearly 50 years old) at Olivet Lane Vineyard in the Russian River Valley: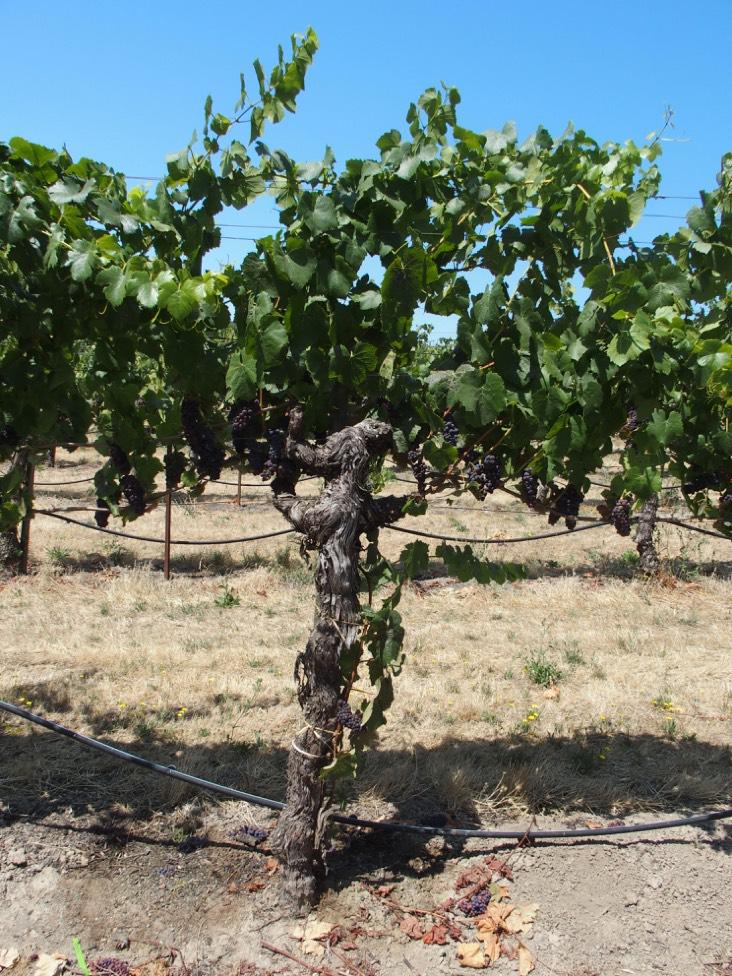 Olivet Lane Estate Pinot Noir Old Vine

Sadly, many vineyards planted to Pinot Noir prior to 1980 in California have been pulled out and replanted with more vigorous young vines that yield larger crops and are economically more viable. Those that remain are a vital repository for budwood and genetic material. A registry of California's oldest wine grape vineyards, the Historic Vineyard Society (HVS) was founded in 2009. To be considered for the registry, a currently producing vineyard must have been originally planted 50 years ago. Also, at least one-third of existing producing vines must be traced to the original planting date. The focus is on California but the current total of over 120 vineyards includes historic vineyards from other states and countries. Visit www.historicvineyardsociety.org.
It is important to keep in mind that there are no old vines Pinot Noir produced from 100% 40-year-old or older vines. That is because over time vines die, become virus-infected or otherwise diseased and are replaced with newer vines that are often established from cuttings of old vines on newer rootstocks. In this way, the replacement planted vines have the same genetic material. I believe many of the vineyards featured in my bucket list have a credible amount of original plantings some of which have been supplemented with a percentage of replants using budwood from original vines that show desirable traits. When known, I have included the percentage of original vines that are still viable in an old vine Pinot Noir vineyard.
Drinking Pinot Noir from 40- to 50-year-old vines offers no guarantee of discovering nirvana. That said, a large number of these old vine Pinot Noir reviewed in this issue imply that maturity has its advantages. I will say, without question, tasting through these old vine Pinot Noir wines has been one of the most exhilarating and memorable experiences of my career in wine.
When one considers that California Pinot Noir vineyards have been plagued with heatwaves, wildfires and the resultant smoke taint, evacuations during the growing season, periodic blackouts, and recurring pestilence, it is remarkable that old Pinot Noir vines have persevered. OLD VINES MATTER!