Old Vine California Pinot Noir Vineyards: Sonoma/Napa Counties, A-D
"Old vines know better. There's something special about them that winemakers love. They tend to self-regulate."
Eric Lavmann, Cambiata Winery
Ambassador's Vineyard
Location: Sonoma Valley
Owner: Hanzell Vineyards
Initial planting: 1953
Acres: 4.04
Scion material: Either Masson's La Cresta vineyard or Inglenook Estate in the Napa Valley (Martini).
Producer from this vineyard: Hanzell Vineyards
The original 1953 Pinot Noir block at Ambassador's Vineyard is the oldest continuously producing Pinot Noir vineyard in California. An additional Pinot Noir block was established in 1957 but replanted to Chardonnay in 1998. The 1953 block of Chardonnay (Wente selection) at Ambassador's Vineyard is also the oldest continuously producing Chardonnay vineyard in California. The plantings of Pinot Noir and Chardonnay at Hanzell Vineyards occurred at a time when there were less than a few hundred acres of each planted in North America.
Hanzell Vineyards was founded in 1953 by James D. Zellerbach, the Ambassador to Italy during the Truman administration, who named the winery after his spouse Hannah. Hanzell sits at the southern end of the Mayacamas mountain range overlooking the southwestern end of the Sonoma Valley and the town of Sonoma and San Pablo Bay. The 200-acre property currently includes 46 planted acres, primarily on south-facing slopes.
Zellerbach had the vision to produce wines equal to the finest in the world. He had traveled extensively in Burgundy that led to his attraction to Pinot Noir and Chardonnay. Viticulturist Ivan Schoch was hired by Zellerbach to plant the original 3 acres of Pinot Noir and 3 acres of Chardonnay at Hanzell Vineyards.
In the early 1950s, Pinot Noir budwood was hard to come by. Legend has it that a Napa Valley vineyard owned by Martin Stelling and Ivan Schoch had a Pinot Noir selection in their To-Kalon Vineyard that was sourced from Santa Cruz Mountains vintner Martin Ray via Paul Masson, and possibly came from Clos de Vougeot. Stelling was unwilling to part with any budwood so founding winemaker Brad Webb went on a clandestine mission at night to Napa in 1952 and brought back cuttings. Another, more plausible story is posted on the Hanzell Vineyards website. UC Davis professor A.J. Winkler selected vines from which To Kalon Vineyard manager Ivan Schoch cut the budwood. Schoch was also Hanzell's vineyard manager when Zellerbach planted Hanzell Vineyards in 1953, and it was Schoch who introduced the To Kalon Vineyard cuttings to Hanzell Vineyard. Still another version is that Schoch took cuttings directly from La Cresta vineyard upon the advice of A.J. Winkler.
The Pinot Noir vines in Ambassador's Vineyard are planted in well-drained, clay loam on St. George rootstock. The clusters have a high incidence of millerandage, berries for which pollination has failed and grapes develop without seeds. This lack of seeds restricts the growth of the grapes to the size of peas. Wine made from these tiny grapes potentially has complex flavors and abundant tannins for more aging potential.
Over time, many of the newer plantings at Hanzell have been cuttings from the original cuttings. The selection is now known as the Hanzell clone and has been propagated at a number of other vineyards throughout California. It has been currently estimated that between 15-20% of the original vines have been replanted.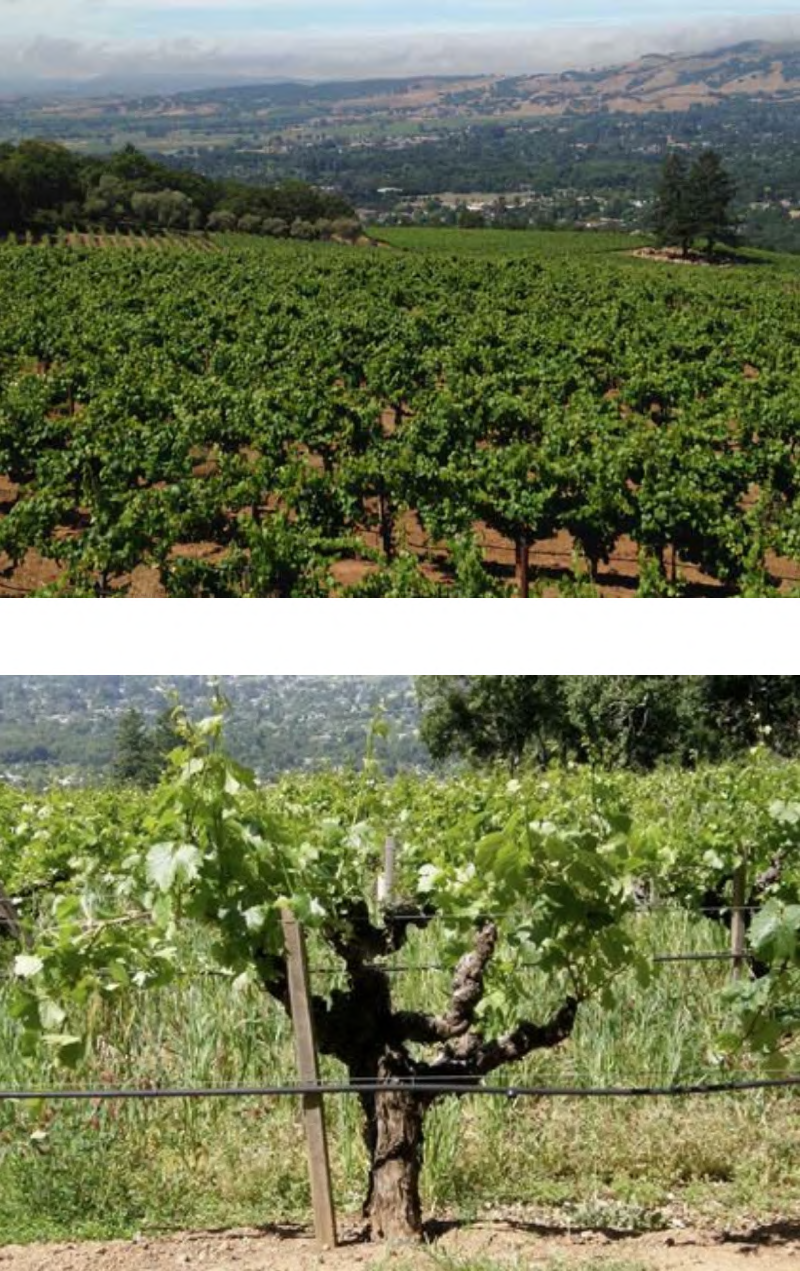 Hanzell 1953 Ambassador's Vineyard / Original Pinot Noir Vine at this Vineyard

The Hanzell clone or UCD 108, was derived from clone "E" that was donated by Hanzell to the clonal trial at Carneros Creek Winery and was subsequently donated to Foundation Plant Material Services (FPMS) at UC Davis in 1996. The original plant material underwent microshoot tip tissue culture at FPS in 1997.
Hanzell Vineyards was purchased by the de Brye family in 1975. The estate's 13-acre de Brye vineyard was originally planted in 1976 east of the original Ambassador's plantings with budwood taken from the inaugural 1953 and 1957 blocks of Pinot Noir. A De Brye Vineyard Pinot Noir bottling has appeared in the past.
Grapes from the original vines in the Ambassador's Vineyard are typically blended with grapes from other estate vineyards planted in subsequent years (de Brye, Sessions, and Zellerbach vineyards) for the winery's annual Hanzell Vineyards Sonoma Valley Pinot Noir. In 2003, 2007 and 2014, Hanzell bottled a Pinot Noir solely from the original blocks and labelled the wine Ambassador's 1953 Vineyard Sonoma Valley Pinot Noir. This special limited release was only made available to Ambassador's Circle Exclusive and Private Collector level wine club members. Visit www.hanzell.com.
I reviewed the 2003 Hanzell Ambassador's 1953 Vineyard Sonoma Valley Pinot Noir in 2010.
"Aromas of fresh black cherries amped to a high level. Bright and opulent on the nose with an interesting mineral edge. My notes say, 'Remarkable!'. Intensely flavored but light on its feet, with a discreetly concentrated core of cherry and berry fruit set off by notes of bark, peat and spice. Well-structured with ripe, soft tannins seemingly caressing the fruit in velvet. A special wine that I was honored to drink and one of the greatest California Pinot Noirs I have ever tasted."
The 2014 vintage was reviewed recently: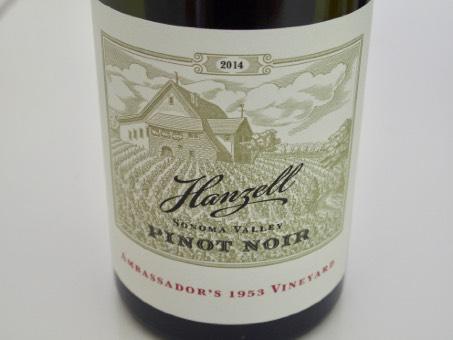 2014 Hanzell Ambassador's 1953 Vineyard Sonoma Valley Pinot Noir
12.8% alc., $145. 8 barrels produced, 4 barrels selected for bottling. · Moderate garnet color in the glass. Lovely aromas of black cherry, damp earth, peat and spice cabinet. Bright, juicy and polished in a midweight style, displaying juicy flavors of black cherry and black raspberry with an earthy tone in the wings. Very giving upon opening, with suave, fine-grain tannins and an exceptional finish of uncommon length. Very impressive in all respects with the balance to age beautifully. When tasted the following day from a previously opened and recorked bottle, the wine was really on point offering pure sensual pleasure. Like many old vine Pinot Noirs, this wine just doesn't taste like every other California Pinot Noir offering an extra something that is hard to describe but a delight to experience. Score: 97
Arrendell Vineyard

Location: Green Valley of Russian River Valley
Owner: Hartford Family Winery
Initial planting: 1975 (Warren Dutton)
Acres: 20
Scion: Martini selection
Producer from this vineyard: Hartford Family Winery
This vineyard is the crown jewel in the Hartford Court lineup. It is a low-lying vineyard located with the coldest mesoclimate of the Green Valley of Russian River Valley. The vineyard has been called the "snowshoe vineyard" because in wet years workers need to wear snowshoes to get through the muddy rows of vines. The grapes struggle to ripen, yields are often less than one ton per acre and are picked after Halloween in most vintages. Dijon clones 114, 667 and 777 and Pommard were planted subsequently in 1996 but these grapes are in Hartford Family's Haley's Block bottling (Haley's Block is a separate block within the Arrendell Vineyard)
The vineyard is a monopole for Hartford and is sold through a mailing list and online at www.hartfordwines.com.
I reviewed the 2013 Hartford Court Arrendell Vineyard Pinot Noir in 2016. "The nose is flat-out gorgeous, filled with aromas of boysenberry and blackberry preserves with a wild organic tone. Power to thrill, with a spellbinding core of dark fruits that envelope the palate and linger on the prodigious finish. Despite the fruit heft, the wine is welcoming with refined tannins, juicy acidity and a silky demeanor. A highly unique wine of uncommon provenance." 96
I also reviewed the 2012 Hartford Court Arrendell Vineyard Pinot Noir in 2015. "A wonderful array of fresh scents greet the drinker including black cherry, kirsch, cassis, sous bois and violets. Sappy and robust, with intense layers of flavor that unfold on the palate in stages to reveal notes of boysenberry, cassis, plum reduction sauce and earthy herbs, Very smoothly textured with balanced tannins and a lingering finish. A special wine of rare personality and breeding." 95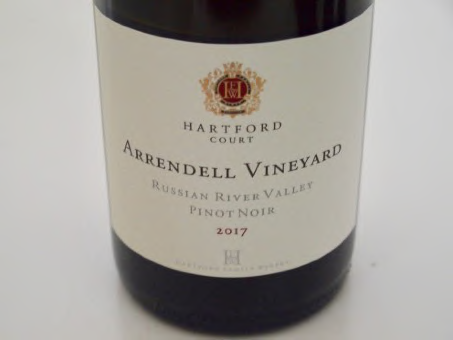 2017 Hartford Court Arrendell Vineyard Russian River Valley Pinot Noir
14.4% alc., pH 3.53, TA 0.66, 217 cases, $100. Aged 16 months in French oak barrels, 44% new. Bottled unfined and unfiltered. · Dark garnet color in the glass. The nose opens slowly to reveal enticing aromas of blackberry, blueberry-pomegranate, earthy flora and a hint of oak. A flood of blue and black fruits envelope the palate in a mid-weight plus style.The layers of fruit saturate the taste buds, creating a magnetic attraction, yet the wine is not cloying or sweet. There is admirable harmony with a favorable compliment of oak. The fruit really hangs on through the long, long finish that is symbolic of a special wine. Score: 94
Bohan Vineyard

Location: West Sonoma Coast
Owner: George and Nikki Bohan
Initial planting: 1974
Acres: 11 (1974), 3 (1979), 9 (1980)
Scion: Unknown
Producers from this vineyard: Primarily Kutch for Pinot Noir
This vineyard is situated at 1,300-1,500 feet elevation only 3.05 miles inland from the Pacific Ocean. The Pinot Noir vines, planted in sandstone and Goldridge soils, are own-rooted and dry-farmed. Total acreage at Bohan Vineyard is 59 acres including Pinot Noir, Chardonnay and Trousseau varieties. It is estimated that 95% of the original 1974-1980 plantings are still productive.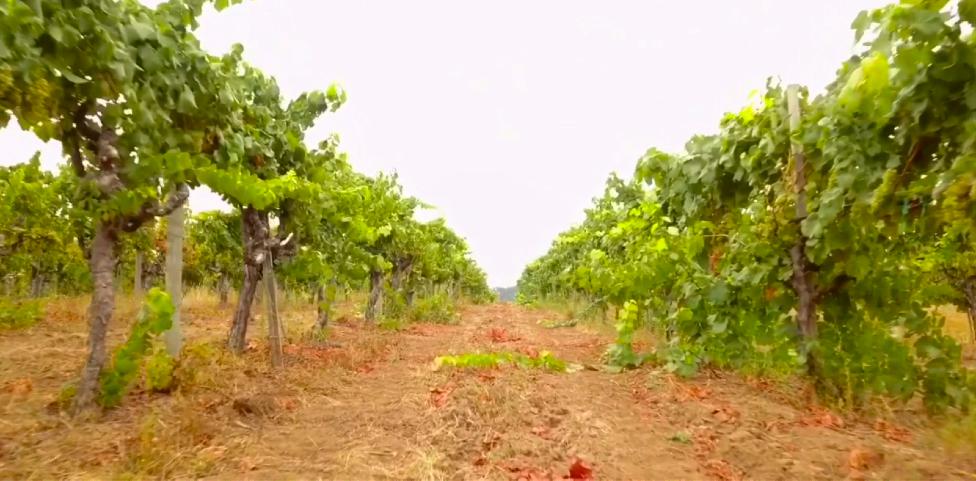 Bohan Vineyard Old Vines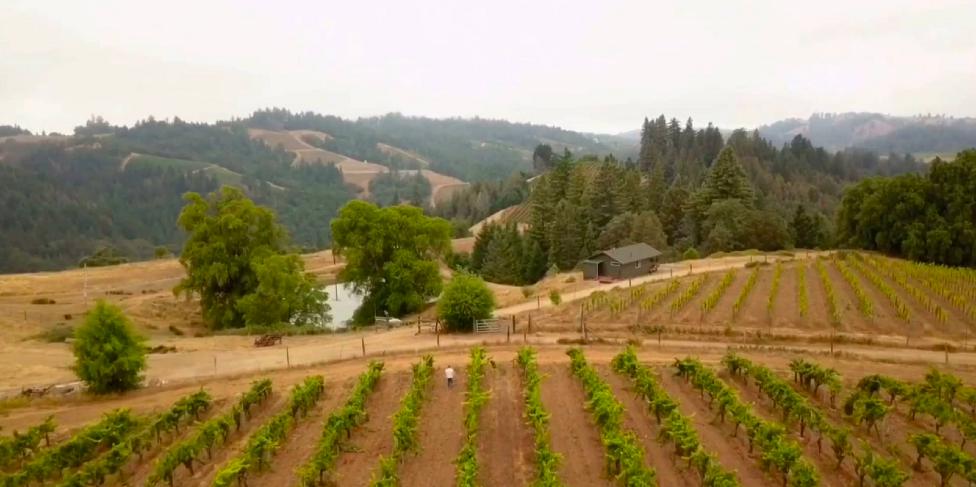 Bohan Vineyard

George and Nikki Bohan are fourth-generation farmers who are guardians of the 1,100 acres of land. The family history is well-detailed at www.kutchwines.com/Bohan. Briefly, Michael Bohan (George's father), acquired the ranch from his father in 1946. He tried to raise sheep, but coyotes caused significant losses, and looking for other ways to support his family, he took a chance and planted 1.25 acres of Zinfandel in 1972 (still in production today). He was the first modern farmer to plant wine grapes on the West Sonoma Coast. Two years later, he planted an additional nineteen acres to wine grapes even though a UC Davis expert told him that vines would not grow so close to the Pacific Ocean. Michael obtained Pinot Noir and Chardonnay budwood without rootstock and watered the vines by hand to get them established in the Goldridge soils.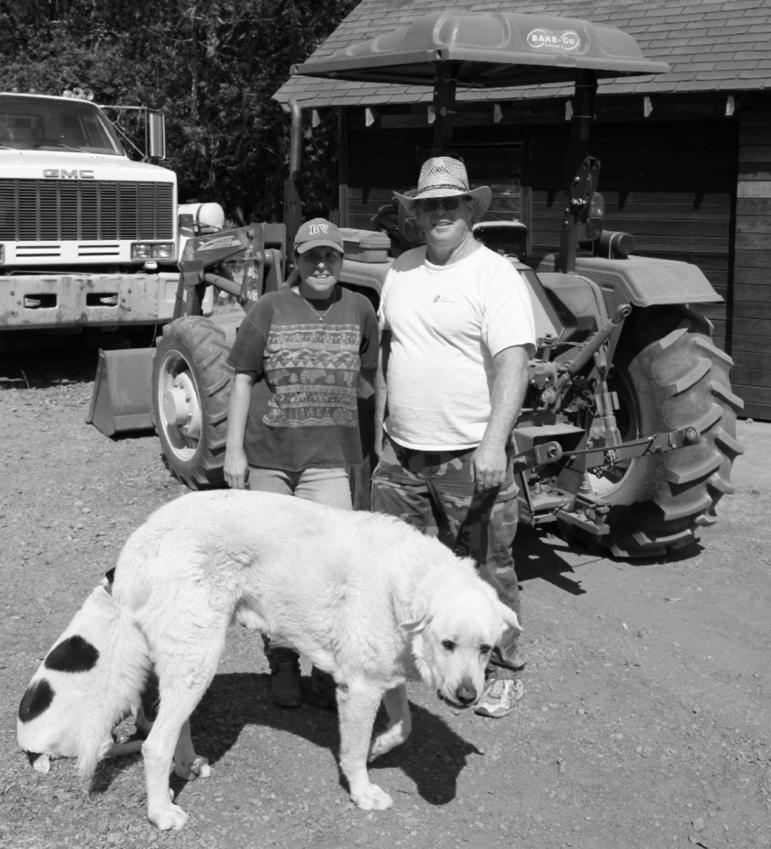 George and Nikki Bohan

Jamie Kutch receives both Pinot Noir and Chardonnay from the original 1974 planting. He also receives grapes from a 1988 1.1-acre planting of Pinot Noir known as the Graveyard Block. Past recipients of fruit from Bohan Vineyard have been Felton Empire, Sea Ridge, Robert Stemmler, Fetzer, Turley and Kendall Jackson. Besides Kutch, current producers sourcing from this vineyard include Failla, Flowers, Sandlands, and Arnot-Robert. There is currently a waiting list clamoring for his grapes (Pinot Noir, Chardonnay, Zinfandel and Trousseau).
I have reviewed several vintages of Kutch Bohan Vineyard Pinot Noir: 2013 - 93, 2014 - 92, 2015 - 95, 2016 - 97, and 2017 - 92. The 2016 vintage was reviewed again in July 2020, 2 1/2 years after the previous review. The 2018 vintage was also reviewed recently.
2016 Kutch Bohan Vineyard Sonoma Coast Pinot Noir
11.3% alc., $54. Sourced from grapes planted in 1974. Vines are dry farmed and own rooted. 100% whole cluster, native yeast and native malolactic fermentation. Aged 12 months in 100% neutral French oak barrels without racking. Bottled unfined and unfiltered. · Moderately light garnet color in the glass. The whole cluster-inspired nose features aromas of red cherry fruit, red rose petal, sap and carbonic maceration. Light to mid-weight in style and red fruited with a noticeable wilted rose floral tone. Appealing elegance, suede tannins and shot through with bright acidity, finishing long with lip-smacking tart cherry goodness. When tasted the following day from a previously opened and re-corked bottle, the nose was even more enticing, becoming more savory and less overtly fruity, and the dark red fruits and tannins had reached gracious integration. The overall experience was exceptional. Score: 97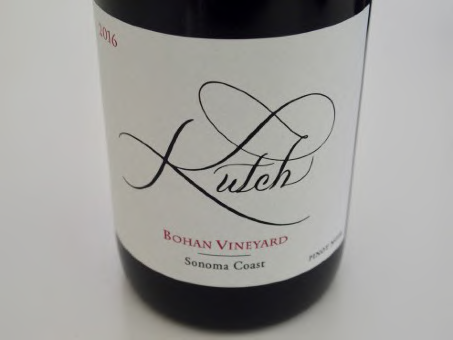 2018 Kutch Bohan Vineyard Sonoma Coast Pinot Noir
13.4% alc, 200 cases, $54. 100% whole cluster, indigenous primary fermentation, natural malolactic fermentation. Minimal effect SO2. Aged in French oak barrels. Bottled unfined and unfiltered. · Moderately light garnet color in the glass. Deeper red fruit aromas arrive over time to compliment the scents of underbrush, sap and carbonic maceration. Light to mid-weight in style featuring red cherry, cranberry and raspberry fruit flavors, framed by energizing acidity and moderately imposing tannins. The wine finishes with a lip-smacking, slightly tart, cherryfueled finish that exhibits a modicum of astringency. A very young wine that needs time in the cellar. Much better tannin integration when sampled the following day from a previously opened and re-corked bottle. Score: 92
2018 Kutch Bohan Vineyard Graveyard Block Sonoma Coast Pinot Noir
13.1% alc., 100 cases, $54. Grapes are from a block located in the lower portion of the vineyard. Head trained and dry farmed vines on their own roots.100% whole cluster, indigenous yeast primary fermentation, natural malolactic fermentation, minimal effective SO2. Aged in French oak barrels and bottled unfined and unfiltered. · Lovely aromas of black cherry, boysenberry, cola and ground savoury spice. Exuberant and intense fruit presence with layered flavors of black cherry, black raspberry and purple berry. There is a slight stem or green note in the background.The tannins are evident but not overly aggressive and the acidity is well integrated. Quite young and will benefit from a couple of years in the cellar. Score: 93
Cohn Vineyard

Location: Sonoma County (far northwestern corner of the Russian River Valley but technically not in the Russian River AVA.
Owner: Benovia Winery (Joe Anderson, Mary Dewane and Mike Sullivan)
Initial planting: 1970
Acres: 9
Scion: Likely Martini 13 and Pommard
Producers from this vineyard: Benovia (Williams Selyem and Kosta Browne in the past)
This vineyard was originally planted to Pinot Noir and Zinfandel by Enid Sales, an architectural historian and preservationist and her partner. They chose to plant the unusual pairing of Pinot Noir and Zinfandel because those were the varietals that they liked to drink.. 6.19 acres was established on a rocky hillside to a massale selection of Pinot Noir, likely Martini and Pommard, on St. George rootstock, along with 3.66 acres of Zinfandel.
The second owners of the vineyard were Arne and Tekla Cohn who acquired the property in the early 1980s and lent the vineyard its name. They planted an additional 5.11 acres of Zinfandel in 1986. Grapes were sold to Hop Kiln Winery for about five years and when the contract expired in 1987, Burt Williams of Williams Selyem began to source grapes from the Cohn Vineyard. The grapes were usually blended into the Russian River Valley and Sonoma County bottlings at Williams Selyem, but a vineyard-designated Cohn Vineyard Pinot Noir was produced in 1987, 1989 and 1993. Burt dropped the vineyard in 1995 when owner Arne Cohn overcropped by putting in drip irrigation and overwatered the vineyard.
Mary Brogan, Burt Williams' daughter, sourced grapes from Cohn Vineyard from 2004-2006, vineyard designating the 2004 vintage and blending it into her Russian River Valley blend the other two vintages. Williams Selyem has sourced fruit in recent years.
A little known trivia fact is that Kosta Browne made its first commercial Pinot Noir from the Cohn Vineyard in 2000. Kosta Browne released a vineyard-designated Cohn Vineyard Pinot Noir in 2002, 2003, 2004, 2005, and 2012 to 2015.
Joe and Mary Dewane acquired the vineyard in 2002 upon on the suggestion of Burt Williams and planted an additional 2.64 acres of Pinot Noir in 2009. Today, Benovia Winery farms about 9 acres of Pinot Noir and 8.7 acres of Zinfandel on the 55-acre property. The vineyard was extensively rehabilitated after the acquisition, has been organically farmed since 2009 and minimally irrigated under the direction of Benovia Winery's winemaker and viticulturist Michael Sullivan. About 85% of the original vines are still productive. Replanting has been done with cuttings from the old vines and heritage selections that are virus-free.
Vines struggle to produce in the low vigor soil of iron-rich, clay loam known as "Terra Rosa" because of its intense red color along with cobblestones and quartz that insured good drainage (see the photo of vineyard soil below). Average yields are 1.0 to 1.5 tons per acre.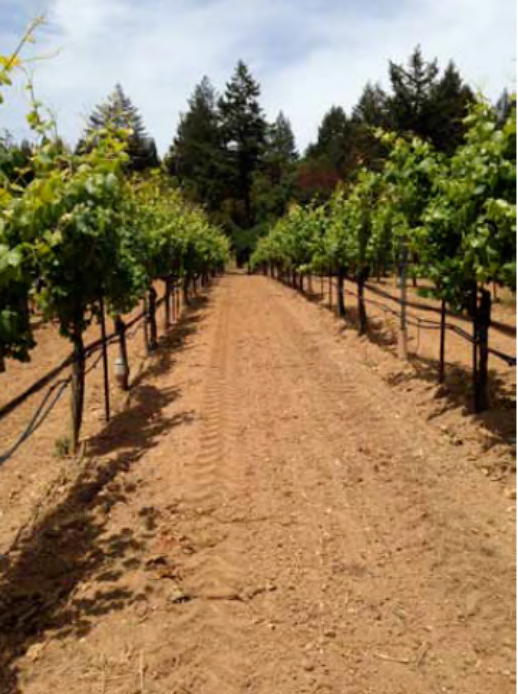 Terra Rosa soil at Cohn Vineyard

The 45th anniversary of the Cohn Vineyard was celebrated in March 2018 with the release of the 2015 vintage - see www.princeofpinot.com/article/2053/. A virtual party commemorating Benovia's Crystal Anniversary (15 years)was held on August 15, 2020. Several vintages of Benovia Cohn Vineyard Pinot Noir have been reviewed at www.princeofpinot.com/winery276/: 2006, 2007 89, 2009 90, 2010, 2011 89, 2012 95, 2013 92, 2014 93, 2015 92-93, 2016 93-94, 2017 89. 2002 and 2012 vintages of Kosta Browne Cohn Vineyard Pinot Noir have been reviewed in the past at www.princeofpinot.com/winery/4/. Recently reviewed Cohn Vineyard wines:
2006 Benovia Cohn Vineyard Sonoma County Pinot Noir
14.4% alc., 220 cases, $62. · Moderately dark garnet color in the glass. Inviting aromas of black cherry, cassis, spice and rose petal upon opening. A flood of rich, dark fruits saturate the palate along with hints of toast and licorice in the background. The flavors tiptoe to the edge of over ripeness. Best right after opening as oak shows up over time. There is a hint of alcoholic warmth on the lengthy finish. Drink up. Score: 89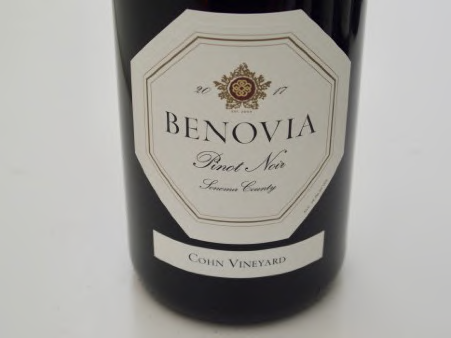 2017 Benovia Cohn Vineyard Sonoma County Pinot Noir
14.1% alc., $70. First planted in 1970 most likely to Martini 13 and Pommard clones. This vineyard outdates most other plantings in the Russian River Valley by 20+ years. Farmed organically with minimal irrigation, these gnarled vines produce small and compact clusters with yields of just over 1 ton per acre. 100% de-stemmed, 8- day cold soak, indigenous yeast fermentation, and aged in French oak barrels, 46% new. · The fruit aromas have not arrived even when tasted the following day after opening when underbrush, earthy flora and dark chocolate dominate the aroma profile. Much better on the palate that offers a luscious mid-weight core of deep, dark cherry flavor with sides of cola and vanilla. The tannins are minimal and the texture is creamy. This is a somewhat rustic wine with soul, finishing long with a fruit-filled ending. Score: 92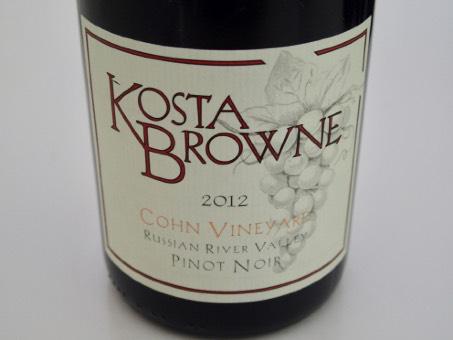 2012 Kosta Browne Cohn Vineyard Russian River Valley Pinot Noir
14.7% alc., 36 cases, $84. · Moderately dark garnet color in the glass. Aromas of boysenberry, blackberry, vanilla, toast and chalk. Prodigious and ultraripe purple and black fruits flood the palate. Velvety in texture, with soft, integrated tannins. The high alcohol adds sweetness, creates viscosity and shows up as a little warmth on the moderately long finish. Well-made in this style that finds many fans. Holding up nicely but best to drink up within the next few years. Score: 91
David Demostene Ranch

Location: Alexander Valley
Owner: David and Donna Demostene
Initial planting: 1971
Acres: Pinot Noir block pulled out in 2005
Scion: "Regular" Pinot Noir from Emmolo Nursery in Napa Valley.
Producer from this vineyard: Kalin Cellars
Terry Leighton, owner and winemaker at Kalin Cellars in Marin County, began sourcing Pinot Noir from the Demostene Ranch in 1975 according to David Demostene. The vineyard is located within a mile of the Russian River and is dry farmed. Soils are a mix of clay, silt and limestone. Until 2005, when the Pinot Noir vines were pulled out, the Demostene Ranch was the oldest planting of Pinot Noir in the Alexander Valley AVA. Today, it is the oldest documented Zinfandel vines in Alexander Valley.
Microbiologist Dr Terry Leighton and his spouse Dr Frances Leighton founded Kalin Cellars in 1977. Leighton was the original winemaker at Domaine Laurier in the 1970s before starting his own label. Over the ensuing years, the Leightons have worked in relative obscurity, avoiding publicity at all cost, while producing some of California's greatest wines that only a few wine critics and wine geeks can testify to. Years ago, Robert Parker, Jr. called Terry Leighton "one of California's two most talented winemakers" and his wines "the wines of a genius."
I have been enamoured with the Kalin Cellars wines for years because of their unique character, age ability and individuality. Because of the style of winemaking, the wines are not ready to drink for at least five years. Unheard of in the modern wine business model, the Leightons follow no set vintage sequence. Basically, the wines are kept in a temperature and humidity-controlled underground cellar and released to the marketplace when the Leightons feel they taste good and have acquired the fifth taste of umami, usually between 5 to 10 years after the vintage but often longer. "No wine before it's time" could be their mantra. In essence, then, every wine that is released is a library wine! I believe the current release of the Kalin Cellars Cuvée DD Sonoma County Pinot Noir is the 2000 vintage although the winery's website does not reflect this.
I included this vineyard in my bucket list even though the David Demostene Ranch Pinot Noir vines have been pulled out because the current release of Kalin Cellars Cuvée DD Sonoma County Pinot Noir is vintage 2000 and presumably vintages 2001-2004 are going to be released in the future. Kalin Cellars wines, including Sonoma County Pinot Noir and Chardonnay and Livermore Valley Semillon, are sold by inquiry through the phone or website at www.kalincellars.com.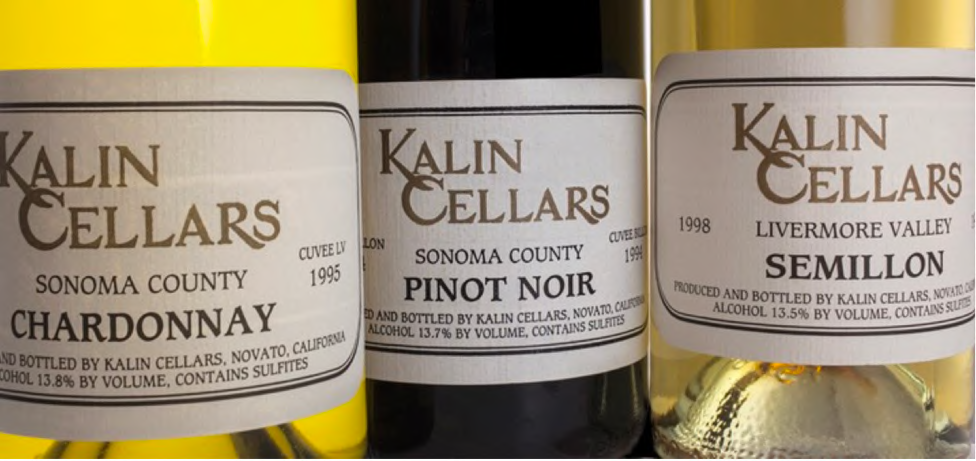 Kalin Varietal Lineup & Classic Labels
I have previously reviewed 1990, 1994, 1996, 1997 and 1999 Kalin Cellars Cuvée DD Sonoma County Pinot Noir at www.princeofpinot.com/winery/202/.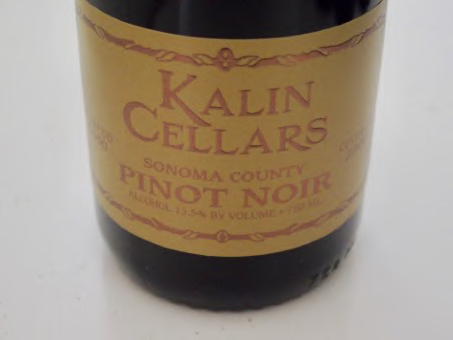 2000 Kalin Cellars Cuvée DD Sonoma County Pinot Noir
13.5% alc., $40. · Moderate garnet color with a slight orange tinged rim. The nose is musty with aromas of old cigar box and bacon fat but no fruit. Mid-weighted, with flavors of raisin, prune and dried cherry. There is definitely the flavor of beef broth (umami) replacing the faded fruit. The acidity is quite evident, even unpleasant, especially on the puckering, citric finish. A wine only for fans of extremely well-aged California Pinot Noir. Score: NR
Dehlinger Estate Vineyard

Location: Russian River Valley
Owner: Dehlinger family - Dehlinger Winery
Initial planting: 1975
Acres: 3.5
Scion: Pommard, Swan and Martini clones
Producer from this vineyard: Dehlinger Winery
Tom Dehlinger (DAY-leen-ger), along with his radiologist father, invested in a 45-year-old ranch on Vine Hill Road in Sebastopol in 1973 at a time when Russian River Valley Pinot Noir was in its infancy. Tom had pursued graduate work for a year at UC Davis, then took winemaking positions at Hanzell and Dry Creek Vineyard. Early on, Tom had a well-defined idea of how wine grapes should be grown and realizing that other grape farmers were not conforming to his vision, he was driven at the age of 26 to plant his own vineyard. He spent the spring of 1974 bench grafting over 10,000 vines in a rented, heated basement in Bolinas in Marin County. By the summer, Tom had planted the fledgeling vines in a nursery space at Dry Creek Valley Winery. At the same time, he was removing Gravenstein apple trees from his hillside property. With guidance from Joseph Swan, Warren Dutton and Forrest Tanzer, Tom planted the first 14 acres on his property in the spring of 1975.
The original 3.5-acre block of Pinot Noir plantings consisted of Swan selection and a mix of Pommard and Martini clones. Chardonnay and Cabernet Sauvignon were also planted initially. After a few years, it became evident that there were significant soil differences within the vineyard. The lower elevations had Goldridge soil that was deeper, richer and more fertile. The hilltops contained Altamont soil, a variation of Goldridge with a redder color, different mineral content and lower vigor. In recognizing differences in terroir within the vineyard, Tom became an early champion of separately picking and vinifying small lots of grapes from different portions of the vineyard. The recent photo below of a replanted Octagon portion of the Dehlinger property shows these soil differences: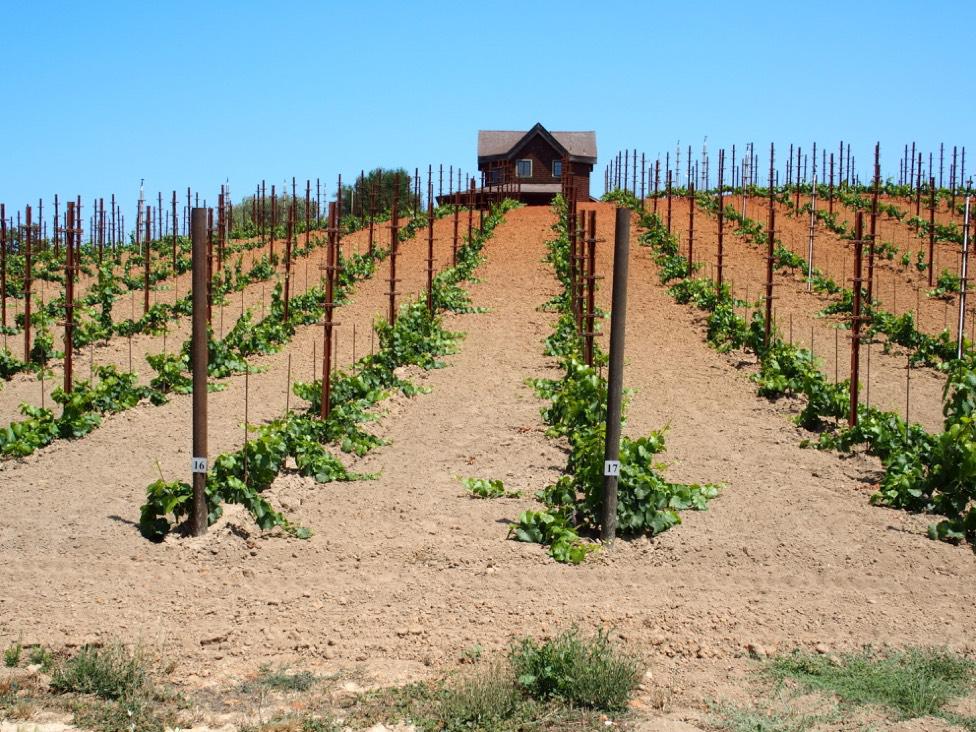 Dehlinger Estate Octagon Vineyard

The original Pinot Noir vines were planted on AxR1 rootstock using 10' x 8' spacing that was in vogue at the time. Irrigation was achieved with overhead sprinklers. The vines were trained on a single wire and pruned to two fruiting canes. It was soon evident that vine growth was too vigorous and drooping. The vines lacked balance, particularly in the lower elevations with the growth of leaves outstripping fruit production. The result was vegetal flavors in the finished wines.
To overcome the vine imbalances, a split-canopy vertically shoot positioned Lyre trellis system derived from Bordeaux was retrofitted in 1993. This movable trellis lifted shoots and leaves away from the bank of grapes allowing more light exposure, reducing the risk of mildew and permitted better management of shoots and clusters during the growing season. This trellis system is highly unique for California Pinot Noir vineyards. Noted viticulturist, Dr Richard Smart, was to say, "The Dehlinger Vineyard is one of the best examples I've seen anywhere in the world of careful vineyard management with the aim of maximizing quality."
The oldest 1975 Pinot Noir block in the Estate Vineyard is still producing. There are two soil types in this 45-year-old block, and in some years the portion planted in Goldridge soil has been showcased and in other years the portion planted in Altamont soil has been featured. In other years no distinction has been made. The recent photos below are of the original 1975 Swan vines. The second photo shows one heavily virused Swan vine (red blotch). The photos show irrigation lines but these are rarely used as Tom is a firm believer in dry farming.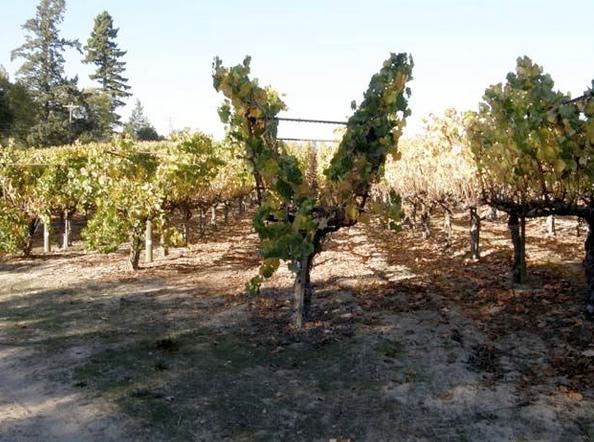 Lyre Trellis System at Dehlinger Estate Vineyard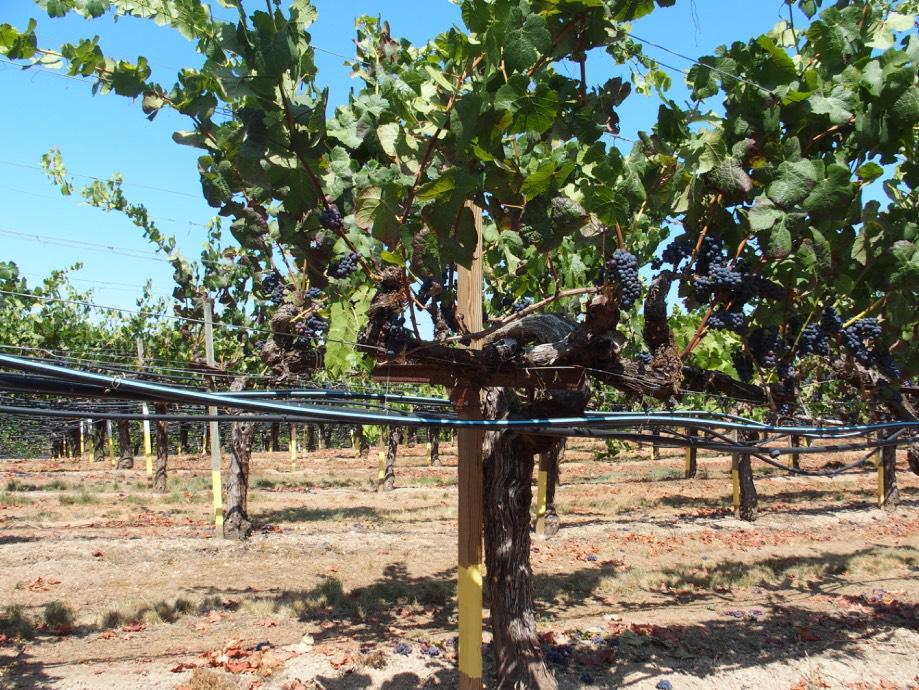 1975 Swan Selection Old Vine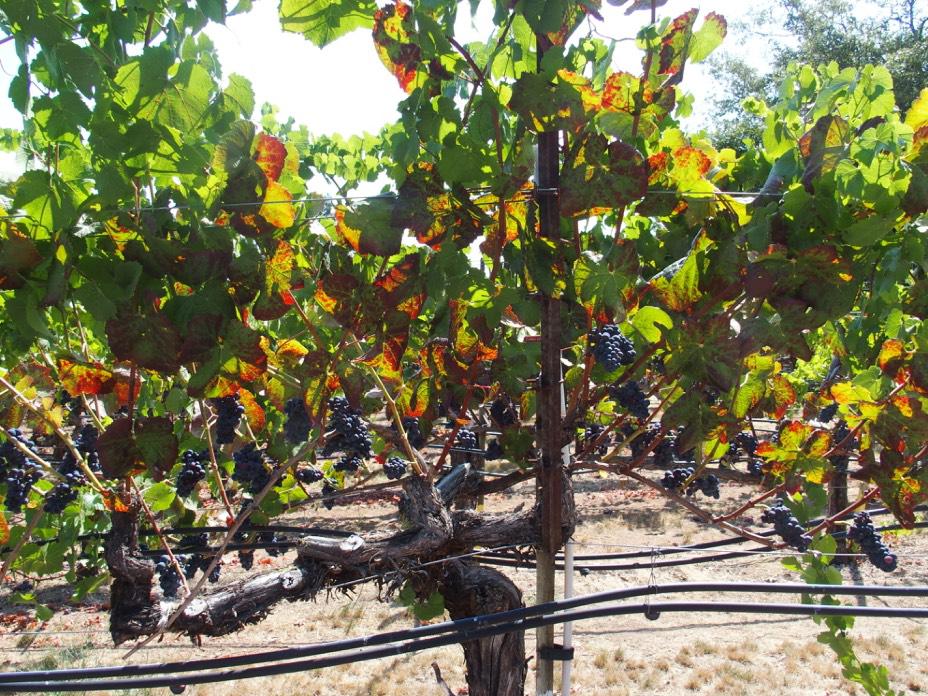 1975 Swan Selection Old Vine with Grapevine Red Blotch Virus (GRBaV)

Typically, the oldest block has been blended with others from the ranch, but in some years 1975 block has been bottled separately. A list of Old Vine bottlings includes 1994 20-Year-Old Vines, 2000, 2001 and 2002 Old Vine Reserve, 2007 Goldridge Old Vines, 2009 Altamont Old Vines and 2012 Goldridge Old Vines. There is now more emphasis on blocks than vine age.
In recent years, the 1975 block has contributed to a bottling called 'Champ de Mars,' a name that refers to a particular corner of the Dehlinger property located east of the winery building. There are now vines of varying ages in the 'Champ de Mars' part of the ranch, as they were planted between 1975 and 2011. The 'Champ de Mars' bottling is more about a particular place on the ranch rather than vine age.
In 1982, a 3.5-acre plot of Swan selection was planted around the octagon-shaped house on the top of the property and is referred to as the Octagon Vineyard. These vines eventually were pulled because of virus issues and the vineyard replanted (see note and photo above). Since the inaugural vintage of 1994, Dehlinger has released a limited amount of Octagon Pinot Noir while in other years it was included in the Estate or Reserve bottling. Also in 1982, a special part of the vineyard was planted to the Pommard clone and this gave birth to the Dehlinger High Plains bottling starting with the 1999 vintage. The quietness in this part of the vineyard inspired the name. During one of his visits to this quiet retreat, Tom recalls, "I must have imagined I was Clint Eastwood riding alone as the High Plains Drifter and the name just stuck."
An extensive feature on Dehlinger Winery including past vertical tastings of Dehlinger wines is at www.princeofpinot.com/article/768/. Dehlinger wines are allocated through a mailing list or can be obtained by phoning the winery. Tastings are by appointment with winemaker Eva Dehlinger, Tom's daughter. Visit www.dehlingerwinery.com.