California Old Vine Pinot Noir Vineyards Sonoma/Napa Counties - H-Q
"We consumers should support wines made from old vines as a means of protecting the genetic material the plants harbor ensuring these sites remain vineyards well into the future"
Joe Czerwinski, wine journalist
Haynes Vineyard
Location: Coombsville, Napa Valley
Owner: Pat Haynes
Initial planting: 1966, 1967, 1968
Acres: 3.5 (old vines)
Scion: Martini clone from Three Palms Vineyard cuttings
Producers from this vineyard: Ancien, Tulocay
Pat and Duncan Haynes founded Haynes Vineyard in 1967 on a 43-acre parcel that had been in the Haynes family since the late 1800s. The original plantings of Wente clone Chardonnay and Martini clone Pinot Noir were established with the assistance of Louis Martini, Sr. The first Pinot Noir plantings were cuttings from the Three Palms Vineyard in Calistoga first brought there from Burgundy by Louis Martini, Sr. Few people know that Pinot Noir was planted at Three Palms Vineyard in its early days.
3.5 acres of the old vines are still healthy and in production today. There have been some vine removal and interplanting through the years but the old vines predominate. Syrah has been added. Fernando Delgado has farmed and lived on the property since 1971 and is responsible for the longevity of the original plantings. He prunes each vine individually according to its strength and potential, choosing which canes to keep and how many canes and shoots that each vine will grow.
The vineyard is located in a cool part of the Coombsville AVA, east of the city of Napa. The site has the mildest growing season of any in the Napa Valley, being open to the morning fog and afternoon breezes from San Pablo Bay that also cool Carneros to the west. The rocky, volcanic soil is known as Coombsville gravelly loam and is both well-draining and rich in minerals, ideal for producing noteworthy and age-worthy Pinot Noir.
The Haynes had their own winery, Whitford Cellars, and Andre Tchelistcheff produced the Pinot Noir from the Haynes Vineyard in the early 1990s. Ken Bernards of Ancien Wines took over as winemaker in 1997 and when the Haynes family closed Whitford Cellars, Ken made his Ancien wines in the winery for several years. The Ancien website and wine notes state that the original Haynes Vineyard Pinot Noir was planted in 1966.
Tulocay Winery has made Pinot Noir from the original old vine plantings at Haynes Vineyard continuously since 1975. Bill Cadman, owner, and winemaker at Tulocay says that the original Pinot Noir was planted in 1968 and, "although a rarity in the Napa Valley, consistently produces wines of great elegance and finesse." His daughter, Brie, is currently the winemaker at Tulocay, and her quote about the Haynes Vineyard mimics her father: "The Pinot Noirs produced by the old vines at Haynes are elegant and finessed, not in-your-face Pinot Noir, but rather a more balanced, nuanced wine. They are usually rich in rose petal and orange zest in their youth and continue on to earth, black tea, and cedar as they age."
Ancien Wines has bottled a Haynes Vineyard Old Block Pinot Noir since 2012. Kitson bottled 2016 Haynes Vineyard Pinot Noir using Swan and Dijon 115 grapes that had been planted at the vineyard subsequently.
The Tulocay Winery old vines Haynes Vineyard Pinot Noir is available at www.tulocay.com and the Ancien old vines Haynes Vineyard Old Block Pinot Noir is sold on the website at www.ancienwines.com.
As a side note, Heitz Cellars owner, agriculture magnate Gaylon Lawrence, Jr., is launching a new winery focused on small-lot Pinot Noir, Chardonnay and Syrah from a 32-acre Coombsville property he purchased in 2019. The winemaker is Nico Cueva, the head winemaker since 2015 at Kosta Browne. The first vintage will be 2020.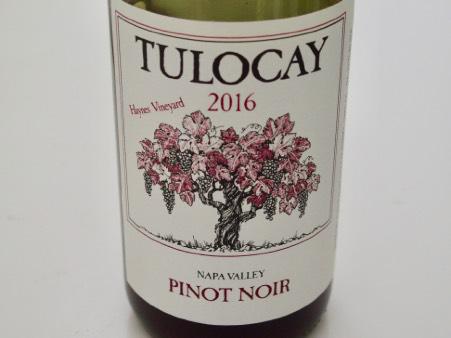 2016 Tulocay Haynes Vineyard Napa Valley Pinot Noir
13.7% alc., pH 3.60, TA 0.62, RS <1 g/l, 137 cases, $40. 42nd consecutive year Bill Cadman has purchased old vine Pinot Noir from Haynes Vineyard. Harvest Brix 24.4º. Double Gold California State Fair. Winemaker Brie Cadman. · Moderate garnet color in the glass. The nose is well-perfumed with aromas of red cherry, cardamom spice and a hint of toasty oak. Very suave and easily drinkable in a middleweight style, featuring a delicious core of black cherry and raspberry fruit backed by reserved tannins. This wine seduces rather than attacks the palate.The barrel treatment is spot on and the finish is impressively long and vivid. Still superb when tasted the following day from a previously opened and re-corked bottle. Score: 94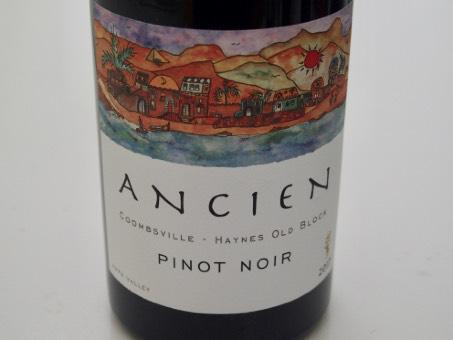 2017 Ancien Coombsville - Haynes Old Block Napa Valley Pinot Noir
14.1% alc.,61 cases, $68. Sourced from the most flavorful and healthiest old vines from the original planting. No smoke damage in this vintage. An encomium to Duncan Haynes. · Moderate garnet color in the glass. A knockout from the get-go. Large-scale aromas of black cherry, rose petal, ground savoury spice and wine cave persist over time in the glass. Very comforting in the mouth in a mid-weight style, featuring an unctuous core of cherry fruit accented with a touch of spice and complimentary barrel presence. Softly textured, with polished tannins, welcome acidity and good length on the lip-smacking finish. Score: 95
Hellenthal Vineyard
Location: Bohan Dillon Road in Cazadero in the Fort Ross-Seaview AVA
Owner: Gard and Lori Hellenthal
Initial planting: late 1970s-1980
Acres: 17
Scion: Calera clone
Producer from this vineyard: Ceritas (Old Shop Block)
In the late 1970s, Gard Hellenthal and David Hirsch began looking for vineyards in the hills facing the Pacific Ocean in northern Cazadero. Gard secured his land just east of Hirsch Vineyards and planted the original vines at Hellenthal Vineyard. The site is only five miles inland from the Pacific Ocean at an elevation of 1,053 feet. There were two plantings. The oldest and original planting is referred to as the "Old Shop Block" and it is exclusively sourced by Ceritas Wines. The own-rooted Calera clone vines in the Old Shop Block are dry-farmed and planted in fractured and decomposed sandstone soils. The Elliott Block was first planted later in 1981. There is Pommard and Dijon clone 777 interplanted, but I am not certain if in one or both blocks but I believe is the Elliott Block.
Grapes have been sourced by WesMar Winery, W.H. Smith, Radio-Coteau, and MacRostie Winery & Vineyards. The 2018 Ceritas Old Shop Block Sonoma Coast Pinot Noir has been released. Visit www.ceritaswines.com.
A map of the Fort Ross-Seaview AVA showing the location of Hellenthal Vineyard and other vineyards featured in this article.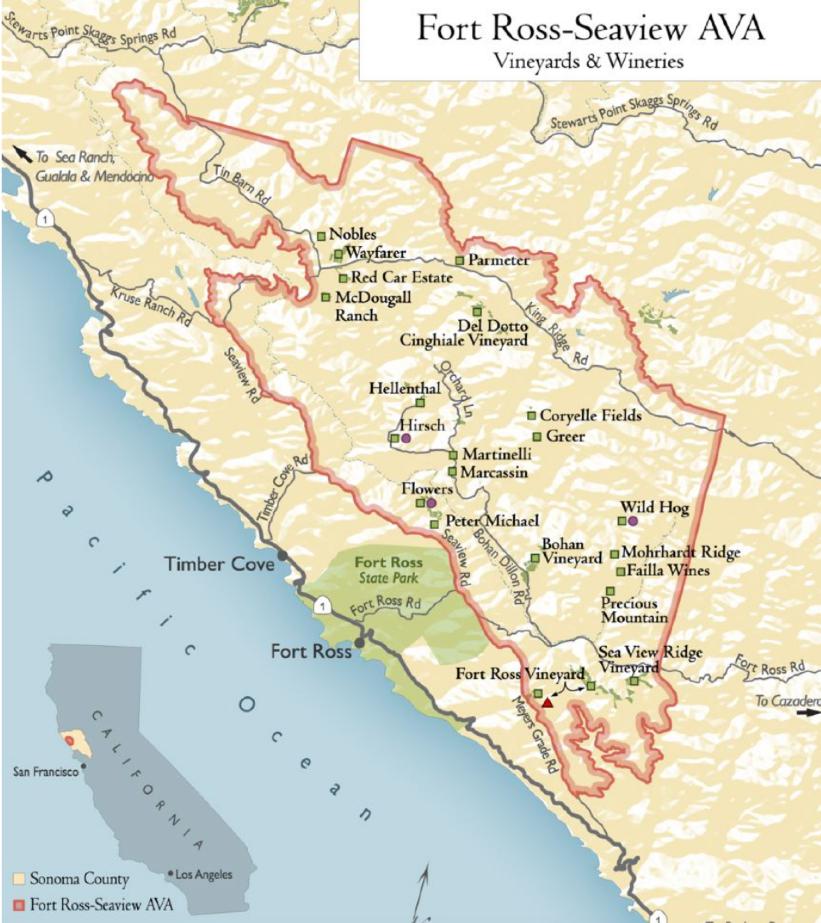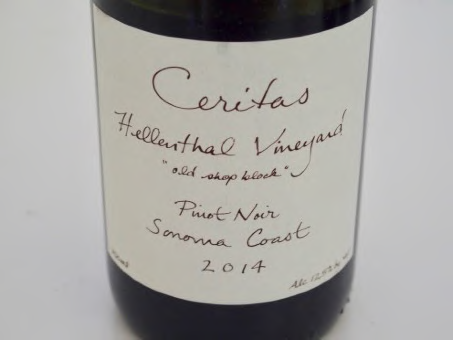 2014 Ceritas Old Shop Block Hellenthal Vineyard Fort Ross-Seaview Pinot Noir
12.5% alc., $72. · No other grape variety can give you a nose like this one. Soaring aromas of black cherry, sous-bois, spice and toast. Very silky on entry with perfectly ripened flavors of dark cherry and raspberry with just a hint of dried herbs. Beautifully balanced with pliant tannins and bright acidity, and a, taunting, orgasmic finish that goes on and on. This wine has all the things you look for in a Pinot Noir. Score: 96
2016 WesMar Hellenthal Vineyard Sonoma Coast Pinot Noir
14.4% alc., $55. Sourced from the Elliott Block planted in 1981. · Moderately dark garnet color in the glass. Aromas of cherry and rose petal lead to a discreetly concentrated wine featuring riveting flavors of black cherry, kirsch and spice. The satiny mouthfeel is highly seductive and the gracious tannins make for easy access. The wine's harmony and vigor impress as does the waves of fruit echoing on the glorious finish. This wine takes time to reveal itself. A truly invigorating wine from a great vintage. Score: 95
Olivet Lane Estate Vineyard
Location: West Olivet Road in the Russian River Valley
Owner: Robert Pellegrini
Initial planting: 1975
Acres 20
Scion: Martini clone
Producers from this vineyard: Olivet Lane Estate, Merry Edwards, Williams Selyem
In 1973, Vincent Pellegrini and his spouse Ida purchased a 65-acre plum and olive orchard in the Russian River Valley for the purpose of establishing a vineyard. The site is located on Olivet Lane Road between River Road and Guerneville Road just east of the Laguna de Santa Rosa in the heart of the Russian River Valley AVA. in Santa Rosa. This sub-region of the Russian River Valley is now known as the Santa Rosa Plain. Vincent's son, Robert, was fresh out of school and had just returned from a tour of Burgundy when he had the idea to plant Pinot Noir on the property. They planted 20.1 acres of a Martini clone of Pinot Noir and 38 acres of a Wente clone Chardonnay on AxR1 rootstock.
By the late 1970s, Robert had bottled an "Olivet Lane" Chardonnay, named for the 120 olive trees that line the vineyard's east entrance and the name stuck. Chardonnay was planted along with the Pinot Noir since it was in much more demand than Pinot Noir at the time. An Olivet Lane Pinot Noir was released for the first time in the 1980s. The vineyard was to be one of the first in the Russian River Valley devoted to both Chardonnay and Pinot Noir.
The soil is well-drained, gravelly clay loam. Vine spacing is 8' x 12' and vines are cane pruned on a VSP trellis. Fog frequently covers the site from the evening through the early morning. Recent photos of the 45-year-old Martini clone Pinot Noir vines follow.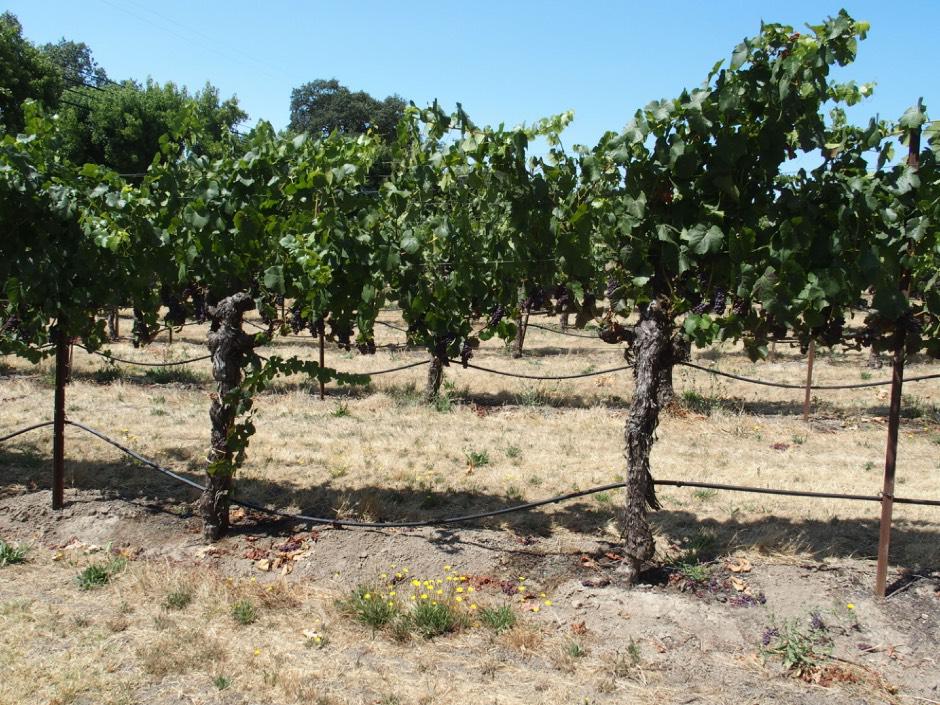 Martini 1975 Olivet Lane Estate Own Rooted Pinot Noir Vines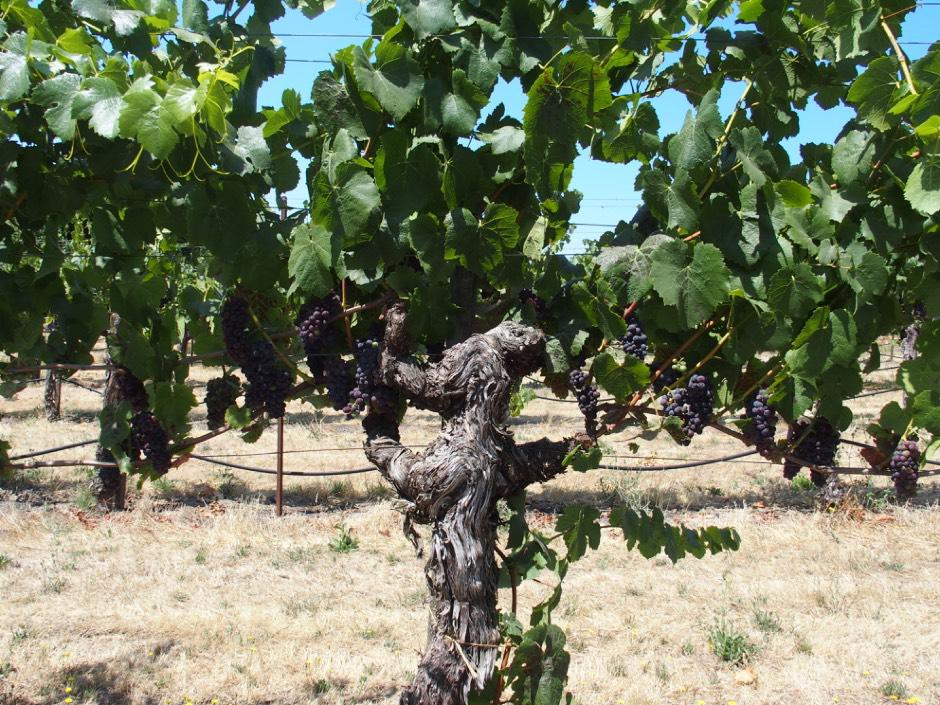 Martini 1975 Olivet Lane Estate Own Rooted Pinot Noir Vine Near Harvest

Alexia Pellegrini, Robert's daughter, and fourth-generation vintner is the General Manager of Pellegrini-Olivet Lane. She told m recently that the original 20-acre Pinot Noir vineyard block is intact. There have been single vine-by-vine replants in 2019 to fill in the gaps, but these vines are too young to produce useful grapes. Farming practices have been altered in the old block to preserve the root structure including training up renewal spurs on the vines that have trunk congestion. A new 12-acre block of Pinot Noir was planted on the west side of the property and the first minor crop should be harvested in 2020. These grapes will be used for the winery's estate sparkling, rosé, and nouveau programs.
Merry Edwards has produced an Olivet Lane Vineyard designated Pinot Noir since 1997 and several other notable wineries have made distinguished wines from this vineyard including Williams Selyem, WesMar Winery, Gary Farrell Vineyards & Winery, Brogan Cellars, Kosta Browne, and Paul Hobbs.
The Olivet Lane Vineyard Pinot Noir wines are sold on the winery's website at www.pellegrinisonoma.com.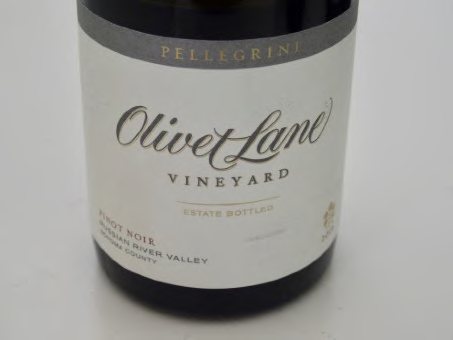 2016 Olivet Lane Vineyard Russian River Valley Pinot Noir
13.9% alc., pH 3.31, TA 0.72, $65. 5-day cold soak, 14-day fermentation in open-top fermenters, and aged 14 months in French oak barrels, 35% new. · Moderate garnet color in the glass. Nicely perfumed with aromas of black cherry, blackberry, spice and a hint of espresso. A quintessential Martini clone Pinot Noir featuring mid-weight flavors of dark Bing cherry, blackberry, cola and loads of spice. The intensity of the fruit makes quite an impression and the polished tannins make for easy drinking. The lengthy finish is awash in vibrant fruit with just a hint of oak tailing off at the end. Score: 93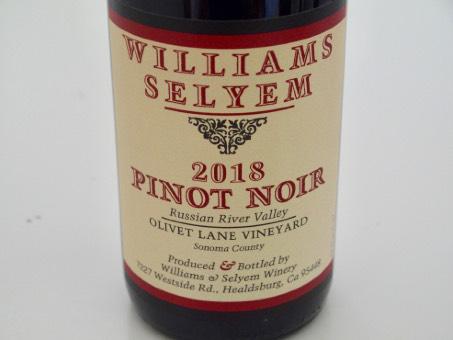 2018 Williams Selyem Olivet Lane Vineyard Russian River Valley Pinot Noir
14.1% alc., $78. · Moderately dark garnet color in the glass. Aromas of beef bouillon, chamomile tea, and cardamom spice. Mid-weight flavors of black cherry, blackberry and chamomile tea leaves. Nicely balanced with gracious tannins and a long, quenching finish. Rather exotic and unique. I have never encountered the aroma or taste of chamomile in a Pinot Noir prior to this. Pinot Noir always provides surprises. Score: 92
Porter Creek Hillside Vineyard
Location: Westside Road in Healdsburg adjacent the MacMurray Ranch
Owner: Alex Davis
Initial planting: 1974
Acres: 3
Scion: Martini 13
Producer from this vineyard: Porter Creek Vineyards
The Hillside Vineyard was planted to Martini clone on St. George rootstock in 1974. Many of the original vines have been in continuous production making it one of the oldest Pinot Noir vineyards in the Russian River Valley. Revitalization efforts have been ongoing with vine-by-vine interplanting and soil improvement. The vineyard was certified organic and Biodynamic in 2003.
Founder George R. Davis purchased the 34-acre ranch in 1979. The property had young Pinot Noir vines that would become the Hillside Vineyard. A self-taught winemaker, George improved the existing vineyards and planted additional acreage. He converted a barn on the property to wine production in 1982 and began producing his own wines under the Porter Creek label. His son, Alex, studied winemaking and worked multiple vintages in Burgundy, and is currently the winemaker and vineyard manager.
John Haeger, author of Pacific Pinot Noir (2008), who knows a thing or two about Pinot Noir, said in that book, "Porter Creek is making, bar none, some of the most stunning Pinots in California." Alex notes that many of the past bottlings of Hillside Vineyard Pinot Noir are still drinking well with 20 years or so of age on them. Porter Creek wines are sold through the winery's website store at www.portercreekvineyards.com. Tasting is by appointment.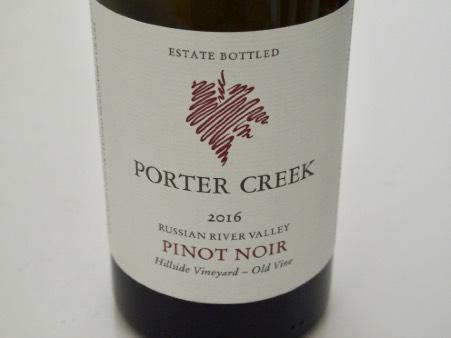 2016 Porter Creek Hillside Vineyard - Old Vine Russian River Valley Pinot Noir
12.9% alc., $72. · Moderate garnet color in the glass. Intoxicating aromas of Bing cherry, baking spice and red rose petal. A delicious infusion of dark cherry goodness with a hint of cola greets the palate. Impeccable harmony with very fine-grain tannins and a welcome nerve of acidity. Mid-weight in richness, endlessly gentle, with a refreshing finish that leaves you wanting more. The wine holds up beautifully over time in the glass predicting age-worthiness. Porter Creek is one of the most under-the-radar producers of ultra premium Pinot Noir in California. Score: 95
Precious Mountain Vineyard
Location: West Sonoma Coast near Fort Ross
Owner: Donnie and Linden Schatzberg
Initial planting: 1973
Acres: 5.2
Scion: Various heritage selections
The Schatzbergs homesteaded 40 acres of a former sheep ranch on a ridge top at 1,530 feet elevation in 1970. They have planted grapevines, a few at a time, since 1970. The original dry farmed Pinot Noir consists of various clones and selections grafted onto Gewürztraminer roots. Since 1996 Pommard clone has been planted exclusively.
Precious Mountain has had a partnership with Williams Selyem since 1996 when a chance phone call to Burt Williams created a single contract to sell nearly all grapes to the winery over the following harvests. The 2017 Williams Selyem Precious Mountain Pinot Noir ($105) is sold through a mailing list at www.williamsselyem.com. I have reviewed many Williams Selyem wines through the years but have not sampled the Precious Mountain Vineyard bottling since the 2007 vintage.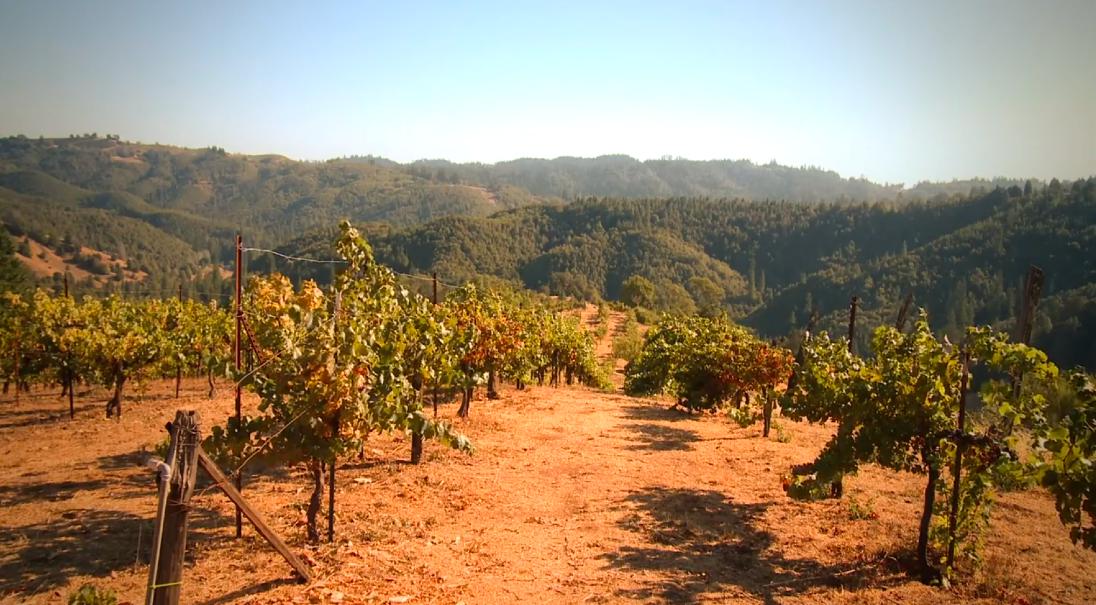 Precious Mountain Vineyard
Quail Hill Vineyard Block 2
Location: Sebastopol, Russian River Valley
Owner: Lynmar Estate
Initial planting: 1974
Acres: 1.94
Scion: Swan selection
Quail Hill Vineyard Pinot Noir was first planted in 1974 according to Tom Dehlinger who assisted in the acquisition of the cuttings. These vines in Block 2 are some of the first established in the Russian River Valley with budwood from Joe Swan and Block 2 is the only remaining block of Pinot Noir from the original Quail Hill plantings. The original Swan vines are on St. George rootstock. Phased replanting involving 71% of the Quail Hill Vineyard was undertaken in 1996, but the 2 acres of Swan selection Pinot Noir dating to 1974 was retained. An additional 1.2 acres of Swan selection was planted in 1997 as Block 12 using budwood sourced directly from the original vines.
The grapes from these original vines were sold to Tony Soter at Etude and Merry Edwards until Lynmar began making its own wine in the early 1990s. The Swan selection grapes were blended into Lynmar's Quail Hill Cuvée and Quail Hill Vineyard wines until 2009 when a separate Old Vines Pinot Noir was bottled. The Swan selection old vines of Block 2 are located at the top of the hill above the winery and Block 12 is just below the winery in the following photo of the Quail Hill Vineyard.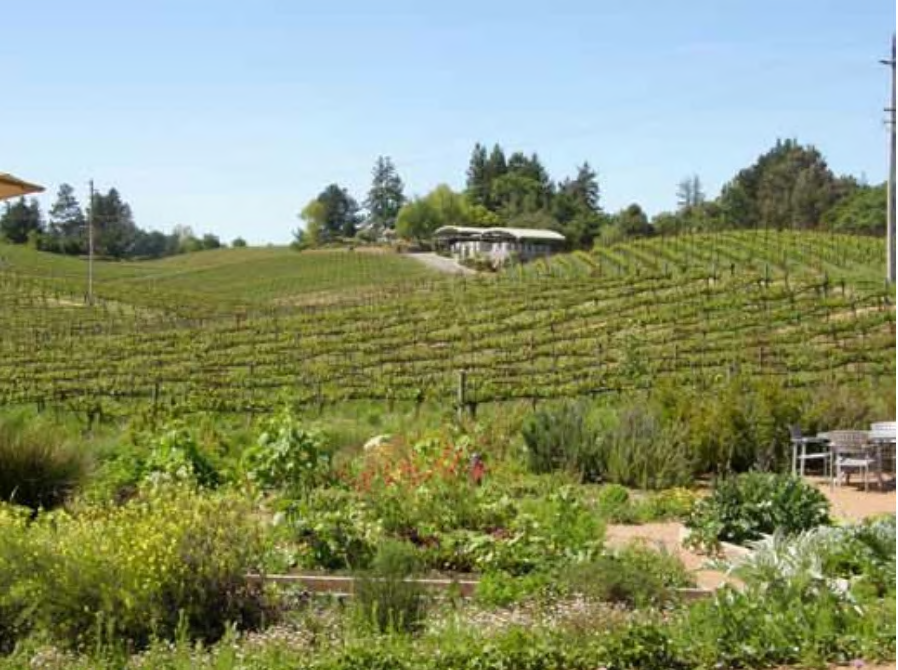 Quail Hill Vineyard and Lynmar Estate Winery

The original Pinot Noir vines in Block 2 now go exclusively into the Lynmar Estate Quail Hill Vineyard Old Vines bottling. The Pinot Noir grapes planted in 1997 in Block 12 go into the Lynmar Estate Quail Hill Vineyard cuvée.
My last review of an Old Vines bottling was from the 2016 vintage in November 2018 and most recently the 2017 vintage in August 2020. The 2014 vintage was given a score of 95. The Quail Hill Vineyard Old Vines Pinot Noir is allocated to Advocate Club wine club members. Visit www.lynmarestate.com.
On a number of occasions when I have barrel tasted at Lynmar Estate, the Old Vines Pinot Noir from Block 2 is always my favorite wine in the cellar.
2016 Lynmar Estate Old Vines Quail Hill Vineyard Russian River Valley Pinot Noir
14.5% alc., pH 3.57, TA 0.60, 251 cases, $80. Aged 11 months in French oak barrels, 64% new. · Dark garnet color in the glass. Gorgeous aromas of black cherry, ripe strawberry and balsam. The wine floods the mouth with carnal energy, featuring flavors of black cherry and black raspberry. There is commendable harmony with both pleasing tannic power and uplifting acidity. There is only a dusting of oak. I sense that this wine needs a few years in the cellar to reveal all of its charms. Score: 93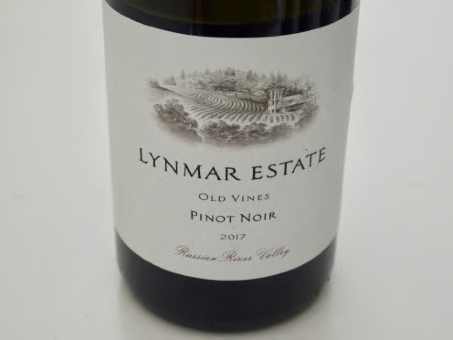 2017 Lynmar Estate Old Vines Quail Hill Vineyard Russian River Valley Pinot Noir
14.5% alc., $80. · Moderate garnet color in the glass. Charming aromas of cherry, rose petal and baking spices. I love the floral aspect of the nose, like wild cherry sprinkled with flowers. Mid-weight flavors of black cherry, black raspberry, blackberry and dark chocolate address the palate without overreaching.The mouthfeel is luxurious, the tannins are in line and the finish is long and rewarding. Still exceptional when tasted the following day from a previously opened bottle. An old vine treasure. Score: 95