California Old Vine Pinot Noir Vineyards: Sonoma/Napa Counties - R-W
"Time is important because if there is an expression of terroir in wine, then it must by its nature change over time. Not evolve, but simply show different aspects with each vintage, yet within the context of change retain a pure core of meaning or expression of terroir."
Larry Walker, wine journalist
Rhinefarm Vineyard
Location: Sonoma Valley
Owner: Gundlach Bundschu
Initial planting: 1970s
Acres: 14
Scion: Martini 12, Hanzell selection, "Hacienda" selection
Producer from this vineyard: Gundlach Bundschu
Gundlach Bundscu is the oldest family-owned and operated winery in California (bonded winery 64, established March 12, 1958.
Pinot Noir is the winery's second-largest crop after Cabernet Sauvignon. Of the 47.5 acres planted to Pinot Noir, 80% are Dijon clones 115, 667 and 777 and Pommard clone, and 20% are 45+-year-old heritage selections. According to John Haeger, the winery's Rhinefarm Estate Vineyard contains 14 acres of heritage selection plantings that date from the 1970s. Rhinefarm was extensively replanted between 1969 and 1973 and was expanded by the acquisition of adjacent land in 1970 and 1973. With this acquisition came a master transition plan for the vineyard and a commitment to raise the wine quality ambitions. Rhinefarm now has 320 acres under vine.
The vineyard is located on the southwestern slopes of the Mayacamas Mountains. Pinot Noir is grown across the street from the Carneros AVA border. It shares cooling effects of the fog from San Pablo Bay to the south and the Petaluma Gap to the west. The soil is 18"-30" Huichica clay topsoil with pockets of gravelly sediment deposited over centuries by the adjacent Arroyo Seco Creek.
The distinct block of 45+-year-old heritage wines is harvested for a limited barrel selection bottling of Heritage Selection Pinot Noir. The wine is available exclusively through allocation. Visit www.gunbun.com.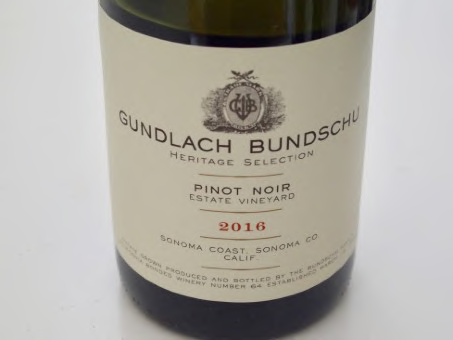 2016 Gundlach Bundschu Heritage Selection Sonoma Valley Pinot Noir
14.5% alc., pH 3.85, TA 0.56, $65. Aged 10 months in French oak barrels, 40% new. · Moderately light garnet color in the glass. The nose opens slowly to reveal aromas of black cherry, blackberry, rose petal and vanilla. Very ripe fruited and husky in style, with sappy flavors of black cherry and blackberry fruit with an accompaniment of loamy earth and peat notes. Their is a modest oak veil offering a touch of vanilla. Velvety in the mouth with a hint of alcoholic warmth on the generously fruited finish. Score: 90
Ritchie Vineyard
Location: Russian River Valley Laguna Ridges
Owner: Kent Ritchie
Initial planting: 1972
Acres: 3
Scion: Martini 13
Producer from this vineyard: Woodenhead Vintners
This Ritchie Vineyard is located just down the street from the Swan Trenton Estate Vineyard at the intersection of Eastside Road and Eastside-Healdsburg Road in the Russian River Valley. This 65- acre property was planted in 1972 to Old Wente Chardonnay and Martini Pinot Noir on AxR rootstock. The 3-acre block of original Pinot Noir plantings is still producing but some vines have been replaced due to problems with Pierce's Disease (Kent estimates more than 50% of the vines are original).
This iconic vineyard is situated adjacent to a volcanic cinder cone that accounts for its unique soil composition. The topsoil is Goldridge with underlying pumice not found elsewhere in the Russian River Valley. Winemakers swear that this soil gives the wines from this vineyard a prominent minerality.
The original vine block of Pinot Noir is sourced exclusively by Nicolai Stez, owner and winemaker of Woodenhead Vintners who bottles a Pinot Noir from these Pinot Noir grapes and named "Cinder Cone." Nicolai was a long-time assistant to Burt Williams at Williams Selyem. I recently tasted several vintages. The wines are consistently excellent. If you liked Burt Williams' Williams Selyem Pinot Noirs, you will like these wines. Visit the Woodenhead Vintners website for availability: www.woodenheadwine.com.
School House Vineyard
Location: Spring Mountain, Napa Valley
Owner: John M. Gantner and Nancy Walker
Initial planting: 1952/1953
Acres: 4
Scion: Inglenook Estate plantings, probably a Burgundy suitcase selection
Producer from this vineyard: School House Vineyard
John O. Gantner (John Sr.) acquired 160 acres on Spring Mountain in 1938. He had been looking for property in the Mayacamas Mountains at the urging of his college fraternity brother at Stanford University, John Daniel, who became the owner of Inglenook Vineyards. John Sr. loved Burgundy wines and decided to plant Pinot Noir in the School House Vineyard, acquiring the budwood (rumored to be from Domaine Romanée-Conti) from John Daniel. André Techelistcheff had advised Daniel to pull out his Pinot Noir plantings believing that the Napa Valley floor soils were too vigorous for Pinot Noir vines. Tchelistcheff was encouraging local growers to remove other varieties and replace them with Cabernet Sauvignon. In 1952, Daniel removed his acre of Pinot Noir in Rutherford and donated budwood to John Sr.
The original vines on the School House property date to the 1870s and were a field blend. At the time of John Sr's purchase, there were 30 acres under vine and the vineyard had been previously managed with horses. It had been neglected for years and the vineyard was overgrown with poison oak, wild roses and brush. He managed to take back the property from the woods and brush, working for over ten years to restore its former glory as a viticultural oasis. Today, some of the field blend wines have been replanted and a School House Zinfandel-based Mescolanza and Syrah-based Mescolanza are produced as a modern interpretation of the field blend.
The vineyard was named after a small one-room schoolhouse built on the property in 1881. John Sr's family lived in the schoolhouse for several years after acquiring the property but it burned down in 1986. John Sr. passed away in 2002.
I recently spoke with John M. Gartner (John Jr.) and he remembers that the original planting was in 1952 and 1953 when John was 13 years old. He helped dig the holes and plant the vines. Emmolo Nursery, founded in Rutherford by Salvatore Emmolo in 1923, provided the St. George rootstock and did the budding. If John Jr.'s recollection is correct and I have no reason to doubt him, the 1952-1953 School House Vineyard original plantings of Pinot Noir are the oldest producing Pinot Noir vines in California along with the Ambassador's 1953 block at Hanzell that was also planted in 1953. Interestingly, the Zellerbachs, who owned Hanzell, and the winemaker at Hanzell, Bob Sessions, were friends of John Sr. and traded cases of wine with each other every year.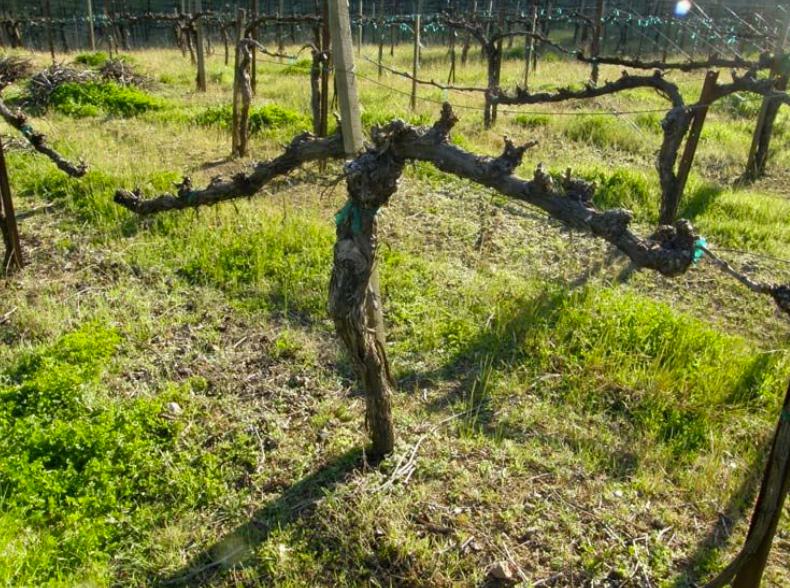 Original Own Rooted Pinot Noir Vine School House Vineyard (2012)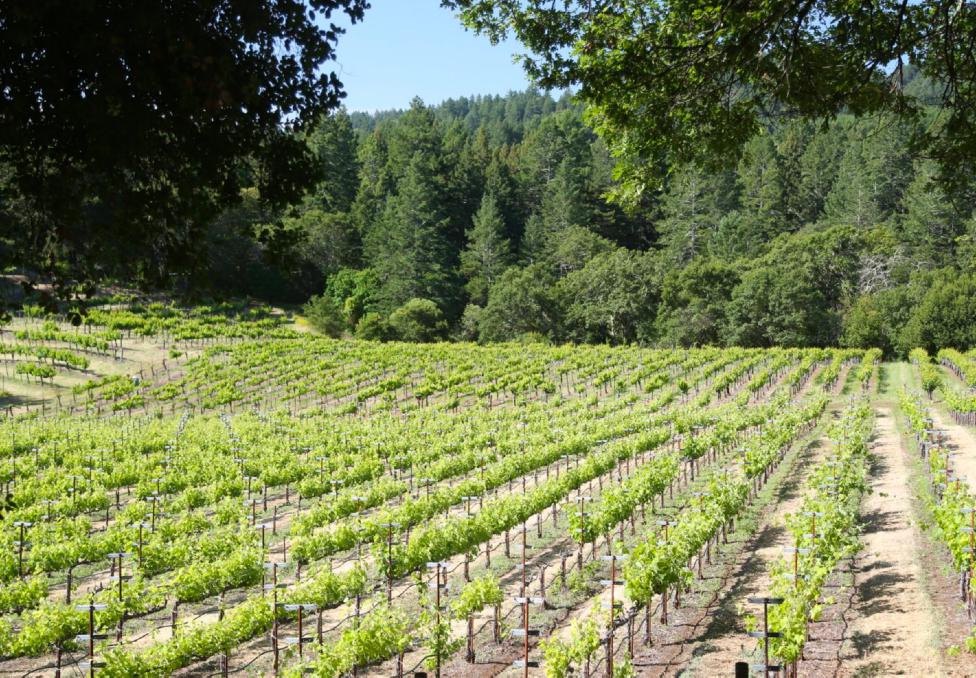 School House Vineyard

John Jr. recalls that when his father first planted Pinot Noir at School House Vineyard, there were no operating wineries on Spring Mountain and the spotting of an automobile on the roads was a rarity. To this day, he is fond of the tranquillity at School House Vineyard, although road traffic and noise have perceptibly changed for the worse in recent years. John Jr. has not been back to San Francisco in several years.
The first School House Vineyard Pinot Noir was released in 1957, making the winery one of the longest continuously operating wine producers in the Napa Valley. Chardonnay was planted in the late 1960s using budwood from Fred McCrea's Stony Hill Vineyard Currently, 12 acres of vineyard are farmed including 6 acres of old vine Pinot Noir supplemented with 1 acre of 18-year-old vines and 1 acre of 14-year-old vines. Additional vine-by-vine plantings of Pinot Noir using the original budwood within the past 18 years are mostly on 110R rootstock. John Jr. told me recently that in the 2019 vintage, about 35% of the vines are at least 50 years of age with additional vines over 40 years old.
The vineyard is located in a uniquely cool microclimate at 1,500 feet elevation with well-drained soils making it one of the few successful Pinot Noir growing sites in the Napa Valley.
John Jr. followed his father to Stanford University and practiced law in San Francisco for 35 years before retiring to the School House Vineyard property in 1992. Jr and Nancy Walker have farmed the School House Vineyard ever since. They live on the property and John has done much of the vineyard work by hand. John had been coming to his father's property practically every weekend since he was born and his viticulture knowledge has been acquired through years of experience and interaction with neighboring winegrowers on Spring Mountain. He remembers drinking a variety of wines growing up at the family dinner table and recalls tasting the wines of Martin Ray as a comparison to their own School House Pinot Noir. The family was struck by the variability of Ray's wines (something many others have noted), and John Jr. told me, "They could be very good or very bad, but you could never tell him that."
The School House Pinot Noir was initially vinified at Stony Hill (a bottle of 1959 vintage vinified at Stony Hill Vineyard that John Jr. showed me follows), then Buena Vista Sonoma and subsequently at other wineries. Several winemakers were involved including André Tchelistcheff, Ric Forman, Mike Chellini and Bo Barrett of Chateau Montelena. The School House Vineyard wines have been crafted at Pride Mountain Vineyards since 1997, initially under the direction of winemaker Bob Foley and now custom crushed by the current Pride winemaking team headed by Sally Johnson.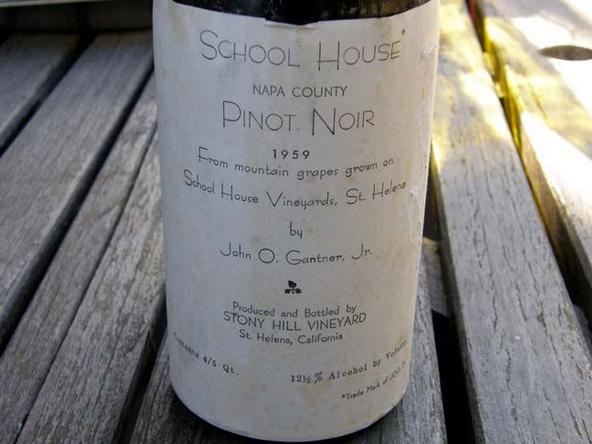 The 2007 School House Vineyard Pinot Noir, now sold out, was the 50th vintage of this wine. The wines have proven to age remarkably well despite the variety of wineries and winemakers involved in production through the years. Consistency has been a hallmark of the wine, a testament to the unique terroir of the site, its dry-farmed vines, and the lack of nod to modernization. The School House Vineyard Pinot Noirs are not California mainstream Pinot Noirs but are terroir-driven, unique wines that can only be understood and valued in the context of their origin from this historical vineyard.
Today, about 3,000 cases of four wines are produced: Pinot Noir, Chardonnay, and the two Mescolanza red blends. The wines are sold only through a mailing list at www.schoolhousevineyard.com. Tasting is by appointment at the vineyard property.
To read more about the fascinating history of School House Vineyard consult www.napawinelibrary.com/reports/2009/summer/gantner, www.napawineproject.com/schoolhouse- vineyard/ and www.princeofpinot.com/article/1202/ titled "School House Vineyard, Cult Before Cult was Cool."
2015 School House Vineyard Napa Valley Pinot Noir
13.6% alc., $70. Small percentage of whole cluster. Aged 18 months in 100% new French oak barrels. Bottled unfined and unfiltered. · Moderate garnet color in the glass. Unusual aromatic profile, offering scents of black cherry syrup, spice, turned earth and exotic floral notes. Mid-weight plus in style, featuring a sappy core of fresh black cherry and black berry fruits with a spice, floral and earthy tone in the background. Mild, gritty tannins show up on the persistent and intensely fruity finish. Oak plays a supportive role. When tasted the following day from a previously opened and re-corked bottle, the wine seemed more harmonious, with less tannin evident and a more lengthy finish. Score: 94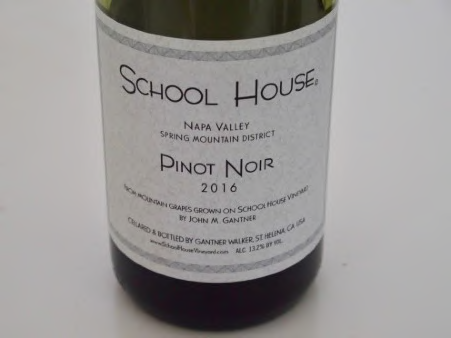 2016 School House Vineyard Napa Valley Pinot Noir
13.2% alc., $65, 1.5 L $130. Small percentage of whole cluster. Aged 18 months in 100% new French oak barrels. Bottled unfined and unfiltered. · Moderately light garnet color in the glass. Welcoming aromas of black cherry, dark red rose petal and a compliment of fresh oak. My notes start with "Wow!" Black cherry and raspberry fruits really pop in the mouth, becoming expansive and holding court through a very long finish. Fully integrated tannins with a very sleek texture. Enviable balance. When tasted the following day from a previously opened and re-corked bottle, the fruit showed even more intensity and persistence while a savory dried herb and earth note showed up. This wine makes a remarkable first impression and then returns over time to offer more glorious Pinot love. Score: 96
Summa Vineyard
Location: Taylor Lane west of the town of Occidental in the West Sonoma Coast
Owner: Thomas Rivers Brown
Initial planting: 1979
Acres: 2
Scion: ? Swan selection
Producer from this vineyard: Rivers-Marie
This vineyard was first planted by Steve Young in 1979. The original 2 acres of vines included Pinot Noir, Chardonnay, and Gewürztraminer but the latter two varieties were grafted over to Pinot Noir soon after the 1979 planting. The source of the original Pinot Noir plantings has been subject to considerable conjecture over the years.
Scott and Joan Zeller acquired the vineyard in 1982 and farmed it until Thomas Rivers Brown bought it in September 2010. The Zellars either do not know or decline to disclose the plant material origins. Burt Williams, who crafted Pinot Noir from Summa Vineyard from 1988 to 1997, suspected the original vines were a Swan selection.
In 1998, an additional 3 acres of Pinot Noir were planted on resistant rootstock using cuttings from the old vines and these plantings are referred to as Summa Young Vines. In 2005 and 2009, an additional 1.5 acres of Pinot Noir was planted adjacent to the Zeller's residence using old vine budwood , and this block is known as the Driveway Block New Vines.
Since 2015, Thomas has removed underperforming, severely diseased, dead and tractor-damaged vines at the rate of five to six vines per year, interplanted among the old vines and planted a Calera selection.
Yields were minuscule in the early years of this vineyard's existence. Williams Selyem was only able to produce a Summa Vineyard bottling in 1988, 1991, 1995, and 1997. Declassified lots of Summa Vineyard grapes were blended into the Williams Selyem Sonoma Coast bottling in other years. The 1991 and 1995 vintages of Williams Selyem Summa Vineyard Pinot Noir are legendary. I reviewed the 1995 vintage years ago: www.princeofpinot.com/winery/154/
Prior to Thomas' acquisition of the vineyard in 2010, grapes were sold to Rivers-Marie, Mueller Winery, Brogan Cellars and Littorai. Since 2010, Summa Vineyard has been a monopole of Rivers- Marie and both a Summa Vineyard Sonoma Coast Pinot Noir (now 22-year-old vines) and a Summa Vineyard Old Vines Sonoma Coast Pinot Noir have been offered to a mailing list: www.riversmarie.com. I have reviewed practically every Rivers-Marie Summa Old Vines Pinot Noir from 2002-2018: www.princeofpinot.com/winery/585/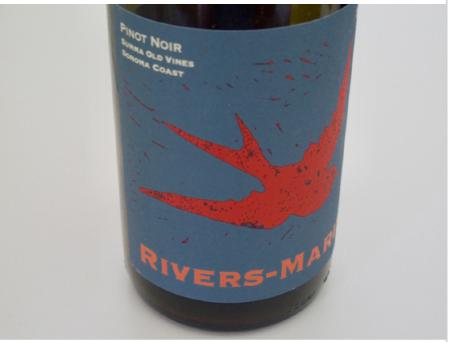 2018 Rivers-Marie Summa Vineyard Old Vines Sonoma Coast Pinot Noir
13.3% alc., 210 cases, $80. Harvest Brix 23.8º. · Moderately light garnet color in the glass. The enticing hose is a wonderland of aromas including cherry, spice, forest floor and pine needles. The dreamy texture makes an impression immediately. Very enjoyable upon opening in a light to mid-weight style featuring a core of well-spiced redder fruits. A stellar wine with engaging freshness and gossamer tannins, finishing unusually long. There is something about this wine that is hard to put into words but you know it is special. Perhaps it is the fact that it offers complexity rather than brute sap. Most certainly, it is the forty-year-old vines speaking. In any case, this beauty has the balance to age for many years and I am sure will brings many oohs and ahas down the line. Still magnificent when tasted the following day from a previous opened bottle. Score: 95
2008 Rivers-Marie Summa Vineyard Old Vines Sonoma Coast Pinot Noir
14.1% alc., Magnum. I reviewed this wine in June 2010 and raved about it: · "Enticing perfume of fresh red cherries and berries with nuances of dark chocolate, Moroccan spices, anise, smoke and savory herbs. The fruit is robust, virile and mouth coating and persists through a generous finish." I tasted the wine again in July 2012, "Delicious black cherry core with very slight creosote and smoke flavors." I also tasted the wine in March 2017: "Still rather bold with a copious core of very ripe cherry and berry fruits with a riff of smoke taint in the background." This magnum was tasted recently. The wine opens initially with aromas of black cherry, mocha and stem but becomes flat rather quickly. Mid-weight plus in style and creamy on the palate with layers of black cherry, blackberry and pomegranate flavors framed by silken tannins. There is clearly some smoke taint evident on the finish. Many Sonoma Coast Pinot Noirs suffered smoke taint from wildfires in 2008. When tasted initially, this wine was terrific, but with age, smoke-tainted Pinot Noir tends to become less fruity and displays more evidence of creosote, something evident in this magnum tasted in 2020. That said, the wine was still quite enjoyable and probably only a wine critic would find fault in the wine. Score: 90
The Knoll Vineyard
Location: Anderson Valley
Owner: Husch Vineyards (Amanda Robinson Holstine and Zack Robinson)
Initial planting: 1971
Acres: 2.5
Scion: Wente field selection from Wente's Arroyo Seco Vineyard
Producer from this vineyard: Husch Vineyards
Husch Vineyards planted the first Pinot Noir vines in the Anderson Valley and established a winery in 1971 making Husch the oldest licensed winery in Anderson Valley. Tony and Gretchen Husch bought the 60-acre Nunn ranch located between Philo and Navarro on Highway 128. They planted rootstock for Pinot Noir in either 1968 or 1969 and field grafted The Knoll in 1971. At the time, it was more common to plant roots first and then graft the variety a couple of years later.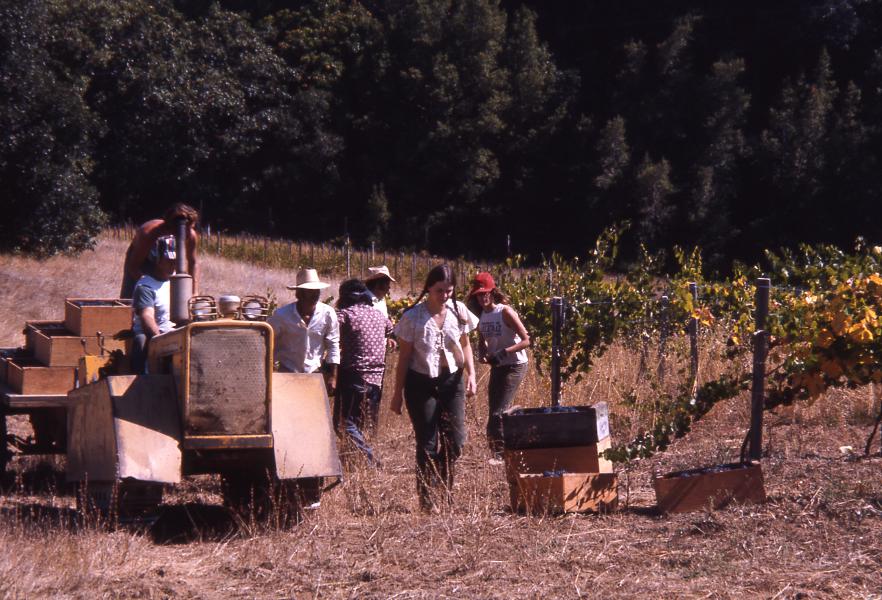 The first harvest in 1973 at Husch Vineyards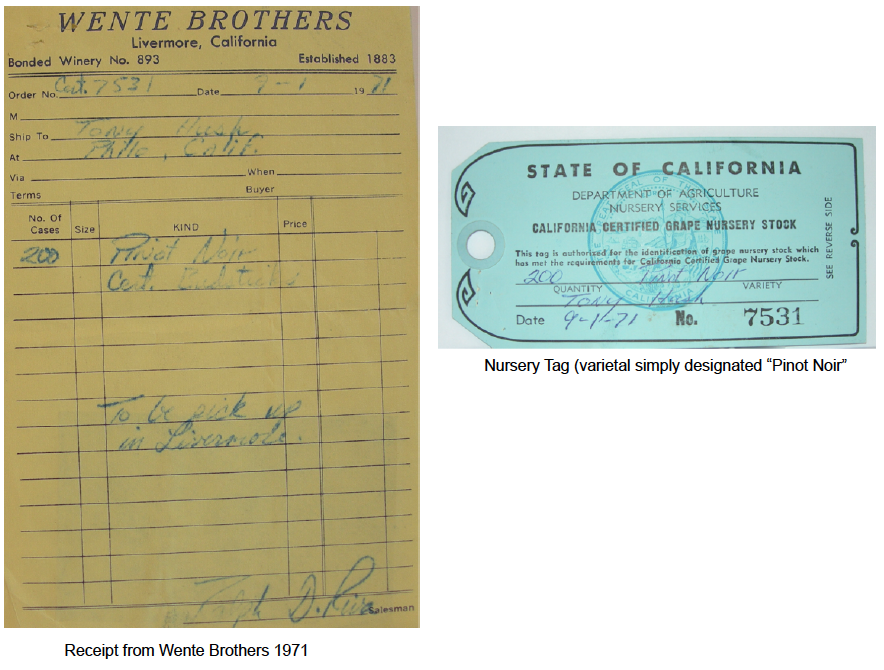 They planted eight acres of Pinot Noir, Chardonnay, and Gewürztraminer grapes on the cool slopes of the property that swept down towards the Navarro River. Tony learned from locals that neither Zinfandel or Cabernet Sauvignon would ripen on the valley floor so he thought he would give Pinot Noir a try. The original Pinot Noir plantings at The Knoll Vineyard consist of 2.5 acres, 12' x 8' spacing with a single wire initially but converted to Lyre quad and interplanted in the late 1990s.
Hugo Oswald, Jr., a neighboring grape grower, bought the Husch Winery from the Husch family in 1979 and today the property remains owned and operated by the third generation of the Oswald family: Amanda Robinson Holstine and Zac Robinson. Vineyard manager Al White has been at Husch since 1974.
Interestingly, Zac told me is that not only was The Knoll the first planting of Pinot Noir in the Anderson Valley, it was the first planting of any red varietal that could ripen reliably. Economically, however, Pinot Noir was a dud! Zac's records show that Gewürztraminer was far more valuable in the 1970s.
The Knoll Vineyard site is a south-facing outcrop of sandstone with shale lenses and good drainage planted originally in 1971 and affectionally known as "The Knoll." Interplanting of The Knoll Vineyard with Dijon 667 began in 2001. Most of the original vines are still in production.
I have reviewed The Knoll Vineyard Pinot Noir from 2004, 2005, 2009, 2010 and 2013 vintages: www.princeofpinot.com/vineyard/169/. The 2017 Husch Vineyards 'Knoll' Anderson Valley Pinot Noir is available on the winery's website at www.huschvineyards.com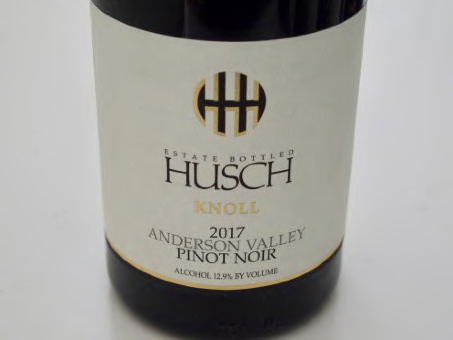 2017 Husch Vineyards Knoll Anderson Valley Pinot Noir
12.9% alc., pH 3.50, TA 0.60, 504 cases, $42. · Harvest Brix 22.6º. 25% whole cluster. Aged 10 months in French oak barrels, 40% new. Moderately light garnet color in the glass. Intriguing aromas of cherry, raspberry, pitch and pine needle. On the palate, there is plenty of tasteful, earth-kissed cherry fruit in a middleweight, agreeable style. Refined and sophisticated, with subtle tannins, a delicate touch of oak and a very long-lasting and juicy finish. The earthiness is very cordial. This wine does not taste like any other wine reviewed for this study of old vine Pinot Noir making it particularly distinctive. In addition, it overdelivers for the price. Score: 95
Three Corner Vineyard
Location: Russian River Valley (Healdsburg)
Owner: J. Rochioli Vineyards & Winery
Initial planting: 1974
Acres: 3.7 acres
Scion: West Block selection ("Rochioli clone")
Producer from this vineyard: J. Rochioli Vineyards & Winery
Three Corner Vineyard was originally part of the Allen Vineyard but was deeded to Joe Rochioli, Jr. by Howard Allen as a favor for farming the Allen Ranch for many years. The vineyard is now one of the Rochioli estate vineyards.
About 60%-65% of the original plantings from 1974 are still in production. Later plantings were established using the West Block selection, and Pommard 4 and Dijon 115 clones.
Three Corner Vineyard, West Block, Little Hill, Big Hill, River Block and Sweetwater are single block/ vineyard-designated Pinot Noir bottlings only sold through a mailing list at www.rochiolivineyard.com. The 2018 vintage of Three Corner Vineyard is now offered at $90. The 2017 Three Corner Vineyard Pinot Noir was reviewed in May 2020.
2017 J. Rochioli Vineyards & Winery Three Corner Russian River Valley Pinot Noir
14.5% alc., $90. · Moderately dark garnet color in the glass. The nose opens slowly over a few hours to reveal very enticing aromas of red and black cherry, baking spices and forest floor. Mid-weight plus in concentration with flavors of blackberry and black raspberry that make a powerful statement. A little rugged, rustic and earthy early on but when sampled several hours later, the unctuous fruit was more amendable and vivid. The tannins were quite easygoing, the texture was soft and the finish had unusual potency and staying power. Score: 95
Trenton Estate Vineyard
Location: Laguna Road in the Russian River Valley, in a subregion of the Russian River Valley known as the Laguna Ridges, near the town of Forestville.
Owner: Rod and Lynn Swan Berglund
Initial planting: 1969
Acres: 11 (current)
Scion: Martin Ray Vineyard (now Mount Eden) via the Experimental Station in Oakville. Also probably some DRC suitcase selections that were given to Joe Swan. An additional block of Pinot Noir was planted in 1974 just south of the original planting using budwood from the best performing original vines grafted onto nursery selection roots.
Producer from this vineyard: Joseph Swan Vineyards
The legendary Joseph (Joe) Swan first planted Pinot Noir along with Chardonnay and Cabernet Sauvignon beginning in 1969, replacing a 13-acre plot of run-down Zinfandel that he acquired in 1967. It was Joe's friend, Andre Tchelistcheff who advised him to plant Burgundy varieties on this site. These original plantings are the oldest producing Pinot Noir vines in the Russian River Valley.
The property Joe purchased in 1967 also included a barn and a 100-year-old house that at one time had been the post office and general store for the tiny town of Trenton that is no longer in existence.
The Swan Trenton Estate Vineyard, although located only a few miles from the Middle Reach subregion of the Russian River Valley, is cooler, foggier, and wetter than that subregion marked by Westside Road.
A Pinot Noir from the Swan Vineyard was sourced entirely from the original 1969 and 1974 plantings from 1973 to 2002. The "Trenton Estate" designation did not appear until 1997. After 2002, some young vine fruit was added. In the mid-1990s, Rod replanted half of the Trenton Estate Vineyard. Today, the young vines have reached enough maturity that the Trenton Estate Vineyard bottling is sourced from all blocks and twelve different planted clones. The Trenton Estate Vineyard also has an acre of Syrah, and a few older Viognier, Chardonnay, and Cabernet Sauvignon vines.
Historically, cuttings from Swan's vines were eagerly sought after, and because of Joe's generosity, became widely distributed to other California vineyards as the Swan clone (incorrectly) or the Swan selection. It was Francis Mahoney, the founder of Carneros Creek Winery, who coined the term "Swan clone" for the vine mix of Joe's original plantings.
I have reviewed Joseph Swan Vineyards Trenton Estate Vineyard Russian River Valley Pinot Noir from vintages 2001-2010 inclusive and 2013: www.princeofpinot.com/vineyard/175/. No grapes are sold from this vineyard. The winery sells through its mailing list and tasting room: www.swanwinery.com.
Truchard Estate Vineyard
Location: Napa Carneros
Owner: Tony and JoAnn Truchard
Initial planting: 1974
Scion: Martini selection
Producer from this vineyard: Truchard (Old Block)
The Old Block at Truchard Vineyards was planted to Chardonnay, Pinot Noir, Merlot and Cabernet Sauvignon on the Napa side of Carneros in 1974. Dr Tony Truchard bought a 20-acre prune orchard in 1973 while he was still practicing medicine. Francis Mahoney, of nearby Carneros Creek Winery, assisted with the initial plantings of 20 acres. All grapes were sold exclusively until 1989 when the Truchards began making their own wine. The original plantings of Pinot Noir on St. George rootstock and designated the Old Block, are still producing.
When Tony first planted grapes in the early 1970s, Carneros was primarily an area known for sheep and cattle ranches, and farmers were discouraged from planting grapes because of the cool climate, clay soils that did not retain moisture, and meager, salty groundwater. Truchard Vineyards, however, is located in the northeastern corner of Carneros at the base of the southern tip of the Mayacamas Mountains with a diversity of soils including clay, shale, sandstone, lava rock, and volcanic ash as well as various microclimates. With the low water table in Carneros, Tony was one of the first winegrowers to adapt reservoirs for rainwater catchment and drip irrigation.
Today, Truchard Estate Vineyard is 383 contiguous acres, of which 270 acres are planted to ten different grape varieties. Visit the winery website to purchase Old Block Pinot Noir: www.truchardvineyards.com.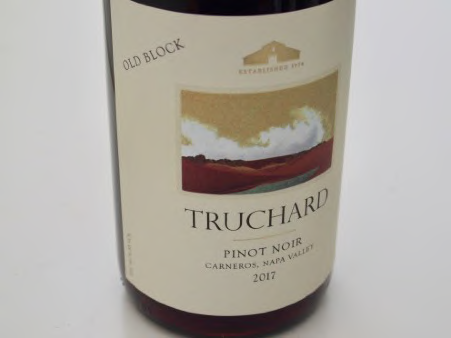 2017 Truchard Old Block Carneros Pinot Noir
14.1% alc., $65. A very limited production wine based on Martini selection planted in 1974 on St. George rootstock. These are some of the oldest producing vines in Carneros. 100% de-stemmed, proprietary yeast fermentation after a 5-day cold soak. 10-day maceration. Aged 10 months in French oak barrels, 45% new. · Moderate garnet color in the glass. Appealing aromas of Bing cherry, cinnamon stick, burnt tobacco and toasty oak rise from the glass. The glorious core of black fruits are expansive and long on the palate. A complex offering, with touches of cola, spice, licorice and earth. Silken in mouthfeel, with an ideal balance of ripe fruit, vital acidity and refined tannins. The wines opens nicely over time in the glass offering its charms in stages. The experience concludes with a very long finish. When tasted the following day from a previously opened and re-corked bottle, the wine was more outstanding grabbing attention with seductive aromas of cherry, rose petal and spice. Score: 94
Van Der Kamp Vineyard
Location: Just below the summit of Sonoma Mountain
Owner: Van Der Kamp family
Initial planting: ? 1950s or 1960s
Acres: 2
Scion: "old vine Pinot Noir"
Producer from this vineyard: Dutton-Goldfield, Poe
This famous reclusive vineyard is planted at 1,400 feet elevation on a north-facing slope overlooking the town of Glen Ellen to the east and Bennett Valley to the northwest. The soil is a reddish volcanic loam, varying from intense rocky slopes above the "Red Shoulder" area to deeper, browner, but still volcanic clay loam in the "Horn Section." Martin Van Der Kamp has been farming the ranch since the sixties and his son Ulysses is now taken over and employs the latest viticultural techniques. Ulysses says, "It is easy to grow Pinot Noir, that is if you are willing to work twelve hours every day."
The exact date of the original plantings (there have been newer plantings in the 1970s, 1980s and 1990s) of Pinot Noir is puzzling in the absence of documentable event and date. The Van Der Kamp website says that the vineyard has currently producing vines that were planted in 1952. Wine critic John Gilman and winemaker Samantha Poe who crafts a Pinot Noir from the vineyard state the vineyard was planted in 1953.
Martin Van Der Kamp recently told Claude Koeberle (Soliste) the following. He recalls a few years ago telling John Haeger (who remembers the conversation differently) that when he bought grapes from Russell Cundiff, the original owner of the property, in the mid-sixties, the vines were already well-established, indicating that they must have been planted in the previous decade. There were about 12 acres of Pinot Noir in five distinctly different blocks, though they might not have all been planted at the same time. Martin used grapes from all five blocks as part of his first sparkling wine cuvée in 1981. He also made a couple of barrels of Pinot Noir in 1970 from Cundiff's grapes.
Russell was well-acquainted with Sebastiani, Bartholomew (Buena Vista), and Zellerbach (Hanzell). There is a good chance the original scion material came from any of them. When Martin acquired the ranch from Russell in 1989, John Wetlaufer could only identify the vines as "old vine Pinot Noir." Today, the Van der Kamp family still farms two acres of the original vines.
Those who visit the 25-acre vineyard site say it has a mystical spiritual aura. Tibetan flags flutter in the breeze while mating pairs of hawks fly overhead. The Marin and southern Sonoma County indigenous tribe, the Coast Miwock, believed that the top of Sonoma Mountain was where life first began. The Van Der Kamp Vineyard and surrounding area is an important religious site.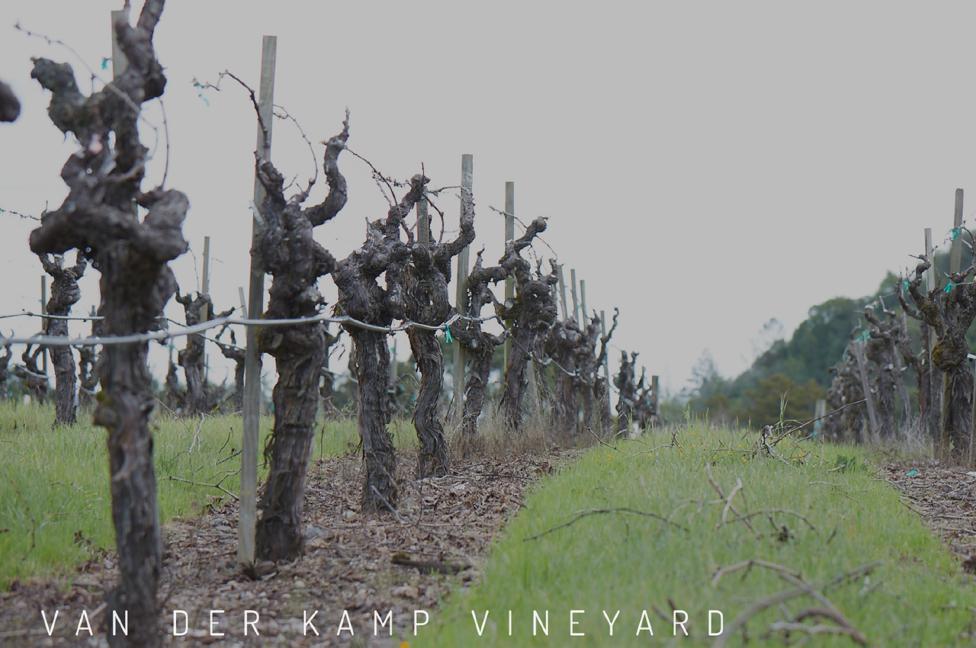 Through the years, Van Der Kamp Vineyard has supplied grapes to many of California's most notable producers of Pinot Noir including Bjornstad Cellars, Berridge Wines, Cerridwen Wines, La Follette Wines, Landmark Vineyards, La Pitchoune, Poe, Rogstad, Ryan, Siduri, Soliste, Tandem, Tongue Dancer and Vergari. For current releases, visit www.poewines.com and www.duttongoldfield.com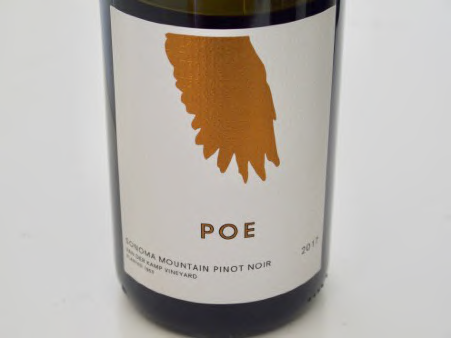 2017 POE Van Der Kamp Vineyard Sonoma Mountain Pinot Noir
13.0% alc., $45. Said to be from original planting30% whole cluster, native yeast fermentation. Aged 12 months in 30% new French oak barrels. Bottled unfined and unfiltered. · Moderately light garnet color in the glass. Complex nose displaying aromas of black cherry, spice, white pepper, rose petal and earthy flora. Light to mid-weight in style, offering flavors of dark cherry and purple berry with undertones of dried green herbs and pastoral flora. Silky in texture, with modest tannins that leave a slight astringency on the finish. I like this wine for its uniqueness. Score: 92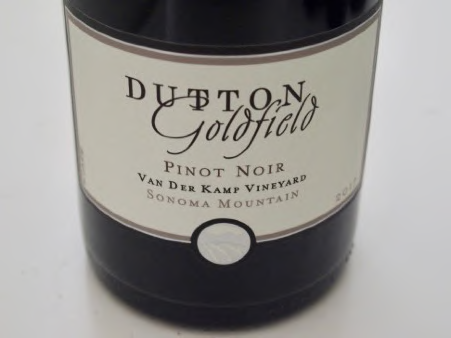 2018 Dutton-Goldfield Van Der Kamp Vineyard Sonoma Mountain Pinot Noir
13.5% alc., pH 3.48, TA 0.64, 253 cases, $68. "La Tache," "Old" and "828" blocks. 100% de-stemmed, 7-day cold soak, hand punch downs, aged 16 months in French oak barrels, 50% new. · Moderately dark garnet color in the glass. Hi-tone aromas of black cherry, boysenberry, poultry spices and vanilla. Generous earth-toned black raspberry and boysenberry fruits are accented with savory dried sage. The sappy fruit is backed by moderately firm tannins but the finish is not astringent. The silken texture is particularly agreeable. When tasted the following day from a previously decanted and re-corked bottle, there was a subtle green herbaceous note that had been covered up by the fruit load on the first day, but otherwise the wine was stellar. This wine will benefit from time in the cellar to placate the tannins. Score: 93
West Block Vineyard
Location: Russian River Valley (Healdsburg)
Owner: J. Rochioli Vineyards & Winery
Initial planting: 1969
Acres: 4
Scion: Budwood from Karl Wente's estate vineyard in Livermore or Wente's Arroyo Seco plantings in Monterey County - most likely a clone or field selection of Pommard 4.
Producer from this vineyard: J. Rochioli Vineyards & Winery
The exact clonal pedigree of the original West Block plantings remains a mystery as vine morphology has not been confirmatory, but it is often concluded that the vines are Pommard. The original rootstock was non-phylloxera-resistant AxR1.
The initial Pinot Noir plantings at the Rochioli property were typical for the time with a 14-foot spacing between the rows and 8-feet spacing between the vines.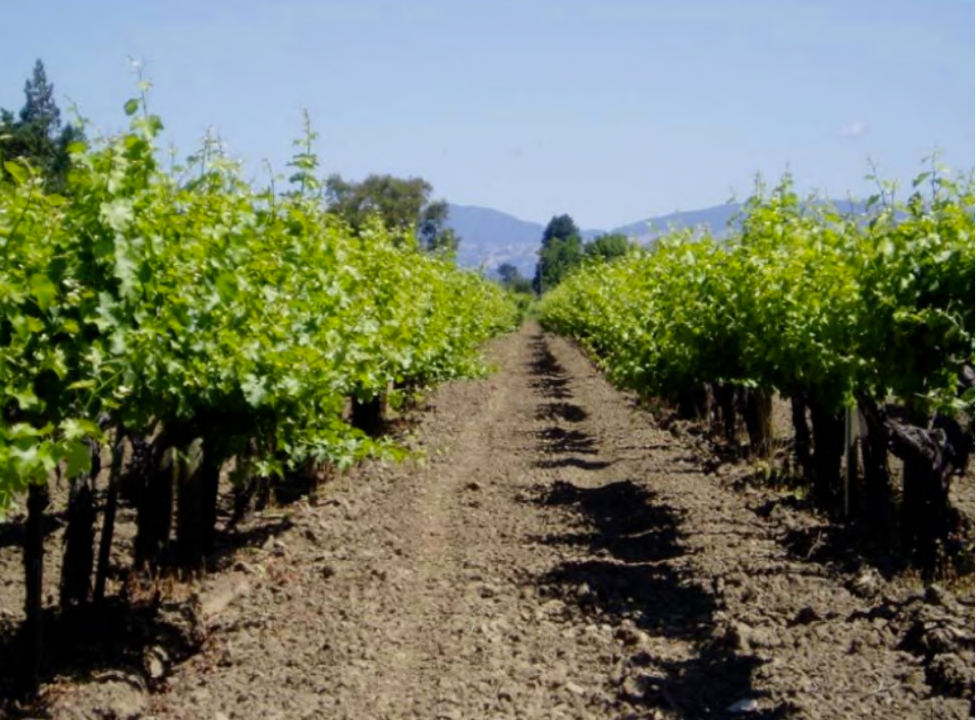 Rochioli West Block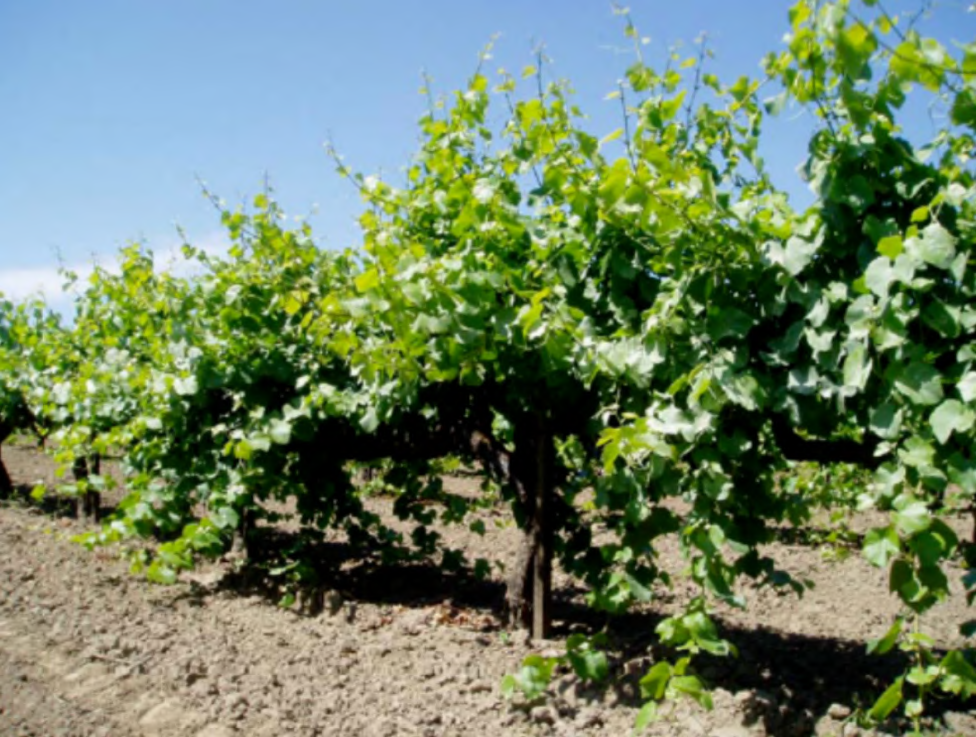 Rochioli West Block Old Vines

The West Block Pinot Noir is often referred to as the "mother block" because cuttings from this block were used for subsequent plantings on the Rochioli ranch as well as many other vineyards in the Russian River Valley including Allen Vineyard located across Westside Road from the Rochioli vineyards.
Currently, the West Block is about one-third of its original size but newer plantings at West Block in 2008 added 2.5 acres of West Block selection. Tom Rochioli told me that about 60%-65% of the original vines are still producing grapes. There were some replants prior to 1980 that could be clones other than the original selection (about 10%). Since the early 1980s, all replants have used budwood from the original West Block vines, the so-called. Over the years, Tom has selected vines for desirable cluster size, structure and characteristics, and ones that are virus-free. The cuttings from these vines are often referred to as the "Rochioli clone" although there is no such certified FPS clone. The original West block currently produces very little fruit (yields are typically 1.5 tons per acre) but it has always been Joe Rochioli's favorite.
The East Block planting preceded the West Block planting by two years but the original vines were pulled out in 2008 and replaced with Pommard clone in 2010.
J. Rochioli West Block Russian River Pinot Noir is available only to those on a mailing list that currently has a waiting list. The 2018 vintage is priced at $120. The wines are highly valued but do occasionally appear on the secondary retail or auction marketplace. The J. Rochioli Vineyards & Winery website is www.rochiolivineyard.com. Two vintages were tasted in May 2020.
2015 J. Rochioli Vineyards & Winery West Block Russian River Valley Pinot Noir
14.5% alc., 228 cases, $112. · Dark garnet color in the glass. The aromas unfold slowly over time in the glass. When sampled the following day from a previously opened bottle, the wonderful aromas of black cherry, spice and sandalwood had become more accessible. Effusive sap fills the mouth with goodness, offering flavors of black cherry, blueberry and black raspberry with an earthy underpinning. The chewy fruit is framed by toned tannins and lip-smacking acidity making for easy drinking. The finish is very long and intensely fruity. Truly a sublime experience when tasted the following day from a previously opened and re-corked bottle. Score: 97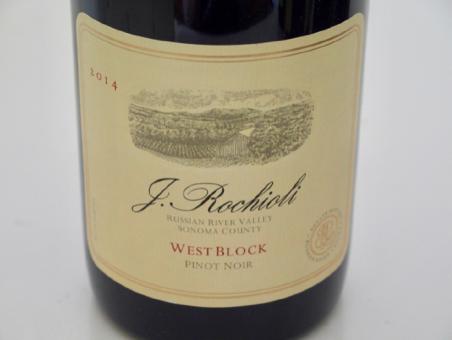 2014 J. Rochioli Vineyards & Winery West Block Russian River Valley Pinot Noir
14.5% alc., 200 cases, $100. · Moderately dark garnet color in the glass. The nose unravels slowly to reveal aromas of black cherry and Asian spices. Full-bodied in a richly endowed style, with a core of black cherry, blackberry and cola flavors. Plush on the palate with enough acidity to cut through the richness. Impressive harmony, with an extremely long and generous finish. Much more giving, even transcendent. when tasted the following day from a previously opened and re-corked bottle. Score: 97