Old Vine California Pinot Noir Vineyards: Santa Cruz Mountains
"For me, a vine seems to enter its prime around 25 to 30 years of age. Young vines can certainly express terroir, but the expression is perhaps not as strong, not as consistent and usually, there is something that falls a little short on the texture front."
Jeremy Seysses, Domaine Dujac
Ferrari Family Vineyard
Location: Corralitos
Owner: Tom Ferrari
Initial planting: uncertain - 1980s in stages, possibly as early as 1980
Acres: 2.5 - 3
Scion: DRC "La Tache" selection
Producers from this vineyard: Big Basin Vineyards, Lightpost Winery
This vineyard has gone through several name transitions from its original name Matteson to Ciradella, then Woodruff Family and now Ferrari Family. When the Woodruff family rehabilitated the vineyard after their acquisition, they kept all of the original vines. Current owner, Tom Ferrari, lives on the property. Viticulturist Prudy Foxx has done some consulting for him.
Veteran Santa Cruz Mountains vintner, Jeff Emery, told me its first harvest was 1984 so it was probably planted in 1980. The Big Basin Vineyards website states that the vines were planted over 40 years ago. When I reviewed the 2009 Arista Woodruff Vineyard Pinot Noir in 2011, the wine information sheet stated the vineyard was planted in 1978. John Haeger says the vineyard was developed in stages in the 1980s which is probably the most reliable information.
The vineyard is located in Aptos about three miles from the Pacific Ocean surrounded by centuries-old redwood trees. Planted on a steep slope, it is dry-farmed and the vines are rooted in sandy loam over base rock.
Currently, Lightpost Winery in Morgan Hill is one of two wineries (the other being Big Basin Vineyards) sourcing the grapes from this vineyard. The 2018 Lightpost Winery Ferrari Vineyards Reserve Santa Cruz Mountains Pinot Noir (163 cases, $69) is available at www.lightpostwinery.com. The wine won Best of Show and 95 points at the San Diego International Wine Competition and rated 92 points and recommended as a Cellar Selection by Wine Enthusiast. The 2017 Big Basin Vineyards Ferrari Vineyard Santa Cruz Mountains Pinot Noir is available through a mailing list at www.bigbasinvineyards.com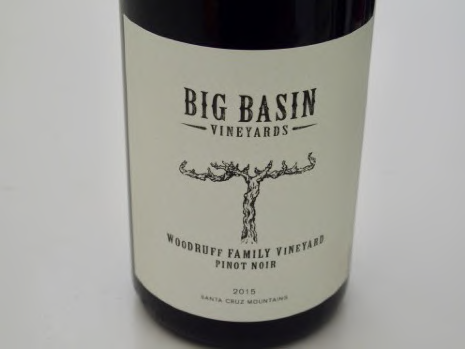 2015 Big Basin Woodruff Family Vineyard Santa Cruz Mountains Pinot Noir
13.0% alc., 80 cases, $65. 100% whole cluster, native yeast primary fermentation, aged 15 months in French oak barrels and bottled unfined and unfiltered. · Moderately light garnet color in the glass. Engaging aromas of cherry, rose petal, burnt tobacco and cardamom spice. Mouthwatering cherry core framed by very fine tannins. Fresh and juicy, with impressive harmony and some length on the cherry-fueled finish. The tannins have largely resolved since last reviewed in 2018. Score: 94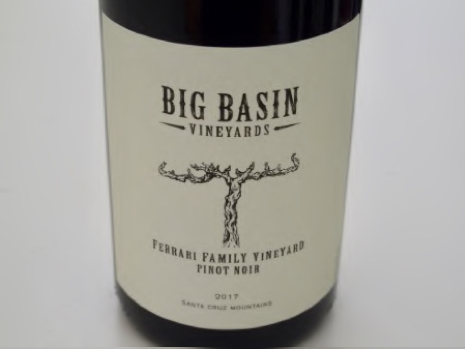 2017 Big Basin Ferrari Family Vineyard Santa Cruz Mountains Pinot Noir
13.2% alc., 200 cases, $60. 100% whole cluster native primary fermentation, and aged 17 months in French oak barrels. Bottled unfined and unfiltered. · Moderate garnet color in the glass. The nose is aloof but pleasant with aromas of black cherry, rose petal and spice. Mid weight plus in style featuring darker cherry, strawberry, raspberry and boysenberry fruit flavors. More ripeness and intensity than the 2015 vintage. The tannins are modest at this point and the finish is generously fruited and lengthy. Still young and aromas haven't fully arrived, but otherwise stellar. Sit on this one for a couple of years for full enjoyment. Score: 94
Legan Vineyard
Location: Corralitos
Owner: Tom Legan
Initial planting: 1979-1980 (upper hill)
Scion: Mount Eden
Producer from this vineyard: Arnot-Roberts
This vineyard was planted using cuttings from Mount Eden. These own-rooted vines were planted in two phases: the upper hill in 1980 and the lower area in 1990. The hearty vines on this site cling to a steep, eroding sandstone hillside at 1,200 feet elevation, surrounded by a dense forest of redwood trees overlooking Monterey Bay. The original vines, planted with 6' x 8' spacing in deep sandy loam soil, have been always dry farmed. Prudy Foxx is the current viticulturist farming the vineyard organically.
The Monterey Bay acts as a natural air conditioner for onshore winds, cooling the Corralitos region and allowing for a long, steady growing season.
Grapes are sourced by Arnot-Roberts (Duncan Arnot Meyers and Nathan Lee Roberts who founded their winery in 2001 in Healdsburg). The wines are allocated through a mailing list at ww.arnotroberts.com and sold through various retail channels.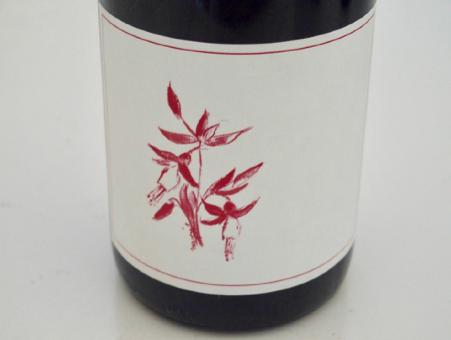 2018 Arnot-Roberts Legan Vineyard Santa Cruz Mountains Pinot Noir
12.0% alc., 275 cases, $60. · Moderate garnet color in the glass. Very floral nose with added sweet wood bark and vegetative aromas. More fruit-driven on the mid-weight palate, offering tart flavors of strawberry, red and purple grape and spice, yet the savory aspects largely override the fruit. The texture is like peach fuzz with integrated filigree tannins that trail off on the finish. A green note is still evident when tasted the following day from a previously opened and re-corked bottle. Score: 88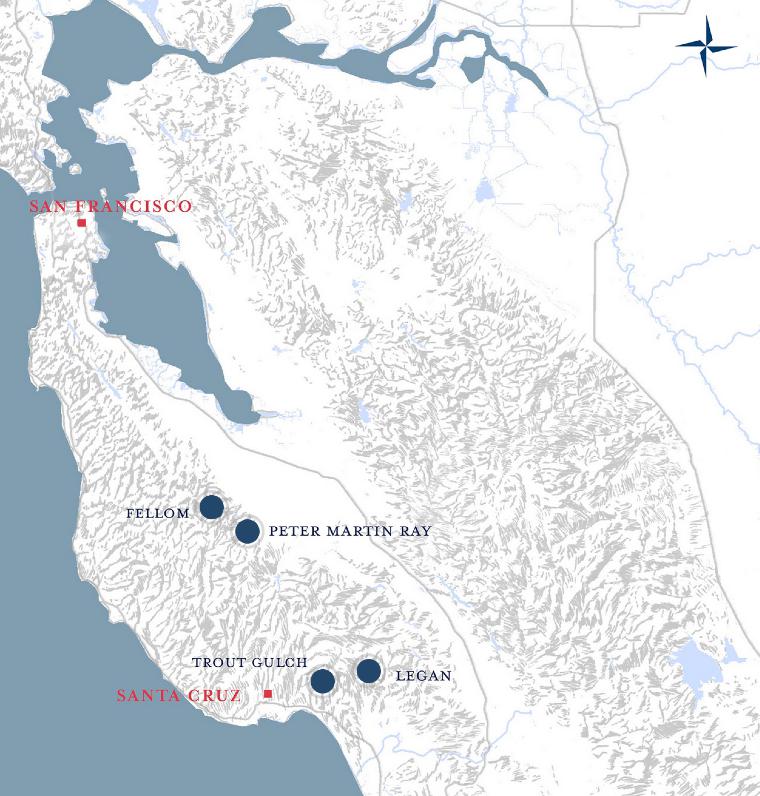 Santa Cruz Mountains Vineyards Sourced by Arnot-Roberts
Peter Martin Ray Vineyard
Location: Northeastern Santa Cruz Mountains in Saratoga
Owner: Peter Martin Ray
Initial planting:1979
Acres: 3
Scion: Mount Eden
Producer from this vineyard: Arnot-Roberts
Paul Masson left Burgundy and arrived in California in 1878 as a 19-year-old. He bought land in Saratoga and planted Pinot Noir and Chardonnay at his "Mountain Winery" at La Cresta ranch using budwood from Burgundy vines. Masson would be the first winegrower to import and plant Pinot Noir, then use it successfully for his red table wines and "Champagne" sparkling wines. Martin Ray, who was to become a legendary California vintner, lived nearby La Cresta ranch, was befriended by Masson and worked in his winery and vineyards. (Ray was a redhead like me and assumed the nickname of "Rusty" by friends and family as I did growing up) Ray bought Masson's property and took over the Paul Masson Champagne Company in 1936 at age 32, managing it and producing wine there for seven years. The 60 acres at La Cresta contained a large block of Pinot Noir, along with sizable blocks of Gamay Beaujolais and Chardonnay, and for many years this was the country's sole authentic planting of Pinot Noir. Ray removed the Gamay, replaced it with a mix of varieties and replaced old or diseased vines throughout the vineyard.
In 1936, Ray released the country's first 100% pure Chardonnay and Pinot Noir varietals that were priced at four times other California wines of the time. Dr Maynard Amerine, a famed enologist, was asked to name the greatest Pinot Noir he had ever tasted and he replied, "A 1936 made by Martin Ray." Ray was a fanatical proponent of verifiable content labeling of wines and was single-minded in his striving for wine quality at a time when there was little support for his vision.
In time, Masson, who died in 1940, advised Ray to plant vines at the top of the hill at what is now Mount Eden and would become the site of the Martin Ray Winery. Ray also knew that soil drainage would be better at the higher elevation. By the 1950s, the vines planted at Mount Eden using cuttings from Masson's La Cresta vines and bench grafted onto rootstock at a local nursery were mature and producing better wines than those from the old vineyards established by Masson. The Mount Eden Vineyard is now of historical significance as many of today's modern Pinot Noir plantings have been established with genetic material taken from this vineyard (Mount Eden clone, UCD 37).
Paul Masson's mountaintop vineyard, subsequently owned by Martin Ray, would become the Peter Martin Ray Vineyard under the ownership of Peter Martin Ray, the adopted son of Martin, who replanted the vineyard in 1979-1982. Peter lost the Martin Ray name to a separate company, now the Martin Ray Winery based in the Russian River Valley but kept this vineyard parcel and sold grapes to other winemakers. Peter Martin Ray is now retired and lives in Alaska. Frederic Ballario and Santa Cruz Mountains legend Rick Anzalone manage the 13-acre the vineyard (photo below)
Organically farmed with no irrigation, the old, originally stake-trained vines cling to the extremely rocky and depleted Franciscan Shale soils at 1,400 feet elevation. Vine density is 10' x 10'. The vineyard is adjacent to the hill that is planted to the historic Montebello-Ridge vineyards and overlooks Silicon Valley. The site is highly exposed with nutrient-poor soils, so the vines struggle to produce meager yields.
Grapes from this vineyard have been sourced by Arnot-Roberts, Ceritas Wines. Birichino Wines and Jamie Motley Wines but the Pinot Noir is currently only sold to Arnot-Roberts: www.arnotroberts.com.
Read more about the fascinating history of this vineyard at www.wineterroirs.com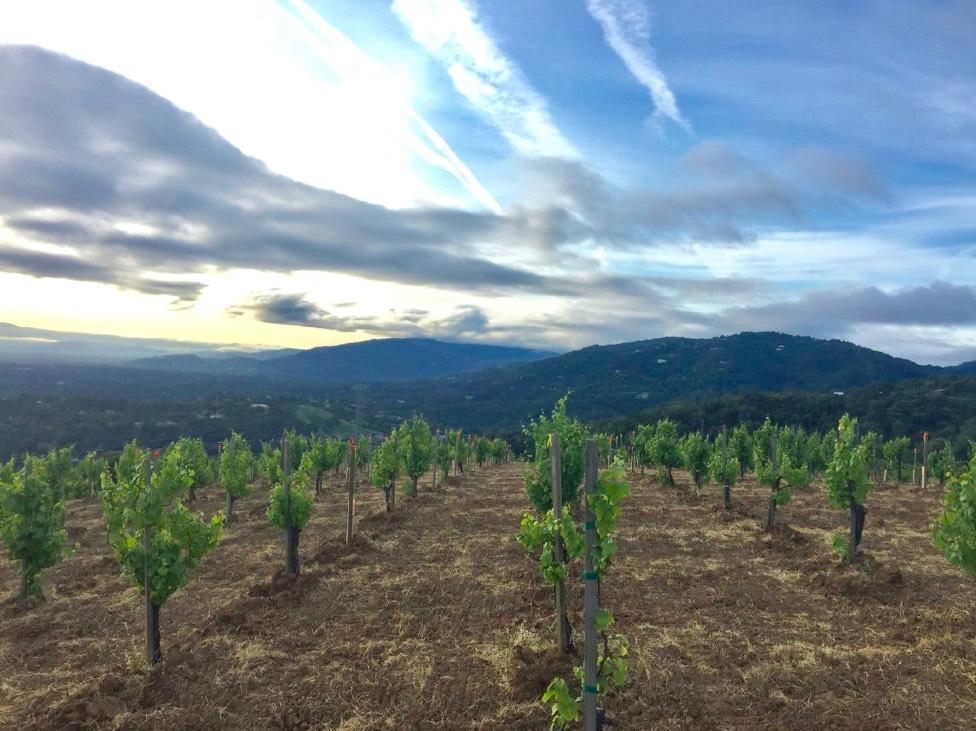 Peter Martin Ray Vineyard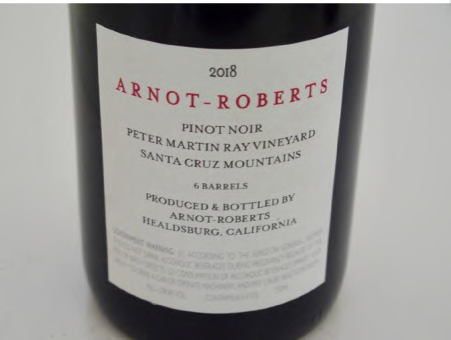 2018 Arnot-Roberts Peter Martin Ray Vineyard Santa Cruz Mountains Pinot Noir
12.0% alc., 150 cases, $75. · Moderately dark garnet color in the glass. The savory nose features aromas of underbrush, sawdust, rose petal and deeply colored fruits. A robust, thickly-fruited wine offering an intense stream of blueberry-pomegranate fruit with a mild vegetative (green) undertone. Nicely balanced, with delicate tannins and a long, lip-smacking finish. The wine achieved more charm when tasted the following day from a previously opened and re-corked bottle. Arnot-Roberts seems intent on picking Pinot Noir at a lower Brix resulting in a more savory, even slightly green character in the finished Pinot Noir. This was much less evident in this wine compared to the Legan Vineyard bottling even though the final ABV is the same. Score: 92
Trout Gulch Vineyard
Location: Aptos
Owner: Richard Alfaro, lessor
Initial planting: 1980
Acres: 4.61
Scion: Mount Eden clone
Producer from this vineyard: Alfaro Family Vineyards & Winery
The Turgeon family produced Pinot Noir and Chardonnay from this vineyard since 1987, but the vineyard is now farmed by Richard Alfaro of Alfaro Family Vineyards & Winery who took over the lease. Richard farms the non-irrigated vineyard with organic methods.
The vineyard is located 3.5 miles from the coast at 800 feet elevation above the town of Aptos, tucked into coastal redwoods. Soils are uplifted oceanic sand.
Ceritas had sourced Pinot Noir from this vineyard until Richard took over the lease. Currently, Richard offers a 2017 Alfaro Family Vineyards & Winery Trout Gulch Vineyard Santa Cruz Mountains Pinot Noir (275 cases, $45) available on the winery's website at www.alfarowine.com