California Old Vine Pinot Noir Vineyards: Monterey County
"The grapes of old vines are deeper and higher quality. More intense and persistent both in smell and mouth."
Massimilino Calabretta, Calabretta Winery
Antle Vineyard - Rodnick Farm
Location: Gavilan Mountain Range, Chalone AVA
Owner: Kurt Gollnick, Janet Rodgers
Initial planting: mid 1980s
Scion: Chalone Vineyard selections and Swan selection
Producers from this vineyard: Windy Oaks Estate (old vines), various others (old and new vines)
This vineyard was originally planted by owner Richard (Dick) Graff, the founder of Chalone Vineyard. The scion was old selections from Chalone Vineyard planted in 1946 as well as a Swan selection. The Pinot Noir block was part of Block 5 that was originally Mourvedre but was partly grafted over to Pinot Noir before it began producing.
Jim Schultze of Windy Oaks Estate told me he sources from those old vines planted by Graff in the mid-1980s. Jim told me, "If you look at this section of the vineyard, the vines look ancient and are among the oldest Pinot Noir currently in Chalone AVA." Jim told me that Graff's original plantings were not part of the extensive replanting done in the late 1990s to most of the vineyards at Chalone.
In 2005, third-generation Salinas row crop farmer Bob Antle, a long time fan of Chalone Vineyard, purchased the 40-acre property. The vineyard had not been in production for an extended time. He planted 2.3 acres of Pommard and 1.4 acres of Dijon 114 Pinot Noir the following year. John Locke, owner and winemaker at Birichino told me he sources from 2,3 acres of Pommard planted in 2006 and the older block planted by Graff around 1980 with Swan and Chalone selections.
Today, the vineyard is owned and managed by Kurt Gollnick, who has farmed throughout Monterey and San Benito counties since 1988, and his partner Janet Rodgers. Both live on the property that is now named Rodnick Farm. The 152-acre farm at 1,600 to 1,900 feet elevation has 27 acres of vineyard, is home to 8.42 acres of Pinot Noir, along with Mourvedre (for which the vineyard is known), Syrah, Grenache, Viognier, Albarino, Muscat and Pinot Blanc, all organically farmed.
A majority of the fruit has been sold to other wineries including Windy Oaks, Folk Machine (final vintage in 2016), Scholium, Enfield Wine Co., Birichino (vintages 2014 and 2015), Sante Arcangeli, Kara Estate and Sarah's Vineyard. Antle has bottled wines from this vineyard under the Pinncalitos de Chalone label. 2014 Birichino Antle Vineyard Chalone AVA Pinot Noir (250 cases, $40) and 2015 Birichino Antle Vineyard Chalone AVA Pinot Noir (175 cases, $40). are sold at www.birichino.com. Windy Oaks Estate Old Vines bottling from Antle Vineyard was reviewed in 2016 and copied here. The 2016 vintage was reviewed in August 2020. Windy Oaks Estate Old Vine Chalone Pinot Noirs are offered at www.windyoaksestate.com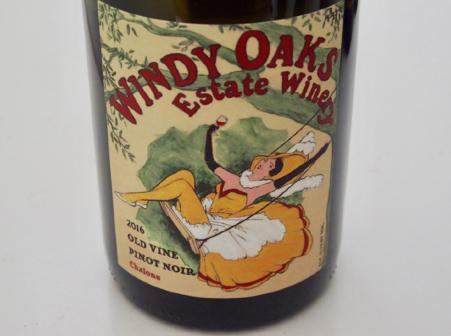 2014 Windy Oaks Old Vine Chalone Pinot Noir
13.7% alc., pH 3.45, TA 0.68, 48 cases, $65. sourced from Graff's early plantings of Pinot Noir that were established using 1946 Chalone Vineyard cuttings. 50% whole cluster, aged 21 months in French oak barrels, 50% new. Bottled unfined and unfiltered. · Light cherry red color in the glass. Complex aromatic gifts including black cherry, sous-bois, briar, spice and nutty oak, reaching new heights with time in the glass. A connoisseur's wine that is not propelled by rich fruit, but rather by nuance and complexity. The midweight flavors of cherry, red berry and spice are surprisingly intense considering the lighter color of the wine. Elegantly crafted and perfectly balanced, with finegrain tannins, juicy acidity and an astonishingly long, orgasmic finish. This wine brought back memories of my encounter with a 1990 DRC Romanée-Conti wine many years ago. Not a powerhouse, but delicate like an angel that is heaven sent. Score: 97
2016 Windy Oaks Old Vine Chalone Pinot Noir
13.7% alc., $65. · Moderately light garnet color in the glass. Very sexy nose brimming with wondrous aromas of spiced cherry, earthy flora and flowery underbrush. The beautifully ripened cherry core is annotated with notes of spice, cola, mushroom and savory herbs. Impressive harmony, with refined tannins, an expansive mid palate and like the energizer bunny, the finish kept going and going. Score: 94
Brosseau Vineyard
Location: Gavilan Mountain Range, Chalone AVA
Owner: Bill Brosseau
Initial planting: 1980
Acres: 17
Scion: Mt. Eden
Producers from this vineyard: Brosseau Wines (old vines), various others (newer vines)
This vineyard, located at 1,600 feet elevation and lying in the shadow of the nearby Pinnacles National Monument, is owned by Testarossa Director of Winemaking and UC Davis graduate Bill Brosseau. He farms the vineyard along with his spouse Kilene who is also a graduate of the UC Davis Viticulture and Enology program.
Bill's parents, John and Jan Brousseau, planted this vineyard originally to Pinot Noir and Chardonnay, trucking in water to get it established (rainfall is very low in the Chalone AVA). The site was purchased in 1978 and cleared for planting by 1980. By the 1990s, Chalone Vineyard supplied water and electricity. The site is known for the limestone strata in the soils.
The vineyard has been slowly expanded to 42 acres to include not only additional Pinot Noir clones (Pommard and Dijon clones 113, 114 and 115) and Chardonnay clones but also Syrah and Grenache. The fruit has been sold to other wineries since 1995 including Bougetz Cellars, Cellars 33, Enfield Wine Co., Flywheel, Fulcrum Wines, Harrington, Loring Wine Co., Seabold Cellars, Tantara and Testarossa. I believe all of these wineries have bottled a wine crafted from a mix of old and new plantings except for Brosseau Wines. A Brosseau Wines Old Vines Brousseau Vineyard Pinot Noir is available at www.brousseauwines.com
I reviewed 2014, 2015 and 2016 vintages of Fulcrum Brosseau Vineyard Pinot Noir. This is one of the best bottlings crafted by David Rossi in his lineup at Fulcrum Wines. The recent release of Old Vines Brosseau Vineyard Pinot Noir was recently reviewed.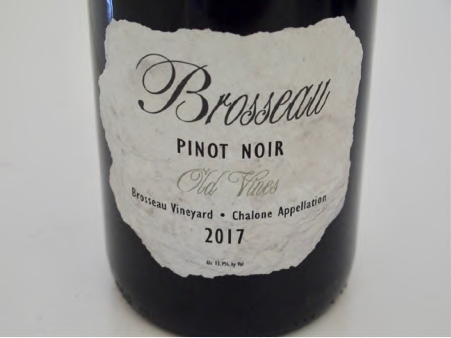 2017 Brosseau Wines Old Vines Brosseau Vineyard Chalone Pinot Noir
13.9% alc., 45 cases, $53. · Moderately light garnet color in the glass. A catnip nose filled with aromas of blackest cherry, black grapes and ground savoury spice. A striking wine of obvious exceptional pedigree offering the essence of mouthwatering, earth-kissed black cherry in a mid-weight style. Nicely composed with a good backbone of refined, supportive tannins and a good underlying cut of acidity especially noteworthy on the long and exuberant finish. When tasted the following day from a previously opened bottle, the wine was even more spectacular, filling the glass with cherry fruit, spice and a floral component. Nothing sexier than the scent of Pinot floral perfume. Score: 96
McIntyre Estate Vineyard
Location: Santa Lucia Highlands
Owner: Steve McIntyre
Initial planting: 1973
Acres: 37
Scion: Pommard clone, Swan selection
Producers from this vineyard: McIntyre Estate and Sostener (old vines), various (new vines)
Steve McIntyre acquired this property in 1987 from the McFarland family who planted the vineyard in 1973 and he has since upgraded the vineyard. One of the most knowledgeable viticulturists in California, he farms 12,000 acres in Monterey County as the owner of Monterey Pacific and has planted or farmed nearly 25% of the vineyards in the Santa Lucia Highlands AVA.
The 80-acre, certified sustainable, old vine Estate Vineyard is planted to both Pinot Noir and Chardonnay. Pommard clone and Swan selection are planted on their own rootstock. This is the oldest Pinot Noir vineyard in the Santa Lucia Highlands AVA. 10 acres of Dijon 115 and 777 and 13 acres of Chardonnay Dijon 96 and 76 have been added.
Br>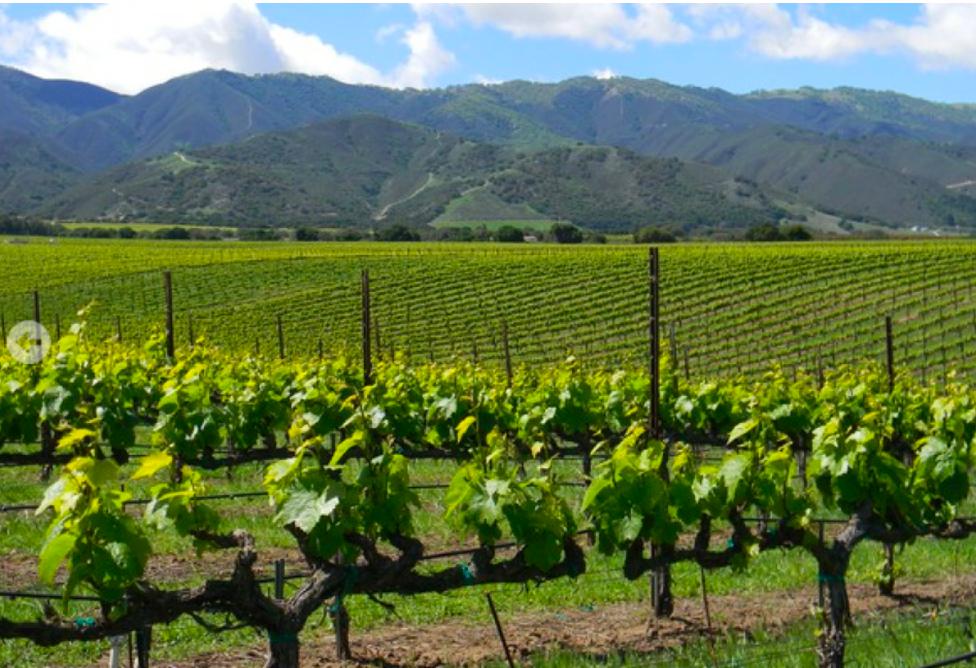 McIntyre Estate Vineyard

A 2014 McIntyre Old Vine McIntyre Estate Vineyard Santa Lucia Highlands Pinot Noir ($65) is available for sale on the winery's website at www.mcintyrevineyards.com.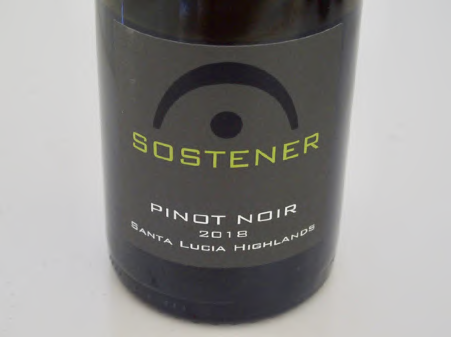 2018 Sostener Santa Lucia Highlands Pinot Noir
13.9% alc., $11.98-$18.95. The name Sostener means "sustain" in Spanish symbolizing a dedication to sustainable viticulture and winemaking. Produced from the "very old vines" at the McIntyre Estate Vineyard. A collaboration between two Monterey growers and vintners, Steve McIntyre and Michael Thomas. The winemaker is Eric Laumann, a UC Davis graduate with over 30 years of winemaking experience in California. · Moderately light garnet color in the glass. The nose slowly opens to reveal pleasing aromas of black cherry and allspice. Very polished, elegant and easygoing on the palate, featuring black cherry and strawberry fruit flavors accompanied with a riff of spice. Good acid verve and sparse tannins make for juicy early enjoyment. A bit shallow on the mid palate and short finish. An excellent everyday Pinot Noir as well as a solid value in old vine Pinot Noir. Score: 90
Paraiso Vineyard
Location: Santa Lucia Highlands.
Owner: Smith family
Initial planting: 1973
Acres: Pulled out (some original vines exist)
Scion: Martini 13
Producer from this vineyard: Seabold (old vines)
Rich and Claudia Smith planted Pinot Noir, Chardonnay and Riesling in their home estate in 1973. Rich Smith was one of the visionary leaders in Monterey County viticulture and assisted in establishing the Santa Lucia Highlands AVA in 1991.
Smith Family Wines CEO Jason Smith took over for his father Rich Smith. In 2019, the labels Paraiso, Irie and Alexander-Smith were removed from the winemaking business so the owners could concentrate on grape growing. They currently farm grapes across more than 3,500 acres in Monterey County and are now the largest grower of Pinot Noir in the Santa Lucia Highlands at 584 acres.
Years were spent replanting older vines on the estate property that surrounds the Paraiso winery, finishing in 2013. But apparently some old vines remain in production. 2016 Seabold Paraiso Vineyard Santa Lucia Highlands Pinot Noir ($40) is said by the producer to be made from "the oldest Pinot Noir planting in the Santa Lucia Highlands, dating to the 1970s, located on a rocky outpost on the southwestern portion of the property with soils containing shale and schist." Visit www.seaboldcellars.com