California Old Vine Pinot Noir Vineyards: San Benito County
"For whatever reason, wines made from old vines often tend to be complete on their own, well-balanced and satisfying. That said, I don't believe that a vine needs to be old to make a compelling wine."
Eva Dehlinger, Dehlinger Winery
Enz Vineyard
Location: The inland slope of Gabilan Mountain Range in the Lime Kiln Valley AVA.
Owner: Enz Family
Initial planting: Not before 1980
Scion: Unknown
Producers from this vineyard: Birichino, Bonny Doon
Enz Vineyard is home to some of the oldest vines in California, dating back to 1887 when they were planted by the original homesteaders and were discovered by the Enz family in 1967. Today, Enz Vineyards & Winery owns about 1,400 acres in Cienega Valley with 40 acres planted to Mourvedre, Zinfandel, Pinot St. George (Cabernet Pfeiffer), Pinot Noir and Orange Muscat. The head-pruned Mourvedre vines date to 1922. The Pinot Noir was probably not planted before 1980 although John Locke of Birichino, who worked at Bonny Doon for 17 years, believes the Pinot Noir was planted around 1980. The vines are dry-farmed and own-rooted in abundant limestone and granitic deposits.
Currently available is the 2017 Birichino Enz Vineyard Monterey County Pinot Noir (50 cases, $40) and a 2016 Bonny Doon Vineyard Enz Vineyard Cienega Valley Pinot Noir ($38). Visit the Birichino website at www.birichino.com. and the Bonny Doon website at www.bonnydoonvineyard.com. Also, 2011 and 2012 Kenneth Volk Enz Vineyard Lime Kiln Valley Pinot Noir ($48) at www.volkwines.com
Jensen, Reed and Selleck Vineyards
Location: Mt. Harlan
Owner: Original owner Josh Jensen sold the vineyards and winery to Duckhorn Wine Company in 2017
Initial planting: 1975
Acres: Jensen -14 acres, Reed - 4.4 acres and Selleck - 4.8 acres.
Scion: A Burgundy vineyard selection directly or via Chalone Vineyard
Producer from these vineyards: Calera Wine Company
Josh Jensen ("Mr Pinot") planted his first vineyard blocks in 1975 in a remote property in the Gabilan Mountains 25 miles east of Monterey Bay and 16 miles north of Chalone, choosing the site because of limestone-derived soils and climate. At an average elevation of 2,200 feet, the Calera vineyards are among the highest and coolest vineyard sites in California. Jensen cleared enough land to plant the initial three Pinot Noir vineyards: Jensen (named after his father Stephen Jensen), Reed (named after his initial business partner) and Selleck (named after Dr George Selleck who first introduced Josh to wine).
Mills Vineyard, named after John Everett Mills who built the infrastructure on the property on Cienaga Road for a mining operation including retaining walls that were to become part of Calera's gravity-flow winery, followed in 1984 (14.4 acres of Pinot Noir and Chardonnay and Viognier plantings). Ryan Vineyard (13.1 acres of Pinot Noir) named after Jim Ryan, the initial vineyard manager at Calera beginning in 1979, was planted in 1998 and 2001. The 15.6-acre de Villers Vineyard, named for Marq de Villiers, author of The Heartbreak Grape, the creation story of Calera, was planted in 1996, 1997 and 2001 (15.6 acres of Pinot Noir). All Mt. Harlan Vineyards were certified organic (CCOF) in 2008.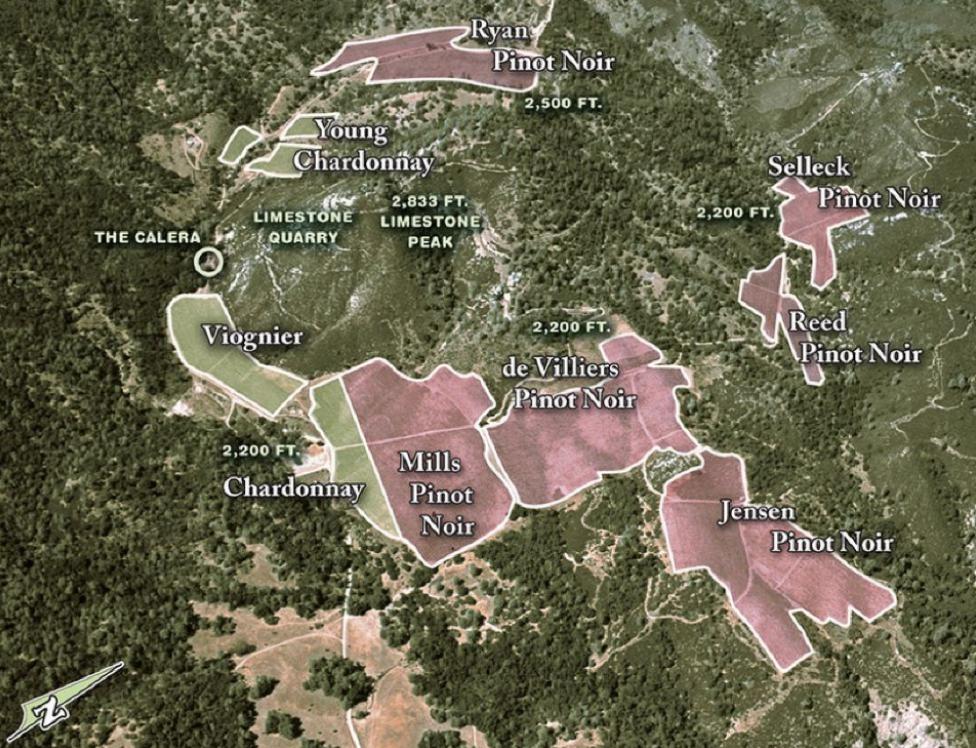 Calera Vineyards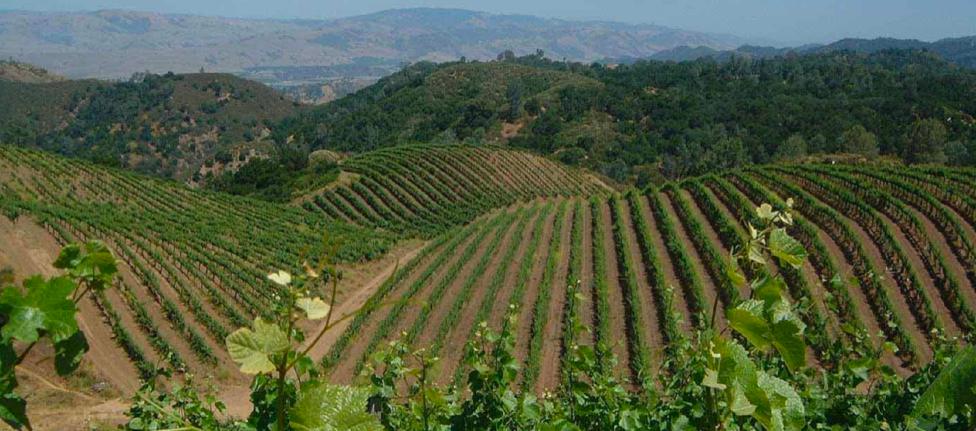 Jensen Vineyard

The original vines were on St. George rootstock using 6' x 10' spacing with trellising, drip irrigation and cane pruning, all viticultural techniques that were relatively new at the time. Mills, Reed, Selleck and two-thirds of Jensen were planted with selections that Josh has never disclosed. The selections probably originated from Burgundy's Domaine de la Romanée-Conti (DRC) either directly or through the nearby Chalone Vineyard or both. Rumor has it that Chalone Vineyard had 18 vines that years earlier came from buds brought in to the United States from a special vineyard in Burgundy and Josh wanted some of this "real McCoy" Pinot Noir stock. Also, Josh had spent time at both DRC and Domaine Dujac before founding Calera Wine Company so he had a Burgundy connection. The wines from the original four vineyards make an excellent lesson in terroir since the vines are all from the same genetic source. The original selections became the Calera clone and cuttings are widely distributed in multiple vineyards in California. Read more in the section of this issue on "Heritage Clones."
Calera wines are sold on the website at www.calerawine.com. I reviewed the 2015 and 2016 Jensen and Reed vineyards Pinot Noir and the 2015 Selleck Pinot Noir in 2019 and these wines are still available on the winery's website.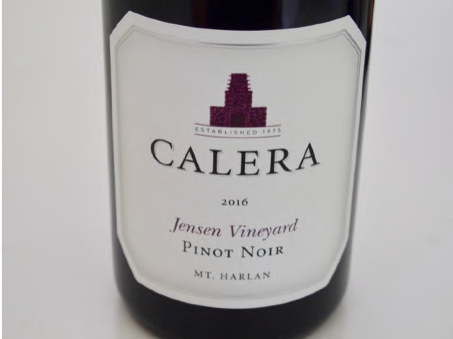 2016 Calera Jensen Vineyard Mt. Harlan Pinot Noir
14.8% alc., pH 3.69, TA 0.53, 1,000 cases, $95. Yield 0.9 tons per acre. Harvest Brix 24.5º. Aged 17 months in French oak barrels, 30% new. · Moderately light garnet color in the glass. Engaging aromas of plum, blackest cherry and sous bois. Gracious in the mouth, with a midweight core of black cherry and black raspberry fruits with deft oak dressing. Firm, but not intrusive tannins and a noticeable cut on the finish that goes on and on. There are several features of this wine that make it special including the seductive texture, the energy imparted by good natural acidity, the purity of fruit flavor, the subtle savory thread, and the extremely long, grand cru finish. An exceptional wine and always the Prima Donna among the Calera wine stable. Score: 95
2016 Calera Reed Vineyard Mt. Harlan Pinot Noir
14.2% alc., pH 3.71, TA 0.63, 375 cases, $75. Yield 1.0 tons per acre. Harvest Brix 25.4º. Aged 17 months in French oak barrels, 30% new. · Moderately light garnet color in the glass. Aromatically pleasing, with scents of fresh dark cherry and boysenberry, spice and a modicum of toasty oak. Dark red cherry and purple berry fruits are featured in this mid-weight styled wine that is sleek in the mouth and finishes long with waves of strawberry and boysenberry fruit. The wine displays exquisite balance. Much more engaging when tasted the following day from a previously opened and re-corked bottle. A superb wine. Score: 94
2015 Calera Selleck Vineyard Mt. Harlan Pinot Noir
14.6% alc., pH 3.53, TA 0.72, 125 cases, $95. Yield a meager 0.35 tons per acre. Average harvest Brix 14.0º. Aged 17 months in French oak barrels, 30% new. · Moderate garnet color in the glass. This wine displays a ripe fruit profile, featuring aromas and flavors of black raspberry, black cherry and blackberry. The fruit flavors are very delightful although a little too ripe for me to fully embrace. The wine has impeccable harmony, with fine-grain tannins, an appealing earthiness, a compliment of underlying oak. and a big fruit-laden finish. Score: 93