California Old Vine Pinot Noir Vineyards: San Luis Obispo County
"What is special to me about the old vine wines is broader than just the wine in the glass. It is the context and history of the old vines that are so important. I'm moved just thinking about all the seasons that the vines have lived through, all the people who have cared for them, and all the vintages they have offered us fruit."
Eva Dehlinger, Dehlinger Winery
Hoffman Mountain Ranch - HMR Vineyard
Location: Adelaida District AVA in western hills of Paso Robles
Owner: Adelaida Vineyards & Winery
Initial Planting: 1964
Acres: 34.94 (and 4 acres of Chardonnay)
Scion: Mount Eden or Martini
Producer from this vineyard: Adelaida Vineyards & Winery
The Hoffman Mountain Ranch (HMR) and Winery were developed by Stanley Hoffman MD, a cardiologist who practiced in Beverly Hills and later in north San Luis Obispo County. He had a special affection for Pinot Noir and initially intended to grow and sell wine grapes as a business adjunct to his medical practice. He sought the advice of Jack Foote, the Agricultural Advisor for San Luis Obispo County, who advised Stanley to plant Pinot Noir. He also traveled to the Napa Valley to consult with André Tchelistcheff.
23 of the 34 acres are original Pinot Noir vines planted in 1964 with the remaining 11 acres established in 1999 and 2011 with cuttings from the original vines.The scion material, according to John Haeger is probably from Mount Eden Vineyards then owned by Martin Ray. That said, current winemaker, Jeremy Weintraub told me the rootstock and clone are unknown but the leaves and cluster morphology suggest Martini clone on St. George rootstock.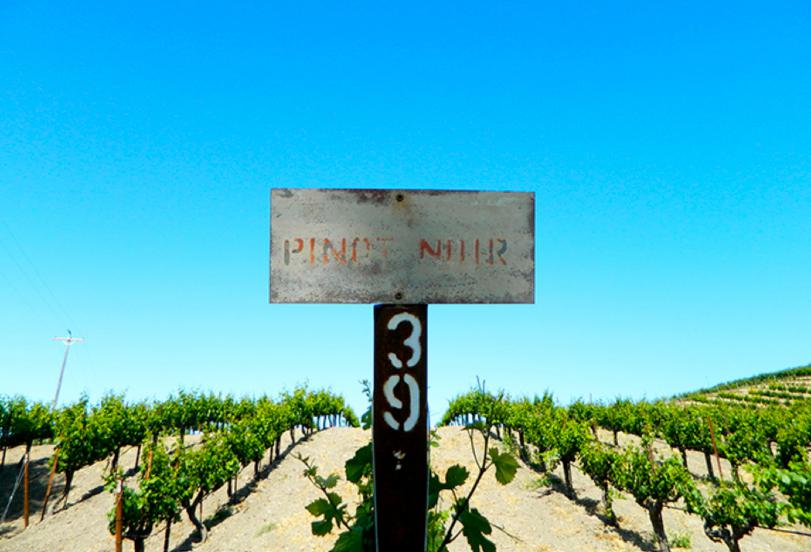 HMR Estate Pinot Noir vines

What was believed to be .93 acres of Gamay Noir also planted in 1964 has been found by UC Davis to be Pinot Noir. There was also Cabernet Sauvignon and Chardonnay established at HMR in 1972 but the vines did not survive. Chardonnay was replanted from those original cuttings around 2006.
The Hoffman Mountain Ranch originally consisted of 1,200 acres when the Hoffman's acquired the property in 1961. Located at an elevation of 1,600-1,725 feet, the site is 14 miles inland from the Pacific Ocean and cooler than most vineyards in the Paso Robles area. The chalky, limestone-rich subsoils present here are ideal for Pinot Noir. The original Pinot Noir vines are south facing on the lower part of a steep slope, own-rooted and low yielding (less than one ton-per-acre).
In 1973, Dr and Mrs Hoffman left Southern California and moved to Paso Robles to establish a winery on their property and produce premium estate wines. The original HMR winery is considered the first modern commercial winery in Paso Robles. That same year, Tchelistcheff joined HMR as a winemaking consultant and HMR began producing HMR wines, including Pinot Noir. Through Tchelistcheff's guidance in the vineyard and winery and the help of Hoffman's sons, David and Michael, HMR produced wines that garnered high honors. The winery was at the forefront of modern winemaking, using stainless steel fermenters and French oak barrels. The cover of 1979 Wines & Vines magazine featured Andre Tchelistcheff and Stanley Hoffman: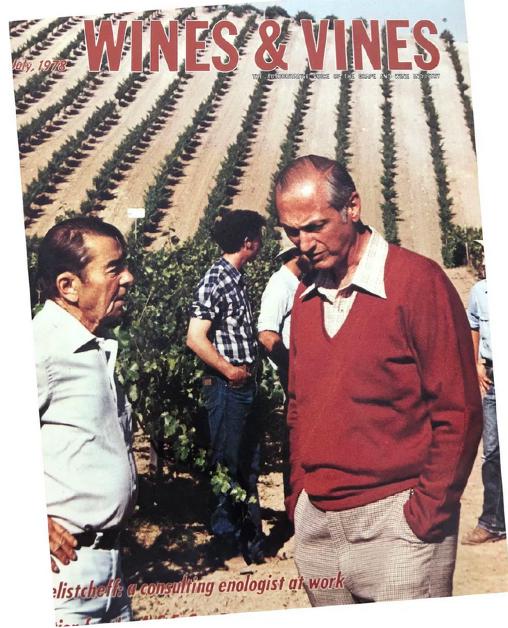 Cover of 1979 Wines and Vines magazine

Financial difficulties led to the Hoffman family losing the Hoffman Mountain Ranch in 1982 to IntraLeisure Inc. In 1989, HMR was sold to Japanese investors who changed the name to San Luis Winery, Inc. The HMR vineyard suffered neglect until it was acquired by the Van Steenwyk family in 1994. They had launched Adelaida Vineyards & Winery in 1981 using fruit from nearby vineyards along Adelaida Road. A string of winemakers followed the purchase and worked to rehabilitate the vineyard.
The current HMR winemaker is Jeremy Weintraub who has been at the ranch since 2013 and has provided stability and devotion to the HMR vineyard. One example is that he insisted on farming organically upon arrival. His reverence for the HMR vineyard is clear, " I have worked with Pinot in Central Otago, Martinborough and Santa Ynez and the HMR Vineyard stands apart. It has its own character. I want the Pinot to be making great wine into the next century."
The HMR Vineyard is the oldest producing Pinot Noir vineyard in the Central Coast. Jeremy told me that >98% of the original HMR vines are still producing as are the replants taken from the original cuttings in 1999 and 2011. An HMR Estate Pinot Noir from the original old vine plantings has been produced since 1996.
Brothers Georges and Daniel Daou of DAOU Vineyards & Winery, owners of nearby mountain property with mostly Bordeaux varieties planted, purchased the remaining 112 acres of Hoffman Mountain Ranch in 2012, renamed it Daou Mountain and began a restoration of the old HMR redwood winery. Adelaida retained the HMR Vineyard.
Stanley Hoffman passed away in 2017. More information about the history of HMR can be gained by consulting the Wine History Project of San Luis Obispo County at www.winehistoryproject.org.
I recently had the opportunity to review a mini vertical of Adelaida HMR Vineyard Pinot Noir, 2014-2018, all crafted by winemaker Jeremy Weintraub. This was an eye-opening experience and my deepest respect goes to Jeremy and his crew including long-time vineyard manager Mike Whitener for preserving this historical vineyard and crafting wines that so beautifully express the uniqueness of this cherished terroir. With over 98% of the original vines in production, the HMR Estate Vineyard Pinot Noirs are a very pure expression of old vines and are some of the greatest California Pinot Noirs being produced in California. To acquire Adelaida Vineyards & Winery HMR Estate Pinot Noir, visit www.adelaida.com. For me, the wines seem more like Martini clone than Mount Eden clone.