California Old Vine Pinot Noir Vineyards: Santa Barbara County
"Older vines have larger carbohydrate reserves in the trunk and root system that ensure a better start to the growing season. Older vines also have a better natural balance with modest vigor in the canopy and modest crop levels."
Jamie Goode, wine journalist
Bien Nacido Vineyards
Location: Santa Maria Valley
Owner: Miller family
Initial Planting: 1973
Acres: Q Block, 23 acres; N Block; G Block
Scion: Multiple selections in G, N and Q blocks - Pommard, Martini 13, Swan and Calera
Producers from these vineyards: multiple
Bien Nacido Vineyards is located in the Santa Maria Valley AVA a few miles east of the town of Santa Maria in a valley that is open to an east-to-west corridor leading to the Pacific Ocean to the west. Most of the vineyard blocks are allocated to small producers and farmed according to their standards.
The terroir combines rock soils (sandy loam, chalk, gravelly loam, and marine loam) and an ocean-influenced cool climate. Today, the vineyards span 800 acres with 250 acres of Pinot Noir. The Bien Nacido Vineyard remains a major source for certified, variety budwood for other vineyards in California.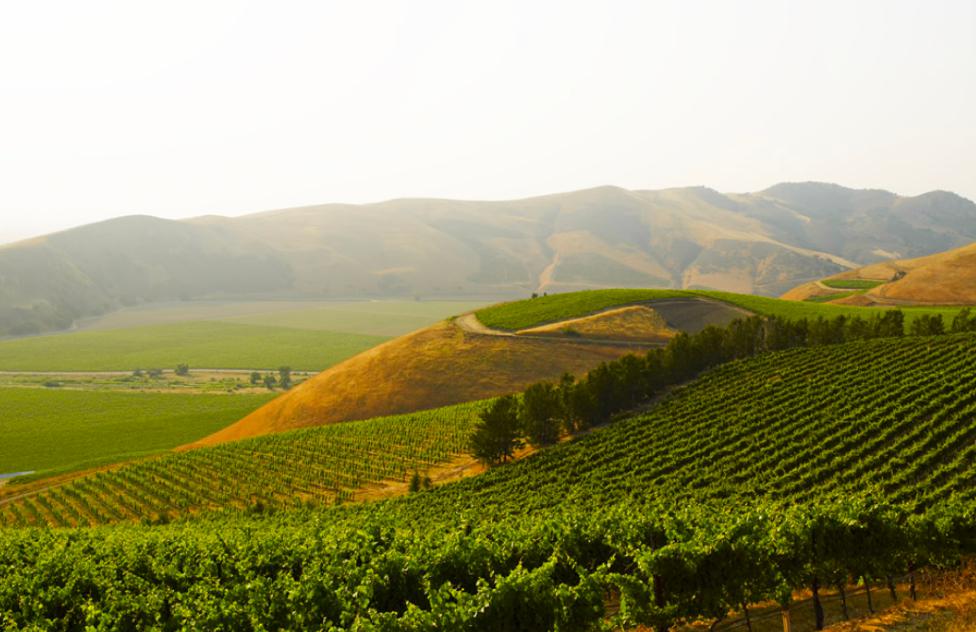 Bien Nacido Vineyards

In 1969, brothers Bob and Steve Miller partnered to develop a world-class vineyard celebrating their family's 100th year of California farming. First planted in 1973 in a portion of the historic Rancho Tepusquet, the vineyard was called Bien Nacido, meaning "well-born" in Spanish.
The oldest Pinot Noir vines are in Block G, Block N, and Block Q. The own-rooted vines in these blocks were planted in 1973 and are still productive. The oldest sections are said to contain Pommard, Martini, Swan and Calera clones.
I made multiple inquiries to Bien Nacido sources to determine all of the scion material and acreage and percentage of currently producing original vines in all of the initial Blocks of Pinot Noir at Bien Nacido Vineyard but my inquiries were never answered.
My website lists 39 producers who have accessed Bien Nacido Pinot Noir grapes through the years and I am sure there are several more.
For more than 20 years, Gary Farrell Vineyards & Winery has sourced Pinot Noir from the legendary Q Block that is 23 acres of Pommard 4 planted in 1973 and considered the most prestigious Pinot Noir block on this famous site. Bien Nacido Estate has bottled a limited amount (rarely more than 120 cases) of Old Vines Santa Maria Valley Pinot Noir from Blocks G, N, and Q, including a 2014 "Old Vines LXXIII Bien Nacido Vineyard" Santa Maria Valley Pinot Noir from Blocks M and Q ($100). The Bien Nacido Estate Pinot Noir includes vines planted in 1973, 1996, and 2006. Tantara (G and N Blocks), Tyler Winery (N Block), The Ojai Vineyard (Q Block, no strictly old vines bottling), Richard Longoria Wines (Blocks G & N) Timbre (G Block) and Byron (Q Block) have sourced Pinot Noir from the old blocks. Wines currently available: 2016 Longoria Bien Nacido Vineyard Block N Santa Maria Valley Pinot Noir ($50), 2016 Scar of the Sea Bien Nacido Vineyard Block Q Santa Maria Valley Pinot Noir ($70), 2016 Timbre Winery "Lead Vocals" (Block G) Santa Maria Valley Pinot Noir ($55), and 2017 Byron Bien Nacido Vineyard Q Block Santa Maria Valley Pinot Noir, as well as the following wines reviewed in June 2020:
Clark & Telephone Vineyard
Location: Santa Maria Valley
Owner: Belle Glos (Joseph Wagner)
Initial Planting: 1972
Scion: Martini 13
Producer from this vineyard: Belle Glos
This vineyard, located near the corner of Clark Avenue and Telephone Road, was established in 1972 with own-rooted Martini clone. It is situated at 580-700 feet elevation, 13 miles from the Pacific Ocean on a west-facing slope, exposed to coastal breezes and cool fog. Soils are sandy loam.
Belle Glos is the sole producer of wine from this vineyard. The wines are widely distributed in the retail marketplace. Visit www.belleglos.com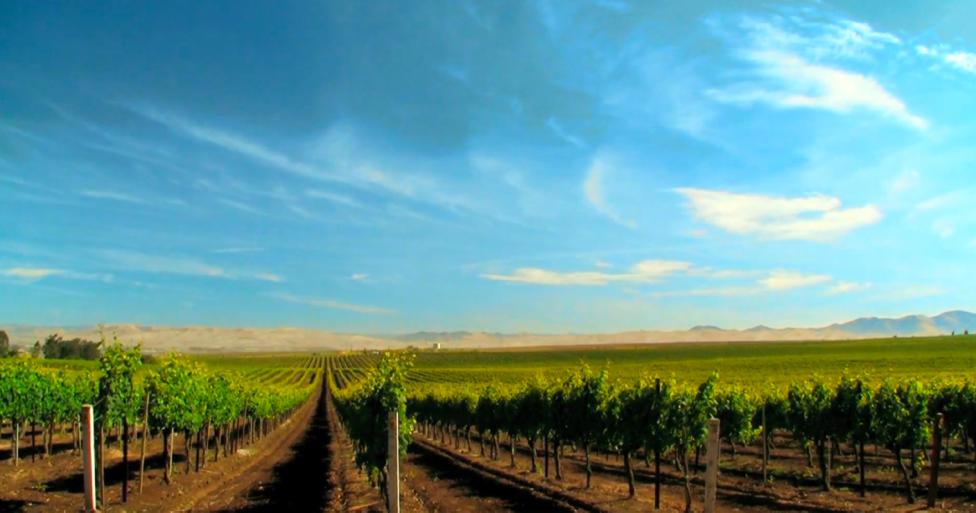 Clark & Telephone Vineyard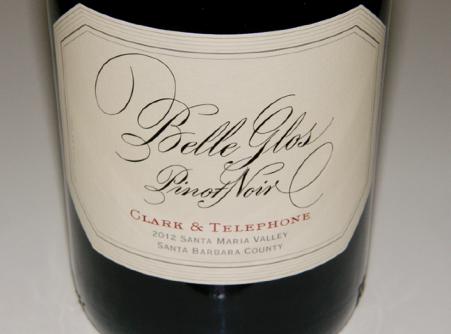 2018 Belle Glos Clark & Telephone Vineyard Santa Maria Valley Pinot Noir
14.7% alc., $55 (often discounted). Released October 2019. 100% de-stemmed, up to 2-week cold soak, closed and open-top stainless steel fermenters, punchdowns and punch-overs. Aged up to 9 months in French oak barrels (60% new). Racked twice after malolactic fermentation before making the final blend. · This wine reflects fruit that is left on the vine for an extended time so that the skins are dark, show orange peel dimpling and the seeds are brown. The resulting wine is relatively high in alcohol and resembles the Meomi brand crafted by the same winemaker, Joe Wagner. Very dark garnet color in the glass. Not particularly aromatic, with an aloof perfume of blackberry syrup and damp earth. The full-bodied array of purple and black berry fruits are thick on the palate. Sweet flavored, with some floral and earth contributions. Very modest dry tannins. The high alcohol is well-hidden. This wine could have come from anywhere. There are fans of this style of Pinot Noir, but it is not my cup of tea since it has little redeeming Pinot Noir perfume and refinement.. Score: 88
Julia's Vineyard
Location: Santa Maria
Owner: Cambria Estate Winery (Jackson Family Wines)
Initial planting: Early 1970s
Acres: About 50 acres
Scion: Predominantly Pommard 4
Producers from this vineyard: multiple but I believe Byron is the only winery to bottle old vine Pommard 4 Pinot Noir
Julia's Vineyard was first planted in the early 1970s (various sources report 1970, 1971, 1972) in part of the original Tepusquet Bench in Santa Maria by the Louis and George Lucas brothers. In 1986, Jess Jackson and Barbara Banke (along with the Robert Mondavi Winery) purchased a sizable section of the benchland part of the plantings at Tepusquet Vineyards and founded Cambria Estate Winery. Tepusquet Vineyards consisted of a 2,700-acre ranch with more than 1,400 acres of developed vineyard dating to the 1970s.
The benchland is located between the Sierra Madre Mountains and the Sisquoc River, and was originally denoted as Tepuzil, a Chumash Indian term meaning "copper coin." Spanish settlers later renamed it Rancho Tepusquet. The original owners of the rancho, part of an 1838 Mexican land grant, were the Olivera family who raised cattle and planted Mission grapes.
Cambria Estate vineyards are located 17 miles inland and sit at 400 to 800 feet above sea level. They are planted in well-drained, ancient alluvial sandy soil that contains limestone and granite. The climate is cool with moderating maritime influences from the east-west orientation of the valley.
There are five estate vineyards at Cambria, but Julia's and Katherine's Vineyards (named after Banke's daughters) and Tepusquet Vineyard supply 90% of the grapes to the winery.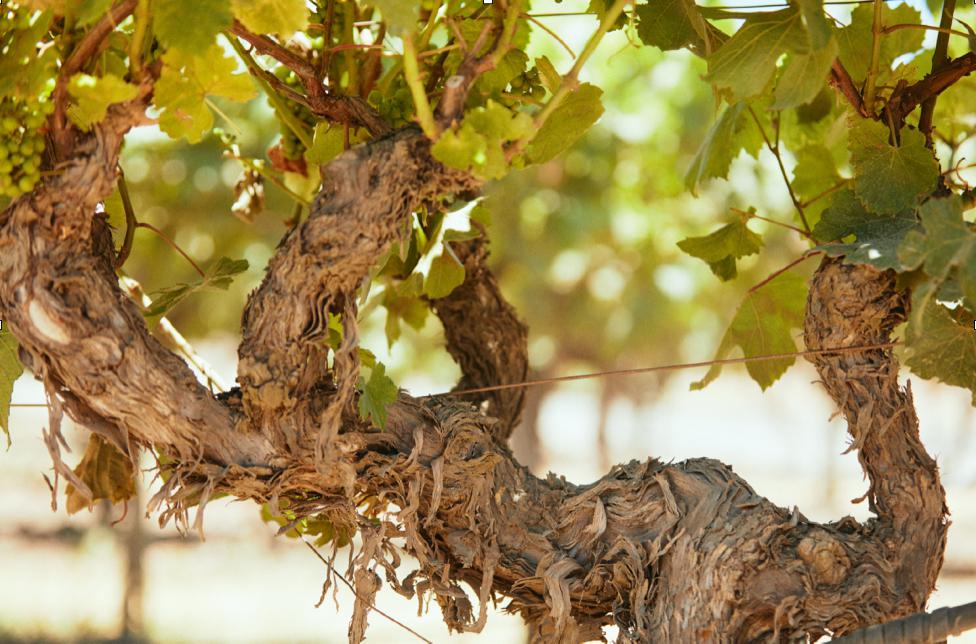 Julia's Vineyard old vines

According to John Haeger (Pacific Pinot Noir - 2008), two blocks of original, own-rooted Pinot Noir vines, B6 and B7, about 50 acres, remain in production as of 2008. Another block, B4, was planted in 1974 to Pommard 4 and this "Bench Break" block has been sourced by Lane Tanner (who said she sourced a Martin Ray selection or Mount Eden selection from B4), Hitching Post, Foxen, Bonaccorsi, Kenneth Volk and Byron.
Another 400 acres of Pinot Noir are new plantings or replants of vines established between 1979 and 1989. Clones are mainly Pommard, but also Wädenswil 2A, 23, Martini 15, and Dijon 115, 667, 777 and "828.". Cambria farms more Pinot Noir than anyone on the Tepusquet Bench.
Julia's eponymous vineyard parcel was created in 1991. There is both a regular Cambria Estate Julia's Vineyard (35,000 cases) and Cambria Estate Signature Julia's Vineyard Santa Maria Valley Pinot Noir produced but it is most likely these bottlings contain little of the original plantings. The blend is usually made up of 8 clones including Pommard 4, 2A, 23, 667, 115, 777, and "828." Julia's Pinot Noir is a standard-bearer for Central Coast Pinot Noir, at 35,000 cases annually and it is widely available and value-priced.
A currently available old vine bottling is the 2017 Byron Julia's Vineyard Santa Maria Valley Pinot Noir (50 cases, allocation) Sourced from two rows of old vine Pommard 4 presumably planted in the early 1970s - www.byronwines.com
Sanford & Benedict Vineyard
Location: Sta. Rita Hills
Owner: Sanford Winery (Terlato)
Initial planting: 1970
Acres: 51
Scion: Mount Eden selection direct from Mount Eden and FPS 18 (Gamay Beaujolais)
Producers from this vineyard: multiple but only the owners, Sanford Winery, have produced an Old Vines bottling in recent years that is stated as made from 100% old vines.
Geographer Richard Sanford and partner botanist Michael Benedict purchased a 473-acre piece of Rancho Santa Rosa that had once been dry farmed for beans and barley. They acquired cuttings in 1970, grew them into rootings and planted them in the Sanford & Benedict Vineyard in 1971-1972. The initial planting of 120 acres along Santa Rosa Road included Pinot Noir, Chardonnay, Riesling, Merlot and Cabernet Sauvignon.
Michael Benedict had developed a model for an ideal vineyard environment and he traveled from Baja California, Mexico, to the Okanagan Valley in British Columbia, Canada, looking for land. He found the best location with friend Richard Sanford, a site nestled between the Santa Ynez Mountains and San Rafael Mountains in an east to the west valley.
Richard Sanford was a pioneer in Santa Barbara County viticulture and is often referred to as the "Godfather of Central Coast Pinot Noir." He and Benedict were the first to see the potential of the Sta. Rita Hills as a region for Pinot Noir and Chardonnay, realizing that the transverse mountain range where the valleys are west-to-east lying and open to the Pacific Ocean provides an optimal maritime influence for these two varieties to thrive. Richard Sanford was named 2020 Vintner of the Year by the Sta. Rita Hills Wine Alliance.
The 1976 Sanford Sanford & Benedict Vineyard Pinot Noir was the first commercial Pinot Noir release in the Sta. Rita Hills. The wine was critically acclaimed by Dan Berger and others, as the first California Pinot Noir that was "Burgundian in style."
The partners had a falling out by 1980 and the two parted ways with Benedict retaining ownership of the vineyard. The Sanfords regained management of Sanford & Benedict Vineyard under the ownership of Robert Atkin in 1988 only to lose the vineyard once again in 2007 to Sanford's then business partners at Sanford Winery, Terlato Wine Group.
The current owner, Sanford Winery, still farms 51 acres of the original planting. There are more than 20 blocks and 11 different clones. The own-rooted original vines are planted in calcium-rich clay loam soils that contain fractured shale and chert.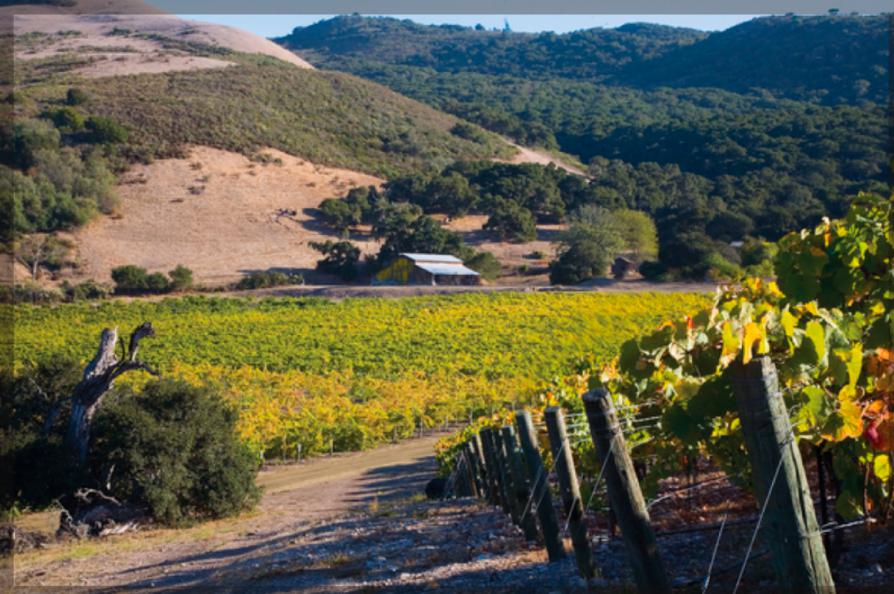 Sanford & Benedict Vineyard, Sta. Rita Hills
Original Pinot Noir vines at Sanford & Benedict Vineyard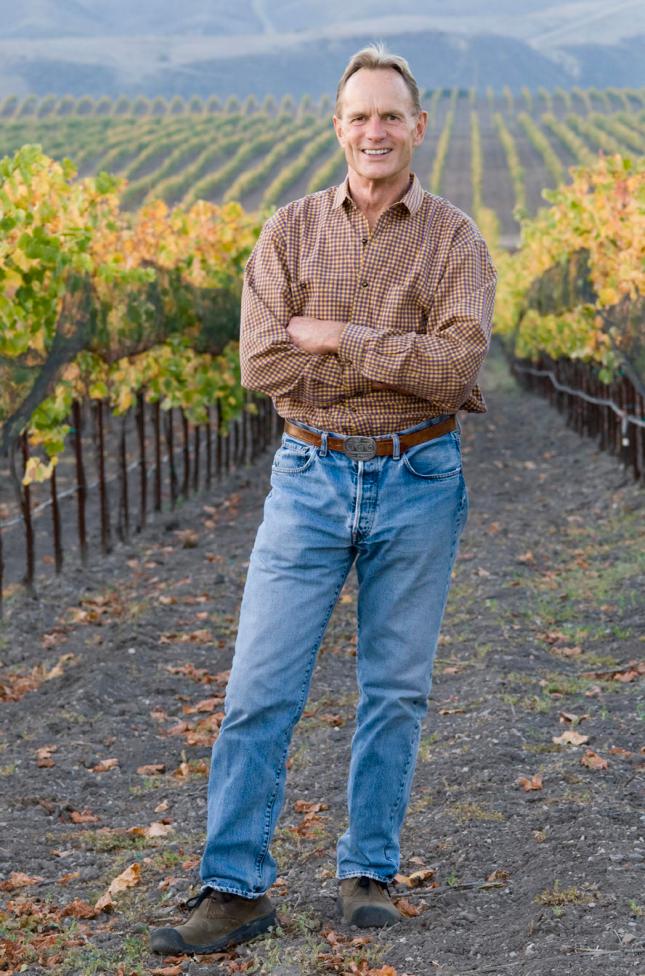 Richard Sanford

There is a lengthy list of wineries that have sourced Pinot Noir from this vineyard including D'Alfonso- Curren, Arnot-Roberts, Au Bon Climat, Bonaccorsi, Chanin, Deovlet, Fess Parker, Gary Farrell, Hitching Post, Ken Brown, Longoria, Lumen, Lutum, Racines, Sanford, Sandhi, Testarossa, Tyler, Wedell Cellars and Windrun. I am not certain which of the winery's bottlings are sourced from completely original Pinot Noir plantings because of replanting and interplanting in the original vineyard and newer plantings at the site over the past years. You would need to inquire with the winery about the proportion of original vine inclusion. The 2014 Sanford Founders' Vines bottling reviewed recently is composed completely from the original plantings. The 2016 Sanford Founders' Vines Pinot Noir ($120) may be available by the time you read this.Visit www.sanfordwinery.com. The Au Bon Climat bottling was reviewed in July 2019 and the amount of original plantings is uncertain. See www.aubonclimat.com.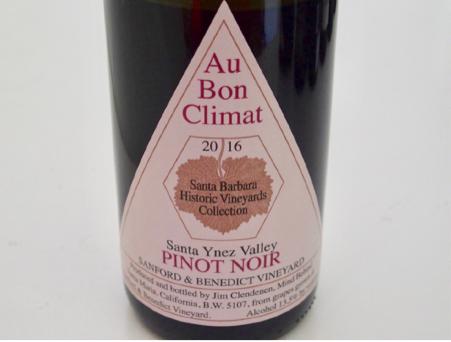 2016 Au Bon Climat Sanford & Benedict Vineyard Historic Vineyards Collection Santa Ynez Valley Pinot Noir
13.5% alc., $50. Extended cold soak, aged 20 months in Francois Frères French oak barrels. · Light garnet in color in the glass. Reserved initially, but pleasant aromas of oak-kissed red cherry and berry. Admirable in every way, with impressive harmony and class. Red fruits enhanced with baking spices are featured in a middleweight styled wine that offers elegance, hidden tannins and a persistent finish. This is one of the best examples of a wine from this vineyard that I have tasted in recent memory. Score: 94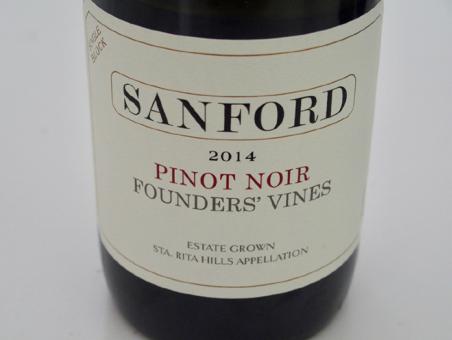 2014 Sanford Single Block Founders' Vines Sta. Rita Hills Pinot Noir
14.0% alc., $115. · Inviting nose that exudes wondrous aromas of cherry, raspberry and sous bois. Beautifully composed, with mid-weight flavors of fresh cherry, ripe strawberry and purple grape and some earthiness adding gravitas. Silky on the palate with a mere shadow of tannins at this stage stout acidity and a hint of welcome oak. The finish is grand befitting the maturity of these vines. Score: 94