Heritage Clones of Pinot Noir

All Pinot Noir cultivars existing in the United States originally came from France. It is thought that European cuttings of Pinot Noir were brought into California that included vine cuttings from Burgundy by Agoston Hareszthy (the 1850s) and by Paul Masson (the 1890s). Many of these imports that arrived into the 1940s were infected with viruses. To control this problem, the Foreign Quarantine Notices of 1948 (Part 319.27 of the USDA Plant Quarantine regulations) "ended uncontrolled importation of clonal plant materials" and prohibited "importation or entry into the United States of any Vitis vinifera, except with a permit." The Quarantine Notice also required a post-entry quarantine period for grapevines, conducted by a permit-holding plant pathologist. These regulations allowed grapes to enter the United States for experimental or scientific purpose, but they could not be released until they were tested for viruses. Because of inadequate funding and staffing at the USDA facility, there was virtually an embargo on the introduction of new grape selections by the government for several years.
In 1952, Dr Harold Olmo, a UC Davis faculty member in the Viticulture and Enology Department, formed the California Grape Certification Association to find, maintain and distribute correctly labeled grape stock that had been thoroughly virus-tested and chosen for vigor and fruitfulness. By 1958, the program was combined with the UC Davis disease-tested fruit and nut program to become the Foundation Plant Materials Service (FPMS). In 2003, "Materials" was dropped and the name shortened to Foundation Plant Service (FPS). This was the first source of virus tested, certified stock available to winegrowers in the United States.
From the early 1950s until 1988, most of the grapes imported legally into the United States were controlled by UC Davis. The FPMS program at UC Davis was in hiatus from 1989 until 1993 when the National Grapevine Importation and Clean Stock Facility was opened at FPMS and imports into UC Davis were resumed thereafter.
Some of the information below was obtained from a chapter on Pinot cultivars in a book titled Grapes of the United States by Nancy L. Sweet, FPS historian at UC Davis and posted on the FPS website August 18, 2020, at https://fps.ucdavis.edu/grapebook
Note: Clonal designations can vary in the wine literature. For example, the Martini clone 13 can also be referred to as Pinot Noir 13 (as it is in the FPS catalog), PN 13, FPS 13, UCD 13, or even simply 13.

Pommard clones (UCD 4, 5, 6) originated from cuttings imported by Dr Harold Olmo directly from Burgundy in the 1940s. Olmo travelled to Burgundy, Switzerland, Germany and Austria on a search for quality French wine grape varieties for the collection at UC Davis. Four vines were selected and recorded as "Les Croix Vineyard", Pommard, France according to Nancy Sweet. This was one of the few selections in the FPS Pinot Noir collection that originated directly from vine cuttings taken from a producing European vineyard. Only one of the four cuttings survived shipping and testing and appeared in the FPMS collection in 1956 as 820 Pommard, France. The selection number was subsequently changed to 04. Two duplications underwent heat treatment and became Pinot Noir 05 and 06 in 1965. Pinot Noir 4, 5 and 6 became known as the "Pommard clone" in wine vernacular. Pommard was the first Pinot Noir clone distributed by FPMS in the 1950s and became a workhorse in California vineyards by the 1970s. The Pommard clone accounted for 2/3 of Oregon Pinot Noir plantings prior to the arrival of the Dijon clones in the late 1980s.
Wädenswil clones (UCD 1A, 2A) came from six cuttings of Blauer Burgunder (Swiss for Pinot Noir) acquired by Olmo for UCDavis from a research station for viticulture in Wädenswil, Switzerland in 1952. Originally known as 01A, 02A and 03A, and as the "Wädenswil clones." 03A was from the same vine as 02A but was dropped due to leaf roll virus. 1A and 2A were registered and certified by FPMS in 1962 and thereafter became much more widely planted in Oregon than California.
During the 1970s, there was widespread interest in clonal diversity, and John Haeger (North American Pinot Noir, 2004) notes, "A wave of interest in clonal selection swept through the pinot-oriented winemaking communities in both states" (California and Oregon). While the FPMS was concerning itself primarily with screening, testing and certifying grape stock, winegrowers were interested in the diversity of clonal material being investigated and available in France. This led many early California winegrowing pioneers to surreptitiously hand-carry select Pinot Noir cuttings from Burgundy into the United States. Since the cuttings were often wrapped in wet newspaper and put inside a suitcase, they became known as "suitcase" or "Samsonite" clones. Winemaker Tony Soter (noted winemaker at Etude in Carneros and now Beacon Hill in the Willamette Valley), who had a special interest in heritage or heirloom clones would remark years ago, "Among men and women who consider themselves Grail-seekers of Pinot Noir, it is understood that smuggling is part of the tradition."
The illicitly imported Pinot Noir grapevine cuttings were field selections but eventually became the so-called "heritage clones" including Martini, Wente, Mount Eden, Swan, Calera, and Hanzell and noncertified "clones" known in the vernacular as David Bruce, Chalone and Pisoni in California and Coury and faux 828 in Oregon. The smugglers were reluctant to admit their transgressions so the lineage of these selections in most cases remains a mystery. By the mid-1990s, the French threatened legal action against any Americans that used grapevine cuttings from their famous vineyards especially if their source was expressively promoted.
Many rumors have arisen of suitcase material from famous Burgundy vineyards, particularly La Tâche and Romanée-Conti (so-called DRC suitcase clones), planted in California vineyards such as Chalone, Calera and Pisoni, but no one has admitted to such for fear of violating French intellectual property law, not to mention United States importation laws. That said, many California wineries and vineyards today openly tout that their vineyard(s) contain vines originating from the budwood of DRC vineyards. There are so many such claims that I sense that at least some of these assertions may be more of a marketing ploy than truth. And, realistically, the fact that the budwood came from a DRC vineyard is no guarantee it will perform well at every site in California. There is currently no DNA testing available that can identify the clone of a grapevine so the origin of these DRC selections remains a mystery.

Martini clones (UCD 13, 15) have a complicated history. Inglenook, located in Rutherford, Napa Valley, planted Pinot Noir in the 1930s and 1940s and won a number of awards by the 1940s and the 1950s for the high quality of their Pinot Noir wines. In 1942, Louis M. Martini purchased 200 acres of Stanly Ranch in Napa Carneros that had survived the 1942 phylloxera infestation and six years later began Pinot Noir and Chardonnay clonal experimentation in association with Dr Harold Olmo of UC Davis. At least some of the Pinot Noir cuttings planted at Stanly Ranch were reportedly taken from a block of several vines in the Inglenook vineyard in 1951.
Sometime prior to 1966, Olmo collected two Pinot Noir selections from the clonal trial vineyard. One of the two selections became Pinot Noir FPS 13 from the Martini 58 clone at Stanly Lane Vineyard. This clone was one of the first to undergo heat treatment at FPMS and was initially registered as PN 13 or Martini 13 in 1974. It was marketed by UC Davis in the 1970s as "super clone 104." The second clone from the collection was named FPS 15 and was also registered in 1974 after heat treatment. Martini selections appeared in the 1960s but Martini 13 and 15 as an FPS clone were not widely available until the 1970s. Martini 13 proved to be much more popular.
Martini 13 was also in the Carneros Creek Clonal Trial of Francis Mahoney and Curtis Alley and found to be one of the top clones grown there. A sample was submitted to FPMS planted at the FPS Classic Foundation Vineyard and released in 1999 as PN 66.
Wente clone/selection. Karl H. Wente came to California from Germany in 1880. Within seven years, he had a significant winegrowing operation (47 acres) in the Livermore Valley. Sons Ernest and Herman took over the operation by 1918 and changed the name to Wente Bros. During the 1960s, Wente Bros. also established vineyards in Monterey County and soon farmed 270 acres in the Arroyo Seco region of Monterey County along with 800 acres in the Livermore Valley. The first Arroyo Seco vineyard, Riva Ranch, was planted in 1963 and became the source of the "Old Wente Clone" and the heat-treated Clone 4, both of which were eventually planted in about 80% of Chardonnay vineyards in California. The Wente brothers' planting of Pinot Noir at Arroyo Seco in Monterey County supplied cuttings to vineyards in California during the 1970s. The Wente "clone" is probably many selections (UCD 1A, 2A, 4, 5 and 13) planted in the so-called increase block of the Riva Ranch Vineyard.
Mount Eden clone (UCD 37). The original budwood was brought to California from Burgundy by Paul Masson in 1895 and planted on St. George rootstock in the Saratoga Hills at his La Cresta Ranch in 1896. The origins of Masson's budwood is not documented but it is rumored that Louis Latour's father gave Masson cuttings from Corton and Corton Charlemagne. Some have also speculated that the source was vineyards at Domaine de la Romanée-Conti. These vines would become the source of Pinot Noir for many other California vineyards. Martin Ray took cuttings of Pinot Noir (and Chardonnay, Cabernet Sauvignon and Riesling) most likely from nearby La Cresta to plant at Mount Eden in 1945. Merry Edwards was the winemaker at Mount Eden from 1974-1976 and in 1977 donated cuttings planted there of the "Ray clone" to FPMS. The Mount Eden clone was registered and certified in 1992 as PN 37. Prior to that, however, Mount Eden selections were dispersed throughout many California vineyards.
Calera clone. (UCD 90, 96). Where did the original Pinot Noir stock at Calera come from? This is a fascinating mystery that confounds researchers to this day. It almost certainly came from Burgundy like all other heritage selections but the exact trail remains baffling despite what is stated in the FPS catalog. FPS considers the source to be from the Carneros Creek Winery clonal trial and originally from a vineyard near Chambertin, France, presumably via the Chalone Vineyard. FPS 90 underwent microshoot tip tissue therapy in 1996 and FPS 96 a few years later. Pinot Noir FPS 90 and FPS 96 and the Calera clone of Pinot Noir all originated from the same source material.
John Haeger noted (North American Pinot Noir - 2004), "Chalone may have been a way station for budwood brought in from France and then transported to other California vineyards such as Calera. Or, Josh Jensen of Calera may have brought Pinot Noir scion material directly from DRC as a suitcase import, propagated them at Chalone and possibly Chalone got its cuttings from Jensen." Still another version of the story is that the budwood brought in by Chalone never left Chalone and Josh acted independently to source his suitcase material. In his book, Heartbreak Grape, author Marq De Villiers, who knew Josh intimately, states, "Everyone cheerfully believes the rumors that Jensen's Pinot Noir stock came directly from DRC itself, bypassing customs….Or, if not directly via Chalone."
In 1996, Francis Mahoney donated the best five industry clones from his Carneros Creek Clonal Trial to FPMS and these were designated by letters: A- Swan, E - Hanzell, M - Martini 54, P - Chalone and V - Martini 58 non-heat treated. Two clones originally from Chalone vineyard were given to the Carneros Creek Clonal Trial according to Sweet's Grapes of the United States: (1) "Old block" planted in the 1930s of unknown origin that was not donated later to FPMS and (2) "New block" planted in 1972 with the source being Domaine Romanée-Conti in Burgundy according to Dick Graff's brother and winegrower at Chalone, Peter Watson-Graff.
Josh Jensen confirmed to FPMS Grape Program Manager Susan Nelson-Kluk in 2008 that the vines that were the source of the P clone sourced from Chalone and later submitted to FPMS by Mahoney were also the source for the industry clone known as the Calera clone of Pinot Noir.
There is additional information I can offer to further cloud the mystery. In 2011, Dan Karlson, the then General Manager and Winemaker at Talbott Vineyards, who held the same position at Chalone Vineyard from 1997 to 2005 spoke with me personally. He informed me that Peter Watson-Graff told him that the Pinot Noir from Chalone was Martini, probably obtained from Wente in the mid-1940s (the problem with that is that Wente did not plant Martini 13 in California until the 1960s) or possibly Beaulieu. Dan believes that there was no suitcase "clones" at Chalone. Karlson was at Chalone when the original 1946 planted vines were pulled out, and he supervised all of the Pinot Noir replanting at Chalone which was 100% Dijon clones. Dan also commented that if it is true Chalone "harbored" some plant material for various wineries through the years, it was in very small patches that were never sold, never expanded into production blocks and are long gone. He has observed that the Martini/Chalone clones are very similar in plant material character to that he had seen in Carneros, the Russian River Valley, Santa Lucia Highlands and at Chalone.
Jensen's suitcase selections have become a legend in California wine lore and it is still not certain where the original Pinot Noir stock at Calera came from. There is no certified Chalone clone.
Swan clone (UCD 97). The original plantings of Pinot Noir at Joseph Swan Vineyards came from Mount Eden. In 1967, Joseph Swan, an airline pilot for Western Airlines, acquired a run-down Zinfandel vineyard on Laguna Road in the Russian River Valley that had once been a part of the tiny town of Trenton. Swan was encouraged to plant Pinot Noir on his site in the Russian River Valley by his friend Andre Tchelistcheff. After harvesting the planted Zinfandel vines in 1968, he began a replanting of the 10-acre vineyard in 1969 to Pinot Noir, Chardonnay and Cabernet Sauvignon that would become Trenton Estate Vineyard. The original Pinot Noir field selection was from Mount Eden. but since Swan was such a fan of Burgundy and traveled there often, it is thought that he had a few vines as well that originated directly from cuttings in Burgundy that were gifted to him. A second block of Pinot Noir was added in 1974. The scion material that entered the Carneros Creek Clonal Trial as Clone A came from Pinot Noir vines at the UC Davis experimental plot at the Oakville Viticulture Field Station in 1959, and these Pinot Noir vines, in turn, came from Joseph Swan Vineyards. These were a Mount Eden selection although it is not certain that they were the same as the Mount Eden clone UCD 37. The resulting vine mix was eventually named the Swan clone by Francis Mahoney, who submitted cuttings from the Carneros Creek Clonal Trial to FPMS in 1996. The plant material then underwent microshoot tissue culture therapy in 1997 and was registered as FPS 97.
A second version of the Swan clone was derived from Dehlinger Winery in Sebastopol. Winemaker Eva Dehlinger submitted cuttings to FPS that became FPS 141.1.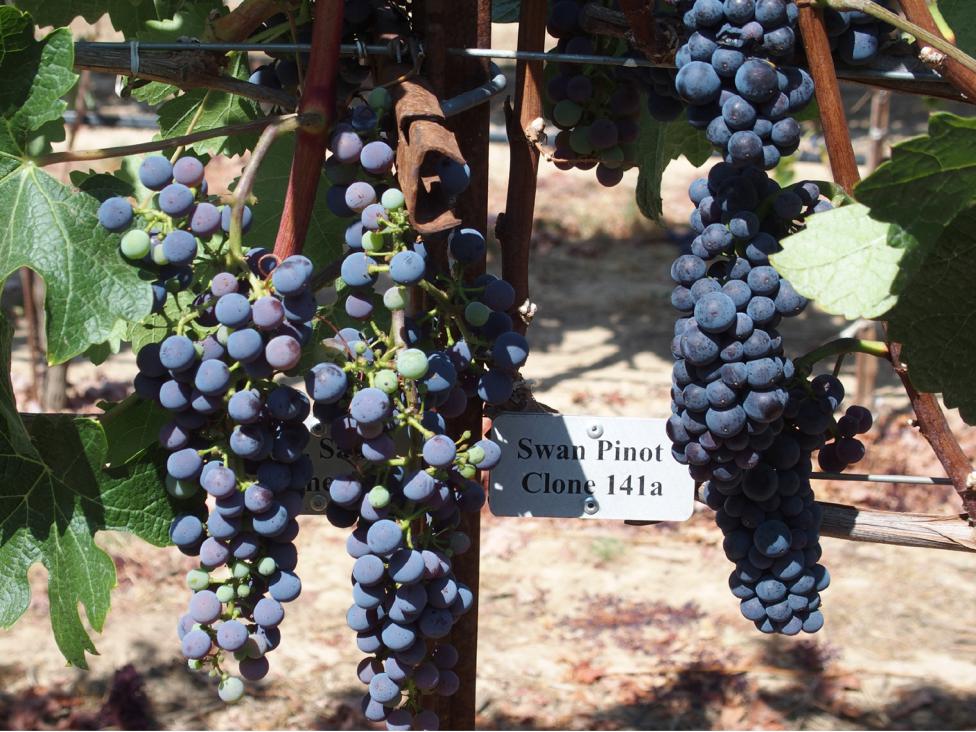 Swan Pinot Noir Clone 141.1
Hanzell clone (UCD 108) According to the FPS website, this Pinot Noir was clone E from the Carneros Creek Winery Clonal Trial and originally came from the Gustav Niebaum/John Daniel/ Inglenook Estate in the Napa Valley. From there it went to the Oakville Viticulture Field Station and then to the Stelling vineyard across the street from the field station. Zellerbach got budwood from the Stelling vineyard and budded to vines at Hanzell Vineyard in Sonoma in 1953. Clone E in the Carneros Creek Clonal Trial was donated by Hanzell Vineyard and subsequently sent to FPMS in 1996. The clone was registered and certified after microshoot tip tissue culture therapy at FPS in 1997 and released in 2004 as FPS 108.
A second version of the source of the Hanzell clone was described in Sweet's Grapes of the United States. She reported that in 1949, Martin Stelling and Ivan Schoch, owners of the Stelling vineyard that was located near the UC Davis Oakville Viticulture Field Station, collected cuttings of 30- to 45- year-old vines from an old section of Masson's La Cresta Vineyard. Schoch then budded over 20 acres at the Stelling vineyard in 1949. The original Hanzell vineyard budwood then came from these plantings.
It has become clear over the past fifty years is that the proper clones must be matched to the appropriate site, in other words, site trumps clones. The heritage clones are consistent performers as evidence by the Martini-based old vine Pinot Noir wines tasted for this article, but they do not necessarily meet or exceed expectations at some sites.