Featured Winery: Lumos Wine Company

This issue features the outstanding and sensibly-priced Lumos 2017 vintage wines. These wines, first released as a fall offering in October 2019, are ready for enjoyment now.
Dai Crisp and his spouse PK McCovy, both Oregon State alumni, launched the Lumos Wine Company in 2000. Crisp was first exposed to viticulture in 1986 when he assisted his parents in planting a small, 10-acre vineyard on their farm in Wren, Oregon. He began his professional viticulture career at Croft Vineyards in 1990 and since 1999 has been managing Temperance Hill Vineyard, a 100-acre site in the Eola-Amity Hills appellation that is regarded by many, including myself, as one of Oregon's premier "grand cru" Pinot Noir vineyards. Secure in the feeling that he could successfully grow premium grapes, Dai decided to start his own label.
The name "Lumos" is derived from The Sorcerer's Stone (The Philosopher's Stone in England) by JK Rowling. Dai and PK wanted a name that referred to magic or light and they discovered a name that referred to both in this book. As parents, they read this book out loud to their children and these reading sessions became an important family ritual, helping to make reading important to a new generation. Lumos refers to photosynthesis and magic, that is sunlight into wine.
Dai grows all the grapes used in Lumos wines in USDA/Oregon certified organic vineyards including the family's home Wren Vineyard in Philomath (15 acres planted to Pommard Pinot Noir, Pinot Gris and Dijon Chardonnay), the 'Rudolfo' Logsdon Ridge Vineyard (10-acres planted solely to Pinot Gris located just north of Corvallis) and the Temperance Hill Vineyard.
Four of the Pinot Noir wines in this spring 2020 release are from the Temperance Hill Vineyard. This cool, late-ripening site located at 680-900 feet elevation was planted mostly to Pinot Noir first planted from 1981-1983 by owner Edward Koo. The vineyard is directly exposed to the Van Duzer Corridor leading to large daily temperature swings that result in good flavor development and bright acidity. Soils are shallow, lean, and basalt in type. Row spacing of the original plantings is 12' x 8' with 454 vines per acre.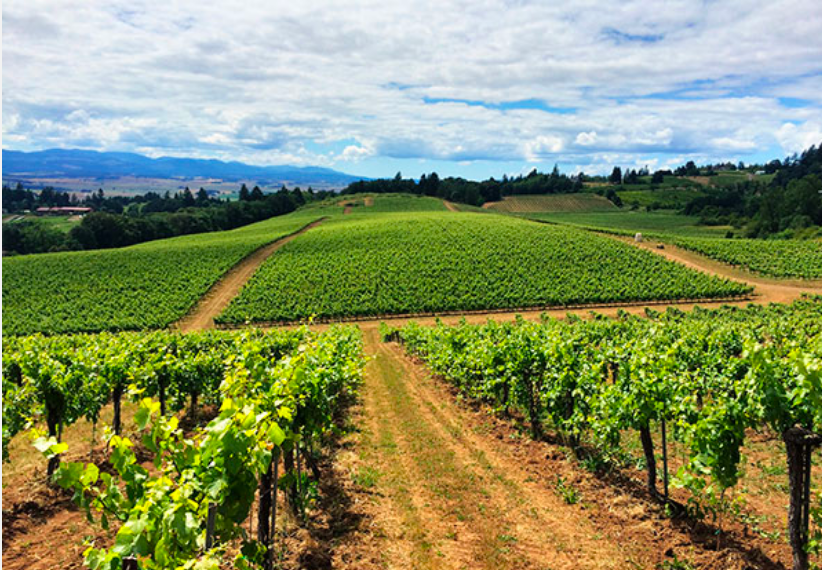 The original vines are on high wires with a hanging trellis. They are divided into three blocks: Front and The Flats (Pommard clone) and West Field (Wädenswil clone). All of the old vines are severely afflicted with phylloxera and trunk disease. 40% or less of the roughly 38-year olds are still producing fruit. More recently planted Pinot Noir clones in the Temperance Hill vineyard include 113, 114, 115, 667, 777, 943 and Swan. The blocks vinified by Lumos include the North (Pommard), the Pumphouse (113,114,115) and The G (777). All of these blocks are on grafted rootstock.
Temperance Hill Vineyard grapes are also sourced by many of Willamette Valley's most notable wineries including Adelsheim, Belle Pente, Brooks, Domino IV, Evesham Wood, J.K. Carriere, Love & Squalor, Penner- Ash, St. Innocent and Walter Scott.
Lumos wines are vinified in McMinnville by winemakers Dai Crisp and Julia Cattrall. Dai was the initial Lumos winemaker but in 2007 Julie was hired and now guides the winemaking. Dai and his son Boone still collaborate on the direction of winemaking. Over time, there has been a move to a less extractive approach that together with other techniques have given the wines more focus and depth. No animal by-products or GMOs are used in the winemaking process so the wines are vegan friendly.
The Lumos tasting room is located on the Crisp family farm in Wren, Oregon. A bit out of the way in Southern Willamette Valley but worth the trip. A cabin left standing on the property from the H bar H Dude Ranch that occupied the property in the 1940s was converted into a charming tasting wine. A vineyard cabin on the farm is available for Lumos Wine Club members and through VRBO. Lumos wines are sold through the winery's website store at www.lumoswine.com. Dai and PK below.