Pinot Briefing —Newsletter 12.9

Oregon Wine Board Latest Report Optimistic The Oregon Wine Board has released its annual vineyard and winery report showing that sales of Oregon wines increased almost 13% in 2019 compared to 2018 and rose by 1 million cases sold from 3.6 million in 2017 to 4.6 million cases sold in 2019. Pinot Noir led the growth with a value of $159 million in 2019, an increase of 18 % over 2018. Total planted acreage increased by nearly 1,500 acres from 35,972 to 37,399, a 4% gain. Pinot Noir accounted for 59% of planted acreage and 58% of wine grape production. There are now 908 wineries and 1,297 vineyards in the state of Oregon.
Gregory Jones Talks Air Quality in Oregon Interviewed for The Newberg Graphic at www.pamplinmedia.com, Gregory Jones is Oregon's foremost expert and how climate variability and change influence grapevine growth, wine production and wine quality. Jones said The weather conditions leading to the current condition in Oregon were a once in a generation event. The dry, hot air would have impacted wine grape flavors even without the wildfires but the fact that the fires occurred during harvest season is significant since ripe and overripe grapes are sensitive to smoke exposure leading to smoke taint."
Which Winegrape Varieties are Grown Where The new 2020 edition of this book is set for publication this month and can be downloaded free at www.adelaide.edu.au. Newer data from 2016 gives an updated review of wine grape plantings throughout the world. The authors, Kym Anderson and Signe Nelgen note that varietal diversity has decreased both nationally and globally. Top expanded plantings from 2000 to 2016 globally show Tempranillo number one with +311,375 acres. Pinot Noir is seventh with +90,613 acres. There is an increasing dominance of winegrapes of French origin in New World vineyards. Varietal bearing areas compared: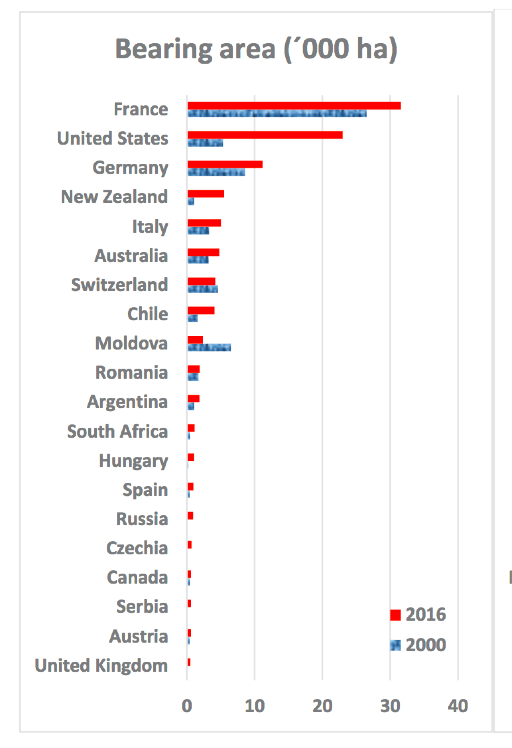 What Wineries are Saying About Smoke Taint Affecting the 2020 Harvest From Claude Koeberle and Don Plumley of Soliste (Sebastopol, CA): "We spare no expense and efforts, there are no compromises at Soliste and every decision is made solely for the excellence of the wines and nothing else will do. We made the extremely difficult decision that we will not pick in 2020. 2020 was not shaping up as a stellar vintage anyway what with extreme heat, warm nights and short hang time all conspiring against depth and complexity that are vital to the wines we craft. Add COVID-19 and the devastating August wildfires in the middle of Sonoma County just before harvest. To pick in these extreme conditions and be uneasy that field workers and the winery crew are safe to produce a probably smoky wine that would not meet our standards and core philosophy is not what Soliste is about. Smoke is the elephant in the room. with increasing frequency, Burgundy has hail that shatters their vineyards. Wildfire smoke is out invisible hail. It destroys a crop but seductively keeps the grapes on the vines. Even if it is not apparent at first, it is known to show up years later after the wine is in the bottle. For us, this risk is unpalatable. For Pinot Noir clusters, with their thin, delicate skins that are the source of the complexity and exotic flavors, smoke is exceptionally damaging."
From De Ponte Cellars (Dundee Hills, OR) comes this note from the Baldwin Family proprietors: "September in the Willamette Valley is a busy and exciting time as the culmination of the work in the vineyard as the grapes ripen, are then brought to the winery to be made into world-class wine that we have become known for. This September, much like the bulk of 2020, has looked entirely different for the Willamette Valley and De Ponte Cellars. Due to the tragic wildfires that are throughout our beautiful state, we have been under a heavy blanket of smoke for over a week. The air quality in our valley has ranked as the worst in the world day after day. Our enduring efforts at De Ponte center around the quality of our wine and we aim to make nothing but the best. This principle is what guides the decision to not produce wine from our estate vineyards this vintage. The wine produced is all but guaranteed to fall below our threshold of quality."
From Dan Goldfield at Dutton-Goldfield (Sebastopol, CA): What a strange harvest season it has been. The fires near us have thankfully gotten under control and we were bringing in some fruit that was ripe and ready to come in, while we tested berries from other sites that were still several weeks away from harvesting. Sadly, we have gotten results from several vineyards now which showed elevated levels of smoke exposure so we are not able to pick these grapes to make our wines. It seems that red grapes are more susceptible, and red wines are made by extracting flavor and color from the skins where the smoke and ash have had contact, so we will have a fairly reduced offering of 2020 red wines for you. The good news is that white grapes appear to be less impacted, plus the skin isn't utilized for white winemaking and an attempt is made to very gently press the juice from the berries."
Several other Pinot Noir focused wineries are foregoing harvest such as Big Basin Vineyards, Trombetta Wines, Terra de Promissio, Pfendler Vineyards and Smith Story Wine Cellars.
Research by Dr Eric Herve of ETS Laboratories on smoke taint conducted since the California fires of 2008 was reported in 2018. His studies revealed that volatile smoke compounds can be absorbed by grapes and leaves and become attached to sugars ("glycosylated"). During fermentation, the compounds are freed from their sugar attachment and cause smoke taint to appear in wine. Labs such as ETC have developed marker compounds to estimate the risk of wine smoke taint, specifically guaiacol and 4-methylguaiacol. Smoke taint risk is lower when fire events happen earlier in the season. Washing the grapes and reducing the maceration time for red wines does not reduce smoke taint. A number of filtering techniques have been attempted to remove smoke taint but none will remove all of the smoky aroma and flavor from significantly affected fruit. ConeTech, located in Northern California, advertises that it can isolate and remove the smoke-related flavor volatiles and add the flavor elements back. Want to taste smoke-tainted Pinot Noir? Find a bottle of 2008 Anderson Valley or Sonoma Coast Pinot Noir. I personally cannot tolerate the gamy, ash-like flavor but it is said that 25% of people don't recognize smoke taint in red wine.
As I ready this issue for publication a new devastating fire (Glass Fire) has broken out in St. Helena moving westward to Santa Rosa. Chateau Boswell, Newton Vineyard, Burgess Cellars, Castello di Amorosa and other wineries severely damaged or burned to the ground. Meadowood Resort and Calistoga Ranch had significant damage. Apoplectic and I am terribly saddened.

Avoid Wine Enthusiast N'Finity Pro Wine Cellars! A few years ago I bought a N'Finity Pro 94 bottle dual zone wine cellar from Wine Enthusiast for my home office where I do wine tasting and reviewing. I keep most of my wine in a commercial wine locker. The unit functioned fine for 3 years and then stopped working. Warranty is 1 year. Wine Enthusiast offers no technical assistance despite multiple attempts to contact them by phone and email. Looking at reviews on Amazon revealed that multiple people have had the same problem. Apparently, the compressor and innards of the unit is made in China and break down in 2 or 3 years. A repair is futile so the only option is to buy another wine cellar. Based on this experience, I WOULD NOT PURCHASE A WINE CELLAR FROM WINE ENTHUSIAST!!