2017 Pisoni Estate Pinot Noir Leads Me to a Mini-epiphany
"Among all wines, only Pinot Noir can bring you close to heaven."

Pisoni Vineyards Pisoni Estate Santa Lucia Highlands Pinot Noir, also known as "Pisoni, Pisoni," is a member of the small fraternity of iconic California Pinot Noirs. The label, "cult" could also apply here, since a coveted place on the Pisoni mailing list is extremely enviable. Those blessed to be members of the list (including myself) annually receive a very classy black cardboard and black styrofoam container enclosing an engraved wooden box housing bottles of Pisoni Pisoni individually wrapped in tissue. It is a true treasure chest of exquisite taste that is the equivalent of wine haute couture.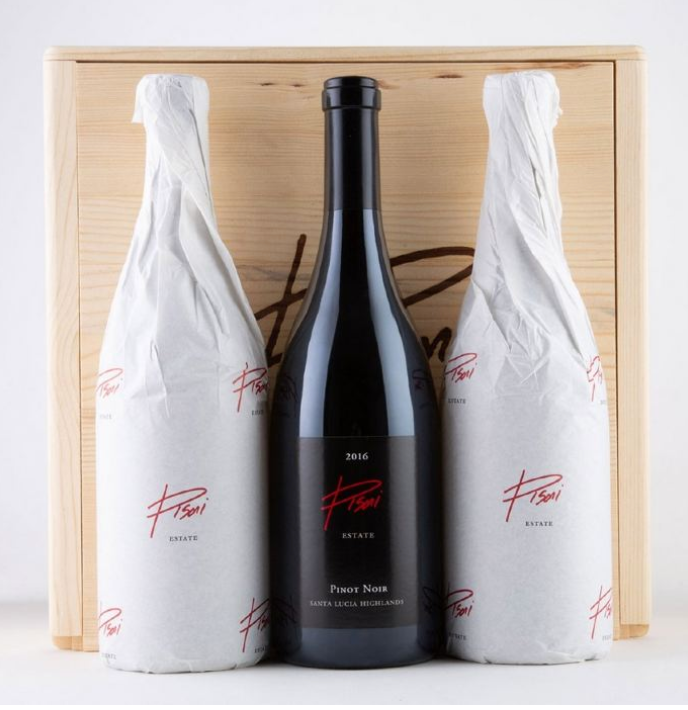 The triumvirate behind Pisoni Vineyards includes Gary Pisoni, who planted his first five acres of own-rooted Pinot Noir (Burgundy) cuttings reportedly suit-cased from Vosne-Romanee in 1982. He had difficulty convincing his father that planting grapevines in the highlands above the family farm was a good idea. So he planting his first grapevines while his parents were away on vacation. Today, 36 acres are thriving with 30 individually hand farmed blocks and the grapes are highly prized. Cuttings from the Pisoni Vineyard have never been distributed except to vineyards in the Santa Lucia Highlands that Gary has part ownership or ones in which the owner has a very close relationship. The other members of the triumvirate include Gary's sons, Jeff, who is the winemaker for Pisoni wines, and Mark, who is the viticulturist at Pisoni Vineyards. The triumvirate is pictured below (from left to right, Jeff, Mark, Gary Pisoni).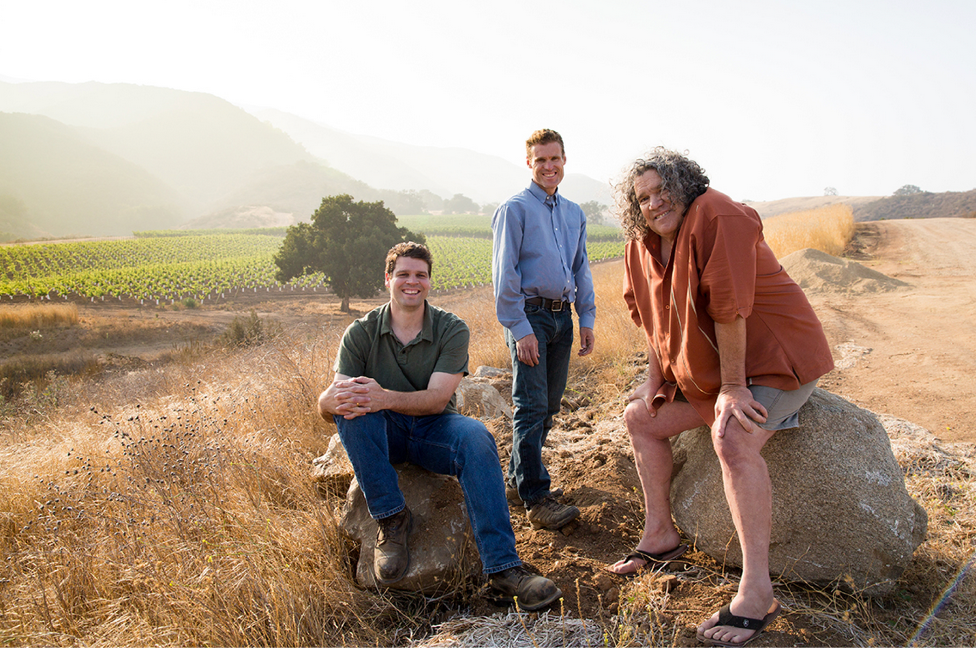 Regular readers of the PinotFile know that I have been enamoured with Pisoni Pisoni for many years. In 2017, I reported on a vertical tasting of 2004-2014 vintages of Pisoni Estate Pinot Noir: www.princeofpinot.com/ article/1803/. Subsequently, I have rated the 2015 vintage 96 ( "I rarely encounter a domestic Pinot Noir with this length of finish"), the 2016 vintage 96 ("a distinctive wine that has no peer") and the 2017 vintage 95.
When I sampled the 2017 vintage in June 2019, I noted, "Needs more time in the cellar to fully assimilate the tannins, find full fruit expression, and reach an orgasmic level." This prelude brings us to November 2020, about 16 months later, when I again opened a bottle of 2017 Pisoni Estate Pinot Noir.
2017 Pisoni Pisoni Estate Santa Lucia Highlands Pinot Noir
14.1% alc., 725 cases, $90. After opening the bottle, I noted, · Moderately dark garnet color in the glass. Plenty of dark berry fruit to satisfy with complacent tannins and an unusually long finish. Excellent but not extraordinary. The wine was a bit rustic and subdued and I was wishing for more. I corked the bottled and waited a day. The next day it was like an angel had descended from the heavens to infuse the wine with glorious appeal. The texture was unbelievably dreamy, the fruit had an elevated purity and I kept looking at the glass as if I could not believe what I was drinking. I have rarely experienced the feeling that overcame me, and I understood why so many have been challenged to adequately express the appeal of a special Pinot Noir. The wine tasted of perfection but I could not condescend because the Holy Grail must remain sacred. Score: 98

The Pisoni family is celebrating the twentieth vintage of their signature Estate Pinot Noir. The first Pisoni Estate vintage was in 1998.
2018 Pisoni Pisoni Estate XX Anniversary Santa Lucia Highlands Pinot Noir
14.1% alc., $90. 20th vintage. · Moderately dark garnet color in the glass. The nose opens slowly with air, revealing aromas of black cherry, blackberry, spice cake and a hint of oak vanillin. Mid-weight plus in style, with an assortment of luscious black fruit including ollaliberry and blackberry. silken in texture with tame tannins and beautiful harmony. Boisterous fruit (like biting into a juicy, perfectly ripened blackberry) but not jammy, with just the faintest touch of cedary oak. When tasted the following day from a previously opened and re-corked bottle, the wine was unchanged. The wine will undoubtedly benefit from another year or two in the cellar. Not quite the seductive texture and mesmerizing charm of the 2017 vintage, but a grand wine in its own right. Score: 96
Read more about Pisoni Vineyards at www.pisoninotes.com and join the mailing list at www.pisonivineyards.com. Production is extremely limited so that it may take a few seasons before you will be allocated wine. Find the wine on the secondary market at www.wine-searcher.com.
Note: Pisoni also produces very small quantities of highly lauded Chardonnay. Four individual blocks are planted to Wente clone and suitcase clones crafted in a fleshy California style. I believe Chardonnay grapes are only sold to Roar, Testarossa and Paul Lato, whose "East of Eden" Pisoni Vineyard Chardonnay is a favorite of mine. This last Thanksgiving as a prelude to dinner, I opened a magnum of the 2017 vintage and this wine was stunning. I would rate it 96. The Pisoni Vineyard Chardonnay can be bought online at www.winesearcher. com.