Pinot Briefs —Newsletter 12.11
Wine Cooler Followup A couple of issues back I reported on my difficulties getting customer service from Wine Enthusiast when my N'Finity Pro wine cooler I had purchased from them stopped working. I chose to buy the Wine Enthusiast wine cooler because the sturdy shelving was far apart enough to accommodate larger Pinot Noir and Chardonnay bottles. However, the compressor was not as quiet as I would have liked. I spent some time reading reviews of available wine coolers online and gathering some insight into the various manufacturers. I found that most inexpensive wine coolers are made in China and customer reviews indicate one can probably expect they will last 4-5 years or less before the compressor gives out. The manufacturers only offer a 1-year warranty. I have a wine locker where I store most of my wine but need an inexpensive, relatively small wine cooler in my office to store wine that is to be reviewed as well as to be drunk. I decided on a Kalamera 24" 127 bottle Built-In Wine Cooler Fridge Single Zone Wine Refrigerator ($749.25). Most wine coolers like the Kalamera unit only provide non-adjustable shelving for Bordeaux-style wine bottles, not the larger Pinot Noir and Chardonnay bottles. The result is that the stated bottle capacity of a wine cooler is inflated if you plan to store mainly Pinot Noir and Chardonnay. With my Kalamera unit, smaller diameter bottles of Pinot Noir and Chardonnay (the minority) fit on the shelves fine. The larger diameter bottles did not, so I removed 3 of the 11 shelves leaving space for the larger bottles. One can double stack large bottles when one shelf is removed. One can store 6 magnums on the bottom shelf and 2 magnums on the top shelf (unlike the photo shows below). Magnums on these shelves will cause the center of the shelves to sag a bit. The total number of regular bottles (in addition to magnums) including smaller and larger bottles of Pinot Noir that can be stored with ease with three shelves removed is a minimum of 75 but this will vary with bottle diameters and whether some bottles are double-stacked. I chose the less expensive single zone type of wine cooler since I like to drink Chardonnay at about the same temperature as Pinot Noir (63ºF). The "built-in" type looks perfectly fine as a free-standing unit and is attractive to look at. The blue lighting feature on the inside is not great as the light is on top and when the wine cooler is full of bottles the light barely reaches the bottom half of the cooler. The best feature is the quietness of the compressor. Since I work at my computer and taste wine in my office where the wine cooler is located, this was ideal. I only barely heard the compressor when it was running. Installation only involved attaching the handle and plugging the unit in. I believe this wine cooler is fine for my needs at a reasonably good price (plus shipping was free). The Kalamara office is located in Los Angeles but the wine cooler is most likely manufactured in China.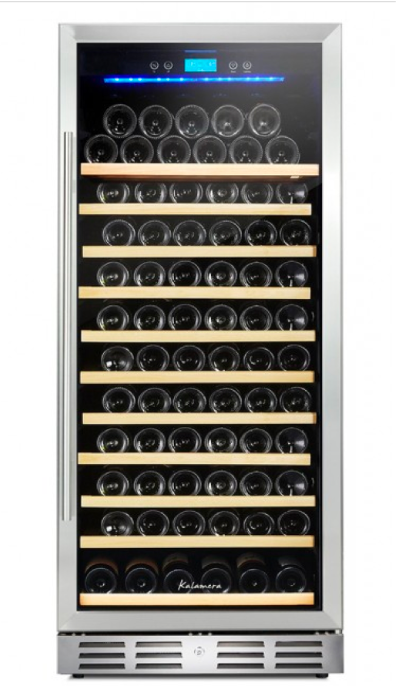 New Wine Gadget: Wine PrO2 As reported at www.wine-searcher.com, the new PrO2 device ("Proactive Decanter") is said to "aerate wine and thereby soften tannins and make younger wines more approachable." There have been many devices purported to aerate wine marketed in the past but have failed to capture significant interest. This device claims to offer a different approach than its predecessors. Created by engineer Tom Belcher who quit his job at a Fortune 500 engineering company to sell the PrO2 full time. It is oxygen, not air that makes decanting helpful but since air is only 21% oxygen, the decanting process takes as much as 2 to 3 hours. for maximum effect. The Pr02 device is a wand and base to which a can of pure oxygen is attached. The nozzle creates very fine bubbles of oxygen in the wine, raising the dissolved oxygen level immediately and allows the oxygen to bind with undesirable gases (ie mercaptans) found in young wines to release them. the result is that the desirable fruitiness and other characters of the wine emerge immediately. Argon gas is also provided for wine preservation. I have not used the device on Pinot Noir so cannot comment on its effectiveness. Visit the company's website at www.winepro2.com for more information and pricing.
Millennials Drinking More Wine The 2021 State of the Industry Report from Silicon Valley Bank's Wine Division found that Millennials (ages 24-39) consumed 18 percent in 2019 and 20.1 percent in 2020. Boomers (ages 56-74) are still the leading consumers of wine by a significant amount. I have two sons who are Millennials. The oldest one (41 - just in Generation X category) drinks wine on a regular basis (mostly what I give him) but although he knows a really good Pinot Noir when he encounters one, he is not fussy and really likes beer too. My other son (37) works for a Napa Valley winery and he prefers beer. Millennials tend to use social media and apps such as Vivino (47 million users) to discover wine and don't read publications like mine with a scoring system. The 5-star rating system on Yelp is probably more appropriate as a wine rating gauge for Millennials. The wine industry is still trying to figure out a way to connect with Millennials as the Boomer drinkers are getting older and tend to drink less with age (not me).
Printing Wine Reviews in Magazines Such as Wine Enthusiast is Big Business Wine Enthusiast magazine offers label packages for additional promotion for wineries that submit wines for review and scoring. Package A includes a guaranteed print placement in the magazine's Buying Guide and a full-color label next to their review and rating, a label featured in the Advanced Buying guide Trade Email, a label featured in the Online Buying Guide and a PDF sell sheet for marketing - $1,395 for one label. Package C ("Promotional Package and Best Value") includes all the benefits of Package A plus the label is included in the publications searchable wine database with a Buy Now button linking to their commerce site or preferred online retailer, and inclusion in one Top Shelf Email Newsletter with links - $2,495. Package D includes Social media with custom posts on the publication's Facebook and Twitter accounts - $895. Package E includes an Enhancement Video that accompanies the wine review in the publications Online Buying Guide and promotion in a sponsored Facebook post - $595. For those wineries that can pay, their reviews become advertorials. In the November 2020 edition of the Wine Enthusiast, 187 reviews with labels appeared in The Buying Guide. You do the math.