PINOT NOIR: A WWII Novel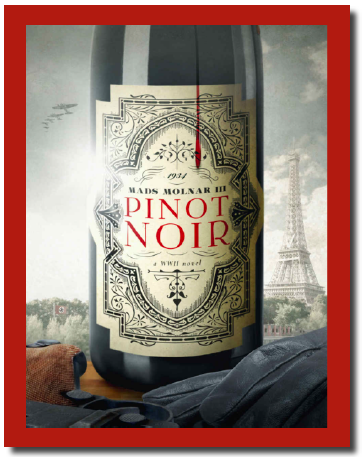 The title of this book caught my eye and I found it to be a good read worth recommending.
The night before the Nazis raid his cellar in 1940, a French vintner poisons a case of his best Pinot Noir as a way of getting back at the Nazis. The Nazis take the bait and when the Pinot Noir starts poisoning high-ranking German officers, detective Mads Molnar gets a phone call from the Gestapo and strikes a deal. Recover the bottlers and get a ticket out of the Nazi territory and a pardon for killing a fascist. Every chapter of Pinot Noir follows one of the 12 poisoned bottles in the case.
But Molnar has a big problem. A Nazi detective, 300-pound Wolfram Bastick is also on the case after the poisoned wine killed his father. Meanwhile, Bastick's gorgeous fiancé is plotting to murder him. Molnar must secretly recover the wine, win over Bastick's fiancé, escape the Nazis and hi-tale it out of Germany without getting killed.
The author, Mads Molnar III, picked up this story from his grandfather, Mads Molnar I. His grandfather participated in World War I and after the war became a detective until his death. Grandfather Molnar use to tell Mads Molnar III about true events that made up this story and the author picked up where he left off.
This is not a story about Pinot Noir per see, rather an adventure story with many compelling twists and turns that moves along quickly.
PINOT NOIR: A WWII Novel, Mads Molnar III, 216 pages, 2020, paperback, $18.99 (Amazon) and Kindle.