2018 Vintage Willamette Valley Pinot Noir 👍

2018 was the 8th warmest year for Oregon and a drought year in the Northwest. November 2017 was warm followed by a cold December and then a warm January 2018. February and March cooled down and rain nourished the soil heading into spring. May, June, July and August were very warm throughout the state and above average for those months. According to climatologist Dr Greg Jones, the Willamette Valley experienced heat accumulation that was about 5% above average for the 2018 vintage and below-average rainfall. According to vintner Ernie Pink at Amalie Robert Estate in the Willamette Valley, there were 2,502 degree days in 2018 only equaled by the 2014 vintage (2,499 degree days) and surpassed by the 2003 vintage (2,699 degree days).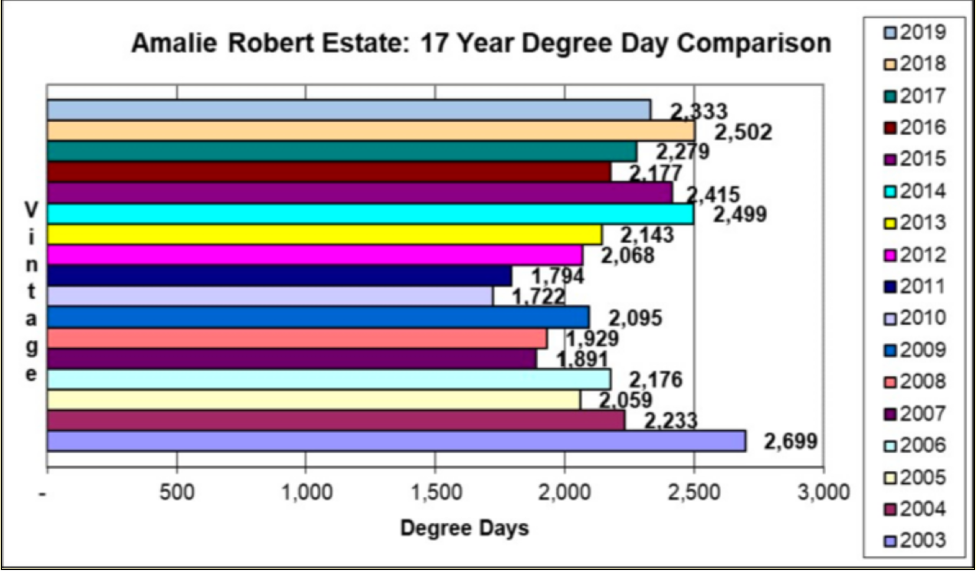 Despite the warm growing season, there were few heat spikes with no heat stress as in 2017. Low rainfall in September and October permitted winemakers to harvest grapes when desired. The Oregon Wine Board noted, "When moderately warm days occur along with cool nights, vines can rest in the evening and concentrate efforts on developing more fruit complexity and flavors. Ideal conditions like this occurred throughout October in 2018. Harvest was at a leisurely pace and resulting sugar levels, acidity and pH were all close to average. Production was up around 15% over 2017.
Wildfires burned in southern Oregon in July and eastern Washington in August but no smoke taint was observed in the Willamette Valley.
The view of Stewart Boedecker of Boedecker Cellars sums up the vintage: "Even measured in the context of a string of great vintages, 2018 wines stand out as pretty phenomenal." My tasting notes on Willamette Valley Pinot Noir from the 2018 vintage are in complete agreement.
The three featured wineries in this issue offer Pinot Noir from estate vineyards. Dion Vineyard and Lenné Estate source their Pinot Noir wines solely from their estate vineyard, while Broadley Vineyards adds a few sourced vineyard offerings in addition to its estate bottlings. Dion Vineyard, located in the Chehalem Mountains just south of greater Portland, is the most northerly Willamette Valley site among the three vineyards. Lenné Estate is situated more southerly in the Yamhill-Carlton AVA west of Newberg in Yamhill. Broadley Vineyards is in the southern Willamette Valley in the town of Monroe midway between Corvallis and Eugene and possessing the warmest climate of the three estates. Refer to the map of the Willamette Valley below. The three wineries are presented in this issue in an order based on their northern to southern locations.