Lenné Estate

The Lenné Estate Vineyard was first planted in 2001 and has 15.5 acres under vine. The vineyard has ideal southern exposure and a desirable elevation between 370-600 feet. Planted Pinot Noir clones include Pommard and Dijon 114, 115, 667 and 777. The site shares a ridge with Willakenzie Estate, Deux Vert, Shea, Solena, and Penner-Ash. The vines are densely planted at nearly 2100 vines per acre in a combination of Peavine and Willakenzie soils. The vineyard is dry-farmed and sustainably farmed with minimal use of non-organic chemicals. Owner Steve Lutz manages and farms the vineyard.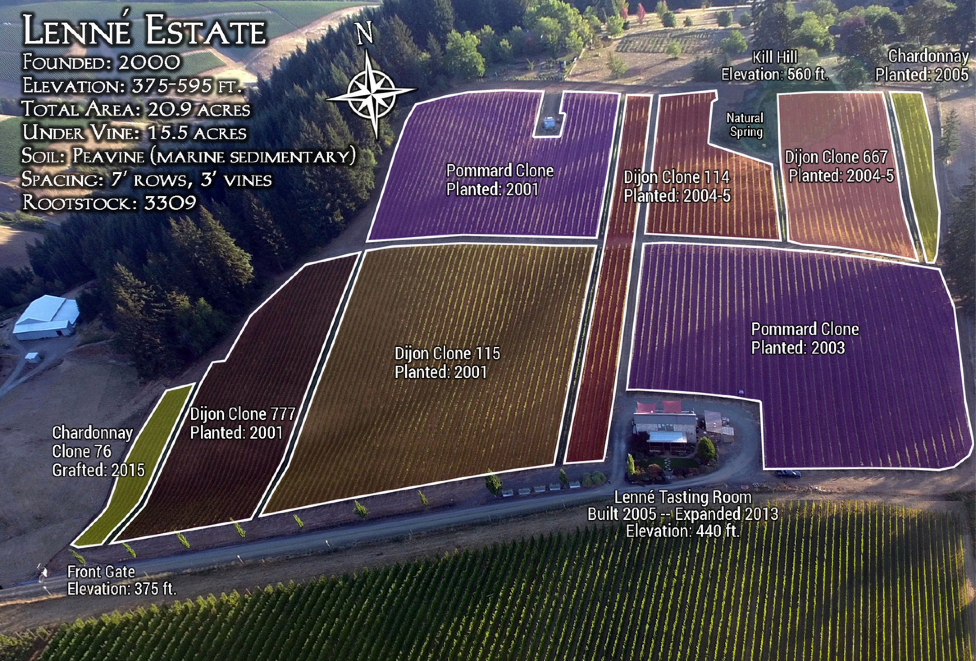 The name, Lenné, sounds French but is derived from proprietor and winemaker Steve Lutz's father-in-law, Len, who raised his family on a chicken farm west of London, England. Len passed away in 1999 but he contributed a portion of the down payment on the vineyard so the name and the label's distinctive profile pays homage to him. The first two vintages were released under the LeNez label (also pronounced 'Lenay') and in 2006 the Lenné Estate label was added. The LeNez bottling is a blend of clones from the vineyard that reflect the vineyard's terroir, while the wines under the Lenné Estate label represent the best barrels from the vineyard in each vintage.
Early on, Steve struck up a relationship with noted Oregon vintner David O'Reilly and he became the consulting winemaker initially. In 2018, the consultant winemaker was veteran Drew Voit. The style is restrained and seductive with at most 30% new French oak during elevage. I have been reviewing wines from Lenné Estate since 2006 and tasted alongside Steve multiple times. The wines definitely speak to me and I have consistently awarded the wines scores of 90 and above with many scores in the 94 range.
Steve told me the 2018 wines are on the opulent side with plenty of well-ripened, darker red and black fruits and my tasting confirmed his impression. Tannins are evident but measured to the fruit load and predict age ability. Oak integration is spot on and the silken textures are attractive. Steve recommends drinking these wines 6 to 10 years from the vintage date. I would agree, as the wines are a bit reclusive at this stage. However, if you want to try them now, I would recommend the Estate or South Slope Select bottling.
Lenné Estate Pinot Noir is sold on the winery's website at www.leneeestate.com. Members of the winery's wine club enjoy invitations to special events including Steve's Blind Tastings.The Blind Tastings held at Lenné Estate are unique for the Willamette Valley. Usually, 4 to 6 blind tastings are held annually and feature a double-blind tasting of 8 wines. The reveal is done by Lenné's Steve Lutz. The tastings include lunch and are open to the public. The tasting room is located at the vineyard (check for availability of tastings during COVID-19).