Broadley Vineyards

Craig and Claudia Broadley launched Broadley Vineyards in 1981 in the hills west of Monroe, Oregon with a shoestring budget. The Estate Vineyard was first planted in 1982 and now consists of 33 acres of Pommard, Wädenswil and Dijon Pinot Noir clones. The Estate Vineyard is managed using sustainable farming practices and organic material is used to promote healthy growth of the vines.
Like many Californians who pioneered the Oregon wine industry, Craig and Claudia left Berkeley, California for Oregon in search of a proper site to plant Pinot Noir in the Willamette Valley. They found their ideal location in the southern part of the Willamette Valley AVA just outside of the small town of Monroe, just over an hour's drive south of McMinnville. Monroe is referred to as the 'banana belt' of the Willamette Valley because it is the warmest and driest part of the AVA.
The success of Broadley Vineyards has come virtue of its unique, solitary, yet strategic location the skill of second-generation winemaker Morgan Broadley, and the resultant wines that are individualistic for Oregon. Because of the vineyard's southern Willamette Valley location, Pinot Noir vines do not struggle to achieve ripeness and stem lignification is more commonplace. As a result, Broadley Vineyard's signature style is based on the use of a high percentage of whole cluster during fermentation in wooden puncheons of various sizes. Aging is typically carried out in 20%-30% new French oak barrels. Morgan is pictured below in 2017 at the winery with his two daughters (wooden fermentation tanks in the background).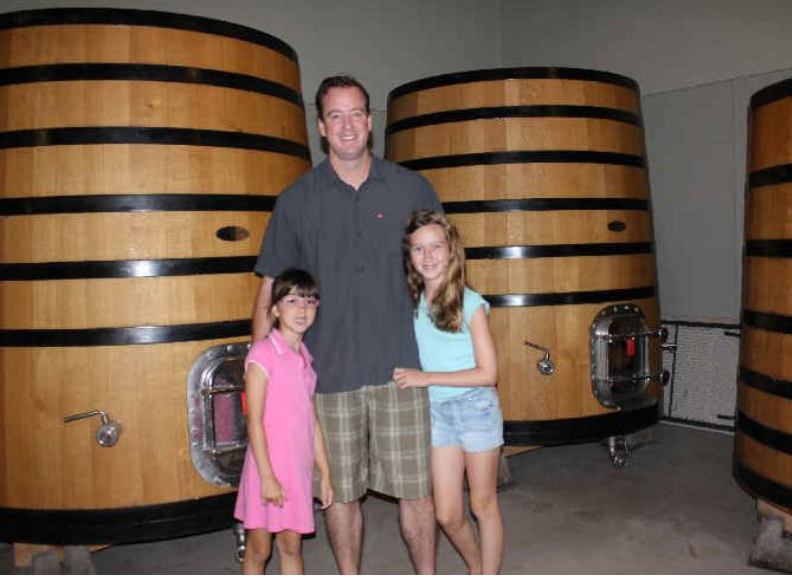 The majority of the Pinot Noir bottlings are sourced from the Estate Vineyard but other notable vineyards in the Willamette Valley have been included in some bottlings such as Shea, Zenith, Saffron Fields, Open Claim and Temperance Hill. Total production is about 5,000 cases and includes a Chardonnay made from grapes sourced from the Eola-Amity Hills.
Tasting is by appointment at the winery. A majority of the winery's Pinot Noir bottlings are sold through a mailing list or the winery's online store at www.broadleyvineyards.com. Cellar releases from previous vintages are offered. A "When to Drink" section is a valuable reference.