Wine News Tidbits —Newsletter 12.13

2019 Oregon Vineyard & Winery Survey Oregon wineries and vineyards enjoyed increases in numbers, sales, revenue and production. The number of wineries increased by 115 statewide to 908 and the number of vineyards grew by 132 to 1,297. The leading variety in planted acreage and production remained Pinot Noir, accounting for 59% of all planted acreage and 58% of grape production. Total planted acreage is now 37,399, an increase of 4.0%. Oregon wine sales grew 11% to $673.9 million.
Shadows in the Vineyard to be the Plot for a Television Wine Drama In December 2016 I recommended the book, Shadows in the Vineyard: The True Story of the Plot to Poison the World's Greatest Wine. The true story by Maxmillian Potter revolves around a sinister plot to poison vines in the grand cru monopole, Romanée-Conti Vineyard, for a 1 million euro ransom in 2010. Film companies were to start production in Europe in early 2021 with actors Judith Light and Noah Wyle to star and produce.
Wine Docuseries CRUSH Premieres on SOMM TV CRUSH is a SOMM TV series created by a trio of women. The series premiered on Friday, December 18, with an episode on the production of wine from grape harvest to bottle in California's Sonoma County during the fall of 2020. The featured winery is Flambeaux Wine in Dry Creek. SOMM TV is a subscription on-demand streaming platform ($49.99 for a year) and podcast network (free) centered on wine, food, and travel and is meant to be educational. SOMM TV is available on every device and smart TV through a custom app and website at www.SommTV.com.
Best Method for Cleaning Wine Glasses Tasting for wine reviews necessitates cleaning a lot of wine glasses and I want them to be pristine before reuse. My son, Dane, who works at Ashes & Diamonds Winery in Napa Valley sent me a Riedel Microfibre Polishing Cloth and I found that using it to polish wine glasses after a gentle wash led to a sparkling clean shine. As Riedel points out, the cloth removes grease and polishes without leaving behind any streaks or lint. The cloth can be washed after use (without fabric softener). The cloth is available on Amazon for $13.99.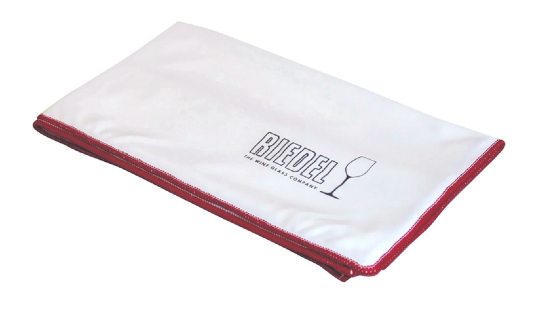 Iowa State University Research Study on Diet and Cognitive Acuity In November 2020 issue of the Journal of Alzheimer's Disease, a study is reported that connects specific foods to later-in-life cognitive acuity. The study found that cheese, by far, was shown to be the most protective food against age-related cognitive problems, even late in life. Daily consumption of alcohol, particularly red wine, was related to improvements in cognitive function as well. Weekly consumption of lamb, but not other red meats improved long-term cognitive function. Excessive consumption of salt had a negative effect. Conclusion: Adding cheese and red wine to the diet daily, and lamb on a weekly basis may improve long-term cognitive outcomes.
Bacigalupi Vineyards "Renouveau" Chardonnay The Chardonnay grapes planted at Bacigalupi Vineyard in 1964 played an important role in the 1976 Paris Tasting. 40 percent of the grapes in the "Napa Valley" Chateau Montelena Chardonnay that beat the French white Burgundies in a blind tasting were sourced from the Russian River Valley Bacigalupi Vineyard. After the Paris Tasting, the amount of Chardonnay planted and produced in California grew by more than 400 percent. It has been more than 40 years since the Paris Tasting and Bacigalupi Vineyards is releasing a 2018 "Renouveau" Russian River Valley Chardonnay from this same small planting of Chardonnay grapes. For the last 22 vintages, the Old Wente Chardonnay grapes were committed to another winery but in 2018 the grapes became available and the Bacigalupi's decided to keep it for the family. 100 cases of this wine were produced in 2018 ($82). Visit www.bacigalupivineyards.com.
Vintec Wine Cabinets I recently discovered wine cabinets that are manufactured in Denmark for the North American market. These free-standing or built-in climate-controlled cabinets have tailored shelving to accommodate all sizes of wine bottles. The Vintec wine cabinets are equipped with an efficient air circulation system and a powerful air filter to ensure a constant, slow flow of filtered air throughout the cabinet to preserve the integrity of labels and corks and keep the wines protected from odors penetrating the wine. The cabinets have UV-resistant tinted and insulated glass doors, and UV-free LED lighting. Hygrometry levels are maintained over 50% to preserve corks and prevent wine from oxidizing while cellaring. Vintec wine cabinets are available throughout the United States. Visit www.vintec.com.
New Federal Government Guidelines for 2020-2025 Leave Alcohol Limits Unchanged The scientific committee had recommended lowering the limit for alcoholic beverages for men to one drink a day from two, matching the existing guidance for women. The dietary guidelines, just released, are updated every five years and recommend no more than two standard drinks (a standard drink of wine in the US is 5 ounces) a day for men and one standard drink for women. I applaud the U.S. Departments of Agriculture and Health and Human Services for maintaining the long-standing definition of moderate alcohol consumption. The new guidelines recommend following a healthy dietary pattern that consists primarily of vegetables, fruits, whole grains, lean meat and poultry, low-fat dairy, seafood, nuts and vegetable oils. They also advised limiting added sugars, saturated fats, sodium and alcoholic drinks. What 5 ounces of wine (one drink) really looks like in different glasses: