Bohème Pinot Noir Shines in 2018

Bohème owner and winemaker Kurt Beitler told me in advance that his lineup of 2018 vintage Pinot Noirs was his best ever and he was not pushing BS. I have been reviewing Bohème Pinot Noir and Chardonnay since 2006 and the wines have always been consistently top-notch but the 2018 wines, in particular, stood out.
Bohème Wines is rooted in the town of Occidental in West Sonoma County. Kurt leases three vineyards that are located near Taylor Lane and are among the nearest to the Pacific Ocean of all Pinot Noir vineyards in North America: Stuller Vineyard, English Hill Vineyard and Taylor Ridge Vineyard.
The 2018 vintage in the Occidental region of the West Sonoma Coast featured a relatively dry winter, with 39 inches of rain in Occidental compared to 79 inches in 2019. Spring was cold so buds were late to push and bloom finally came in early June. Kurt believes that the late bloom facilitated a higher set rate with the corresponding above-average crop. His tons per acre average went from 1.88 in 2017 to 2.67 in 2018. There were no desiccating late summer heat spikes or early fall storms that invite bunch rot so the crop was pristine. This friendly weather combined with higher-than-normal tonnage extended the ripening period. Kurt picked his last Pinot Noir on October 17. He thinks that the long development period allowed for deep, beautiful flavors and fine, yet plentiful tannins in the 2018 Pinot Noirs.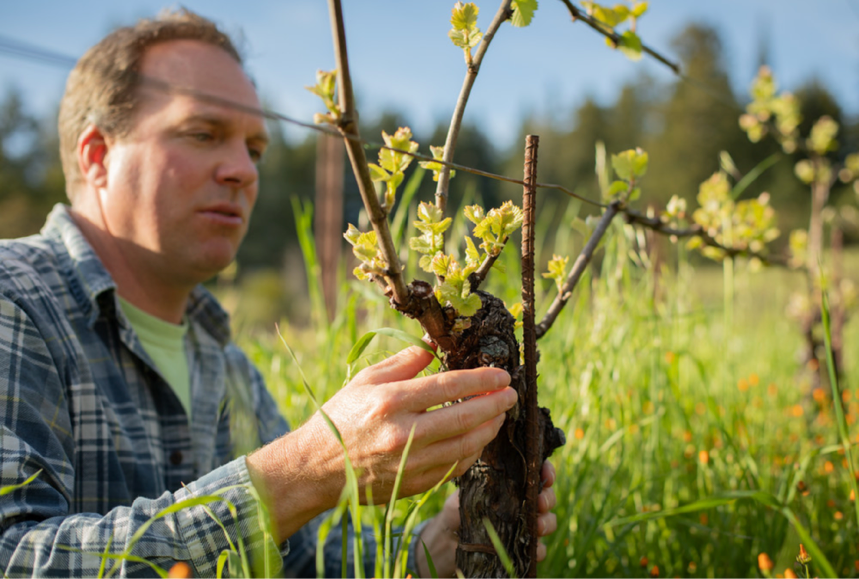 Credit Adam Decker

Kurt is a native Oregonian but his parents grew up in Napa Valley. They were even in the same kindergarten class in St. Helena! After marrying, the couple moved to Oregon for Kurt's father's forest products career and to raise a family. On Kurt's mother's side, there is a long history of wine business success. Kurt's great-great-grandfather, Lafayette Stice was the winemaker at Inglenook following the death of Gustav Niebaum in 1911. His great-grandfather, Charles Wagner moved to Rutherford from San Francisco after the 1905 San Francisco earthquake and opened a bulk winery business. His son and Kurt's grandfather, Charlie Wagner, along with Kurt's grandmother Lorna Belle Glos Wagner, lived in Rutherford their entire lives. They grew grapes commercially and made wine at home for decades. They launched Caymus Vineyards as a retirement business when Charlie was 60 years old in 1972. Kurt's uncle (his mother's brother) Chuck owns and runs Caymus Vineyards today.
Kurt attended Santa Clara University and studied mechanical engineering but ultimately graduated with a degree in finance. In 2000, immediately after graduation, he went to work for his uncle Chuck to manage his newly-planted Taylor Lane Vineyard in Occidental. This was an early Belle Glos label estate vineyard. Kurt soon met a neighbor, Al Rago, who owned Que Syrah Vineyard. In 2004, Al talked Kurt into leasing and farming that vineyard and that became the source of Kurt's first commercial bottling.
Kurt named the inaugural wine "Bohème" in honor of Occidental's local Bohemian Highway. Also in 2004, he found land to plant English Hill Vineyard and the following year brought Taylor Ridge Vineyard and Marsh Vineyard into the fold. Growing wine grapes for his own production continues as a focus today. Purchased grapes account for just two of the total of about 75 bottlings since starting Bohème.
Kurt's success has been predicated on consistent sources of estate fruit year after year and his direct involvement in the farming of these three Pinot Noir vineyard sources. Although he could have easily worked at Caymus Vineyards for the Wagners, he sought his own path. He did receive considerable assistance at Caymus Vineyards initially but eventually decided he need a wine production facility close to home in Occidental. Currently, he produces his wines at a winery building in north Sebastopol.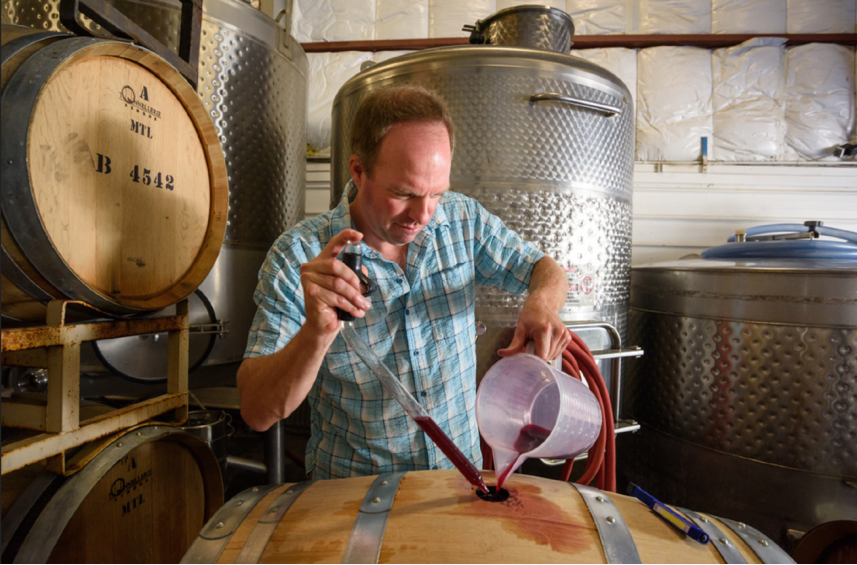 Credit Jerry Dodrill

Bohème wines are sold to a dedicated following on the winery's mailing list and at the winery's tasting room in downtown Occidental, open since 2010. Tasting is only available by appointment. Excellent Chardonnay and Syrah is also produced. Visit the website at www.bohemewines.com. The 2018 vintage Pinot Noirs will be released March 1, 2021. Note: These Pinot Noirs are stylistically much different than the Pinot Noir wines of Joe Wagner (Chuck Wagner's son) including the labels Meiomi and Belle Glos Pinot Noir.
Taylor Ridge Vineyard
This vineyard was planted in 1999 on a meadow, 5.3 miles inland from the Pacific Ocean. The elevation is 880-941 feet. Its caramel-colored sandy loam soil is derived from a prehistoric marine embayment that once covered west Sonoma County. During the growing season, cool fog from Tomales Bay and Bodega Bay engulfs the vineyard, creating a climate that slows nutrient uptake by grapevines and ripening of fruit. 4.9 acres planted of Swan clone Pinot Noir and Wente clone Chardonnay at 1089 vines per acre (8' x 5' spacing).
2018 Bohème Taylor Ridge Vineyard Sonoma Coast Pinot Noir
13.8% alc., 206 cases, $59. Yield 1.49 tons per acre. 25% whole cluster fermentation. Aged 22 months in French oak barrels, 20% new. · Light garnet color in the glass. Appealing aromas of cherry, Mediterranean spice, redwood bark and forest floor. A force of cherry fruit saturates the palate and invigorates the finish. Lively, with upbeat acidity and reserved tannins. The extravagant cherry flavor is complimented with a whiff of oak. Ready to drink upon pulling the cork but exhibiting the harmony to age. A very user-friendly wine that one could sip all night. Score: 96
Stuller Vineyard
Planted in 1998, this vineyard is situated amid redwoods and hawks and peers over the Pacific Ocean, 5.8 wiles to the west. The elevation is 1168-1263 feet. Two-thirds of Stuller vineyard is a south-facing hillside of red-hued gravelly loam plant to Dijon 115 while the adjacent rocky hilltop is an extreme low-vigor plot of Dijon 667 growing in mixed aggregate and sandstone. Total planting is 6.0 acres, 1089 vines per acre (8' x5' spacing).
2018 Bohème Stuller Vineyard Sonoma Coast Pinot Noir
13.7% alc., 244 cases, $59. 30% whole cluster, aged 22 months in French Burgundy barrels, 20% new. · Moderately light garnet color in the glass. Scintillating nose offering the classic aromas of Pinot Noir including black cherry, baking spices, tilled earth and dark rose petal. Light to mid-weight in style, with ingratiating acidity and very fine-grain tannins. The core of dark red cherry fruit is well-spiced and lingers through cherry-soaked finish. Soothing in texture with a hint of gracious oak. Excellent now but will age. Score: 95
English Hill Vineyard
This vineyard is an estate-planted high-density mosaic of Pinot Noir, Chardonnay and Syrah surrounded by expansive pasture and rangeland. Overlooking Tomales Bay and the Marin Coast Range, weather swings dramatically between maritime and continental influences. Pacific fog engulfs the vineyard on summer mornings while afternoon breezes lift golden minerals from the ground to the folds of leaves. 8.5 acres planted to Dijon 115 and 667, Calera, Vosne-Romanée, BRC at 2420 vines per acre (6' x 3' spacing). Soil is Goldridge sandy loam and Steinbeck fine sandy loam. The first photo is a long view towards Tomales Bay and the second photo shows the vineyard up close in the spring of 2018.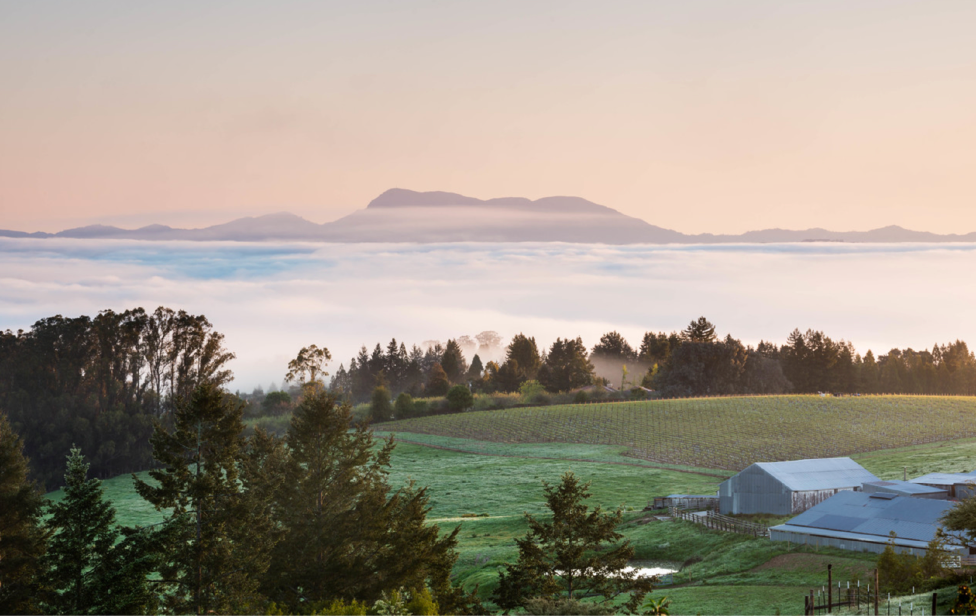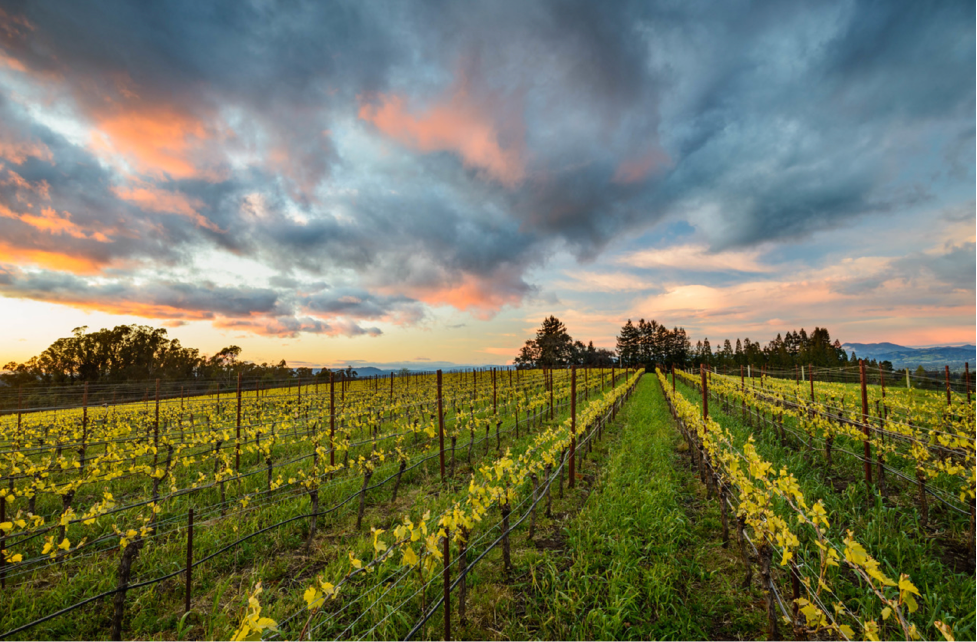 Credit to Jerry Dodrill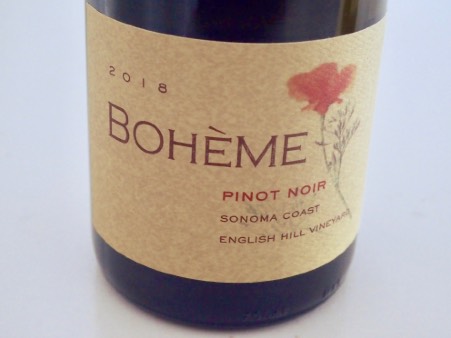 2018 Bohème English Hill Vineyard Sonoma Coast Pinot Noir
14.1% alc., 483 cases, $59. 25% whole cluster fermentation. Aged 22 months in French Burgundy barrels, 20% new. · Moderately light garnet color in the glass. Intoxicating aromas of plum, black raspberry, dark rose petal and peat. More black cherry and blackberry sap in this harmonious, mid-weight wine exhibiting an intense, ridiculously long finish. Plenty of spice and umami on the palate with reserved tannins. Still profound when tasted the following day from a previously opened bottle. Deserves a standing ovation. Score: 97
Occidental Hills Vineyards Cuvée
2018 Bohème Occidental Hills Sonoma Coast Pinot Noir
14.4% alc., 291 cases, $59. A premium barrel selection from all of Bohème's estate grown Pinot Noir vineyards near Occidental. This cuvée includes six Pinot Noir selections grown on three distinct soils. 24% whole cluster fermented. Aged 22 months in French oak barrels, 17% new. · Moderate garnet color in the glass. Somewhat reserved but pleasant nose with aromas of purple berry compote, allspice, and bark. Mid-weight plus in concentration, featuring bold waves of purple and black berry fruit augmented with a touch of spice and earthiness. A bit rustic, showing the effects of whole cluster, with the faintest oak in the background, slightly more noticeable but not imposing tannin. When tasted the following day from a previously opened and re-corked bottle, the wine was more aromatic exhibiting lovely black cherry and rose petal aromas, more giving fruit flavor and a noticeably long finish. This is the ripest fruited and boldest of the four 2018 Pinots and although it can be enjoyed now, it will undoubtedly benefit from more time in the cellar. Score: 95
All four of these Pinot Noirs deserve your attention but if you want the one with the best nose choose Stuller Vineyard, the one with the most intense cherry core choose Taylor Ridge Vineyard, the one with the longest finish choose English Hill Vineyard and the one that is the most robust and age-worthy choose Occidental Hills.