Wine Briefs —Newsletter 12.14

Tannins Inhibit Two Enzymes within the COVID-19 Virus Scientists at China Medical University in Taiwan discovered that tannins in wine can inhibit the activity of two key enzymes of the virus. The researchers said that tannins have the potential to prevent infection and control the growth of viruses. Tannins are found in fruits such as grapes and bananas as well as wine, tea, cocoa, dark chocolates and vegetables. Try eating some red table grapes and you will experience an astringency due to the tannins in the skins. Researchers at North Carolina State University recently discovered that flavanols and proanthocyanidins in grapes and wine prevent the SARS-CoV-2 virus from attaching itself to human cells. The polyphenols, which are also present in green tea and cocoa, could potentially help in the fight against the pandemic.
Three New Can Sizes for Wine-in-Cans Approved by TTB The ruling added three sizes to the Standards: 200 ml, 250 ml and 355 ml (equivalent to a traditional 12 oz beer can). These additions will facilitate the movement of wine in domestic and international commerce, while also providing consumers with broader purchasing options. WICresearch.com is the leading researcher of the wine-in-can market and its survey covers 40 wine-in-can producers with 24 brands using both front and rear pictures.
The Excellence of Santa Cruz Mountains Pinot Noir It has been 12 years since I wrote a ground-breaking article on the excellence of Pinot Noir in the Santa Cruz Mountains. Noted wine writer Alder Yarrow broke an article at www.jancisrobinson.com titled "Elevating Chardonnay in the Santa Cruz Mountains." This extensive tasting article details the history and topography of the region and reviews many Santa Cruz Mountains Pinot Noir and Chardonnay (Yes, Pinot Noir, despite what the title implies). This is subscriber content but you can get a free one-hour trial to read the article.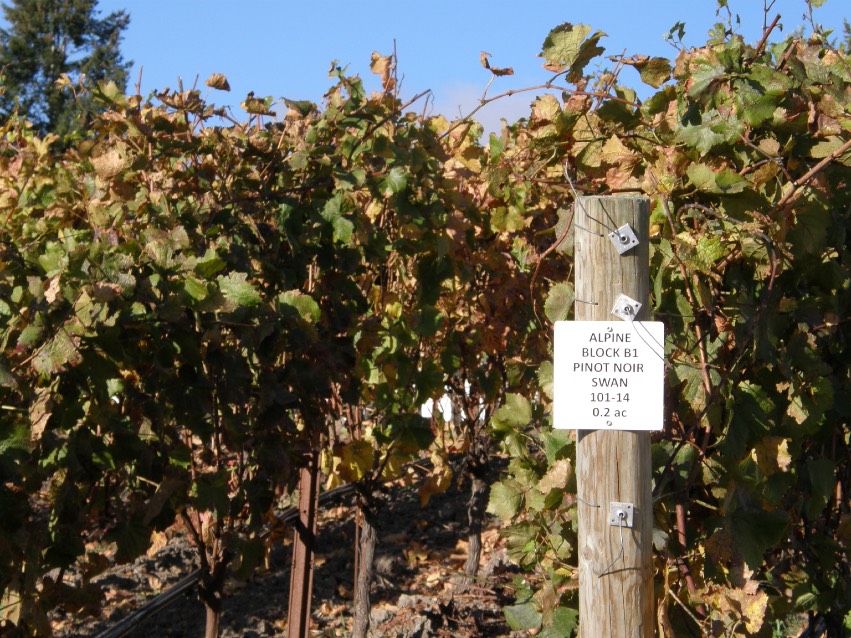 Sonoma County Hit Hardest by 2020 Wildfire Smoke According to preliminary estimates from wine brokerage firm Ciatti, the 2020 Sonoma County harvest of Pinot Noir came to about 30,000 tons or 36% less than in 2019 and 50% of the bumper harvest of 2018. The smoke from 2020 is estimated to have caused more than $66 million in losses from the Pinot Noir crop alone. The graph below shows the amount of bulk Pinot Noir available monthly in 2020.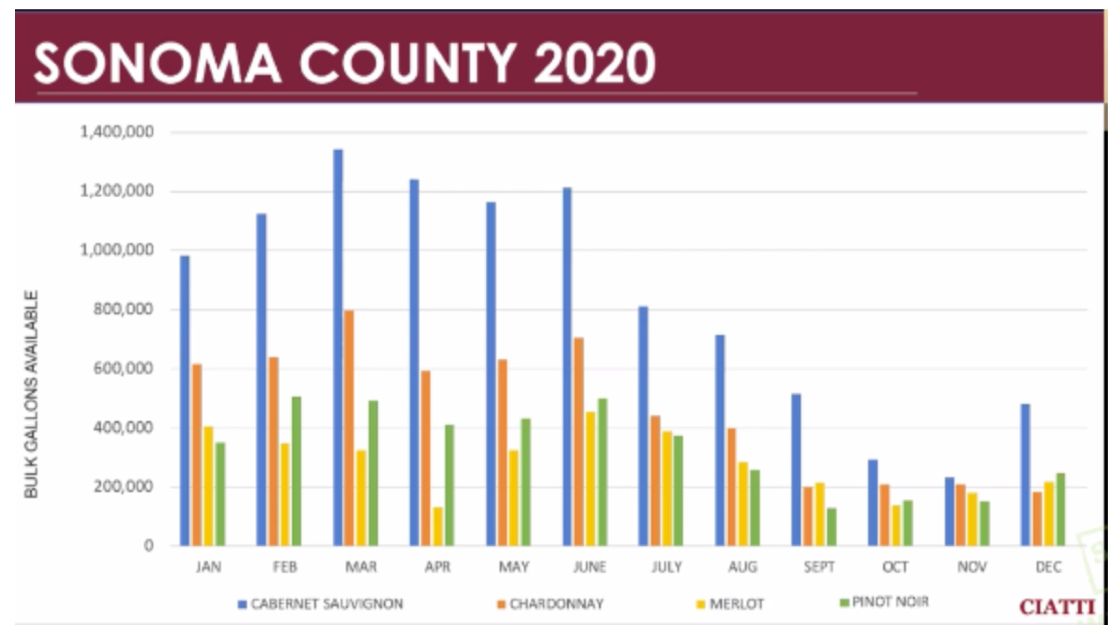 Harvest Quality of Pinot Noir Considered Poor in California & Oregon According to the State of the Wine Industry report, a majority of wineries in Napa County and Northern Oregon reported that harvest quality in 2020 was "below average" or "poor" in an anonymously-generated poll. For the Willamette Valley, just 12 percent of those polled called the vintage "excellent, while 26 percent said "below average" and 28 percent said "poor." Sonoma County fared only slightly better, with 45 percent of wineries calling the vintage "below average" or "poor." Other regions of California over 80 percent of wineries called the vintage "excellent" or "good." Most wineries will not bottle Pinot Noir that is smoke-damaged but in California, "repaired" or "cleaned up" Pinot Noir may end up in cheap general California appellation wines. Not so in Oregon, where there is no mass production industry so there is no place for repaired" Willamette Valley Pinot Noir to go.
Disaster for Winegrowers in 2020: Looking to the Future An article at www.wine-searcher. com titled, "Bad year turns Good for California," looks at the brighter prospects for winegrowers in 2021 as reflected in the annual State of the Industry seminar at the recently held Unified Wine & Grape Symposium in Sacramento. Seminar host Mike Veseth pointed out that during the pandemic Americans have continued to drink wine. California's smokey wildfire harvest led to the smallest tonnage in California since 2011. This actually brought the supply and demand for California grapes in balance since there was a glut of grapes and bulk wine in 2019. Desirable bulk wines, such as Sonoma County Pinot Noir doubled in price and although this may not be good for the consumer, it is good news for the health of the wine industry.
The Ojai Vineyard Now Owns Fe Ciega Vineyard Adam Tolmach, the winemaker and proprietor of The Ojai Vineyard announced that this iconic planting within the Sta. Rita Hills AVA owned by Hank and Brenda Klehn has a new owner as of January 2021. The 9-acre vineyard and 43-acre property will be farmed by Adam who has produced a Fe Ciega Pinot Noir since 2003. Fe Ciega (Spanish for Blind Faith as in rock fame) was planted in 1998 by Rick Longoria who produced Fe Ciega Pinot Noir for his own winery, Longoria Wines. Many of the Longoria Fe Ciega Pinot Noir wines were reviewed in the past in the PinotFile. Adam plans to convert the vineyard to organic farming practices and optimize the vineyard's resilience to drought vintages. Adam is excited to carry on the legacy of this iconic vineyard.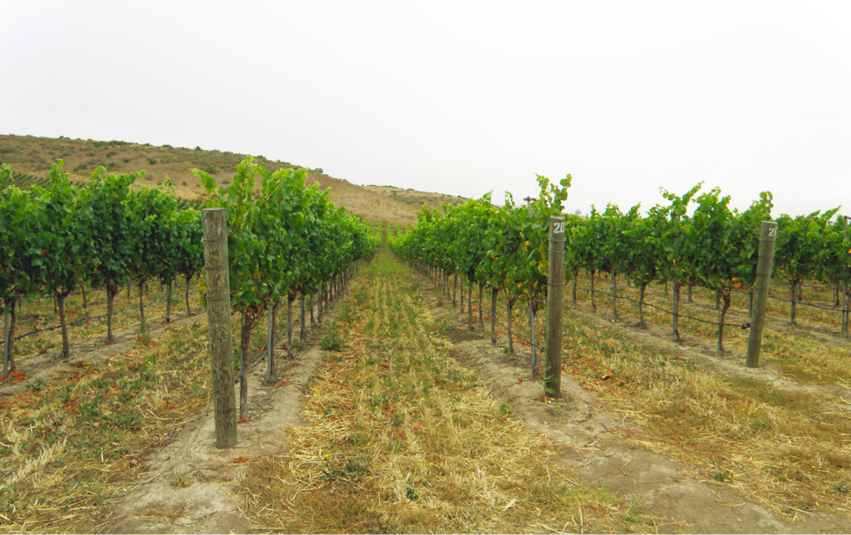 Williams Selyem Winery Sells Minority Stake to the Faiveley Family of Burgundy Burgundy has been influential in the Willamette Valley Pinot Noir industry since the late 1980s, but the Burgundians have shunned California. Williams Selyem Winery owners, John and Kathe Dyson, sold a percentage stake in the winery on December 31, 2020, ending a five-year quest to find a successor. To their credit, the Dysons did not want to sell Williams Selyem to a private equity investor group or large corporate wine company for fear the winery would lose its boutique flavor. The Dysons bought Williams Selyem in 1998 for $9.5 million and subsequently acquired 135 vineyard acres over the years and built a new majestic winery. Faiveley has a notable collection of grand cru and premier cru vineyards in Burgundy and has been making wine from the Burgundy region since 1825. Erwan Faiveley, the seventh-generation owner of the family's winery had been looking for over ten years to buy a stake in the United States wine industry. Winemaker Jeff Mangahas will stay on board as well as other key employees and production will remain at about 20,000 cases annually.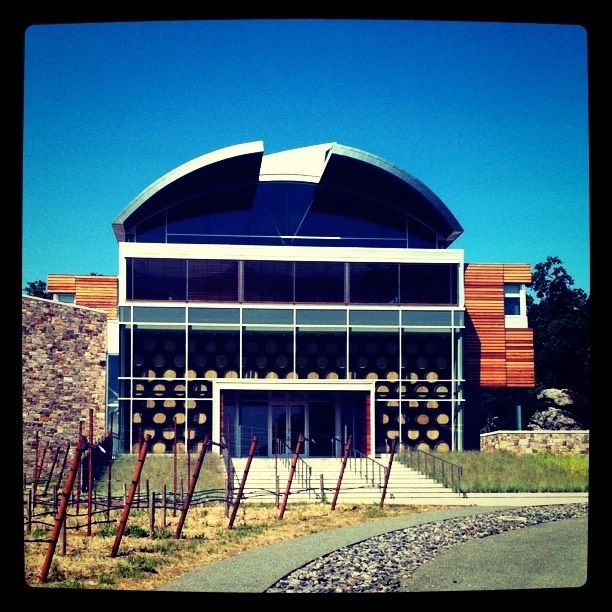 Alcohol Ruins Your Sleep An article appeared recently at www.wellandgood.com that explained in layman's terms why alcohol can ruin your sleep. Many people have a glass of wine to relax and fall asleep but even one drink significantly diminishes the quality of that sleep according to neuroscientist Kristin Willeumier, PhD. Having a drink before bed can be sedating initially, but it can reduce the time spent in the rapid-eye-movement (REM) phase of sleep that is critical to healthy brain function. Bedtime alcohol can lead to insomnia, daytime sleepiness, impaired immune, cardiovascular and cognitive health, and increase the risk of mood disorders.
Effects of Patterns of Alcohol Consumption on Risk of Mortality, Major CV Events, Cirrhosis and Cancer A large prospective cohort study reported in 2021 in BMC Medicine concluded that red wine drinking, consumption with food and spreading alcohol intake over 3-4 days were associated with a lower risk of mortality and vascular events among regular alcohol drinkers. The Scientific Forum on Alcohol Research agreed with the conclusions of this study.
Changing Trend on Wine Consumption As Boomers and Matures pass away, the volume of drinkers in the age group of 56-74 and 75+ are decreasing, replaced by Millennials (age 24-39).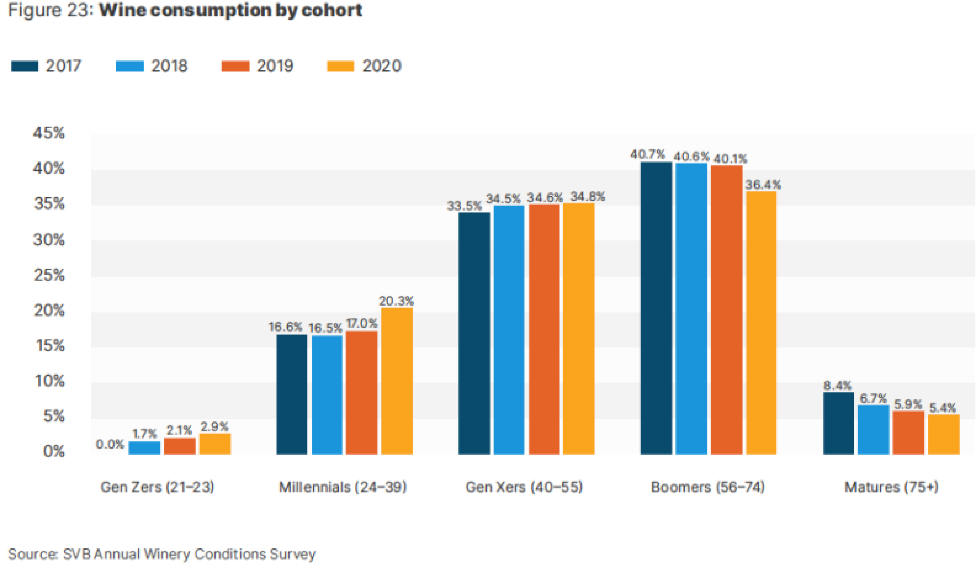 New Book - Vines & Vision: The Winemakers of Santa Barbara County Three years of hard work by authors Matt Kettmann and Macduff Everton went into this massive volume that is 632 pages in length and weighs 8 pounds! The book includes profiles of more than 100 winemakers and vineyard workers and intimate photography from photojournalist Macduff Everton. Chapters on history, geography, viticulture and relevant trends within the industry including the challenges local winemakers have faced as a result of the ongoing pandemic. This represents the most current information on the Santa Barbara County wine scene. Order the book at www.vinesandvisionsb.com.
Willamette Valley Wine Updates (1) Stoller Wine Group is opening the Stoller Wine Bar February 11 in Bend, Oregon. More than 40 wines from Stoller's family of brands will be offered including wines from Stoller Family Estate, Chehalem, Chemistry, Canned Oregon and History. (2) Alexana Winery has opened a new 7,500-square-foot tasting room space that will offer a covered deck for open-air tasting. (3) Alloro Vineyard is pouring out of a new tasting house on its property in the Chehalem Mountains. Up to six guests can participate in intimate al fresco tastings. (4) Erath has expanded its footing to Portland's Pearl District, housed in the Reid Pacific Building. A new wine program pairs Erath wines with cheeses. Carryout wines, growler fills and curbside pickup are offered. (5) Rex Hill has opened a stunning new space that includes an expansive tasting bar and outdoor patio. Modern and rustic, it will be the backdrop for wine flights, glass pours and cheese and charcuterie boards. (6) Domaine Nicolas-Jay is about to open the doors to its new 53-acre property that is home to a wine production facility and tasting room overlooking an estate vineyard. (7) Gabriela Sepulveda Vignes has been promoted to winemaker at Anne Amie Vineyards in Carlton. A native of Chile, Vignes will oversee an extensive winemaking program that includes some historic Willamette Valley sites. (8) Landlines Estates is the new sibling winery at Montinore Estate, crafted limited production runs of Pinot Noir and Chardonnay from the 30-acre Tidalstar Vineyard. The vineyard was planted in 1998 and is farmed biodynamically. (9) Willamette Valley Vineyards is constructing a sparkling wine facility in the Dundee Hills that is set to open in 2022. It will offer tours, tastings and pairing menus. (10) Fullerton Wines has added a Corvallis tasting room to complement its Portland location. Reservation-only tastings are offered Wednesday through Sunday. (11) Broadley Vineyards has opened its riverfront tasting room in Monroe. Weekly tastings are held in a former Pontiac dealership. The tasting area overlooks the barrel room and there is an outdoor patio. The location is part of an appellation called Lower Long Tom, named after the river Broadley's renovated space overlooks. The TTB is currently reviewing comments on Lower Long Tom's AVA petition. (12) Domaine Serene is opening a new wine lounge in downtown Bend, Oregon. The winery's esteemed wines will be poured and paired with an inspired food menu. The lounge is being built in the historic D.H. Spheir Building, which was recently accepted to the National Register of Historic Places. (13) Over the last several years, the Willamette Valley has become a key New World source for sparkling wine. Newer producers like Bailey Family Wines and Chris James Cellars are joining longstanding producers like ROCO, Argyle, J.K. Carriere and St. Innocent Winery. Visit www.willamettewines.com for a sparkling wine producers list and learn more. (14) One silver lining of the pandemic is that more and more winemakers are delivering bottles directly to their fans in the Willamette Valley. Wineries like Helioterra, Durant Vineyards and Division Winemaking Company are delivering their wine to porches and stoops all across the Valley. (15) Regenerative agriculture is trending thanks to champions like Mimi Casteel of Hope Well Wine. this farming style stresses supporting resident organic soil in natural ways and is being adopted by a variety of labels including Antiquum Farm and Bethel Heights Vineyard. (Thanks to Emily Petterson of the Willamette Valley Wineries Association for these updates)