Briefs —Newsletter 12.15

Duckhorn Portfolio Files for an IPO Duckhorn has a portfolio of premium wines sold in all 50 states and over 50 countries. Brands include Duckhorn Vineyards, Decoy, Migration, Kosta Browne, Goldeneye, Calera, Paraduxx, Canvasback, Greenwing and Postmark. The company also operates eight wineries and 22 sustainably farmed Estate vineyards spanning a total of 843 acres. The Duckhorn Portfolio is the eleventh largest wine supplier by sales value overall in the United States for the 12 months ending October 4, 2020. Based in St. Helena, CA, the company booked $290 million in sales for the 12 months ended October 31, 2020. It plans to list on the NYSE under the symbol NAPA. It is estimated the IPO will raise $300 million.
Best Selling Wine Varietals in the US Market Dr. Liz Thach, MW, noted wine writer, educator, and consultant recent published "Overview of 2020 US Wine Market Stats and 10 Hot Wine Trends for 2021" at https://lizthachmw.com/winestars/overview-of-2020-us-wine-market-stats-and-10-hot-wine-trendsfor- 2021/. Of the 2020 Top 10 most popular wine varietals in the US market by volume. Pinot Noir comes in at #8. The graph below from SipSource via Silicon Valley Bank shows varietal growth and share of the market for 2020. Pinot Noir comes in at #7 with a slight decrease in growth rate.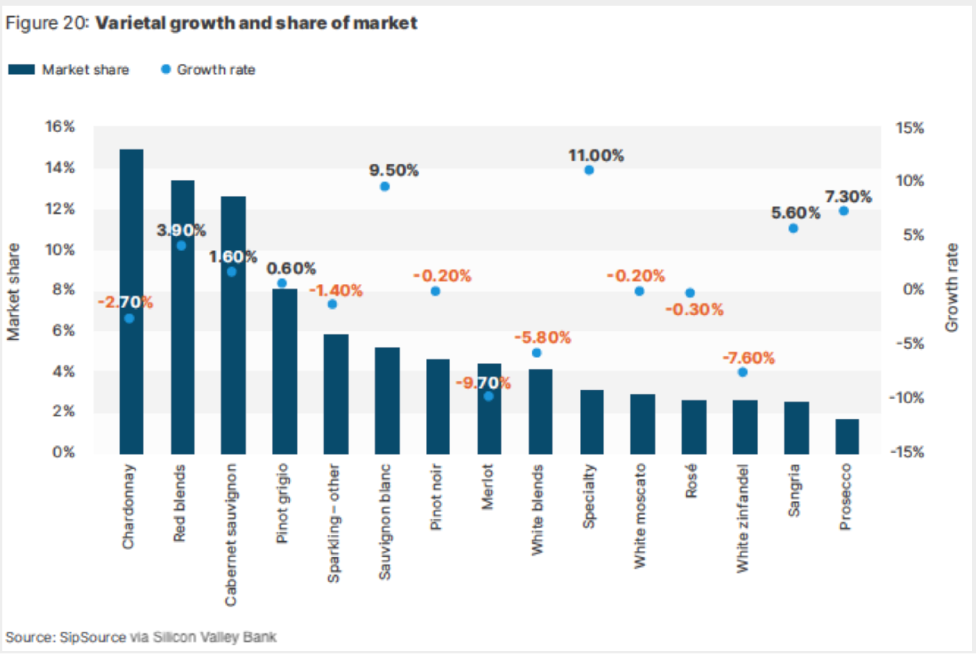 Identification of Pinot Noir Clones Dr. Laurent Deluc and associates at Oregon State University are using molecular methods to identify Oregon Pinot Noir clones. The genetic relationships among Pinot Noir clones are not well understood. One way to identify a plant with certainty is to do a molecular test that generates a specific genetic fingerprint. Today researchers can sequence a full grapevine genome for less than $10,000, a fraction of the cost of the same work ten years ago. Clonal selection is important for grape growers and winemakers because the vine performance in a particular growing environment and the resultant flavor profiles of wine vary from one clone to another.
Four-fifths of California Wine Production Certified Sustainable As of December, 2020, 171 wineries accounting for 80% of California's total wine production and 2,347 vineyards farming 32% of the state's wine grape acreage were certified under the statewide sustainability program according to California Sustainable Winegrowing Alliance's 2020 certification report released February 3. California remains the global leader in sustainable winegrowing practices.
Drink Wine, Have Sex David Khayat, a former chairman of France's National Cancer Institute, urges people to enjoy life's pleasures, from sex to wine. Khayat published a tome, Arrêtez de Vous Priver (Stop Depriving Yourselves), that urges people to have a "few small excesses, without feeling guilty." He says that the health risks from enjoying chips, meat, and alcohol are being inflated by poor doctors, who, are keen are imposing their 'hygienist' vision of society. Khayat's comments have generated considerable public debate, but he is undeterred and says, "Life without pleasure makes no sense."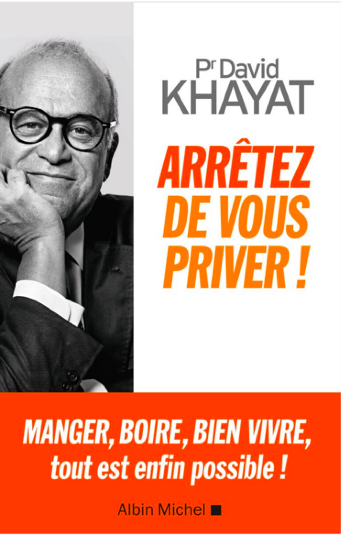 Boomers Still Buy The Most Luxury Wines The Silicon Valley Bank State of the Wine Industry Report 2021 finds that consumption by cohort based on winery's average bottle price is clearly driven by Boomer's (56-74). Will the younger generations step up in the future?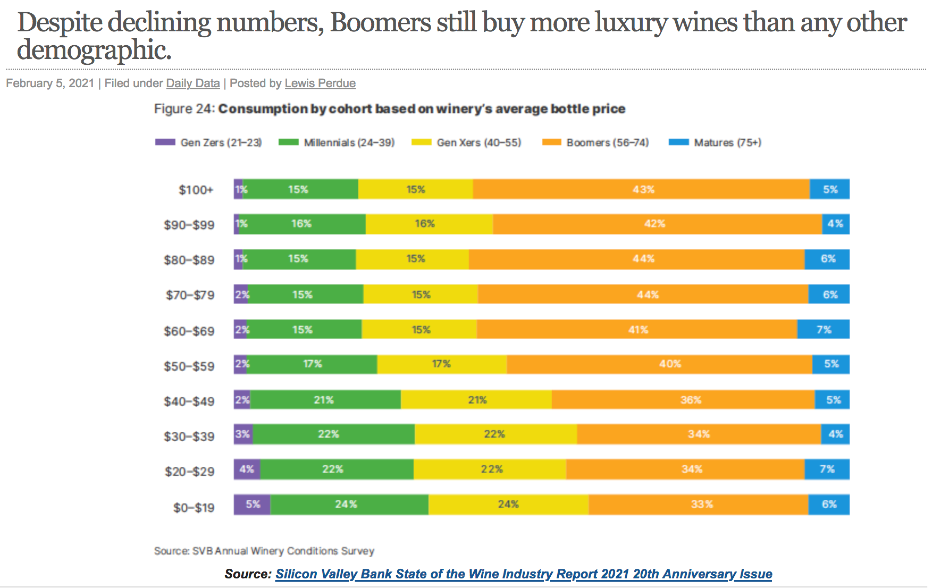 Another graph from Silicon Valley Bank's Annual Conditions Survey in 2021 shows that despite Boomers leading wine consumption, their dominance has decreased in 2020. The wine industry needs to find ways to attract new consumers and not bemoan the aging Baby Boomers or blame the Millennials for lack of wine purchase.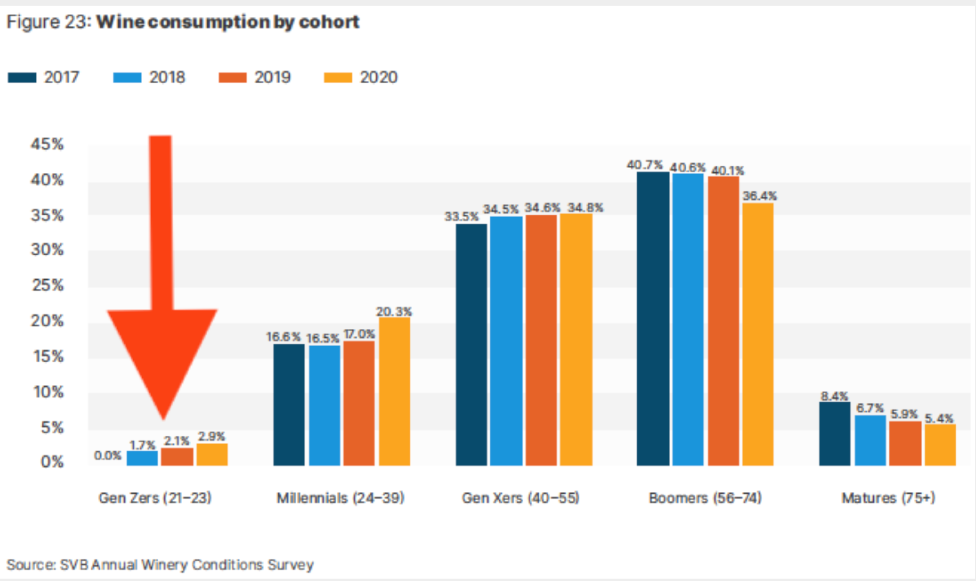 DuMOL Wines Impress I recently enjoyed three 2018 DuMOL wines that I purchased for my own enjoyment rather than for the purpose of reviewing. The 2018 DuMOL Estate Vineyard Russian River Valley Pinot Noir and the 2018 DuMOL Jentoft Vineyard Russian River Valley Pinot Noir were exceptional wines deserving of scores in the 97-98 point range. The 2018 DuMOL Chloe Ritchie Vineyard Russian River Valley Chardonnay was as good as it gets in California Chardonnay. Andy Smith, the talented winemaker and viticulturist (and partner in the winery) has been at DuMOL since 2000 and has perfected his craft. The winery is not open to the public. The wines are offered by allocation to mailing list customers at www.dumol.com.