Cattleya: A Woman's Touch

There has been a lot of discussion in the press and social media about the lack of diversity in the wine business and the need to encourage and eagerly accept women into the winemaking "fraternity." In the almost twenty years I have been writing the PinotFile and meeting winemakers, I realize that it had made absolutely no difference to me whether the winemaker was a man or woman when considering the quality and appeal of their efforts. I was only interested in an individual winemaker's experience, goals, innovative approaches, and accomplishments.
The one impression I did develop over the years is that women tend to have a "touch" with Pinot Noir. Their discriminating palates allow them to bring out a sense of balance in winemaking that you don't always see with men.
Historians agree that wine was most likely discovered by a woman. Liz Thach, Ph.D., in an article published in Wayward Tendrils Quarterly (Volume 18, No 2, April 2008) points out that modern carbon-dating has proven that wine from cultivated grapes was being made in what is today Georgia in the Caucasus Mountains around 6,000 B.C. Because women gathered berries, grapes, and other crops, historians generally agree that a woman who picked some grapes and placed them in a container in a cool location found a few weeks later that the grapes had fermented, possessed a pleasant flavor, and had an inebriating effect.The large number of legends surrounding wine goddesses supports the contention that women played an important role in the history of wine. Siduri, for example, is referred to as the Maker of Wine in the Epic of Gilgamish.
Women's modern contributions to wine production were initially delayed by gender discrimination. Noted vintner Merry Edwards, for example, had a challenging time breaking into the wine business as a winemaker in the early 1970s because of the industry's traditional preferential bias toward men winemakers. When she attended UC Davis, there were no woman professors. When she was trying to land her first job in the wine industry, a large California winery tried to steer her into research, a New Zealand winery refused her a job interview, and another winery turned her away when they saw her walk into the winery.
Today, a 2020 study by Dr. Lucia Albino Gilbert and Dr. John C. Gilbert of Santa Clara University estimates that women make up 14% of current working winemakers in California. The percentage varied across wine regions with a significant increase to 17% both for Sonoma/Marin and South Central Coast regions but not much change for Napa (12%) compared to a previous study in 2011. The study is available at this link under "Studies": www.womenwinemakers.com. Check later in this issue for a list of California and Oregon women winemakers who focus on Pinot Noir that I compiled.
There is a searchable web-based resource, Women Winemakers of California and Beyond at www.womenwinemakers.com, which provides the most comprehensive information currently available on the lead women winemakers in wineries in California, the U.S., and globally. The website was created by Dr. Lucia Albino Gilbert, a professor at Santa Clara University and a lover of wine. She has also published a book co-authored with her spouse, Dr. John C. Gilbert, titled Women Winemakers: Personal Odysseys, that covers key women in various wine regions throughout the world.
This preface brings me to the winemaker and owner of Cattleya Wines, Bibiana González Rave. She has an extensive entry on Gilbert's website where you can search and read about her impressive resume. I have also written articles about Bibiana and Cattleya Wines: www.princeofpinot.com/article/ and www.princeofpinot.com/article/2008/.
Bibiana is the only woman winemaker from Colombia succeeding in California. She has worked 17 harvests at wineries that include La Crema, Peay Vineyards, Au Bon Climat, Lynmar Estate, Pahlmeyer, and Wayfarer. She started her own label, Cattleya ("Cat-LAY-a") in 2015 and later a second, value-priced label, Alma de Cattleya. She is equally adept at crafting Chardonnay, Sauvignon Blanc, Cabernet Sauvignon and Syrah as Pinot Noir.
In her own words, this is Bibiana's philosophy as a vintner. "Attention to the smallest aspects of enology helps me work toward achievement in my wines. I choose sites very carefully, understanding that to craft wine of which I am proud requires terroir that speaks both to my head and heart. My close focus on viticulture is matched by an equal laser vision in the winery. When I worked in Burgundy, I often kept a sleeping bag by the press, napping rather than sleeping so that I could more closely supervise every part of the process. I continue this level of oversight today."
The Pinot Noir wines reviewed here are from the 2019 vintage (Belly of the Whale is a fall release). The wines are sold through a mailing list and available on the winery's website at www.cattleyawines.com and www.almadecattleya.com. Tasting by appointment in Rohnert Park pending COVID-19 restrictions.
2019 Alma de Cattleya Sonoma Coast Pinot Noir
14.1% alc., pH 3.45, TA 0.63, RS 0.69 g/L, 2,000 cases, $30. Alma means "soul" in Spanish and Cattleya is the national flower of Colombia. Sourced equally from vineyards across the Sonoma Coast and Russian River Valley AVAs of Sonoma County. Clones 114, 115, 667, 777, Pommard, Wädenswil 2A and faux 828. 100% de-stemmed, short cold soak, fermented in stainless steel open-top tanks, hand punch-downs, aged 16 months in French oak barrels. DIAM cork closure. Score: 90
2019 Cattleya Cuvée Number One Russian River Valley Pinot Noir
14.2% alc., 350 cases, $60. Part of the Appellation Series.The name reflects Bibiana's first AVA blend under Cattleya Wines. Crafted from small, individual row selections of two Russian River Valley vineyards located in the Green Valley and Santa Rosa Plain subdivisions of the AVA. 42% clone 115, 28% Pommard, 21% 777, and 9% 667. 100% de-stemmed, native primary fermentation in stainless steel open-top tanks following 10 days of cold soak. Gentle punchdowns by hand. Aged in French oak barrels, 45% new. Bottled unfined and unfiltered. · Moderate garnet color in the glass. Very bright aromas of ripe strawberry, black cherry and baking spices upon opening. Refined and elegant, yet packed with black cherry and ollaliberry fruit flavors with a black tea and cola note in the background. Modest tannins, with a tangy, moderately long finish. Score: 94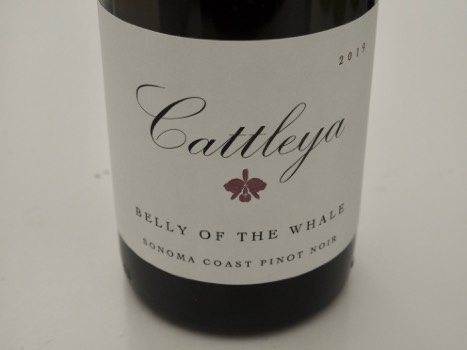 2019 Cattleya Belly of the Whale Sonoma Coast Pinot Noir
14.5% alc., 250 cases, $75. Part of the Collection series. 50/50 clones 777 and 667 at Sun Chase Vineyard , perched at an elevation of 2,300 feet above the cool maritime fog layer and overlooking western Sonoma County. Slow, methodical hand-sorting, 100% de-stemmed, native fermentation in opentop stainless steel tanks, hand punch-downs twice daily. Aged 10 months in 50% new French oak barrels. Bottled without fining or filtration. · Whoa, Nelly! Moderately dark garnet color in the glass. Lovely and engaging aromas of black cherry, rose petal, spice, pipe smoke and tilled earth. Mid-weight plus in style with a luscious core of black cherry fruit embellished with clove and cardamom spices. Gentle power, with terrific flow and balance with an extremely long finish. Delightful in every way. Still terrific when tasted the following two days from a previously opened bottle. Score: 96