Clarice & Beau Marchais: Winemaker Adam Lee's Newest Ventures

Adam Lee gained renown for his years at Siduri Wines, a Pinot Noir specialist winery that began in 1994. Lee was one of the first young Pinot Noir winemakers to strike out on his own and became a mentor for several other Pinot Noir specialists and a consultant for a number of Pinot Noir producers. Siduri's meteoric success put considerable pressure on Adam who not only made the wines but managed most of the marketing and sales for the winery. This while his ambition led him to produce more distinct Pinot Noir offerings than any other winery in California, vinified with fruit from vineyards stretching from Oregon's Chehalem Mountains in the northern Willamette Valley to the Sta. Rita Hills in California's Central Coast.
Responding to the many challenges of balancing work and family, Adam sold Siduri Wines in 2015 to Jackson Family Wines, freeing him from the business side of the winery and allowing time to continue as the consulting winemaker. The sale also gave him time to launch new projects.
One of the new projects is Clarice Wine Company, an innovative approach to winery ownership that combined a subscription-based Pinot Noir wine lineup with the opportunity for the subscriber group to become actively involved in an educational experience offered by Adam. Her created a completely new consumer experience for an extended wine family that offered more benefits than the typical mailing list or wine club. I first wrote about Clarice Wine Company here: www.princeofpinot.com/article/2040/.
Clarice Pinot Noir is sourced from two special sections of Garys' Vineyard and Rosella's Vineyard in the Santa Lucia Highlands. This choice stems from Adam's long term working relationship with growers Gary and Mark Pisoni and Gary Franscioni.
Grapes are picked from all sections at the same time so that there is variability in grape ripeness. The hope is that this unusual approach will result in wines of more complexity. A high percentage of whole clusters are included in the fermentation at the bottom of the stainless steel fermenting tanks and de-stemmed berries are added on top. Indigenous yeast and indigenous malolactic bacteria are used for all ferments. The wines are bottled unfined and unfiltered.
Inquiries about details and subscribing to Clarice Wine Company can be obtained at www.claricewinecompany.com.
2018 Clarice Santa Lucia Highlands Pinot Noir
14.1% alc., pH 3.70, TA 0.62, screw cap. A blend of fruit from Garys' Vineyard (63%) and Rosella's Vineyard (37%). 78% whole cluster fermented. Indigenous primary and malolactic fermentation. Aged in 37.5% French oak barrels. · Moderately light garnet color in the glass. Aromas of dark cherry, ripe strawberry and brioche lead to a mid-weight styled wine with good length of flavors that include ripe strawberry and black cherry. A solid wine with welcoming juicy acidity, a winning silky texture and buried tannins, only lacking in finishing impact. Score: 91
2018 Clarice Rosella's Vineyard Santa Lucia Highlands Pinot Noir
14.4% alc., pH 3.64, TA 0.64, screw cap. 20% of juice was bled off at the time of cold soak. 81% whole cluster fermented, indigenous primary and malolactic fermentation, aged in 73% new French oak barrels. · Moderately dark garnet color in the glass. Appealing aromas of dark berries, spice drawer, new leather and warm brioche. Noticeable freshness in a middleweight style with flavors of black cherry, boysenberry and a hint of mocha. Lithe tannins with upbeat acidity and a thirst quenching finish. Score: 92
2018 Clarice Garys' Vineyard Santa Lucia Highlands Pinot Noir
14.08% alc., pH 3.64, TA 0.59, screw cap. 76% whole cluster fermented. 7-day cold soak (during which time 20% of the juice was bled off to concentrate the must), indigenous primary and malolactic fermentation. Aged in 73% new French oak barrels. Bottled without fining or filtration. · Moderately dark garnet color in the glass. Pleasing aromas of black raspberry, boysenberry and strawberry tart. A typical Garys' Pinot Noir with oodles of deeply-flavored black cherry, black raspberry and blackberry fruits framed by soft, non-aggressive tannins. Less acid, but more power and structure than the Rosella's wine. Sleek and comforting in the mouth with a robust and lengthy finish. Score: 93
——————————————-
Adam has spent time in the Chateauneuf-de-Pape region of France and became friends with Philippe Cambie who crafts wines from this region under the Les Halos de Jupiter label. Philippe consults for numerous wineries throughout the south of France as well as Washington State and California.
Adam and Philippe decided to join together to produce transformational Pinot Noir. they chose the name, "Beau Marchais" for their winery. Loosely translated, it means "Beautiful Walking." Pierre Beaumarchais was a French playwright, inventor, musician, spy and more and was one of the strongest supporters of France's involvement on the side of the Colonists during the American Revolution. So an American and a Frenchman now walk together to promote something they both believe in.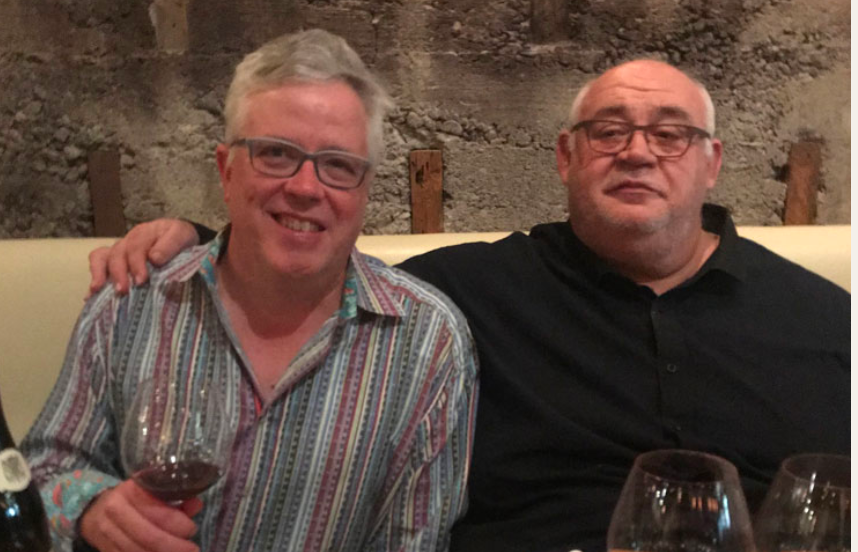 Winemaking is a long-distance affair with Adam doing the ground work in Healdsburg, California, and Philippe offering remote instruction from France. The concluding blending is done with the collaborators tasting together in person. The twist is that Beau Marchais Pinot Noir is Pinot Noir made in the style of Chateauneuf Grenache.
The grapes are picked relatively early, about 25% whole cluster fermentation is employed (compared to about 80% for Clarice), and an enzyme is used during cold soak to extract more character and tannin from the skins. The wine undergoes extended maceration on the skins for about 48 days which is unheard of for domestic Pinot Noir. Barrel choices are totally new for Adam and there is a relatively high amount of new oak.
The Pinot Noir wines offered are composed of fruit from Soberanes Vineyard in the Santa Lucia Highlands and Clos Pepe Vineyard in the Sta. Rita Hills. The inaugural 2019 vintage wines became available in November 2020. The wines are available on the winery's website at wwws.beaumarchaiswine.com. Prices include shipping in the US. Beau Marchais wines are made available to subscribers to Clarice Wine Company as well.
I felt like a fish out of water tasting and reviewing these three Pinot Noirs which are unlike any domestic Pinot Noir. My experience in tasting Rhone wines is nonexistent since the 1980s so you can take my words with that background in mind. Honestly, I did not particularly enjoy these wines as a Pinot Noir purist and found them very difficult to score. But, my lack of appreciation should not dissuade you if you are adventurous and have a liking for Grenache, so by all means give them a try.
2019 Beau Marchais Clos Pepe Vineyard Est (East) Sta. Rita Hills Pinot Noir
15.1% alc., $95. From an eastern edge and middle of the vineyard that are protected. Clones 115 and Pommard. · Moderate garnet color in the glass. Complex nose offering aromas of blackberry, cassis, violets, blueberries, underbrush, oak spice and sweet pipe smoke. Mid-weight plus in heft with flavors that replicate the aromas with added tastes of plum, tar and spice. Big-boned, yet sleek in texture. Infused with plenty of felty, dry tannins that contribute some astringency to the long finish. The alcohol is well positioned in the overall balance. A tasting of the wine the following day from an opened bottle required some coaxing in the glass to reveal itself. Score: 91
2019 Beau Marchais Clos Pepe Vineyard Quest (West) Sta. Rita Hills Pinot Noir
15.1% alc., $95. From a cooler parcel of the vineyard facing the Pacific Ocean and its strong wind.. Pommard and 667 clones. 33% whole cluster. Extended maceration of 48 days. · Moderately dark garnet color in the glass. Leading off are aromas of blackberry, blueberry, pomegranate, tilled earth and seasoned oak. Mid-weight plus in style, packed with a dense core of purple and black fruits that are a bit unyielding at this point. A floral note adds charm. Showing a little more oak and tannin than the East bottling but with a flood of fruit on a longer finish. This wine offers more nuances and I found more appealing than the East bottling. Surely this wine will benefit from a couple of years in the cellar. Score: 93
2019 Beau Marchais Soberanes Vineyard Santa Lucia Highlands Pinot Noir
15.1% alc., $95 · Dark garnet color in the glass. The most aromatic of this trio of wines, offering invigorating aromas of black cherry, black raspberry, spice and purple rose petal. Full-bodied and stacked and packed with fruit but light on its feet. The fruit seems less ripe than in the Clos Pepe bottlings and is more spirited and charming.. The tannins are well balanced, the alcohol is not apparent and the dry, long finish is gratifying. This wine is the most approachable of the three 2019 wines tasted and more pinot-typical. Score: 94