Darling Wines

Tom Darling, the co-owner and winemaker of Darling Wines, recently sent me a request to review his latest single-vineyard Pinot Noir releases. Tom's journey to winemaking had inauspicious beginnings in Washington, DC, where he worked after college and was introduced to wine. After visiting wineries and vineyards in California for the first time in 2014, he was inspired to work a harvest. In 2016, he did work his first harvest in Napa, and while working his second harvest the following year, he purchased his first ton of Syrah and Darling Wines began. His spouse, Ashley, has been actively involved throughout the journey.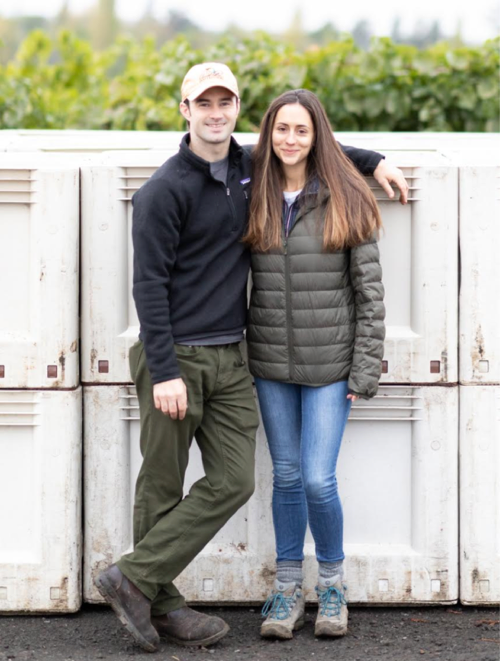 Darling Wines expanded to Pinot Noir and Chardonnay with the 2018 vintage. The couples' inspiration has been the wines from Kutch, Drew Family Cellars, and COBB Wines among others.
Winemaking starts with harvesting balanced fruit so no adjustments are required in the winery, touching the wine as little as possible throughout the process. The only addition to Darling wines is small amounts of sulfur (below 40ppm total).
All three of the Darling 2018 wines were featured at the Restaurant at Meadowood and the 2018 Azaya Pinot Noir and McEvoy Ranch Syrah were on the wine list at The French Laundry, as well as other great restaurants in the Bay Area. Tom told me, "The Darling style seems to work well on the table as the wines have bright natural acidity, minimal to no new oak, and moderate alcohol percentages."
The whole cluster character of the wines reviewed here is upfront so these wines will be most appealing to those who savor whole cluster infused aromas and flavors in Pinot Noir. Tom has clearly been inspired by the style of those producers mentioned.
Darling wines are available at www.darlingwines.com/shop.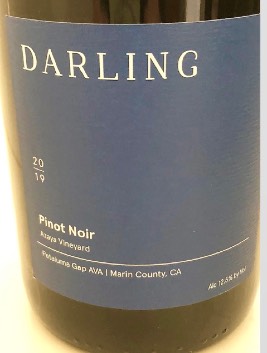 2019 Darling Azaya Vineyard Petaluma Gap Marin County Pinot Noir
12.5% alc., 100 cases, $48. Released November 1, 2020. This certified organic vineyard was planted in 2006 at 420 feet above sea level. in Blucher loam. Double sorted, vineyard and winery. 75% whole cluster. Combination of gentle pump-overs, foot treading and punchdowns. Native primary fermentation, native MLF and aged 10 months in neutral oak. Bottled unfined and unfiltered. · Moderate garnet color in the glass. Lovely, deep aroma of dark cherries with whole cluster undertones. Midweight in character, infused with spirited acidity, and framed by moderate tannins, this wine delivers an expansive mid palate of cherry goodness, finishing with some length and spirit. There is a noticeable stamp of tobacco, presumably from stem tannins. Score: 91
2019 Darling Grand Vent Vineyard Petaluma Gap Pinot Noir
12.6% alc., 100 cases, $60. Released February 1, 2021. This vineyard, which is exposed to dense marine fog and relentless wind making it a challenging cool-climate site to farm. It was planted in 2000 at 270 feet elevation. Soil is Steinbeck loam. Hand farming is organic. 100% whole cluster, native yeast primary fermentation, native MLF, aged 10 months in neutral oak. Bottled unfined and unfiltered. · Moderate garnet color in the glass. The nose is imbued with whole cluster imprint, offering aromas of cherry, exotic spices, burnt tobacco, rose petal and a touch of barnyard. Light to mid-weight in style, offering flavors of cherry, raspberry and boysenberry with a burnt tobacco-ash stamp that threatens to obscure the wine's nuances. Unchanged when tasted the following day from a previously opened bottle. Score: 90