Big Macs & Burgundy: The BEST Wine Book I Have Read in a Long Time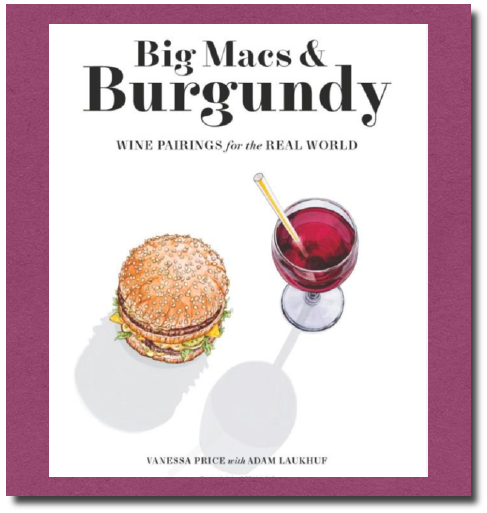 This is a terrific book on wine that I have read twice. This book presents wine varietal knowledge in very understandable terms, suggests perfect pairings of common foods and wines, and does all this in the context of the writer's life experiences in wine, tales that often led me to laugh out loud. There is no pretentiousness to be found anywhere in this book.
Vanessa Price, who authored this book along with Adam Laukhuf, has worked in many sides of the wine industry in addition to writing a wine column for New York Magazine that became the catalyst for the book. The result is a plethora of food and wine pairing suggestions and ideas for the readers to create their own pairings. There is an emphasis on the consumer experimenting and understanding that there are no wrong pairings. There are many practical wine tips as well regarding decanting wine, storing wine safely, and winegrowing methods.
I tried out some of the suggested pairings. Big Macs are a suggested pairing for red Burgundy, but I found California Pinot Noir works equally well. I happen to love to snack on Cheez-Its, especially the Extra Toasty version, so I tried the recommended white Priorat from Spain and I agree the result was umami Xanadu. I had a bottle of Calera Viognier in my cellar and tried it with the recommended Mac & Cheese and this pairing was right on, with the creamy, low-acid Viognier cutting the sharpness of the cheese and providing a creamy comfort to the pasta.
Keep this book in your kitchen as a handy reference. Although you won't have all the suggested wines in your home cellar, the majority of them are readily available through your local retailer or market.
Big Macs & Burgundy is available on Amazon in paperback for $20.49 or Kindle for $9.99 (almost all 5-star reviews). Published by Harry N. Abrams in 2020, 240 pages, nicely illustrated.