Privé Vineyard: Looking Back at the Legacy and Gazing Forward at the Bright Future

In 2006, I first made a journey to Privé Vineyard in Newberg, Oregon, with visions of Pinot Noir dancing in my head. My arrival was signaled by two aged oak wine barrels next to a sign reading, "Rue de Privé." I knew right away that I had found a slice of France in the Chehalem Mountains. Behind a gate and straddled on the northern and southern side of a residence were two well-groomed one-acre vineyards. Heading up the driveway, I was taken by the cutest little French-styled winery I had ever seen. The owners of Privé Vineyard, Mark and Tina Hammond, are Americans, but their Privé Vineyard is every bit French in character with a name that translates in English to "private or independent."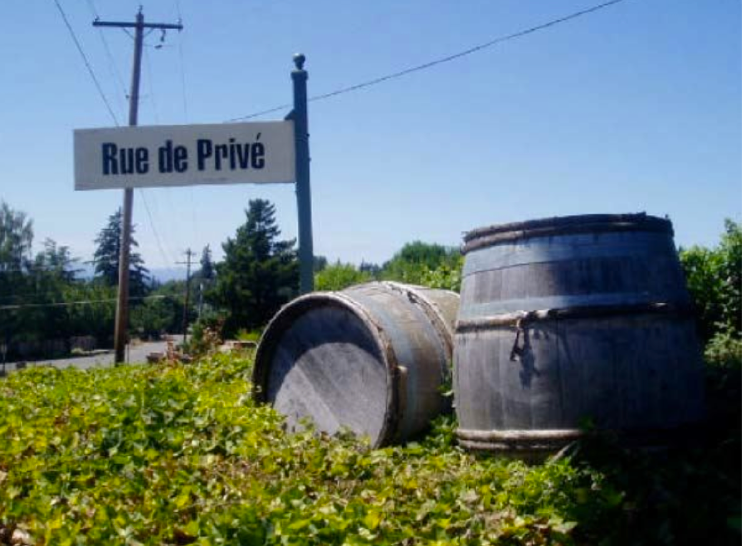 The couple manage the entire vineyard and winery operation with Mark stewarding the vineyard and Tina making the wines. The Hammonds joke that the division of labor is convenient because Mark can blame Tina and visa-versa if there is a problem with the outcome of the finished wine. Experienced pickers are hired at harvest, but otherwise, this is truly a family-run estate.
Over the years the small production estate-grown wines (about 300 cases of Pinot Noir annually) of Privé Vineyard have been the closest thing Oregon has to a cult Pinot Noir. It is essentially a private winery for those lucky enough to be members of the winery's allocation list.
The original Müller-Thurgau vines on the property were planted in Jory volcanic soil in 1980 and grafted over to the Pommard clone of Pinot Noir by the Hammonds beginning in 1995 after they had acquired the vineyard. Grapes were sold initially to Patricia Green until the Privé Vineyard label was launched in 2001.The vines have been meticulously hand-farmed organically with a conscious effort to pull back vigor resulting in yields between 1.5 and 2 tons-per-acre.
Four Pinot Noirs are produced, three of which are estate grown. 'le nord' is from the upper, northern one acre at 600 feet elevation, 'le sud' is from the lower elevation and southern one acre at 500 feet elevation, and a reserve bottling, 'Joie de Vivre' (Joy of Life) is a reserve wine crafted in half-barrel quantities and presented in a beautifully etched and signed bottle. The Joie de Vivre is only made from the first pressing from each bin of fermented wine based on the belief that the most intense flavors of a grape are next to the skin, and gentle pressing draws a juice that is slightly darker and more intense in flavor.
A 'Chehalem Mountains' appellation bottling is a blend of grapes from several local Pinot Noir vineyards. This last offering was added to the lineup in 2009 as an everyday wine that could be offered to visitors to the winery since the estate Pinot Noirs sell out quickly every year. A few other varietals have been offered to supplement the winery's income.
Comparing le sud to le nord is a great lesson in terroir. A difference between le sud and le nord is evident in every vintage, independent of the differences in oak barrel regimen. Ripeness varies between le sud and le nord depending on the vintage and the character of the fruit (red versus dark red and black fruits) reflect this. Le sud tends to ripen faster and is picked at a slightly higher Brix, but in cooler vintages le nord ripens quicker and is picked at a higher Brix. Le sud is aged in 100% new French oak barrels as it is more cellar-worthy, while le nord is aged in a combination of new (25%), 1, 2 and 3-year-old French oak barrels.
Tina likes to joke that if a miserable vintage resulted at Privé Vineyard, Mark would have to get a real job. They kid each other about what each one would do. Mark thinks he might pump gas (required by gas station employees in Oregon) since he loves working outdoors.
Tina is a self-taught winemaker who has a knack for crafting Pinot Noir. In the winery, grapes are carefully sorted by hand and 100% de-stemmed (not crushed). The grapes are whole berry fermented after a 5-day cold soak in a 1.25-ton open-top bin. Aging is carried out in Seguin Moreau French oak barrels. The winemaking is consistent with the Pinot Noir wines exhibiting finesse, balance, soft tannins, admirable oak integration, and age-ability. the moderate alcohols in most vintages add to their appeal.
The Hammonds utilized a tiny winery for years that suited their very small production. A new and larger winery designed and largely built by Mark opened in 2015 and the previous winery was converted into a tasting room and hospitality center.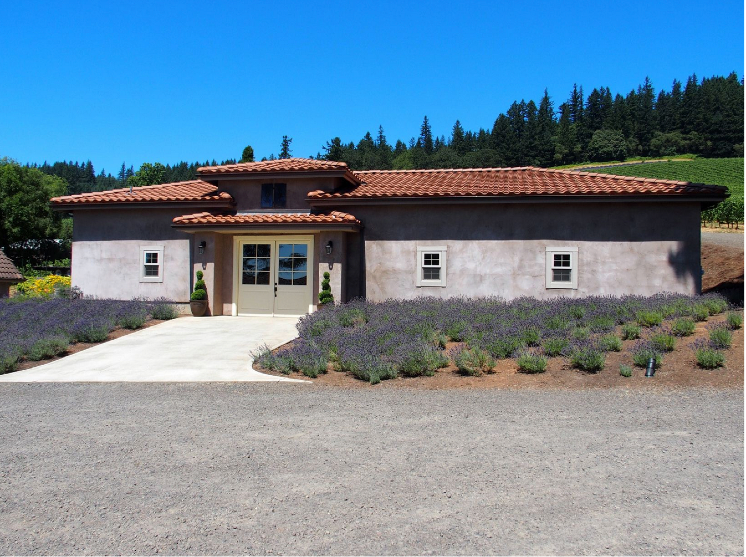 The Hammonds decided to sell their vineyard and winery in 2018 and after an intensive search, Tina notified me in November 2020 that they had found a successor. Tina remarked, "We finally found the perfect person to take the baton and our hope is that she will take Privé to new heights. She is an accomplished young lady by the name of Piper Underbrink. The deal closed on October 20, 2020. We have agreed to spend one year mentoring and after that year possibly continue as consultants. Her intention is to keep all things consistent." She has promised to honor and preserve the passionate work and style developed over the years by the Hammonds. The photo below in front of the original winery left to right: Piper, Mark, and Tina.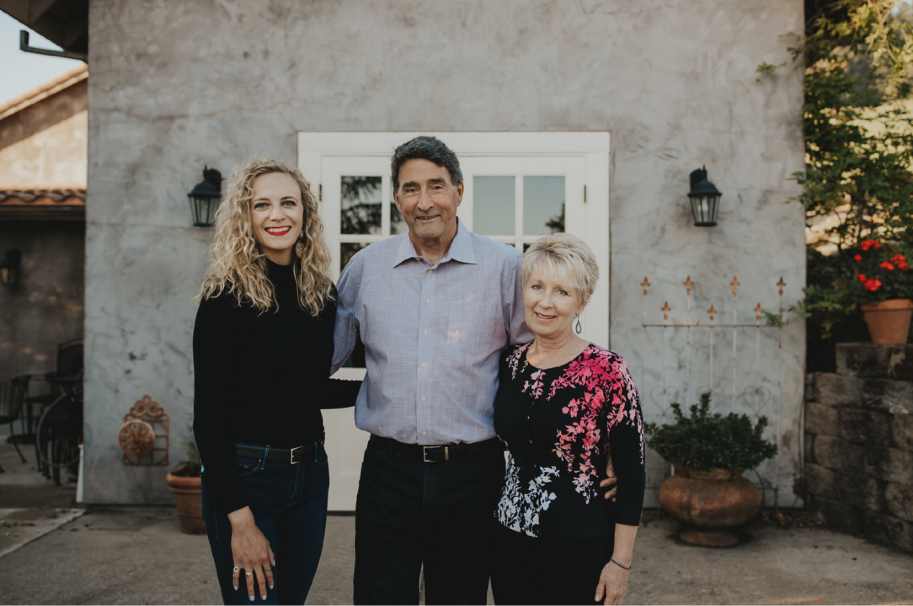 Tastings continue to be private by appointment (minimum order commitment of six bottles). Magnums of the Estate Pinot Noir wines are available. For more information and to join the Privé Wine Club allocation list, visit www.privevineyard.com. There is a waitlist to join the new member list. The 2020 vintage offering for wine club members was in January 2021 on a first-come basis. This vintage was crafted by both Tina and Piper. Although there were wildfires in the Chehalem Mountains in 2020, Piper told me that their vineyard was spared of any smoke taint. However, very low yields resulted as a result of uncharacteristic rain at bloom in June and there will be a very limited amount of wine released from the 2020 vintage.
Through the years, Privé Vineyard Pinot Noir has often appeared on my end-of-the-year All American Pinot Noir list. I have reviewed multiple bottlings for the PinotFile since the 2003 vintage. In this issue, I present short reviews of many past vintages that I have pulled from my cellar and enjoyed over the last few months looking back as a homage to the Hammonds legacy. I also offer reviews looking forward of three of the 2019 vintage Pinot Noirs.
When you talk of passion for crafting Pinot Noir, quality of life and carving out a little niche of heaven, the Hammonds found it. Privé Vineyard has been their answer to Pinot Noir's elusive romance.