Recently Tasted Pinot Noir from A to W
Note: Patrick McNeil, the owner and winemaker of Ellen Redding Pinot Noir as well as producer of other wines under the "Wines that Deliver" umbrella was featured in the February 22, 2021 issue of 'edible Marin & Wine Country'. His connections to the historic village of Nicasio extend back generations. Nicasio, located in Marin County has a population of 71 (2019) but has a long history of pioneering ranchers and entrepreneurs. Patrick lived on the historic Stag's Leap property in Napa Valley that his late attorney father, Joseph McNeil, had purchased in a partnership with Carl Doumani in 1970. Growing up, Patrick spent summers and holidays visiting Redding Ranch, his family's hereditary property in Nicasio Valley. Today, Patrick, his wife, Amy, and their young son Joseph, all live in Nicasio. Patrick's paternal grandmother was Ellen Redding McNeil and she lived on the Nicasio ranch after her husband died. Today, Patrick and his family own the restored 1890s structure that housed Redding & Sons, Ellen Redding's grandfather's butcher shop. Patrick sources fruit from Marin County vineyards and personally delivers his wines to customers who live locally. Visit www.winesthatdeliver.com.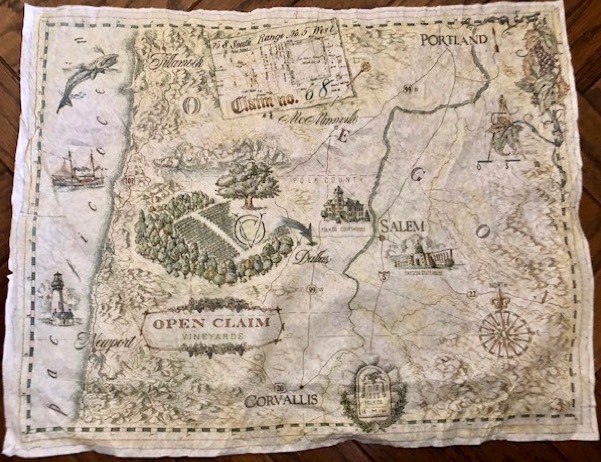 Note: The Open Claim Pinot Noir came wrapped in tissue paper printed with a map of Oregon showing the location of Open Claim Vineyard (see photo). This is an ingenious and classy presentation. Brett and Marnie Wall established Open Claim Vineyards in 2012 to grow Pinot Noir and Chardonnay on their 21-acre vineyard located near Dallas, Oregon. The area is part of the new Mount Pisgah AVA. The name, Open Claim, honors the history of the property which can be traced back to Parcel #68 of the Donation Land Claim Act of 1850. The vineyard is planted to eight Pinot Noir clones and selections including Pommard, Wädenswil, Dijon 115, 667, 777 and 943, "Coury clone," and a La Tache selection. Noted winemaker Tony Rynders crafts the wines that have been highly acclaimed. Visit www.openclaimvineyards.com.
2018 Waxwing Deerheart Vineyard Santa Cruz Mountains Pinot Noir
14.7% alc., $48. Produced and bottled by Waxwing Cellars, Sonoma, CA. · Moderately dark garnet color in the glass. Complex nose exhibiting aromas of black cherry, underbrush, fern, and cedar-inspired oak. The mid-weight essence of spiced black cherry is appealing on the palate. There is but a hint of oak backing. The wine picks up length and intensity on the finish over time in the glass. The slightest alcoholic warmth shows up on the lips as the wine warms up. Score: 91